EMD "F45" Locomotives

Last Revised: December 21, 2021
By: Adam Burns
The EMD F45 was the final model purchased by the railroad industry for use in any type of passenger service capacity before the onset of Amtrak.
Only two railroads ultimately purchased the F45, the Great Northern and the Atchison, Topeka & Santa Fe, the latter of which approached Electro-Motive to create the model after finding the FP45 successful.
The F45 was essentially an SD45 in a semi-streamlined carbody (known as the "cowl" design) for use in passenger service.
The F45s saw roughly twenty years of service on the GN and successor Burlington Northern in freight service before being retired or sold while Santa Fe's lasted until the mid-1990s in freight service. 
Today, a few F45's and their unmistakable cowling, are still around.  To see one in action be sure to visit the Southern California Railway Museum in Perris (formerly the Orange Empire Railway Museum) which has restored Santa Fe FP45 #108 to operating condition.
Additionally, the Izaak Walton Inn in Essex, Montana has cosmetically restored a former AT&SF F45 as Great Northern #441 for use as hotel living quarters.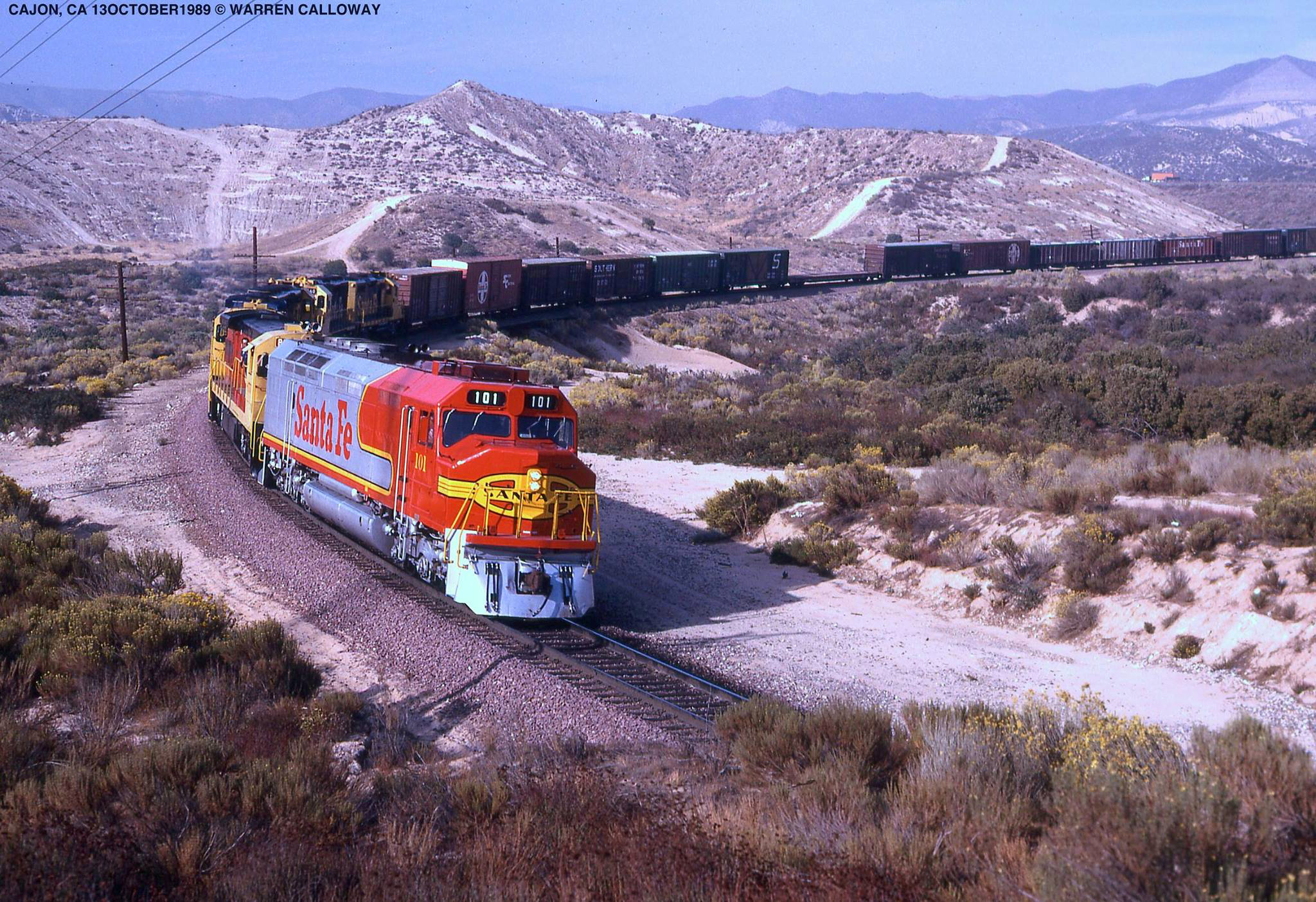 Retired from passenger services long ago, Santa Fe FP45 #101 leads a freight consist over Cajon Pass on October 13, 1989. Warren Calloway photo.
The EMD F45 began production in the summer of 1968 upon the request of the AT&SF to have an SD45 shrouded in a semi-streamlined carbody.
While initially not intended for use in passenger service some of the railroad's later orders included steam lines for use in a limited such capacity. The F45 was one of the few F models to feature a C-C truck setup.
Equipped with General Motors' 20-cylinder model 645E3 prime mover the F45 could produce a hefty 3,600 horsepower while its D77 traction motors allowed it to churn out a continuous tractive effort of 82,100 pounds and starting effort up to 90,000 pounds.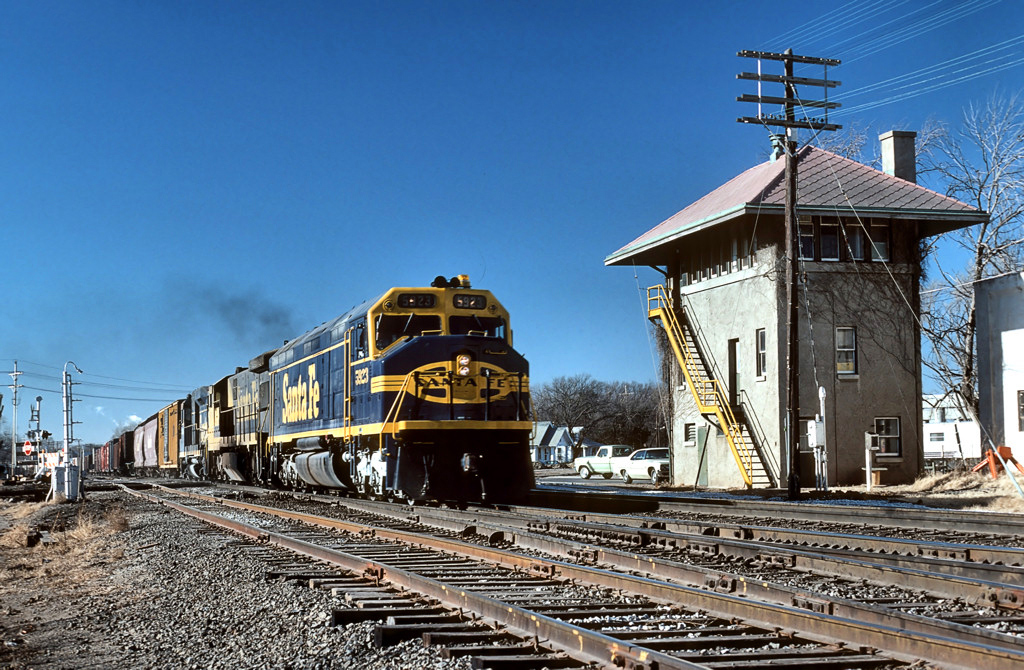 The Santa Fe was one of just a few roads that came to like the F45 design; here, #5923 leads a freight past AG Tower in Augusta, Kansas along with assistance from two other units during December of 1977. Gary Morris photo.
Upon seeing the Santa Fe's F45 in service and liking the model, the Great Northern decided to order a small fleet of them as well. Its locomotives were ordered with the cowl design for added crew safety, particularly in the mountainous territory between Washington State and western Montana, with the longer nose and cab sitting further back on the carbody.
The Santa Fe's F45s came adorned in the railroad's "Bluebonnet" livery while the GN's fleet featured the railroad's new "Big Sky Blue" livery, a very late paint scheme that only lasted a few years before the Burlington Northern merger.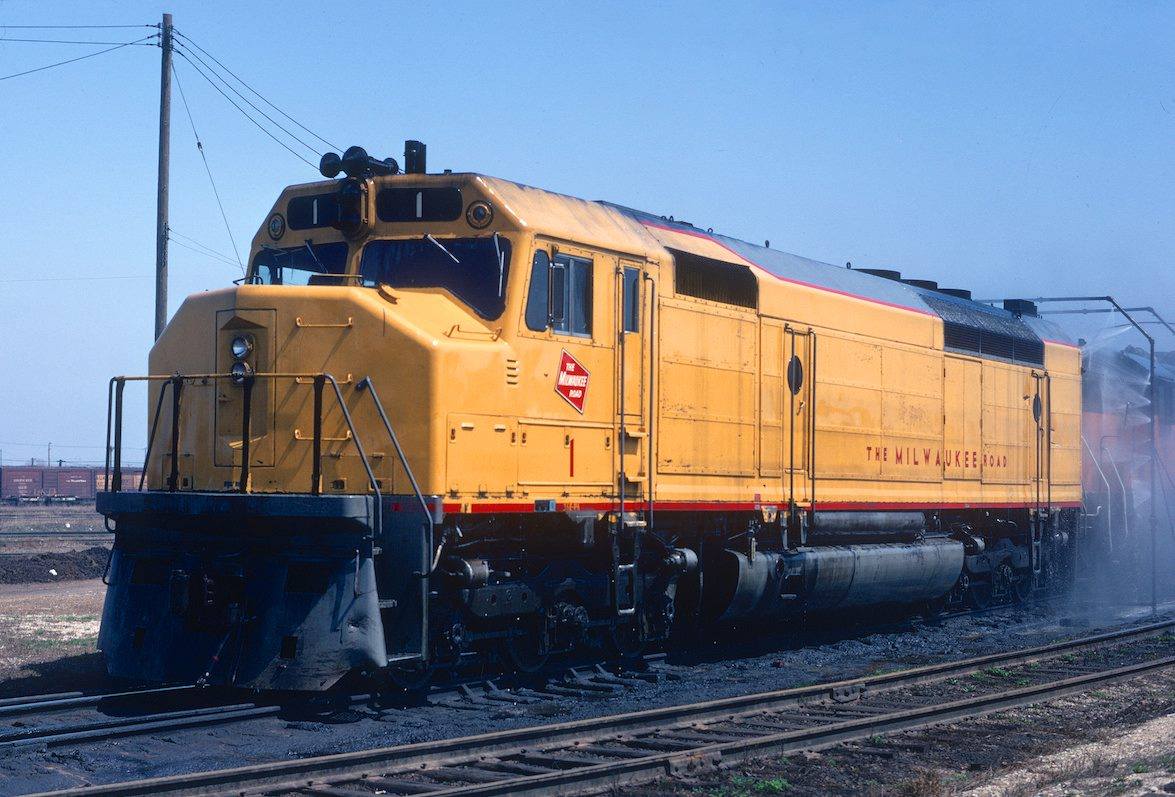 A variant of the F45 was the FP45 which a handful of roads acquired in the late passenger era. Here, Milwaukee Road FP45 #1 receives a bath on the wash-rack at Bensenville, Illinois on April 1, 1971. David Hawkins collection.
The F45 was reliable although it only saw use in service for a few years before the onset of Amtrak in the spring of 1971. In total, the Santa Fe rostered a fleet of 40 F45s, numbered 5900-5939. The BN itself went on to purchase another 20 for a total roster of 46 F45s.
Under GN, which first began receiving locomotives in May, 1969, its units were numbered 427-440 with BN's roster numbered 6614-6645. The final Burlington Northern-built F45s arrived in April, 1971.
A handsome Santa Fe F45, #5918, and several other units have crested Cajon Summit and now begin the descent with eastbound trailers in February, 1981. Roger Puta photo.
EMD F45 Production Roster
| Owner | Road Number(s) | Quantity | Date Built |
| --- | --- | --- | --- |
| Burlington Northern | 6614-6645 | 22 | 1970-1971 |
| Great Northern | 427-440 | 14 | 1969 |
| Santa Fe | 1900-1939 | 40 | 1968 |
FP45 Production Roster
| Owner | Road Number(s) | Quantity | Date Built |
| --- | --- | --- | --- |
| Milwaukee Road | 1-5 | 5 | 1968 |
| Santa Fe | 100-108 | 9 | 1967 |
---
---
A nice comparison photo of EMD's original "Bulldog" nose carbody and its later "Cowl" variant are seen here on Santa Fe F7A #328 and F45 #5919 at Bellville, Texas in May of 1976. Gary Morris photo.
Being that the model was basically a freight service SD45 the F45s performed well in that capacity although they saw a relatively short career with BN, which sold or scrapped its fleet by the late 1980s and the Santa Fe doing the same by the mid-1990s.
As late as 2008 and 2009 both regionals New York, Susquehanna & Western and Montana Rail Link continued to use F45s in freight service. However, since then both railroads have removed theirs from service and subsequently scrapped the units.