Alco 244 Engine

Last revised: June 21, 2023
By: Adam Burns

The American Locomotive Company's model 244 prime mover was developed during the mid-1940s to power its post-war diesel locomotives. 

Interestingly, while Alco helped pioneer diesel technology dating back to the 1920s it had difficulty truly competing against Electro-Motive due to reliability issues with its diesel engines. 
Before Alco began implementing the 244 in its locomotives the builder had spent most of the 1930s developing an earlier model that was used in most of its early switchers. 
The new prime mover was supposed to usher in a new era for Alco but instead saw it slip further behind EMD in the marketplace. 
During the early 1950s the manufacturer replaced the engine with the more reliable 251 that powered its Century series.  It would prove to be the company's last engine as it exited the market before 1970.

Despite its problems, ironically the 244 was Alco's most successful prime mover in the locomotive market. 
While the engine was problematic in main line service it was so successful in light-duty applications that Alco sold thousands of switchers and light road-switchers, such as the S-1, RS-1, RS-3, and others. 
Photos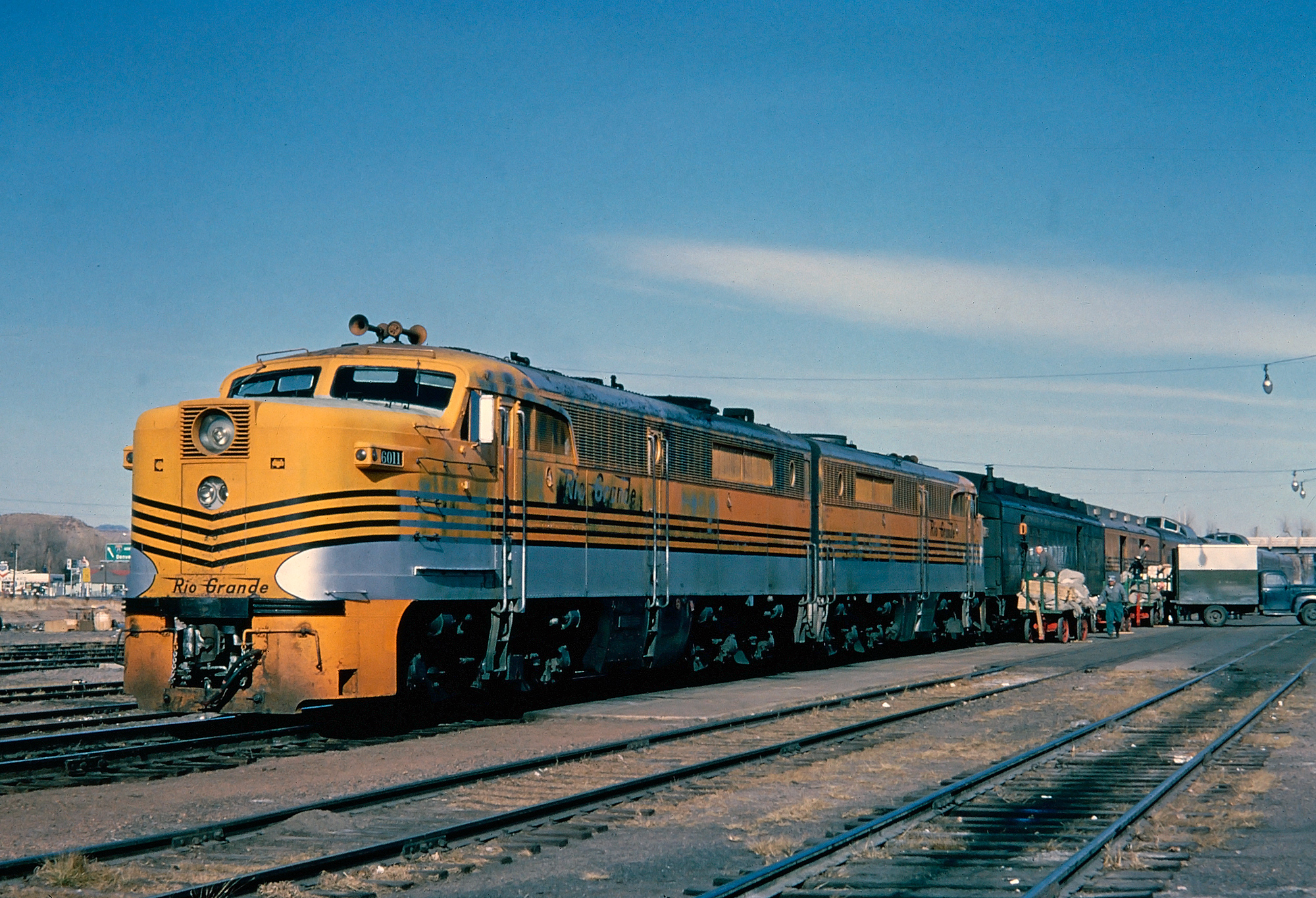 A pair of Rio Grande's handsome PA-1's, led by #6011, is stopped in Colorado Springs, Colorado with the "Royal Gorge" as the train takes on mail at the joint Rock Island/D&RGW depot; December 31, 1964. American-Rails.com collection.
Early Engines
As early as 1931 Alco began producing its own line of small diesel switchers beginning with the HH-300 (High Hood, 300 horsepower). 
Altogether the company cataloged five models,  which along with the one already mentioned included the HH-600, HH-660, HH-900, and HH-1000. 
All of these switchers were fairly successful and employed 4-stroke diesel engines ranging from an early 330 model to the 531 and later 538 (Alco generally classed its prime movers with the last two digits referring to the year in which it entered production). 
During 1940 Alco formally cataloged a full line of switchers in an attempt to gain an early edge in the growing diesel market, especially after EMD successfully demonstrated in 1939 with its FT that such a locomotive could be used in main line service.
Specifications
Entered Production
August 1, 1945*
Builders

McIntosh & Seymour (Auburn, New York)

Alco (Schenectady, New York)

Years Produced

McIntosh & Seymour (1945-1948)

Alco (1948-1955)

Bore & Stroke
9" x 10 ½" (Vee)
Cylinder Variants
12 and 16 (Turbocharged)
RPM Ratings
1000
First Production Examples
FA-1 Demonstrators #1500, 1502 and FB-1 Demonstrator #1501: January 9, 1946**
Horsepower Ratings
1500, 1600, 2000, 2250, 2400
Models (Alco)
FA-1/FB-1, FA-2/FB-2, PA-1/PB-1, PA-2/PB-2, FPA-2/FPB-2, RS2, RSC2, RS3, RSC3, RSD4, RSD5, RSD7
Models (Montreal Locomotive Works)
FA-1/FB-1, FA-2/FB-2, FPA-2/FPB-2, RS2, RS3, RSC3, RS10, RS10S, RS24
Successor Engine
251
* John Kirkland notes in his book, "The Diesel Builders: Volume Two, American Locomotive Company And Montreal Locomotive Works," it was on this date that drawings for the new 244 engine in 12 and 16-cylinder variants were completed for general production
The very first engine, serial #4253, was completed at Alco's McIntosh & Seymour subsidiary in Auburn, New York on October 20, 1945.   This engine was subsequently sent to Alco's Schenectady plant for further testing that December.
Interestingly, the Auburn plant ultimately produced 34 boxcab freight locomotives for Gulf, Mobile & Ohio (engine serials 4253-4286) which were equipped with early 244 power plants, although the company listed them as model 241 prime movers.
** These units became Gulf, Mobile & Ohio #700 (FA-1), B1 (FB-1), and #701 (FA-1)
At the same the company began moving away from steam, an unheard of thought just a decade earlier.  The S1 was the first produced, a 600 horsepower design that was compact and offered crews clear and easy sight lines with a high cab on one end with large windows. 
It utilized the model 539 prime mover, which also powered the S2, S3, S4, the DL 100 Series cab units (a pre-FA/PA design), and the groundbreaking RS1 (the first, true road-switcher ever put into service). 
However, the manufacturer opted not to stick with this engine as it continued to further develop diesel technology.  Around the time of World War II Alco began developing the model 241, which it hoped would power all of its new road-switcher models. 
However, after three years of design the builder apparently was not pleased with results and dropped it before it ever entered production.

Development
During 1944 it began developing the model 244, based from the 241, that featured a "V" design and a 9 x 10.5-inch bore and stroke. 
The engine was a 12-cylinder version and offered a respectable 1,500 horsepower just like EMD's F3 released around the same time that carried its builder's model 567B. 
Interestingly, one advantage Alco always held over its competitors that you may not know about was gas mileage; until the development of its Centuries Alco always utilized 12-cylinder engines instead of the sixteen employed by most other builders. 
This equated to better gas mileage while still offering the same level of horsepower albeit at the time this wasn't a big selling point.  Today, of course, such an economical advantage would be a much different story.
After World War II Alco cataloged its FA-1 cab unit, designed for freight service and it first entered production during the end of 1945.  The FA was meant to compete against EMD's F3, and later F7. 
The model sported a very clean, attractive, and streamlined carbody and initially sold quite well.  However, since the model 244 was not as extensively developed as EMD's 567 and rushed into production it ran into mechanical issues, notably teething problems (in light to medium freight work the engine actually proved fairly reliable). 
Models Utilizing
These same issues cropped up with the beautifully designed passenger model as well, the PA.  The problems with the 244 truly hurt Alco's reputation as a world-class builder despite the fact that it worked quickly to correct the flaws by releasing the model 251 engine during the mid-1950s.
This prime mover was far more reliable as Alco spent an extensive period of time making sure to get it right.  In doing so it closed out earlier models like the FA and PA but gave railroads the option of returning theirs to be upgraded with 251s. 
Mechanical Issues
Unfortunately, the company's reputation had already been seriously damaged and sales for both models remained flat.  Other models that carried the 244 diesel engine include the RS2, RSC2, RS3, RSC3, RSD4, RSD5, and RSD7. 
In the end, it is quite unfortunate that Alco suffered so much from the problems encountered with its first mass production prime mover given its once proud history of building such fine locomotives.  As has been seen time and again in the world of business, the inability to adapt can doom a company.   
---
The rippling effect went beyond the 244 setback, however.  General Electric, which had been a partner for years in supplying the manufacturer with  parts (such as traction motors) eyed the incident as Alco's inability to effectively compete against EMD. 
As such, GE would break away and launch its own diesel line before the end of the 1950s.  As Alco's one-time ally continued to improve its locomotives it would eventually put the company from Schenectady, New York out of business before 1970.  
Sources
Hayden, Bob. Diesel Locomotives: Cyclopedia, Volume 2 (Model Railroader). Milwaukee: Kalmbach Publishing Company, 1980.
Kirkland, John F. Diesel Builders, The:  Volume Two, American Locomotive Company And Montreal Locomotive Works. Glendale: Interurban Press, 1989.
Marre, Louis A. Diesel Locomotives: The First 50 Years, A Guide To Diesels Built Before 1972.  Milwaukee: Kalmbach Publishing Company, 1995.
Pinkepank, Jerry A. Diesel Spotter's Guide.  Milwaukee: Kalmbach Publishing Company, 1967.
Solomon, Brian. Alco Locomotives. Minneapolis: Voyageur Press, 2009.
Solomon, Brian. American Diesel Locomotive, The. Osceola: MBI Publishing, 2000.