Canadian Locomotive Company (CLC): 1901-1969

Last revised: March 5, 2022
By: Adam Burns
The Canadian Locomotive Company, or CLC for short, is normally not remembered as well as the other Canadian manufacturers; American Locomotive maintained the Montreal Locomotive Works and Electro-Motive the General Motors Diesel, Ltd. (later General Motors Diesel Division). 
After World War II CLC became an arm of Fairbanks Morse, a new entrant into the market during the 1940s. 
However, its heritage can be traced back decades prior to FM control.  The company built its first steam locomotive in 1848 and went through several name changes during the next half-century. 
Fairbanks Morse believed its opposed-piston prime mover, which worked so well in marine applications would become a major player in the railroad industry.
It tried for more than a decade to become a successful competitor against Alco and Electro-Motive, even producing a model that provided incredible horsepower under a single frame, the H-24-66. 
Alas, railroads never liked its unique prime mover and the company left the market by the early 1960s.  As for CLC it continued to build motive power for nearly a decade following but finally shutdown operations itself before 1970.
The predecessor operations of what became the Canadian Locomotive Company date back much further than one might think to the earliest years of the North American railroad industry. 
The Ontario Foundry was formed in 1848 and based in Kingston, Ontario where it originally manufactured steamship boilers and related products. 
On December 20, 1854 the company produced its first steam locomotive but struggled throughout the rest of the 19th century to maintain a level of profitability in the market. 
It fell into bankruptcy in 1860 and emerged in 1865 as the Canadian Engine & Machinery Company.  After only a decade the CE&MC also entered receivership, emerging in February of 1878 as the Canadian Locomotive & Engine Company Ltd.
Until the turn of the 20th century the CL&EC finally operated somewhat profitability as it supplied the Canadian Pacific and Grand Trunk Railways with many new locomotives. 
However, following an economic downturn during the 1890s the CL&EC shutdown in January of 1900. 
This closure was short-lived and lasted but a year as a group of investors reopened the facility in February of 1901 renaming it as the Canadian Locomotive Company, a designation that was slightly changed to Canadian Locomotive Company, Ltd. during June of 1911 following a restructuring. 
The new CLC was much more successful as a locomotive manufacturer than its predecessors and its name remained unchanged for the next half-century.

Through World War II the CLC was able to construct roughly one locomotive per week and did its part during the conflict by producing equipment for the Allies. 
Additionally, it also manufactured steam locomotives and other machinery to be sent to Europe following the rebuilding effort. 
After the war, CLC began moving away from steam designs and wanted to more thoroughly concentrate on diesel technology after Electro-Motive's extremely successful demonstration of its FT cab model, which proved that the new type of motive power could not only be used in road service but also was much more efficient than its steam counterparts. 
Additionally, by the late 1940s most major American builders were either establishing, or in the process of doing so, Canadian subsidiaries to serve the diesel market in that country.
The Canadian Locomotive Company wanted to become involved with this and began working with the Baldwin Locomotive Works through its subsidiary the Whitcomb Locomotive Company in 1948. 
However, this partnership lasted a mere two years as CLC did not believe Baldwin would sustain a profitable market share due to the unreliability of its products. 
So, in 1950 it switched partners and began working with Fairbanks Morse, a complete newcomer to locomotive manufacturing when it began marketing its opposed-piston prime mover in 1944.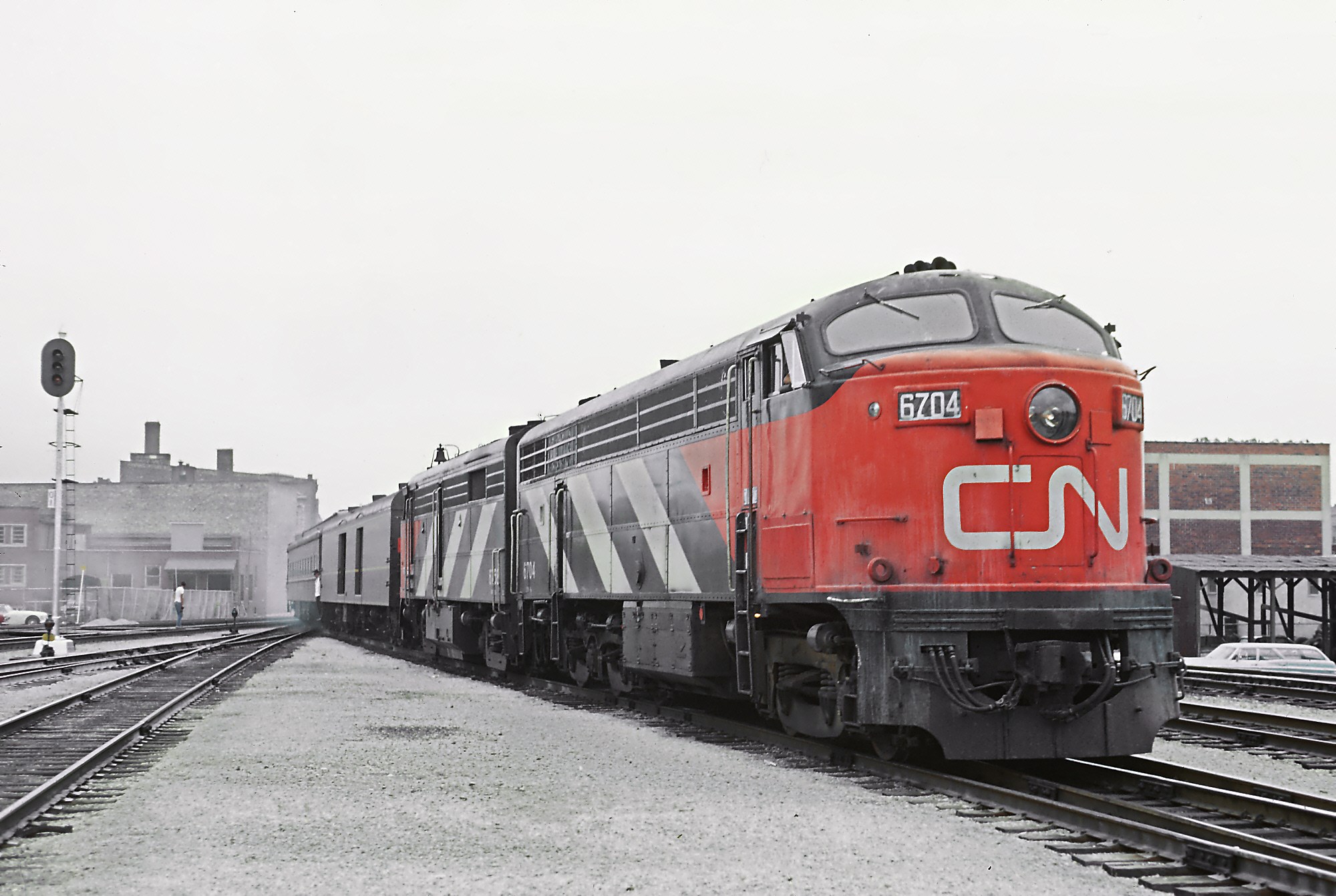 Canadian National CPA16-5 #6704 (C-Liner) arrives in London, Ontario with its train on July 4, 1966. Roger Puta photo.
FM took a controlling interest in CLC where it was owned by a paper corporation known as the Canadian Fairbanks Morse. Most who study the history of diesel locomotives and FM's involvement during the 1940s and 1950s probably best remember this era of the CLC. 
The manufacturer produced most of FM's models including the C-Liners, H15-44, H16-44, H24-66 ("Train Master"), and H12-44. 
Canadian Locomotive Company Diesel Models
C-Liners
| Model Type | Units Built | Date Built | Horsepower |
| --- | --- | --- | --- |
| CFA16-4 | 29 | 1952-1953 | 1,600 |
| CFB16-4 | 7 | 1952-1953 | 1,600 |
| CPA16-4 | 10 | 1951-1953 | 1,600 |
| CPB16-4 | 8 | 1952-1953 | 1,600 |
| CPA15-4 | 6 | 1954-1955 | 1,500 |
| CPB15-4 | 6 | 1954-1955 | 1,500 |
Road-Switcher Series
| Model Type | Units Built | Date Built | Horsepower |
| --- | --- | --- | --- |
| H16-44 | 58 | 1955-1957 | 1,600 |
| H24-66 (Train Master) | 20 | 1956 | 2,400 |
Switcher Series
| Model Type | Units Built | Date Built | Horsepower |
| --- | --- | --- | --- |
| H12-44 | 30 | 1951-1956 | 1,200 |
| H12-46 | 30 | 1951-1953 | 1,200 |
---
It also built a road-switcher variant found only in Canada, the H12-46, a light road-switcher that was only ordered by the Canadian National. 
The locomotive used an A1A-A1A wheel arrangement and could produce 1,200 horsepower.  Ultimately, CN acquired 30 examples between 1951 and 1953. 
FM would leave the locomotive market and returned to marine prime movers by 1961 after its "Train Master" design proved unsuccessful, railroads simply found the company's opposed-piston engine too hard to maintain. 
CLC would again become an independent builder and was renamed as Fairbanks Morse, Ltd.  It tried to continue marketing locomotives but found little success and shut down its plant during June of 1969. 
Within two years the facility was razed by the summer of 1971 having produced more than 3,000 locomotives during its more than 120 year history.