Alco "RSD-5" Locomotives

The Alco RSD5 was essentially an extension of the RSD4 model as it meant to replace a flaw in the earlier design. After fixing the issue, which had to do with inadequate spacing the RSD5 sold nearly six times as many units as its predecessor. The model was meant to compete with the Electro-Motive Division's SD7 design, the six-axle cousin of the GP7. Interestingly, despite railroads' disinterest in C-C locomotives at the time, Alco actually outsold its competitor by a few units. The RSD5 was, of course, nearly identical to the RSD4 although Alco did bump its horsepower rating just slightly, which actually made it a touch more powerful than the SD7. 
;
Today, at least two of these units have been preserved, former Utah Railway #306 (as Nickel Plate #324) and Chicago & North Western #1689.  After the latter was retired in March, 1981 she went through a number of owners, and even once wore Western Maryland colors leading excursions on the Western Maryland Scenic Railroad.  Today, she has been returned to her C&NW colors thanks to the efforts of the Illinois Railway, which has lovingly restored the locomotive.

---
---
---
---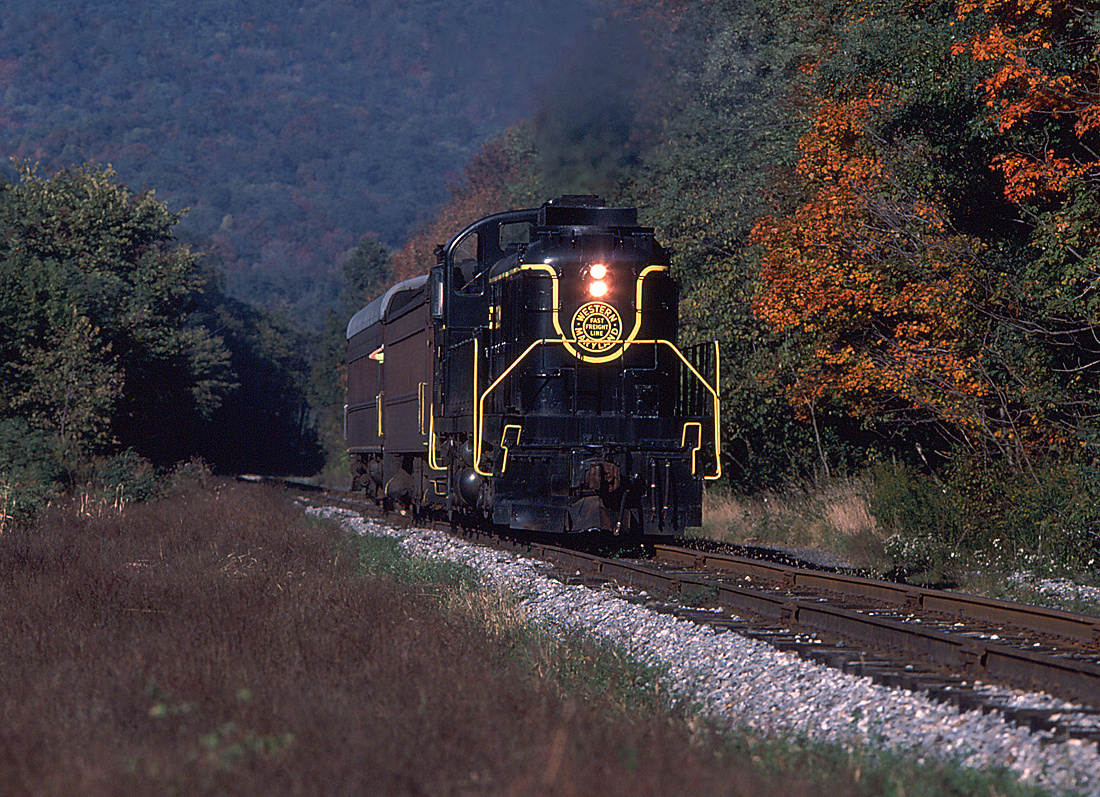 "Western Maryland" RSD5 #1689 leads a short excursion along the Western Maryland Scenic Railroad near Lap, Maryland on October 7, 1993. This unit began its career as Chicago & North Western #1689 in 1954. Wade Massie photo.
The Alco RSD5 was rushed into production as a replacement for the earlier RSD4, whose frame was not long enough to support the main generator. As such, at nearly 56 feet, 7 inches the later RSD5 was nearly eight inches longer than its predecessor. Internally, the model was identical to the RSD4 and both were essentially the same as the four-axle RS3. From a strength standpoint, the RSD5 was slightly better; it offered 1,000 pounds more starting tractive effort (90,000 pounds) and an additional 100 horsepower (1,600 hp). Interestingly, despite the RSD4's issues most railroads that purchased it returned to buy the RSD5.
Chicago, Madison & Northern RSD5 #1689 totes a single Milwaukee Road caboose west of Waukesha, Wisconsin in July, 1982. This unit began its career as Chicago & North Western #1689. Roger Puta photo.
The Alco RSD5 entered production in 1952 directly after the unsuccessful RSD4 and remained in the company's catalog until 1955. The new model used the same Alco 244 prime mover. As with all other "D" designated models, the Alco RSD5 used a C-C truck arrangement with all six axles powered. The six axle models were meant to provide a sizable increase in traction and be used on light branch/secondary lines allowing the locomotive's weight to be distributed more evenly over additional axles.

The same unit as in the top photo is seen here at the former Western Maryland station in Cumberland, Maryland on December 7, 1991. The locomotive has since been restored to its original C&NW number and livery. Wade Massie photo.
In an attempt to probably ease railroads fears over the problematic RSD4, Alco even built an RSD5 demonstrator to prove that the model no longer suffered from its previous issues. Apparently, the Atchison, Topeke & Santa Railway was quite impressed as they purchased more than 50 units of the design after only picking up ten examples of the RSD4. Additionally, lines like the Chesapeake & Ohio and Southern Pacific, both of which had not even purchased the RSD4 bought nearly 90 of RSD5s between them.  For information related to the RSD5 line please click here.  

Production Roster Of Alco RSD5s
| Owner | Road Number(s) | Quantity | Date Built |
| --- | --- | --- | --- |
| Alco Demonstrator | 1606 | 1 | 1952 |
| Birmingham Southern | 160 | 1 | 1953 |
| Chesapeake & Ohio | 5570-5595 | 26 | 1952 |
| Central Railroad Of New Jersey | 1615 | 1 | 1953 |
| Chicago & North Western | 1665-1667, 1684-1690 | 10 | 1953-1954 |
| Milwaukee Road | 2150-2155 | 6 | 1953 |
| Pennsylvania | 8446-8451 | 6 | 1952-1953 |
| Santa Fe | 2110-2162 | 53 | 1952-1953 |
| Southern Pacific | 5294-5339, 5345-5448, 5494-5507 | 64 | 1953-1956 |
| St. Louis Southwestern (Cotton Belt) | 270-272 | 3 | 1953 |
| Texas & New Orleans (SP) | 155-186 | 32 | 1953 |
| Utah Railway | 306 | 1 | 1955 |
---
---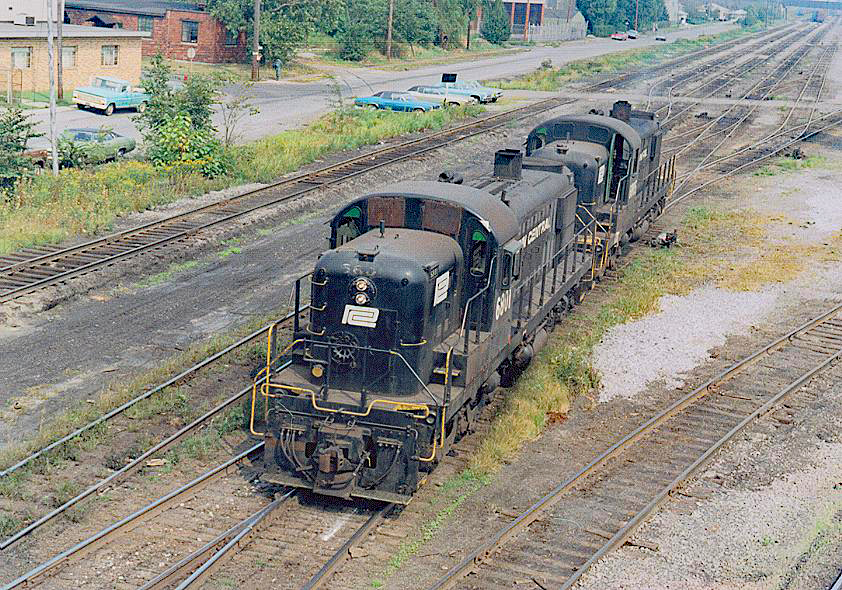 A pair of the Penn Central's RSD5's (ex-Pennsylvania) spent their final years in heavy switching transfer service around Frontier Yard in Buffalo, New York. They are seen here at the west end of the yard on September 6, 1972. Doug Kroll photo.
Many of the railroads that purchased the RSD5 employed them in heavy freight service such as the Utah Railway, Milwaukee Road, Chicago & North Western, Southern Pacific. The latter three roads particularly loved six axle diesels, practically since they were first manufactured by Alco and EMD. In any event, for a six-axle model the Alco RSD5 sold relatively well at 204 units for a number of Class I railroads such as the Milwaukee Road, Southern Pacific, Chesapeake & Ohio, and Santa Fe (this also includes the 37 purchased by Mexican lines, Ferrocarril del Pacífico and Ferrocarriles Nacionales de México).   To read more about other Alco Road-Switcher (RS) models please visit the Diesel Locomotives section of the site, which can be reached from the top of this page.
---
---
---