Wabtec Freight
Last revised: June 21, 2023
By: Adam Burns

Wabtec Freight will produce what was formerly GE Transportation's successful line of diesel locomotives.  In November, 2017 General Electric first reported its plan to spin off this successful subsidiary. 

It became official in a press release made public at 7 AM on May 21, 2018 when Wabtec Corporation and GE Transportation announced their merger intentions.  The marriage took place on February 25, 2019. 
The new company will keep its headquarters in Chicago, and manufacture more than just locomotives.  Their products will now include locomotive parts, mining equipment, heavy-duty diesel engines, railroad components, information services, and transit systems. 
At this time, the former GE plants in Erie, Pennsylvania (original) and its newer facility in Fort Worth, Texas will remain open.  How long this setup continues, however, is unknown. The union is interesting as both GE and Wabtec have a long, competitive history.  
The latter was originally the Westinghouse Brake Company, formed in 1869 by George Westinghouse (Wabtec is an acronym for Westinghouse Air Brake Technologies Corporation), inventor of the automatic air brake, which remains one of the railroad industry's most important safety devices. 
In later years GE and Westinghouse became major competitors in the production of electric locomotives; the former would partner with American Locomotive while the latter teamed up with the Baldwin Locomotive Works.
The information here offers a brief history of General Electric's locomotive production as well as the new company.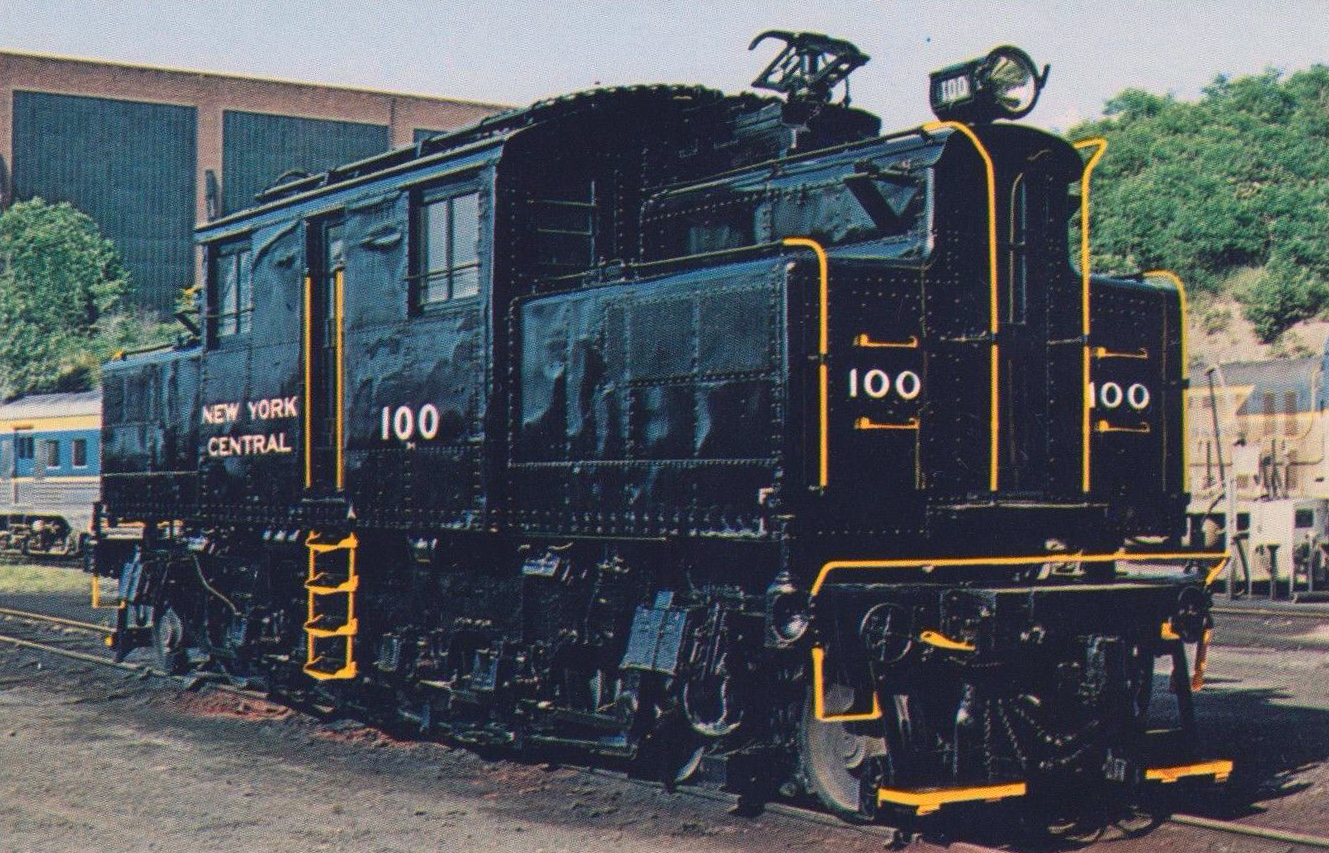 New York Central's first electric locomotive manufactured by General Electric in 1904, #6000. It was later given #100 and classed "S-1." The locomotive is currently owned by the Mohawk & Hudson Chapter of the NRHS; it is stored in poor condition at Albany, New York.
History
General Electric is one of the world's best recognized companies.  It was formed on April 15, 1892 by Thomas Edison, Charles A. Coffin, Elihu Thomson, Edwin J. Houston, and J. P. Morgan.  From its earliest days GE was involved in the railroad industry. 
It all began with the electric locomotive's emergence.  Their introduction was made possible by Zenobe Gramme's generator, unveiled in 1870, which jump-started electrification in main line applications. 
The first full-scale examples could be traced back to Werner Von Siemens' 1879 demonstrations in Berlin, Germany. 
However, according to the book, "The Electric Interurban Railways In America," by authors Dr. George Hilton and John Due, their genesis is also credited to Thomas Davenport, a Vermont blacksmith. 
In 1835 he demonstrated an electrically propelled toy train in Boston and Springfield, Massachusetts.  Brian Solomon notes in his book, "GE Locomotives:  110 Years Of General Electric Motive Power," Thomas Edison began experimenting with electrification as early as 1880. 
That year, he tested an electric locomotive, powered by a dynamo, on a 2.25-mile stretch of track in Menlo Park, New Jersey.  However, he never attempted to market his concept.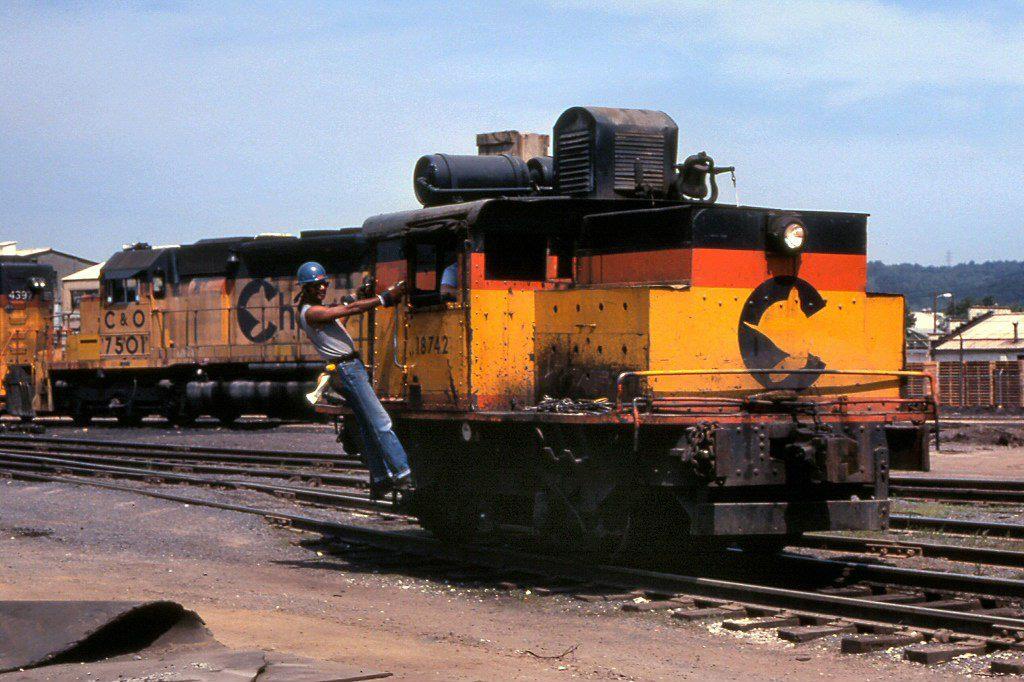 Chessie System's battery-powered shop switcher, a product of General Electric, at Chesapeake & Ohio's facilities in Huntington, West Virginia during the spring of 1984. This critter is now on display at the B&O Railroad Museum. Rob Kitchen photo.
Frank Sprague
As Peter Hain points out in his book, "Frank K. Hain And The Manhattan Railway Company: The Elevated Railway, 1875-1903," Frank Sprague is recognized as the father of electric traction. 
After a great deal of perseverance, he eventually secured a contract in May of 1887 with Virginia's Richmond Union Passenger Railway to provide cars for its operation.  It opened on February 2, 1888 and proved successful.   This gave way to the typical streetcar which became so common throughout America. 
In 1898 there were some 850 electrified streetcar systems in operation and by 1901, 3,122 miles of interurbans could be found in service (these rapid transit systems competed with traditional railroads for passenger traffic [and some freight] between intermediate points). 
In his book, "Electric Locomotives," historian Brian Solomon points out the first known use of a "heavy rail" electric locomotive took place in 1893 when General Electric manufactured a small, 30-ton machine featuring two axles. 
A year later it built another which utilized a pair of trucks and nose-suspended traction motors.  This particular example was classified as the Type 404-E70-4 LWP 20-500 Volts.  It was built for the Cayadutta Railway and enjoyed a long career serving a cotton mill in Taftville, Connecticut until 1964.  
Electric Locomotives
Main line electrics did not appear until 1895 when the Baltimore & Ohio opened a stretch of energized territory in Baltimore for smoke abatement. 
Known as the Baltimore Belt Railroad (or "Belt Line"), this new corridor included the 1.25-mile Howard Street Tunnel.  Once again, GE was involved. 
Its first examples were three steeple cab designs listed as Class LE-1.  During the course of its operational history (which ended in 1952), the B&O wound up with numerous electrics in a variety of classes including LE-2 (1903-1906), OE-1 (1910), OE-2 (1912), OE-3 (1923), and OE-4 (1923).  By the early 20th century, GE had established itself as a leader in electric propulsion technology, thanks to its partnership with the American Locomotive Company. 
The latter was formed in 1901 through the merger of several small steam locomotive manufacturers and would eventually place its primary production facility in Schenectady, New York, not far from GE's own plant. 
The two companies began working closely in electric locomotive construction, particularly in an effort to compete against the Baldwin/Westinghouse tandem. 
Some of GE's early noteworthy models included the following New York Central designs: S Class (S-1 through S-3), T Class (the so-called "T" motors carried a B-B+B-B wheel arrangement), R Class (R-1's featured a B-B wheel arrangement while the R-2's a C-C) that served its Detroit River Tunnel trackage, and finally the Class P's found at Cleveland Union Terminal.
(These featured a 2-C+C-2 wheel arrangement; after electrified operations were discontinued here in the 1950s, the P's were transferred to Grand Central Terminal.  They were subsequently reequipped for third-rail operation and dubbed Class P-2a/P-2b.)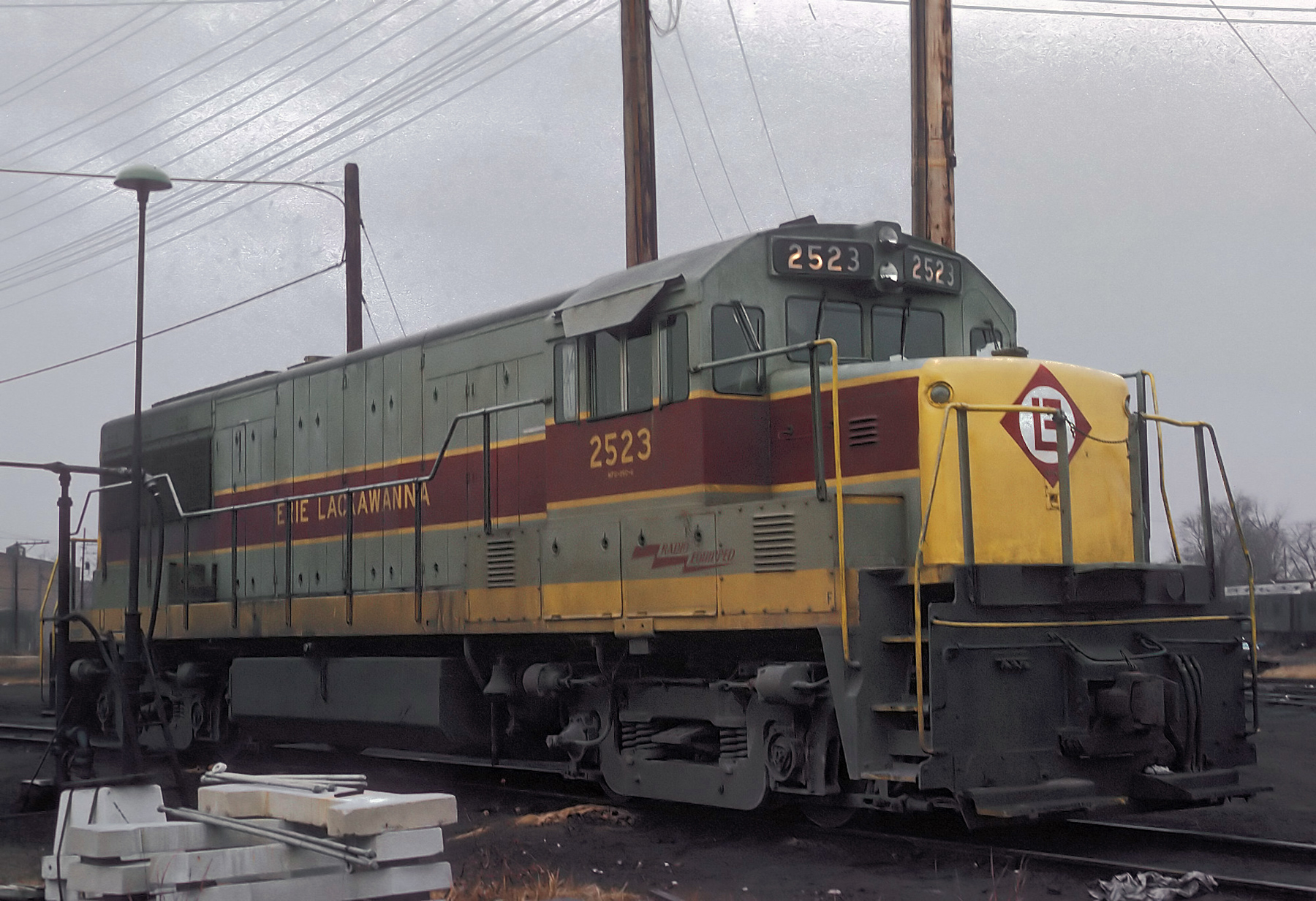 Erie Lackawanna U25B #2523 lays over at the engine terminal in Hammond, Indiana on December 22, 1969. The U25B was General Electric's first stand-alone road-switcher, released in the late 1950's. Roger Puta photo.
In many ways the original S-1, of which #6000 (first classified as 'L' and later 'T ' before the railroad settled on its final designation) was the only unit, paved the way for modern electric propulsion in main line applications. 
While the locomotive was largely designed by General Electric's Asa Batchelelder, he equipped it with Frank Sprague's multiple-unit (MU) control system. 
This device, designed in 1897 and first applied to #6000, allowed engineers at the head-end to control every additional locomotive in the train.  In modern diesel electric locomotives, it remains a commonly used tool. 
Other significant GE designs included Milwaukee Road's EP-2 "Bi-Polars," Great Northern's Cascade Tunnel electrification, Pennsylvania Railroad's famous GG-1 streamlined motors, Virginian Railway's late-era electrics, and various types utilized by the New York, New Haven & Hartford. 
The switch to diesel electrics was a natural outgrowth of the electric locomotive movement.  GE was also at the forefront of this technology (whereby the power plant, a diesel engine, was housed internally to drive electric traction motors instead of the locomotive acquiring its power from outside sources) although it did not directly enter the market until 1960.
In his book, "Vintage Diesel Locomotives," author Mike Schafer notes GE earned distinction as helping design America's first commercial diesel locomotive, Jay Street Connecting #4, manufactured in October, 1918. 
It carried a B-B wheel arrangement and produced 225 horsepower utilizing a V-8 diesel engine.  Several were built, in conjunction with American Locomotive and Ingersoll-Rand, although most were not considered a great success. 
Jerry A. Pinkepank points out in his book, "Diesel Spotter's Guide," GE saw more sales with a line of 300 hp and 600 hp switchers manufactured between 1925 and 1928 (also produced alongside Alco/Ingersoll-Rand).  The first was a 60-ton, 300 horsepower boxcab variant, produced as a test-bed demonstrator in 1924. 
It operated on the following railroads; New York Central, Baltimore & Ohio, Central Railroad Of New Jersey, New Haven, Union Freight Railroad, Boston & Maine, Long Island Rail Road, Bethlehem Steel, Reading, Delaware, Lackawanna & Western, Hoboken Shore, New Jersey Zinc Company, and Alan Wood Iron & Steel Company.  To read more about the history of diesel locomotives please click here.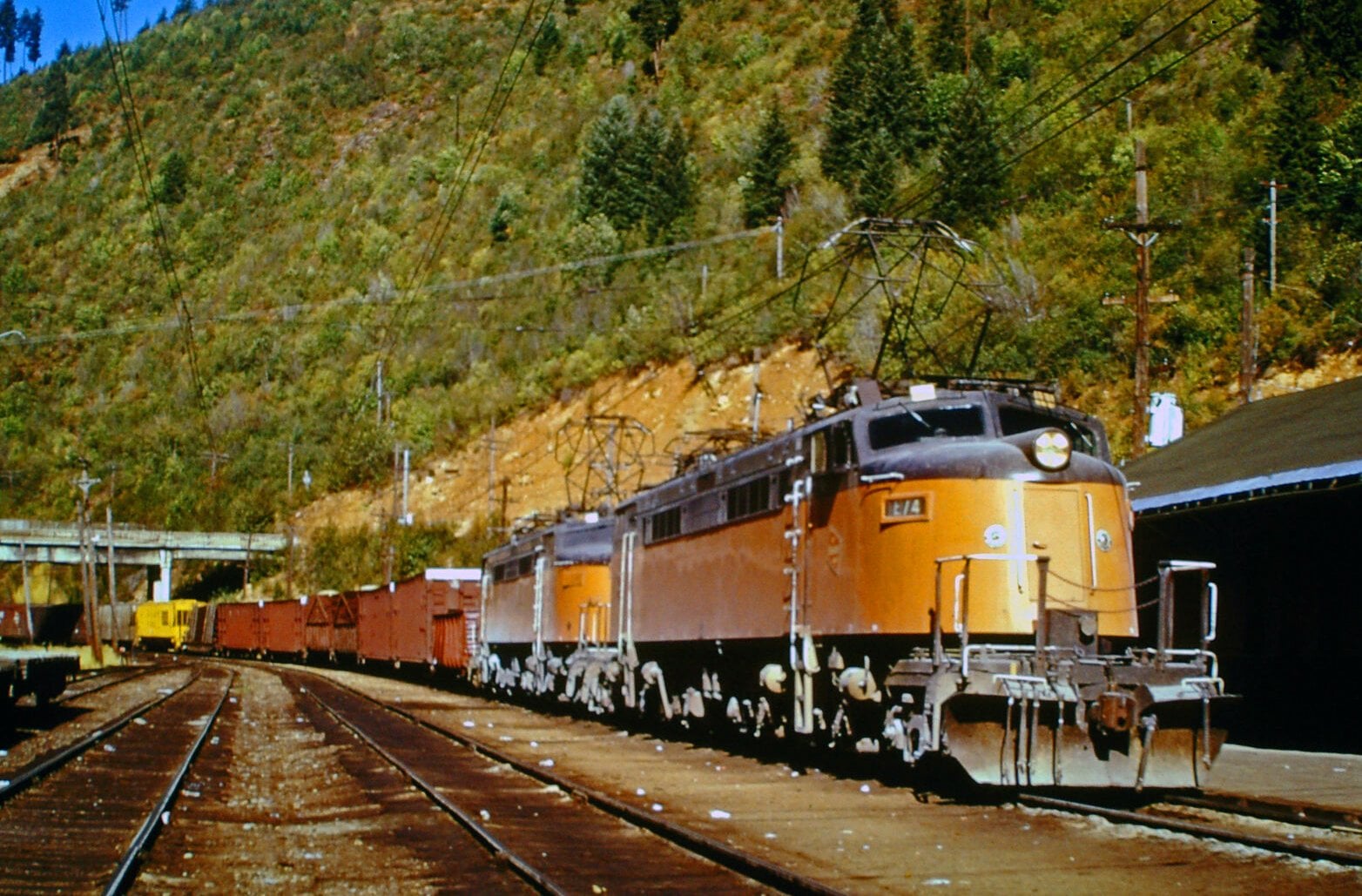 Milwaukee Road "Little Joe" E-74 is about to depart from the depot in Avery, Idaho with an eastbound freight on August 22, 1971. Avery marked the western end of the eastern electrification, the "Rocky Mountain Division" (Harlowton-Avery). Today, the right-of-way is a highway.
Early Diesels
Afterwards, GE continued building diesels although beyond 1928 elected to manufacture the carbodies itself, taking over those duties from Alco. 
During the 1930's and 1940's, GE produced a particularly successful line of switchers, notably the 44-ton model, that saw widespread use in industrial and light branch line service. 
In 1940 it again worked with Alco to catalog a series of road-switcher, switchers, and cab designs for main line applications which would compete against the market's future leader, Electro-Motive. 
These included the DL series, RS series, S series, PA, and FA.  The locomotives were primarily produced by Alco, which manufactured the engines and carbodies while GE supplied the traction motors, traction generator, and turbocharger. 
As GE sensed Alco would not gain ground on Electro-Motive, it branched out on its own, unveiling its first test-bed road-switcher in 1956, the UD18. 
GE's Success
Featuring a high, short hood this model never went into full-scale production but did pave the way for GE's first cataloged design, the U25B in 1960.  Formally known as the Universal line (nicknamed "U-boats"), the locomotives were not particularly reliable, or popular with crews. 
In addition, railroads often purchased them only to save money or avoid EMD's order backlog.  GE persisted, however, and continued refining its product. 
By the late 1970's sales were rising and within a decade the company was offering a well-liked product (the Dash 7 and Dash 8 lines).  In the 1980's, GE became the undisputed leader in locomotive production, eclipsing Electro-Motive after it faltered with its SD50 series. 
The decision by General Electric to spin-off its GE Transportation arm is interesting considering its market dominance.  Perhaps it was the volatility as orders can sometimes be sporadic and unpredictable depending upon railroads' needs. 
---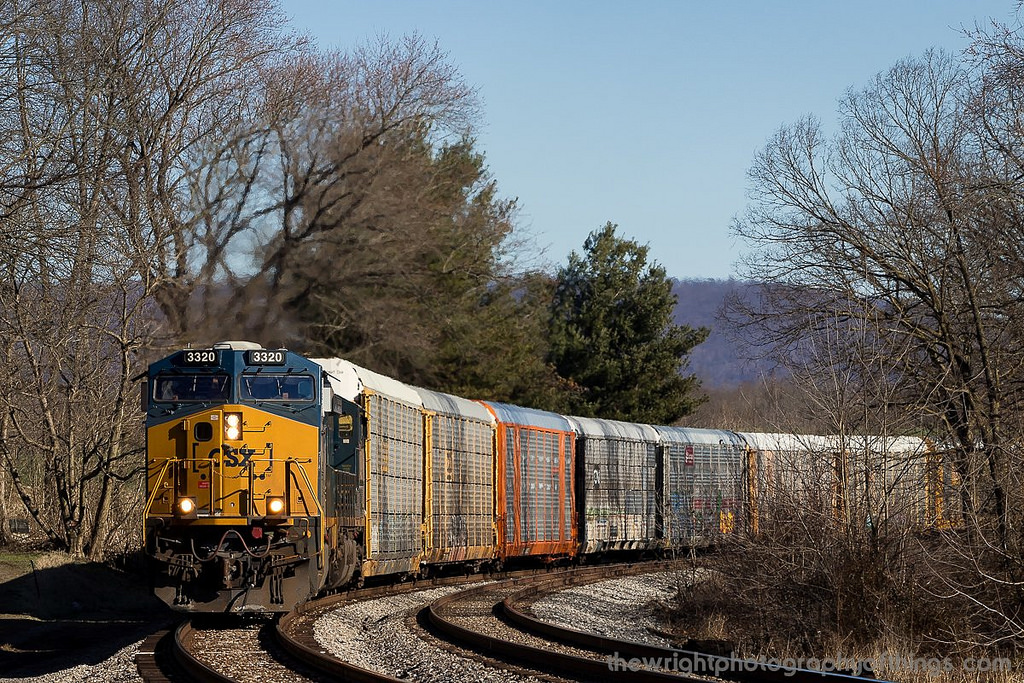 The Evolution Series was GE's final production line. Here, CSX ET44AH #3320 leads empty autorack Q277 out of Baltimore near Duffields, West Virginia on Skeetersville Curve on March 4, 2018. Jon Wright photo.
Westinghouse Air Brake, Wabtec
For Wabtec, the acquisition is a huge boon to a company which has also been successful in the industry, albeit largely unnoticed.  It was formed on September 28, 1869 by George Westinghouse who set up his manufacturing facility in Pittsburgh, Pennsylvania. 
Despite its immediate safety benefits and improved efficiency, many railroads refused to spend the necessary capital to equip the device on cars and locomotives. 
As a result, brakeman continued to be maimed or killed in the dangerous practice of tightening brake wheels by hand. 
As Jim Boyd notes in his book, "The American Freight Train," only the Railway Safety Appliance Act's passage by Congress in 1893 was it finally mandated on all equipment, along with the automatic knuckle coupler (also known as the Master Car Builders, or MCB, coupler). 
The Westinghouse Air Brake Company continued to produce air brakes until 2000.  In 1999 it merged with MotivePower Industries Corporation forming the Wabtec Corporation. 
With the merger of GE Transportation, the new Wabtec Freight will be a major player in the industry for years to come.  As it branches out into its own line of locomotives, independent of the GE name, the information here will be updated accordingly.