Cow-Calf Locomotives: Types, Photos, And More

The oddly named cow-calf design was released only by Electro-Motive, first built as an experimental prior to World War II.  It was essentially a different name for "A" and "B" locomotives used in main line service, such as the F and E series cab models. 
EMD took the same concept and applied it to its success switcher line for use in transfer and yard work by providing a cabless "B" unit mated to an "A" to offer more horsepower and tractive effort without the need of supplying an additional crew to do so. 
As with virtually all transfer models offered at the time railroads were not wooed into purchasing many, even for EMD's highly reliable and respected designs coming out of La Grange at the time.  It is also interesting that the "B" unit concept of the time went beyond road-switchers and found its way into the switcher market, a market in which the extra horsepower was not necessarily required.
Overall, few cow-calves were sold among the seven different types offered although they did prove more successful than similar examples cataloged by other manufacturers.   As the years passed railroads tended to lashup "A's" and "B's" of different models together.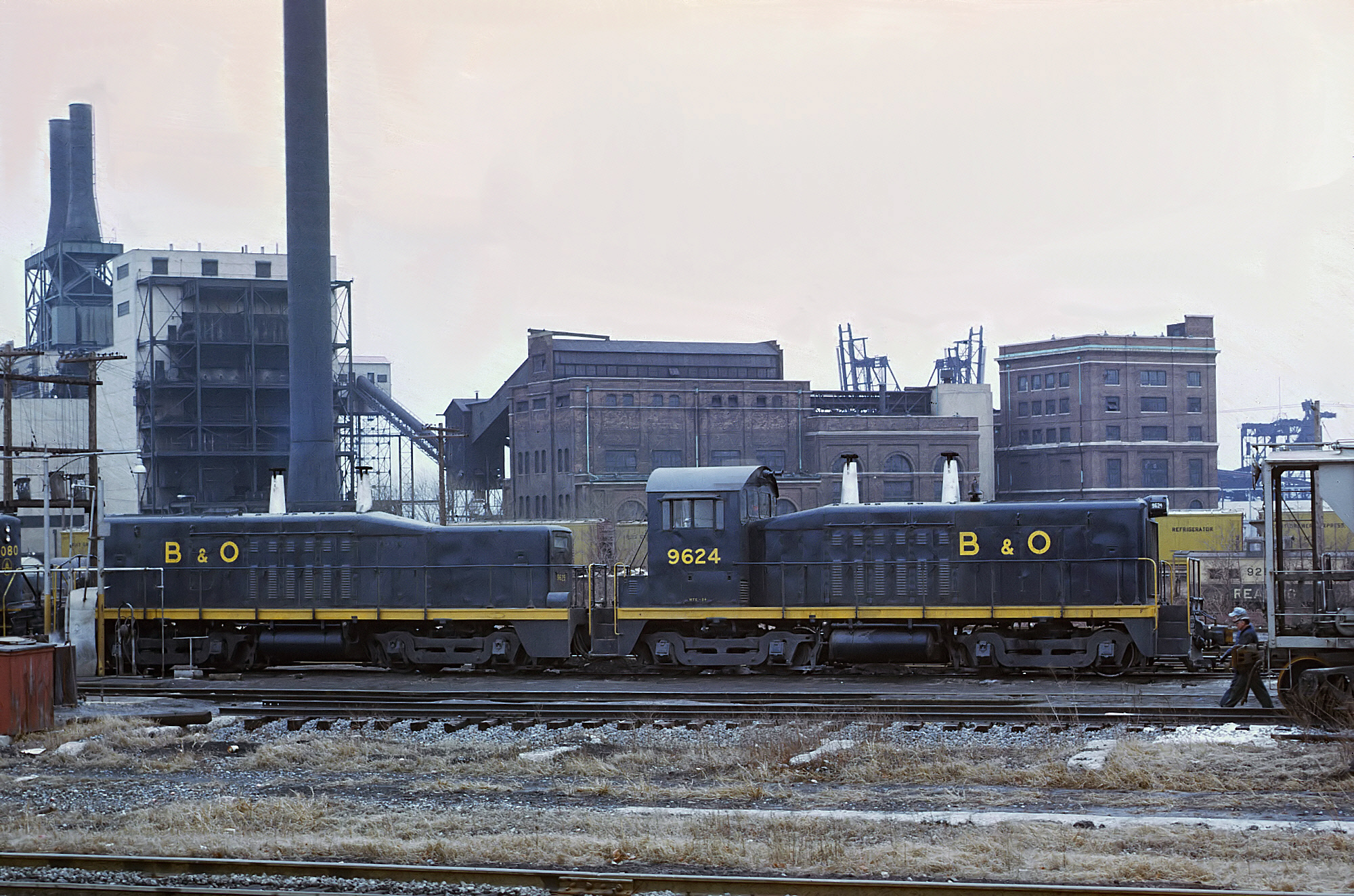 A Baltimore & Ohio TR4 "cow-calf" set is seen here tied down at Riverside Yard in Baltimore, Maryland on January 19, 1969. These locomotives were originally built for the Chesapeake & Ohio in 1950 and later transferred to the B&O following the takeover. Roger Puta photo.
The cow-calf term is unique into itself; technically it is neither a mother-slug setup (a fully operational locomotive coupled to a unit that features no prime mover, only traction motors and/or ballasting for increased tractive effort) nor an actual "B," booster unit for main line service. 
Instead the design refers solely to switchers and more specifically those built by then General Motors' Electro-Motive Division (EMD).  The idea of the "cow-calf" (or cow-and-calf) designation was not the product of EMD, merely a nickname adopted later on. 
Technically, the builder referred to them as transfer switchers and the first was an experimental.  The unit, numbered 9201 (later changed to #9202) and listed as the T-Model (for Transfer) was a single, center-cab design built in 1936 for Illinois Central; the-then Electro-Motive Corporation supplied the power plant (two 900 horsepower, Winton V-12 201-A prime movers) while the St. Louis Car Company manufactured the carbody.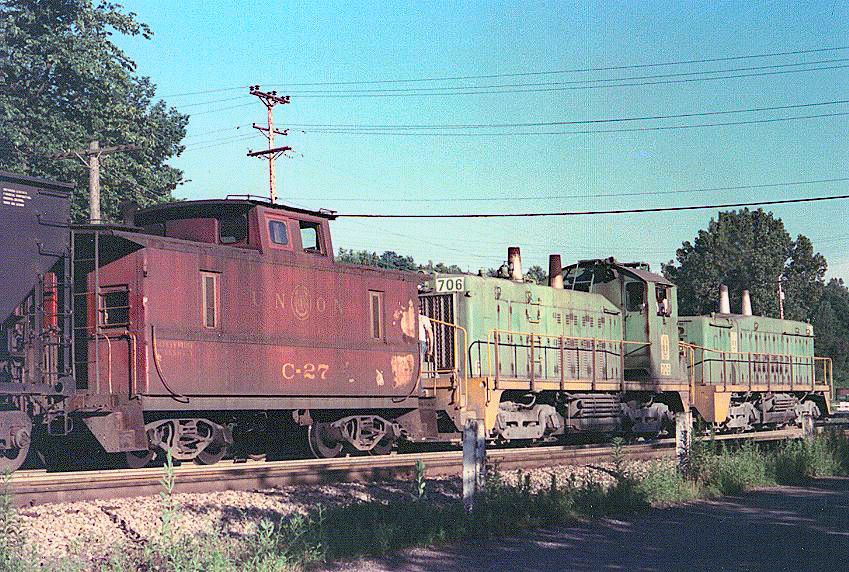 Union Railroad SW7 #706 and TR5B #704B act as helpers at Hall, Pennsylvania on July 11, 1974. The URR acquired a few TR5 sets new in 1950. However, as the years passed, railroads tended to swap the B's and A's with other EMD models. The TR5B was essentially an SW9. Doug Kroll photo.
The locomotive featured a unique B-B+B-B wheel arrangement and the IC intended to use it in transfer service between Chicago and Markham Yard.  Overall, the railroad was please with the model (which remained in service until after the war) although its longer frame (for a conventional switcher) developed a sag that was later corrected by Electro-Motive. 
Since IC operated the first, true transfer model designed by EMD its only appropriate the road went back to the builder requesting another.  In 1940 the first, true cow-calf model was outshopped by EMD; designated class TR (also for Transfer) it was essentially based on the popular 1,000 horsepower NW2 (that sold more than 1,000 examples). 
However, instead of Winton prime movers the locomotive featured EMD's highly reliable 12-cylinder, model 567A engine.   The IC was so pleased with the design that it ultimately purchased three sets, numbered 9203A–9205A/9203B-9205B, where the cow-calves spent most of their time in yard service pushing long cuts of freight cars over the hump.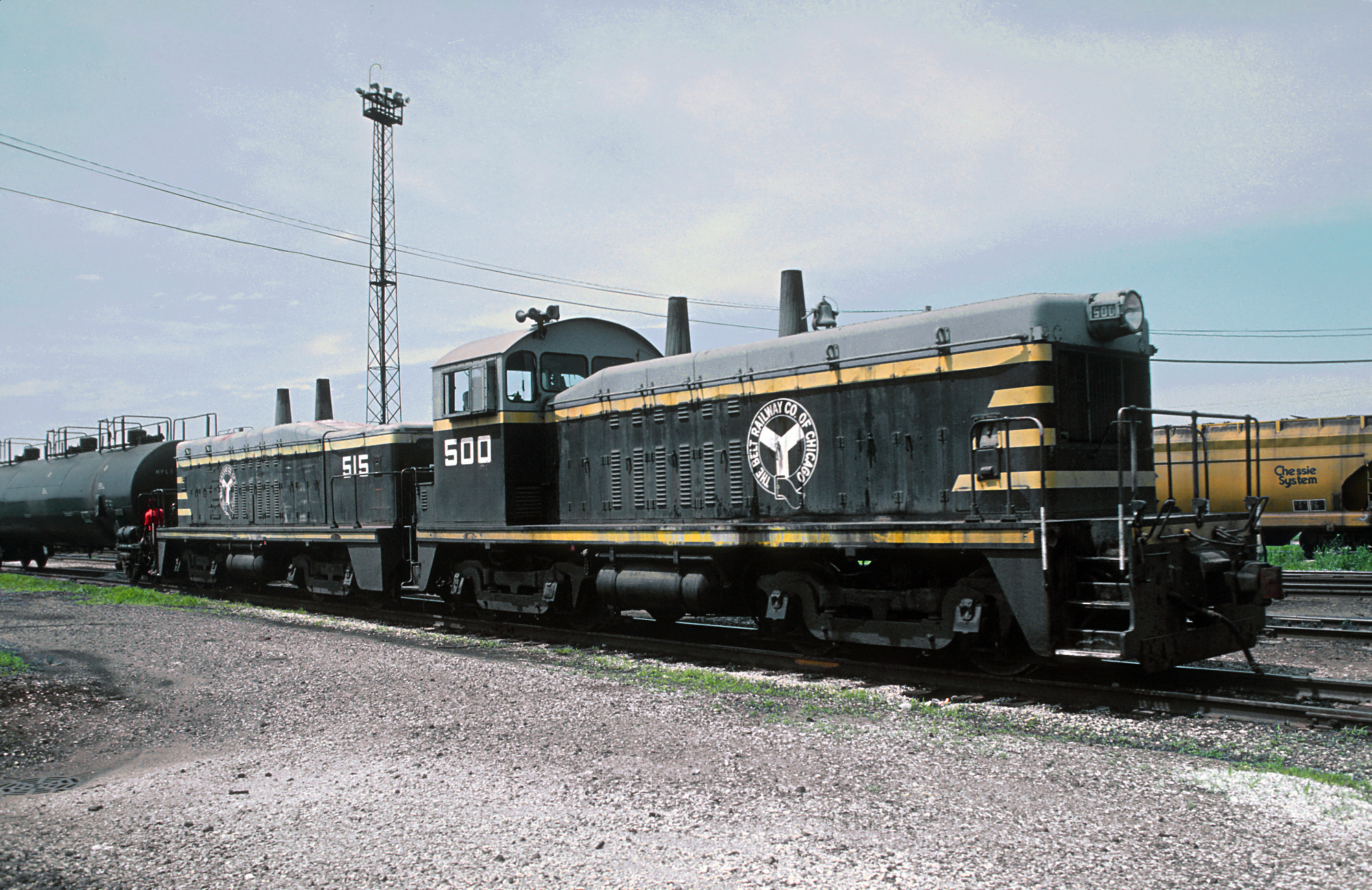 A Belt Railway of Chicago TR2 set rest at Clearing Yard in Chicago during July, 1986. The BRC was a big buyer of the cow-calf concept. Roger Puta photo.
It was the only system to purchase the TR, as well as the following TR1 of 1941 which featured a uniquely interesting long carbody that was based on the NW3; capable of producing 2,700 horsepower (combined), only two sets of the TR1 were built that year, #9250A-9251A/9250B-9251B. 
However, orders for future models from other railroads soon followed after the war (which delayed production by four years).  In 1945 EMD began producing the 2,000-horsepower TR2, which was also based from the NW2 design. 
In all, 36 examples of this model were built for seven different lines (IC, Belt Railway of Chicago, Burlington, C&NW, Illinois Central, Milwaukee Road, and Southern) by 1949.  In a bit of comedy, names for future cow-calf combinations became even more interesting..
A Belt Railway of Chicago TR4 set is on a daily yard job at Clearing Yard in Bedford Park, Illinois (Chicago) on October 5, 1996. Wade Massie photo.
During the summer of that same year (1949) the Chesapeake & Ohio took delivery of the TR3; a three-unit, cow-calf-calf combination (also based from the NW2) that could produce 3,000 horsepower.  The unique lashup of this design earned it the nickname as a "herd." 
The C&O went on to purchase two, three-unit sets of the TR3; #6500ABC-6501ABC.  EMD's last three designs of cow-calves were about as successful as the first three with few sales.  In 1950-1951 it released an SW7 version, the TR4 that could produce 1,200 horsepower; 15 examples were built for four different railroads including the Milwaukee Road (6 sets), C&O (2 sets), Belt Railway of Chicago (5 sets), and Santa Fe (2 sets). 
Also in 1951 EMD cataloged its most powerful cow-calf, the 2,400 horsepower TR5.  Based from the SW9 it utilized the newest model 567B prime mover but only two buyers were interested; the Union Pacific (8 sets) and Union Railroad (2 cows, 4 calves).
Finally, there was the TR6 of 1950 based from the SW8.  A less powerful design it featured an eight-cylinder, model 567B prime mover that could product 1,600 horsepower.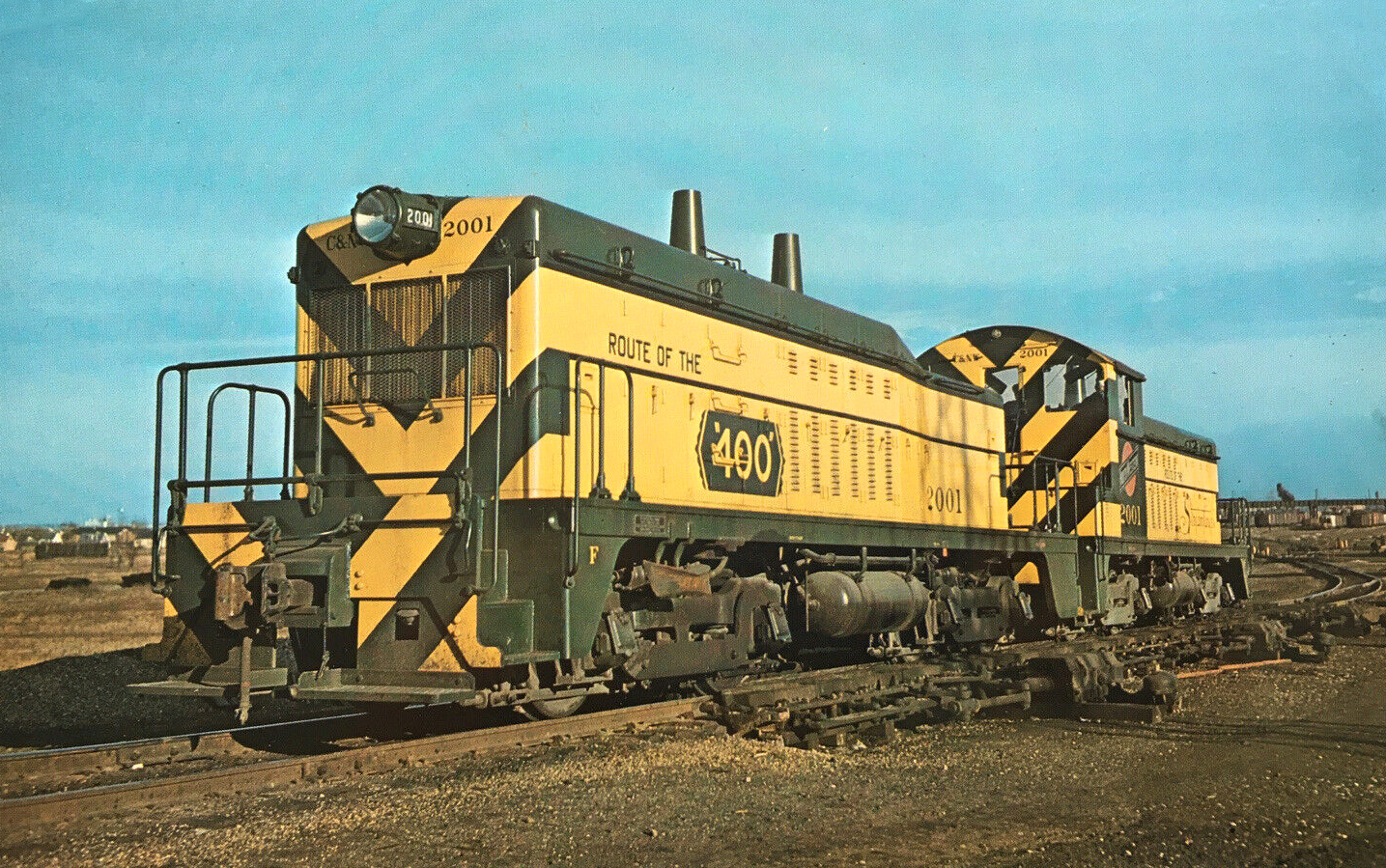 A Chicago & North Western photo featuring TR-2 cow-calf set #2001-A and #2001-B in October of 1949. As built these locomotives were used in hump yard service in Chicago. Later, calf #2001-B was rebuilt into Slug #BU-5 during 1961.
Once again there were few buyers for this transfer model as only the Southern Pacific, which acquired four sets (including EMD's demonstrator), and the Oliver Iron Mining Company (that purchased eight sets) took orders.  Just as with booster units in main line service interest in the cow-calf waned since it required the cabless locomotive to always be mated to a "mother." 
In other words, it wasn't very utilitarian.  A good example of this was with Burlington, which once ordered several cow-calves only to later change its mind and return the calves for cabbed units.  By the early 1950s no more TR examples were outshopped by Electro-Motive although those that were remained in use for several years, many of which were rebuilt with cabs like the CB&Q's.
---
---
Santa Fe TR4 set #1418-A (B unit) and #1418-L ("L" denoted lead in the AT&SF's lexicon) performs switching chores at Kansas City, Missouri on May 26, 1977. These were essentially SW7's and this particular set was built as Electro-Motive's TR4 demonstrator. Doug Kroll photo.
For more reading about early EMC switcher locomotives Mike Schafer's Vintage Diesel Locomotives highlights virtually all of the classic builders and models from Alco PAs to early EMD Geeps. If you're interested in classic EMDs, or diesels in general, this book gives an excellent general history of both. 
You might want to also consider the book EMD Locomotives from author Brian Solomon. Solomon's book highlights the history of EMD from its earliest beginnings in the 1920s, to its phenomenal successes in the mid-20th century, and finally its decline into second spot behind General Electric in the late 20th century and eventual sale by General Motors in 2005.
The book features 176 pages of EMD history and is filled with excellent photography and illustrations.  Finally, Mr. Solomon's Electro-Motive E-Units and F-Units: The Illustrated History of North America's Favorite Locomotives provides an in-depth history of the the builder's classic covered wagons.