Baldwin "DRS-6-4-1500" Locomotives


The Baldwin DRS-6-4-1500 was very similar to its sister model, save for the fact that it featured an A1A truck arrangement instead of the standard B-B design on the earlier DRS-4-4-1500.
The DRS-6-4-1500 was constructed at during the same time as well and proved to be about as successful, selling less than 100 units.
Interestingly, the locomotive sold far better to foreign lines with more than twice as many purchased, mostly to countries in North Africa (they also were slightly modified).
During the time period in which Baldwin released the DRS-6-4-1500 railroads were still not particularly interested in six-axle designs. 
This was not an issue related exclusively to the Eddystone builder; similar locomotives offered by American Locomotive (Alco) and even Electro-Motive's SD7 and SD9 sold relatively poorly.
Baldwin is often regarded as the greatest of all the steam builders, producing rugged and reliable locomotives which railroads operated for generations.  
Numerous examples of preserved today and some continue to operate.  Unfortunately, its management failed to recognize the diesel's potential and merely shrugged it off. 
As such, the company was entirely unprepared when Electro-Motive's FT took the industry by storm. 
It also struggled to gauge the model types of greatest interest. Astonishingly, Baldwin exited the market less than 10 years after building its last steam locomotive.
The Baldwin DRS-6-4-1500 utilized the builder's 608 SC model prime mover that could produce 1,500 horsepower.
The primary difference between the DRS-6-4-1500 and DRS-4-4-1500 was that the former utilized an A1A truck arrangement, meaning that there were three axles per truck but only the outside axles featured traction motors.
Baldwin's Other Road-Switcher Models
Baldwin's First Road-Switcher, The Unpopular DRS-4-4-1500 

The Six-Axle And Bestseller Of The "DRS" Series, The DRS-6-6-1500 

Introducing The New "Standard" Line, The AS16 

The Unsuccessful A1A-A1A, AS416 

Baldwin's Top-Selling Road-Switcher, The AS616 

Baldwin's Light Road-Switcher Model, The RS12 
As was the case with nearly all of Baldwin's diesel designs, Westinghouse supplied the company with all of the DRS-6-4-1500's needed internal components such as traction motors, generators, and air equipment.
The model offered comparable tractive effort to Alco's RSC2 at 58,200 starting and 42,500 continuous (although Alco's model did offer slightly better starting effort).
Once again, poor engineering and equipment led to few sales for the DRS-6-4-1500, although it proved to be more successful than its sister model.
The locomotive sold 91 units to a handful of Class I railroads including the Norfolk Southern (original), Southern Pacific, and Chicago & North Western as well as the Savannah & Atlanta Railway by the time production had ended in 1952.

Additionally, Union Pacific and Kennecott Copper purchased Baldwin demonstrators 1500 and 1501 (Kennecott, however, requested that its unit, Demo 1501, to be overhauled with B-B trucks).
It should be noted that 62 of those 91 units sold were purchased from out-of-country buyers as only 29 were sold to US railroads.
Baldwin did have a very pleasing carbody design with its DRS series that offered crews good visibility. It also carried the standard look of a road switcher with a short front hood, offset cab, and trailing long hood.
However, the company's attempt at trying to market so many different versions of practically the same model also hurt its sales potential.
It continued to hold steadfast to the steam locomotive concept of customizing designs and would not follow the approach (until its last few years in the business) of standardization that the EMD had mastered.  
This steam locomotive approach also carried over into its classification system (although another reason Baldwin used such a complicated system was the fact that it was still building steam at the time it released its first diesel designs). 
Baldwin DRS-6-4-1500 Production Roster
| Owner | Road Number(s) | Quantity | Date Built |
| --- | --- | --- | --- |
| Baldwin (Demo) | 1500 | 1 | 1946 |
| Chicago & North Western | 1504 | 1 | 1948 |
| Columbus & Greenville | 601-605 | 5 | 1946-1947 |
| Kennecott Copper Corporation | 901 | 1 (Reconfigured to B-B trucks.) | 1948 |
| Norfolk Southern (Original) | 1501-1510 | 10 | 1947-1948 |
| Savannah & Atlanta Railway | 100-107 | 8 | 1948 |
| Southern Pacific | 5200-5202 | 3 | 1948 |
---
---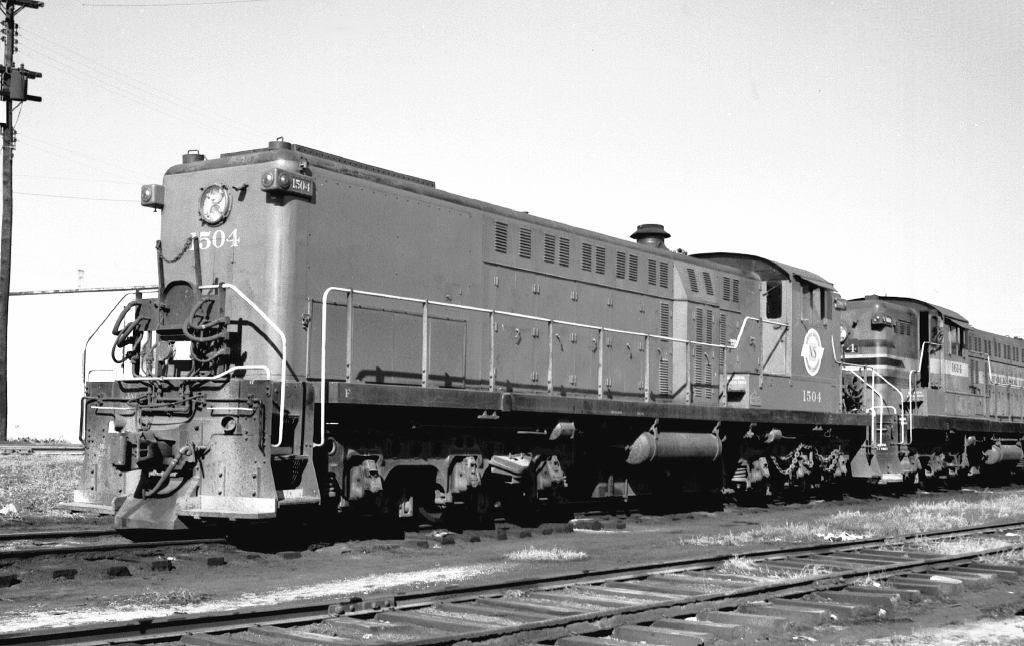 A late-era scene of Norfolk Southern DRS-6-4-1500 #1504, probably taken soon before the unit was retired. Warren Calloway photo.
For instance, using the DRS-4-4-1500 model as an example the DRS referred to Diesel Road Switcher unit; the first number, 6, was the designation of six total axles; the second number, 4, referred to four powered traction motors; and 1500 stood for the horsepower rating.
The model designed for foreign sale in Africa was listed as the DRS-6-4-1500E. Essentially the same locomotive its one noticeable difference was the end cab setup it employed, making it appear as a rather large switcher.
Three different African lines purchased the DRS-6-4-1500E including the Office des Chemins de fer Algériens (43), Office National des Chemins de Fer du Maroc (15), and Tunisian Railways (4).  Today, one DRS-6-4-1500 survives, Columbus & Greenville #601 on display in Columbus, Mississippi.