Alco RSD-15 "Alligator"

Last revised: March 18, 2023
By: Adam Burns

The RSD15, affectionately known as "Alligators" for their long, low short hood was the final six-axle RS model Alco's plant in Schenectady, New York would catalog.

It was one of the most powerful models in the Road Switcher (RS) line although sales were very modest and did not top 100 units (however, it did outsell the RSD12).
While the American Locomotive Company (Alco) would offer the RSD15 in either low or high short hoods most were built with the former setup, thus giving them their now classic name.

For the lines which purchased Alligators most employed them where they were intended, heavy freight service.  Among the RSD models, which are not regarded as a success, the RSD15 is the most well known.  

This is surprising given the model was not Alco's top seller in the series (RSD5).  Perhaps it thanks to train enthusiasts who gave the locomotive its affectionate nickname due to its long, short hood.
Because the Santa Fe ordered such a large batch several examples of this unique locomotive remain preserved today.  A few, all of AT&SF heritage, are even still operational.
Photos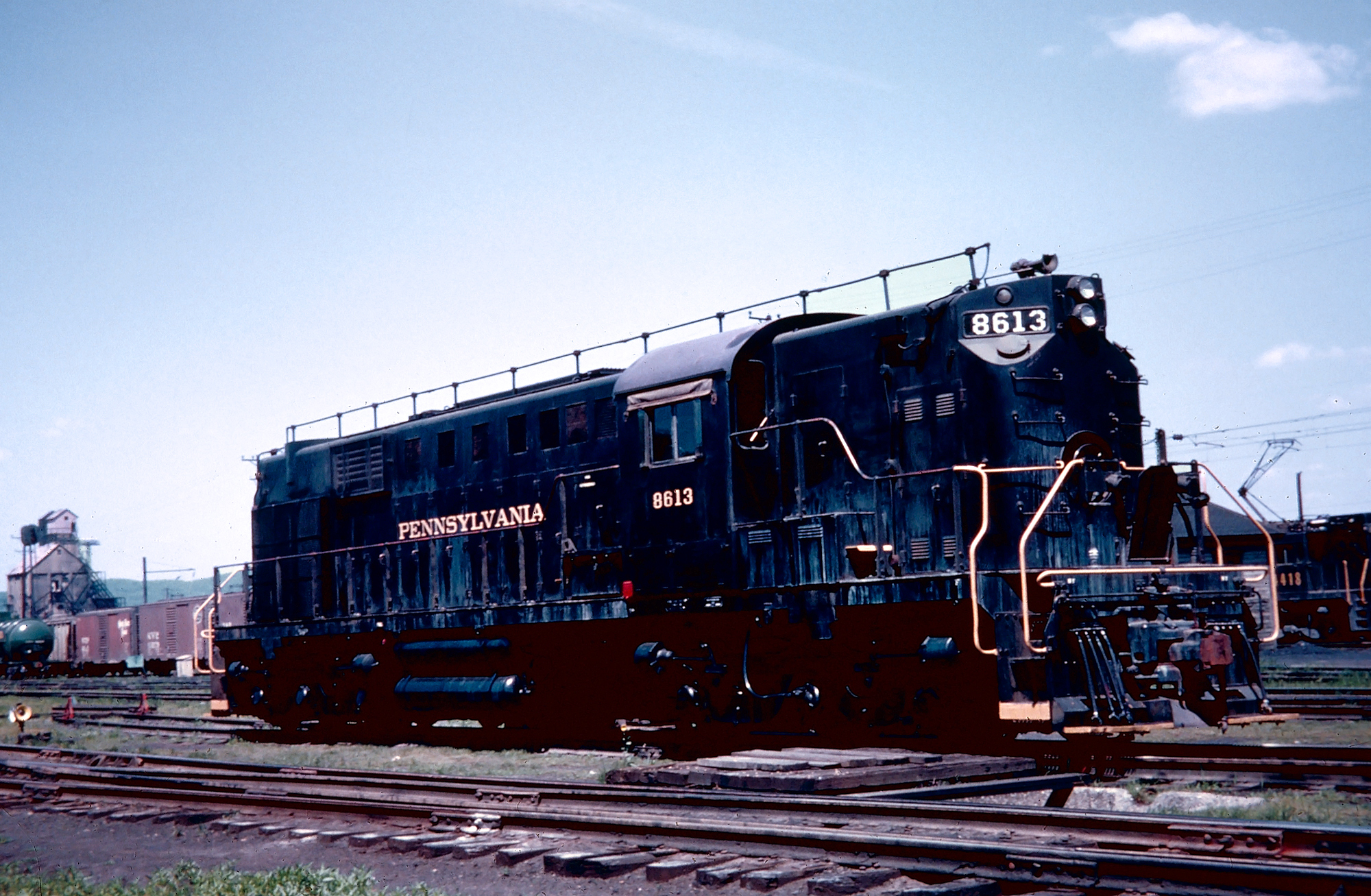 Pennsylvania RSD-15 #8613 was photographed here at Enola, Pennsylvania on July 1, 1962. Fred Byerly photo. American-Rails.com collection.
Overview
Alco actually began production on the RSD15 while its RSD12 line was also still being manufactured. The model entered the company's catalog in 1955 and remained there until 1960.
It was one of just a few Road Switcher models to receive the upgraded and far more reliable 251B prime mover, which had replaced the troublesome 244 model.  The six-axle RSD15 came equipped with some serious pulling capacity at 2,400 horsepower, which was a 25% increase over the RSD12.  
Additionally, thanks to its C-C truck setup (six powered axles) it offered quite impressive tractive effort with a continuous rating of 79,500 pounds. Unfortunately, since the company had experienced so many issues with the 244 engine many railroads were now leery of its products and the Alligator found few buyers.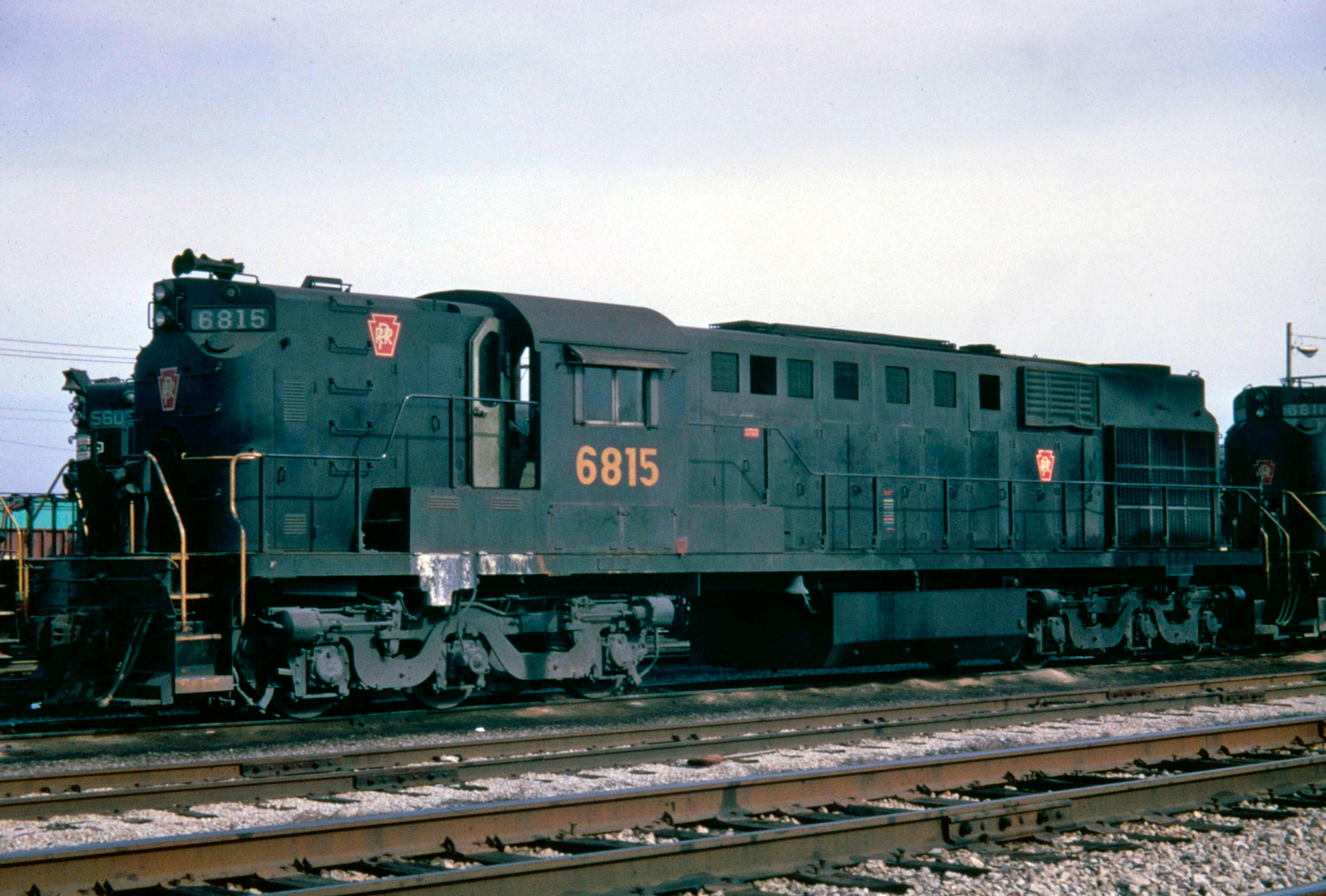 Penn Central RSD15 #6815 (built as Pennsylvania #8615) is seen here between assignments, circa 1969. American-Rails.com collection.
Buyers
Those that did purchase examples included the Santa Fe, Pennsylvania, Cotton Belt, Southern Pacific, and Duluth Missabe & Iron Range. The Santa Fe's RSD15s are of particular note. The AT&SF was not necessarily a loyal Alco customer.
However, the company did regularly purchase from the builder trying out most models that Alco produced. Interestingly, despite all of the manufacturer's reliability issues by the time the RSD15 entered the assembly line in 1955 Santa Fe was quite impressed with the design.  
Aside from the earlier RSD7 and Fairbanks Morse's H24-66 "Train Master," the RSD15 offered the highest horsepower rating available on the market at that time. 

Santa Fe
Santa Fe RSD-15's #801, #821, and #849 at Summit, California (Cajon Pass); August, 1961. American-Rails.com collection.
This was something the Santa Fe was after as it looked to supply ample horsepower on heavy freights crossing stiff main line grades located in western California, New Mexico, and Arizona. 
As a result the railroad wound up purchasing a sizable fleet of RSD15s, 50 in all, which constituted nearly 58% of the total produced. They became famous on the AT&SF system seen throughout all three states in a range of liveries from black and silver to the "Blue Warbonnet" paint scheme.
The Santa Fe was apparently pleased with their Alligators as the units remained in regular service well through the 1970s.  After their time on the AT&SF some found their way to Michigan, working heavy mineral trains on ore-hauler, Lake Superior & Ishpeming. 
Data Sheet and Specifications
| | |
| --- | --- |
| Alco Class | 606-DL-360 |
| Entered Production | 6/1956 (Pennsylvania #8611) |
| Years Produced | 6/1956-6/9/1960 |
| Model Specification | DL600B |
| Engine | 251B, V-16 |
| Horsepower | 2,400 |
| RPM | 1,000 |
| Carbody Styling | Alco |
| Length (Between Coupler Pulling Faces) | 66' 7" |
| Weight | 360,000 Lbs. |
| Dynamic Brakes | Optional |
| Trucks | C-C |
| Truck Type | Trimount |
| Truck Wheelbase | 12' 6" |
| Wheel Size | 40" |
| Traction Motors | GE 752 (6) |
| Traction Generator | GT586 |
| Steam Generator | Optional |
| Gear Ratio | 65:18 |
| Tractive Effort Rating | 78,750 Lbs. at 5.5 MPH |
| Top Speed | 75 MPH |
Production Roster
| Owner | Road Number(s) | Quantity | Date Built |
| --- | --- | --- | --- |
| Duluth, Missabe & Iron Range | 50-55 | 6 | 1959 |
| Pennsylvania | 8611-8616 | 6 | 1955 |
| Santa Fe | 800-849 | 50 | 1959-1960 |
| Southern Pacific | 4816-4818 | 3 | 1959 |
| St. Louis Southwestern (Cotton Belt) | 850-859 | 10 | 1960 |
Sources
Foster, Gerald. A Field Guide To Trains. New York: Houghton Mifflin, 1996.
Kirkland, John F. Diesel Builders, The:  Volume Two, American Locomotive Company And Montreal Locomotive Works. Glendale: Interurban Press, 1989.
Pinkepank, Jerry A. Diesel Spotter's Guide.  Milwaukee: Kalmbach Publishing Company, 1967.
Solomon, Brian. Alco Locomotives. Minneapolis: Voyageur Press, 2009.
---
Santa Fe RSD15 #9849 is seen here at what appears to be Argentine, Kansas on August 15, 1971. Author's collection.
As had been the case with all of Alco's RS models the RSD15 employed General Electric's model 752 traction motors and model GT586 main generator (air components, again, came from Westinghouse). 
At 66 feet, 7 inches in length the RSD15 was the longest domestic model in the series. The low nose of the Alligators gave them an appearance that would actually become quite common for road switchers (although they were not the first Alco model to receive such a setup).
Once again, however, Alco's designs could be easily distinguished, externally, by the notched corners on the carbody.