Baldwin "AS-616" Locomotives


The AS616 was Baldwin's most powerful six-axle model, in terms of both horsepower and tractive effort.
The locomotive was also the last in its "All Service" series although, ironically, it was the best selling road switcher Baldwin ever produced. 
The AS616 was cataloged for only four years and at the time four-axle designs were in far greater demand but Baldwin was still able to sell more than 200.
It is somewhat fascinating to wonder what would have become of the Baldwin-Lima-Hamilton Corporation had it been able to continue refining and developing its diesel line.
Unfortunately, this was cut short by parent Westinghouse Electric. Today, at least three AS616s are preserved; former BLH demonstrator #1601 at the San Diego Railway Museum along with Southern Pacific #5253 and #5274 at the Western Pacific Railroad Museum. 
Finally, to catch one in action check out the SMS Rail Lines in New York and New Jersey.  The short line operates a fleet consisting almost entirely of Baldwin products from VO-660's to DS-4-4-1000's. 
They also maintain three AS616's of Trona Railway, Southern Pacific, and Kaiser Steel heritage, including the locomotive pictured below.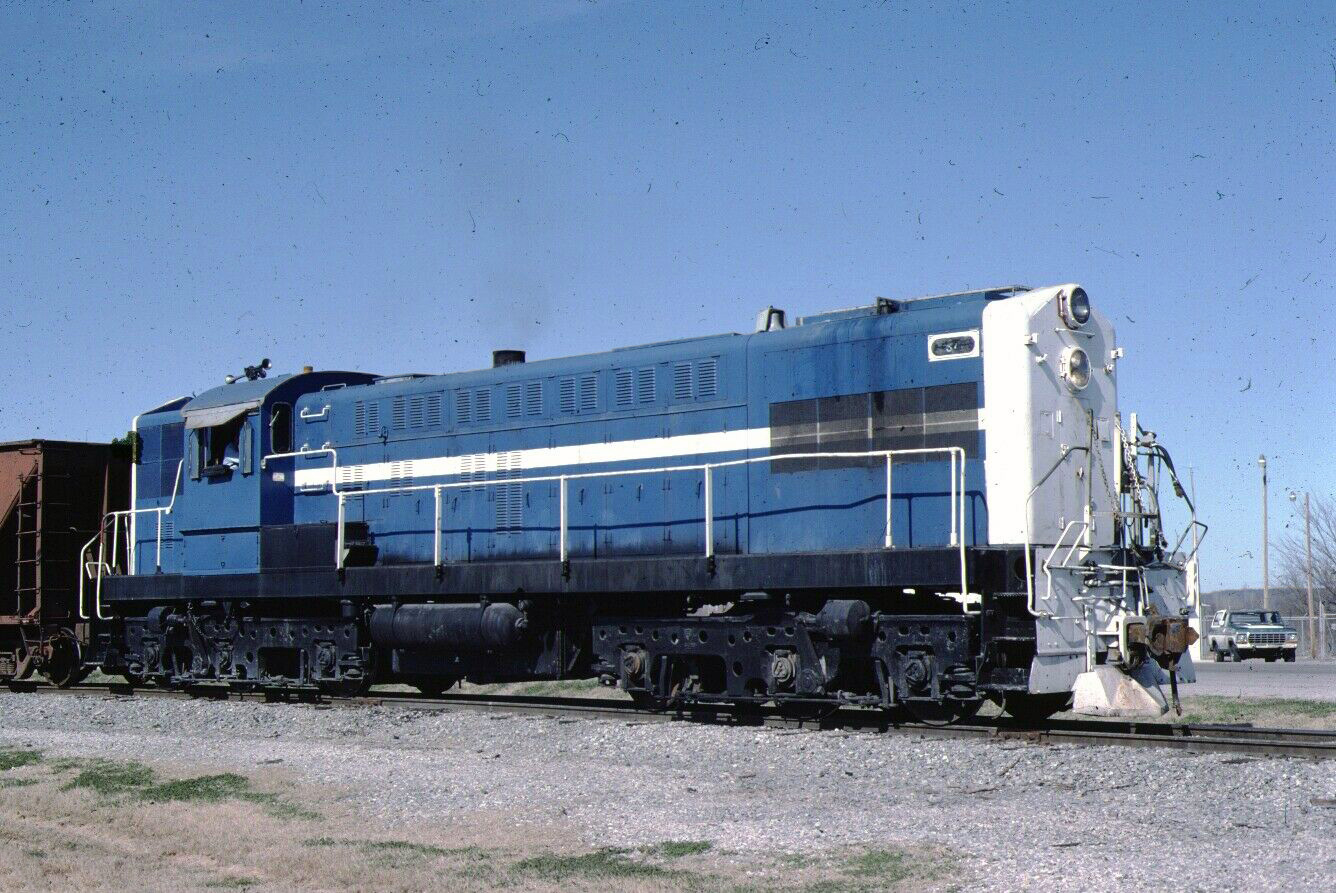 Johnson Terminal AS-616 #54 is seen here at work in Muskogee, Oklahoma on March 3, 1994. The unit began its career as Kaiser Steel Corporation #1012B in 1952 and was sold to Rayonier in 1973 becoming #14. It later worked for the Trona as #54 (1986) before arriving at the Johnson Terminal (1993). Today, she is at SMS Rail Lines as #554.
The Baldwin-Lima-Hamilton AS616 began production the fall of 1950 and was the third model it offered in its "All Service" series, which was part of its new Standard line of road switchers.
The AS616 was a 1,600 horsepower, C-C truck (meaning it was a six-axle design with all axles powered) design that utilized the Baldwin's 608 SC model prime mover, the latest and final engine it offered.
As with all of Baldwin's diesels, internal components were outsourced to Westinghouse Electric. One of the AS616's big marketing points was its incredibly high tractive effort, the most powerful of all Baldwin's road switcher models; 97,500 pounds starting and 78,750 continuous.
This high rating is interesting considering that the locomotive was the lightest C-C road switcher design on the market at the time, weighing just 164 tons.
Baldwin's Other Road-Switcher Models
Baldwin's First Road-Switcher, The Unpopular DRS-4-4-1500 

Another Poor Seller, The A1A-A1A, DRS-6-4-1500 

The Six-Axle And Bestseller Of The "DRS" Series, The DRS-6-6-1500 

Introducing The New "Standard" Line, The AS16 

The Unsuccessful A1A-A1A, AS416 

Baldwin's Light Road-Switcher Model, The RS12 
As was so often the case with Baldwin it's one road switcher trademark was the locomotives' excellent use in heavy drag service meaning that they could pull heavy loads at slow speeds.
In the case of the AS616 with its six powered axles the model was quite adept at such a task. 
It wound up selling very well for Baldwin as 148 (including 7 B units purchased by the Milwaukee Road and Southern Pacific) were bought by US railroads and another 66 were purchased by Mexican, Venezuelan, and Brazilian railroads by 1954. 
Railroads who purchased the AS616 included:
Bessemer & Lake Erie


Chesapeake & Ohio


Chicago & North Western


Milwaukee Road, Southern Pacific


Duluth South Shore & Atlantic (Soo Line)


Pennsylvania


Houston Belt & Terminal


Pittsburgh & West Virginia


Texas & New Orleans (SP)


Trona Railway


Union Pacific


Union Railroad


Kaiser Steel


Foreign lines included National de Mexico and Orinoco Mining Company of Venezuela.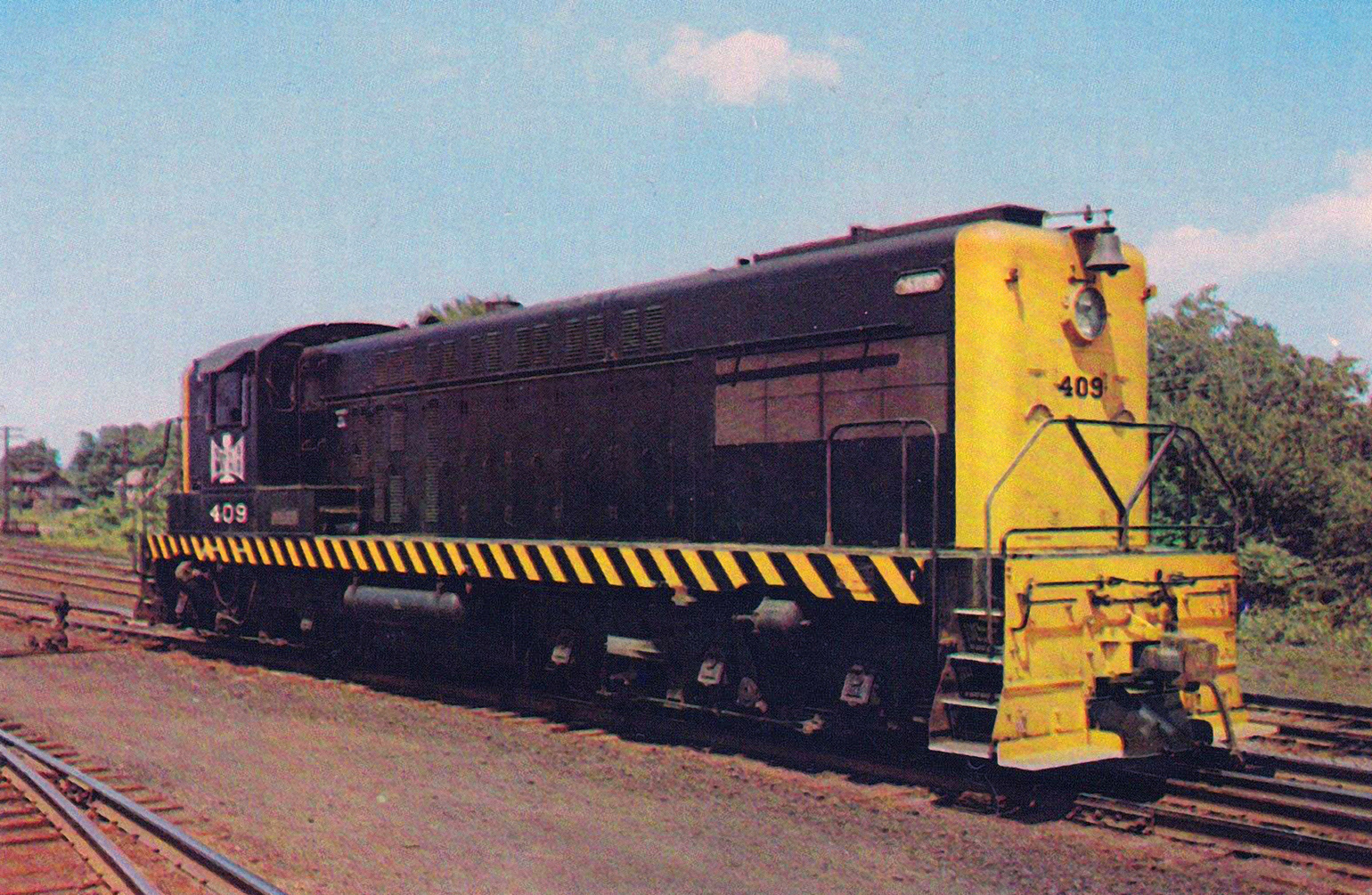 Bessemer & Lake Erie AS616 #409 is seen here circa 1952, one of two the road owned (#408). Paul Penney photo.
Additionally, Brazilian lines Estrada de Ferro Central do Brasil and Rede de Viação Paraná-Santa Catarina purchased the variant model AS616E, which featured an end-cab design instead of the standard offset cab.  
As with all of Baldwin's road switchers the company, for unknown reasons neglected to offer its AS616 with dynamic braking.
Both Alco and EMD had been including this feature with nearly all of their early road switchers, which was an important selling point considering the advantages dynamics offered (a type of braking that uses the locomotive's traction motors to help slow a train's speed, an instrumental feature on steep grades).
Had the company offered dynamics on all of its road switchers it likely would have sold many more, perhaps enough that parent Westinghouse would have remained in the diesel locomotive market. 
Andy Roth, a Soo Line historian, notes, however, the demonstrator was equipped with this feature, which later became Duluth, South Shore & Atlantic (Soo Line) #211. 
Baldwin AS-616 Production Roster (U.S. Only)
| Owner | Road Number(s) | Quantity | Date Built |
| --- | --- | --- | --- |
| Baldwin (Demo) | 1600-1601 | 2 | 1952-1955 |
| Bessemer & Lake Erie | 408-409 | 2 | 1952 |
| Chesapeake & Ohio | 5528-5529, 5533-5569 | 39 | 1950-1953 |
| Chicago & North Western | 1560-1561, 1604 | 3 | 1952 |
| Duluth, South Shore & Atlantic (Soo Line) | 204-210 | 7 | 1951-1952 |
| Houston Belt & Terminal | 32 | 1 | 1952 |
| Kaiser Steel Corporation | 1012A, 1012B | 2 | 1952 |
| Milwaukee Road | 2100A-2101A, 2104-2107 (As), 2100B-2101B (Bs) | 8 | 1951-1953 |
| Pennsylvania | 8111-8112, 8966-8974 | 11 | 1951-1954 |
| Pittsburgh & West Virginia Railway | 40 | 1 | 1951 |
| Southern Pacific | 5228-5278 (As), 5501-5505 (Bs) | 56 | 1951-1952 |
| Tennessee Coal & Iron Railroad | 1502-1506 | 5 | 1950-1951 |
| Texas & New Orleans (SP) | 177-184 | 8 | 1951-1952 |
| Trona Railway | 52 | 1 | 1954 |
| Union Pacific | 1260-1265 | 6 | 1951-1952 |
| Union Railroad | 625-627 | 3 | 1951 |
---
---
The classification system for Baldwin's new Standard line was much easier to understand than its first series of locomotives.
As in the case of the AS616, the "AS" referred to All Service road switcher that offered six powered axles and 1,600 horsepower. 
The model had officially replaced the earlier DRS-6-6-1500, which used a classification that more closely resembled the "Whyte notation" developed by Frederick Whyte that designated various steam locomotive types by their lead pilot wheels, drivers, and trailing bogey.  Lastly, for more information about the AS616s please refer to the chart above.