Morrison-Knudsen "MK5000C" Locomotives

Last revised: June 21, 2023
By: Adam Burns

Perhaps the most interesting diesel locomotive ever developed during the 1990s was Morrison-Knudsen's MK5000C. 

This behemoth of a road-switcher was the most powerful of its kind when it entered production and garnered enough attention from the industry's two established manufacturers, General Electric and Electro-Motive, that both soon marketed their own versions sparking a new, but short-lived high horsepower war. 
Unfortunately, before MK Rail, Morrison-Knudsen's subsidiary, had a chance to perfect its design the parent fell into bankruptcy and the project died prior to any railroad placing orders.  The manufacturer was able to complete six units which spent some time testing on the Southern Pacific and Union Pacific.  

They were later purchased by the Utah Railway and still operate there today albeit have been considerably modified. 
In 2003 the locomotives were rebuilt by Boise Locomotive, a division of Motive Power (since closed), and reclassified a MK50-3's.  The fleet includes a total of six units, #5001-5006.
Photos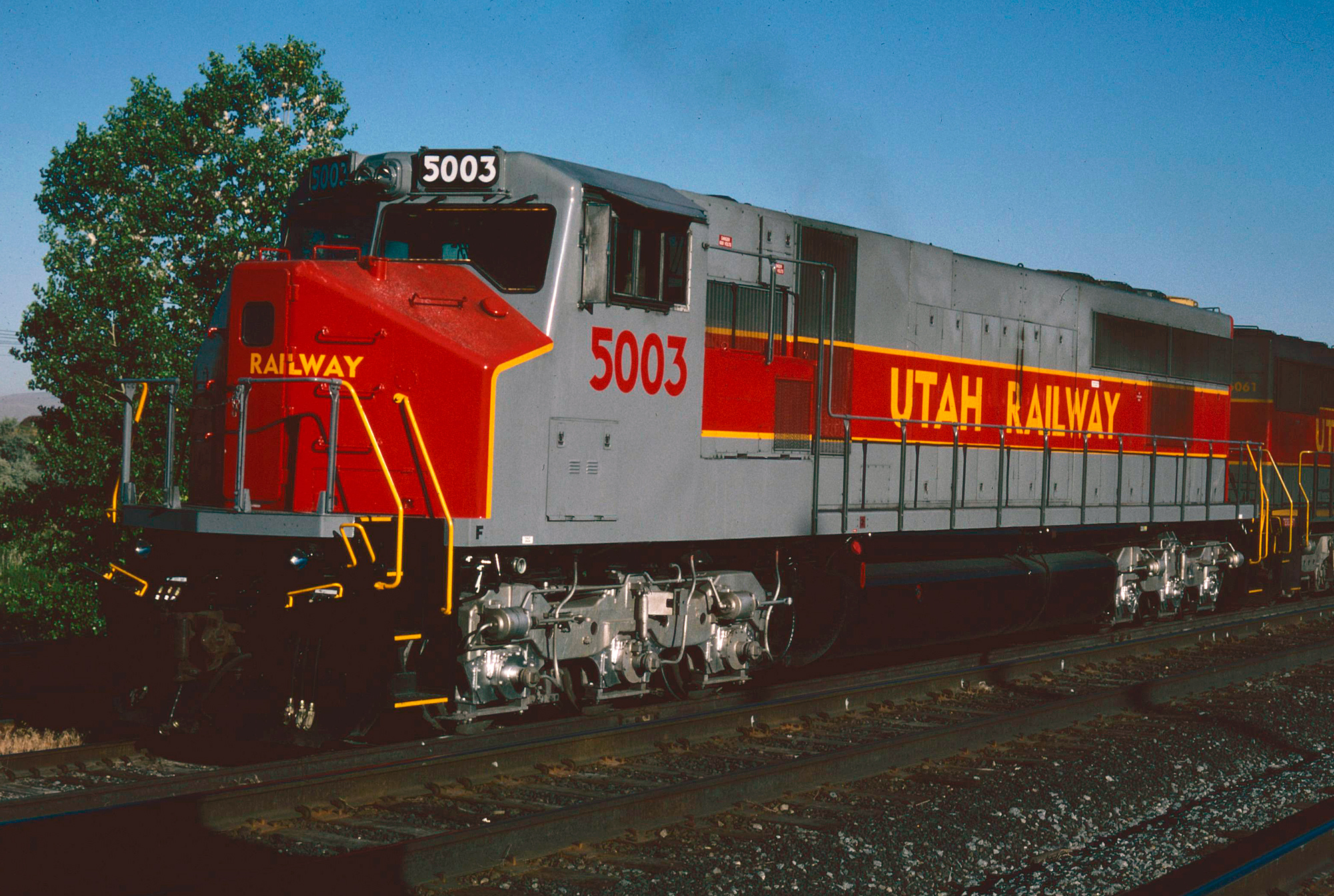 Utah Railway MK5000C #5003 was photographed here in Provo on July 14, 2002. Ron Diczhazy photo. Author's collection.
History
The history of the Morris-Knudsen Corporation dates to the early 20th century and the company was most closely associated with construction and engineering. 
That changed in the 1970s when new president and CEO William H. McMurren expanded M-K into the locomotive business (among other new endeavors) by establishing the Rail Systems Group (RSG) based out of Boise, Idaho. 
The new subsidiary became successful rebuilding older first and early second-generation road units for prolonged service, mostly consisting of Electro-Motive models but also including some General Electric designs and even a few venerable Alco products. 
Over the years the company's yellow and black locomotives became common sights across the industry (later this paint was updated to a deep blue, with gold trim).  Things changed in 1988 for M-K when William J. Agee became president/CEO.
He wanted to expand the company much more broadly into the railroad business by building both light-rail transit (LRT) and commuter projects as well as manufacturing new cars and locomotives for those operations. 
Additionally, Agee believed that M-K could compete in the ultra-competitive, high-horsepower marketplace of freight locomotives, against both GE and EMD. 
This would be a very high risk endeavor, no company had dared enter this arena as a newcomer since Fairbanks Morse in the late 1940s and there had not been three manufacturers since Alco dropped out in 1968. 
The bottom line was that GE and EMD had been established for decades and to truly compete, Morrison-Knudsen would have a steep mountain to climb.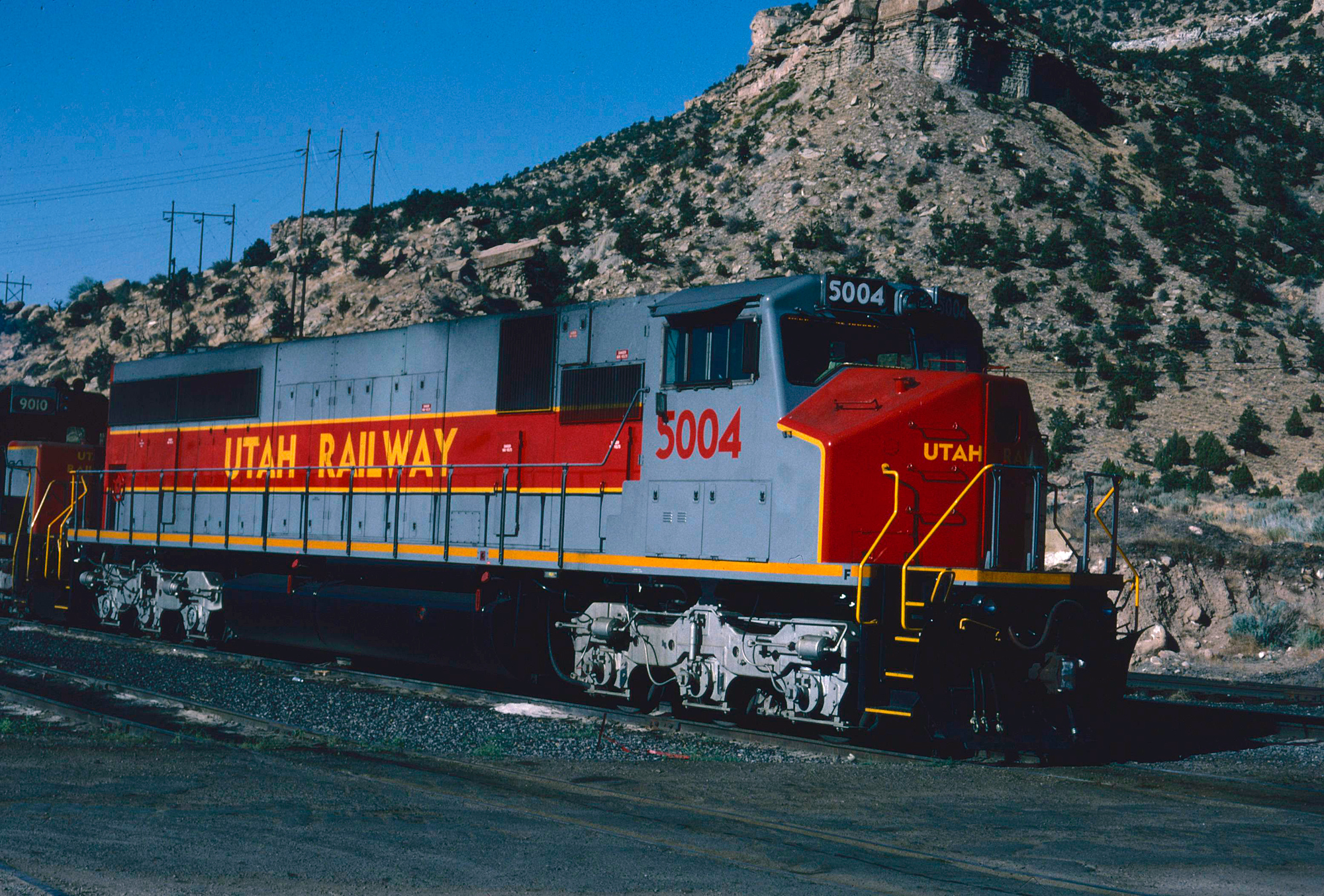 Utah Railway MK5000C #5004 is seen here in Helper, Utah on July 13, 2002. Ron Diczhazy photo. Author's collection.
Development
During 1992 it established the MK Rail Corporation to build locomotives and made an even bolder announcement, it would produce the most powerful, production road-switcher ever cataloged up until that time. 
The locomotive was listed as the MK5000C and would be manufactured at its Boise facility.  The locomotive was 73 feet, 4 inches long and from the outside had the appearance of both established builders featuring notched-windows like EMD's but with a sloped nose commonly found on GE products. 
The carbody featured a very clean, unobstructed roofline with a beveled, EMD-like fuel tank.  The MK5000C used its own, unique high-adhesion trucks and was powered by a 5,000 horsepower, Caterpillar model 3512, 12-cylinder prime mover.
It used a Kato main generator and MK's own, DC traction motors that offered 55,000 pounds of tractive effort.  While the company was new to manufacturing its own line of locomotives with 22 years of rebuilding them it was not entirely a stranger to the process. 
Reception
During August of 1994 the first three MK5000Cs went into service, testing on the Southern Pacific.  A year later three more were completed and began trials on the Union Pacific. 
By this time, parent Morrison-Knudsen was already experiencing serious financial problems as a result of its CEO, who was fired during February of 1995.
To save the company, M-K was sold to the Washington Construction Group, Inc. which had little interest in the railroad industry and soon sold off its MK Rail subsidiary forming an independent entity known as MotivePower Industries Corporation.
Today, this operation is known as MotivePower, Inc.  It is unfortunate that MK Rail never got a chance to thoroughly test and troubleshoot its new road-switcher. 
The six locomotives were sent back to MotivePower following the Morrison-Knudsen bankruptcy and debacle.  Three more units were also in their early stages of production when the hammer fell. 
Data Sheet and Specifications
| | |
| --- | --- |
| Entered Production | 8/1994 (Southern Pacific 501-503) |
| Years Produced | 8/1994 - 8/1995 |
| Engine | 3612 |
| Engine Builder | Caterpillar |
| Horsepower | 5000 |
| RPM | 1800 |
| Cylinders | 12 |
| Length (#9001-9003) | 71' 2" |
| Length (#9004-9006) | 73' 4" |
| Height (Top Of Rail To Top Of Cab) | 15' 11 ½" |
| Width | 10' |
| Weight | 420,000 Lbs |
| Fuel Capacity | 2500 Gallons |
| Air Compressor Model | WLN |
| Air Brake Manufacturer | Westinghouse |
| Air Brake Schedule | 26L |
| Trucks | C-C |
| Truck Type | Dofasco |
| Truck Wheelbase | 11' 2" |
| Wheel Size | 40" |
| Traction Motors | MK1000 (6), Morrison-Knudsen |
| Primary Generator | Kato (TA16SL) |
| Auxiliary Generator | MK D-18 |
| Alternator | Kato 1 |
| MU (Multiple-Unit) | Yes |
| Dynamic Brakes | Yes |
| Gear Ratio | 57:20 |
| Tractive Effort (Starting) | 85,000 Lbs at 25% |
| Tractive Effort (Continuous) | 55,000 Lbs at 9.3 mph |
| Top Speed | 103 mph |
Production Roster
| Owner | Road Number(s) | Quantity | Serial Numbers | Date Built |
| --- | --- | --- | --- | --- |
| Southern Pacific | 501-503 | 3 | 3092-01 thru 3092-03 | 8/1995 |
| Morrison-Knudsen | 9001-9003 | 3 | 0194-01 thru 0194-03 | 8/1994 |
After suffering main bearing problems with the Caterpillar engines, a year after arriving on the Utah Railway (2001), the units were returned to MK successor Wabtec.  Between 2002-2003 they were rebuilt with EMD AR11 alternators, 645 prime movers (16-cylinder), and fitted with hoods from former Missouri Pacific (Union Pacific) SD50's.  They were reclassified as MK50-3's.
---
In 2001 the six completed units were sold to the Utah Railway with the three others scrapped by MotivePower.  Utah experienced trouble with the locomotives and had them significantly overhauled with a new alternator (EMD), Electro-Motive's highly reliable 16-cylinder model 645F3B prime mover (in place of the CAT 3512), and reclassified them as the MK50-3. 
Overall, except for their exteriors the locomotives carry few original Morrison-Knudsen components.  Today, you can still see them in regular service.   
Today, the Utah Railway is a component of Genesee & Wyoming's family of short lines.  Between March and April of 2017 the fleet of MK50-3's were removed from the Utah property and began roaming the G&W network.