GE "U-Boat" Locomotives (Universal Line)

Last revised: June 22, 2022
By: Adam Burns
What began with General Electric's Universal series in 1950's would help propel the company to the top of the locomotive manufacturing market by the 1980's.
The so-called "U-boat" was not exactly a marvel of engineering.  However, it was cheap and easy to maintain.  In the 1960's and 1970's the series was a big attraction for railroads that could not afford similar models from EMD.
GE continued refining its product with the latter "Dash 7" and "Dash 8" series.  With the resources to continue putting pressure on Electro-Motive it slipped past EMD in the 1980's.

Today, perhaps every other locomotive pulling a train is of GE lineage.  The builder became a world leader in diesel-electric manufacturing.
Interestingly, despite is dominance in the market for more than 30 years, GE exited the business in the 2010's when Wabtec acquired its locomotive division in 2019.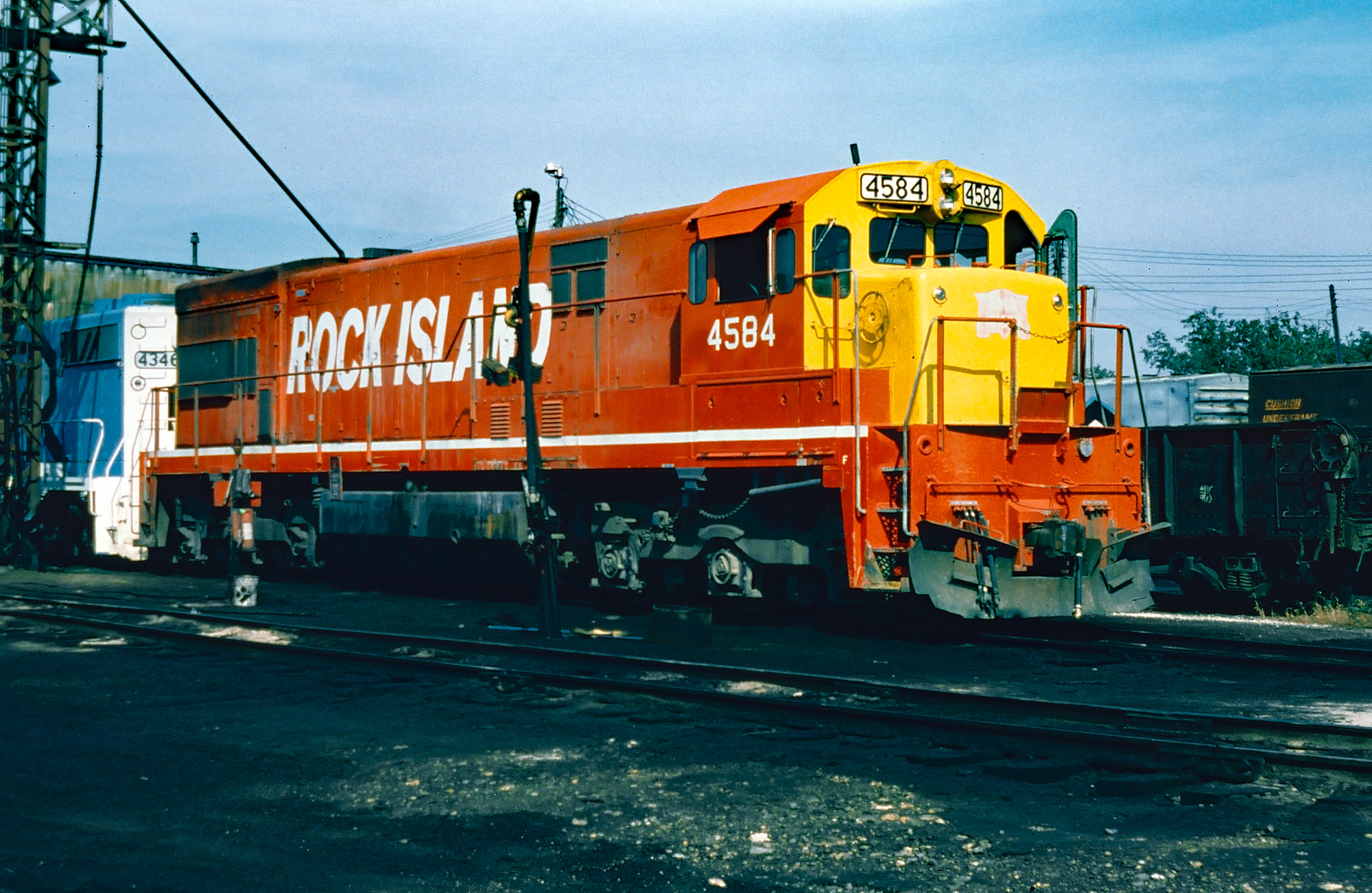 Rock Island U30C #4584 and GP38-2 #4346 layover at the Inver Grove engine house in St. Paul, Minnesota during the summer of 1977. American-Rails.com collection.
History
It's interesting that despite formally entering the road-switcher market in the 1950s, more than two decades after Electro-Motive, General Electric had been involved in the locomotive business since the early 20th century.
GE actually has the distinction of developing the first commercial diesel-electric locomotive.  In addition, it worked in conjunction with Ingersoll-Rand and American Locomotive (Alco) to develop early boxcabs of the 1920's.
GE and Alco would partner for years, a relationship that held strong through the early 1950s.  While Alco had direct control of the manufacturing process, carbodies, and prime movers, GE supplied the internal components such as traction motors and generators.
As early as the 1930's, GE began dabbling independently in the field by producing lightweight and maneuverable little switchers used in industrial settings and branch line service.
One of the most successful and well known of these was its 44-ton model.  It was particularly attractive because of its lightweight which allowed a single crewman to operate the locomotive.
GE also manufactured several other variants including 25 ton, 70 ton, 125 ton, and even 132 ton.
The success of these locomotives in terms of their construction and operation is still evident today as some remain in service on short lines, tourist lines and private industries.
UD18

GE finally struck out on its own in the mid-1950s when it broke ties with Alco, the effects of which would doom the legendary Schenectady builder.
For the rest of that decade, General Electric experimented with various road designs (such as an A-B-B-A set of cab units known simply as "GE 750") selling a short batch of its first commercial design, the UD18, in 1956.
The U18D led to the company's first cataloged model, the four-axle U25B released in 1959.   Its designation was as follows:
"U" stood for the Universal series


25 for the unit's overall horsepower (2,500)


B for the number of axles per truck (two)
There was nothing fancy about the U25B, especially its carbody, which carried simple lines and a short, stubby nose.
However, the unit was durable and easy to maintain.  Such attributes were quite attractive to railroads.  In addition, its relatively expensive nature, in comparison to EMD models, provided financially frail railroads a means of acquiring new power.
This original model was manufactured between 1959 and 1966 and sold nearly 500 units by the time production had ended. 
While these sales paled in comparison to similar Electro-Motive models the U25B effectively put Alco into third place and out of the market.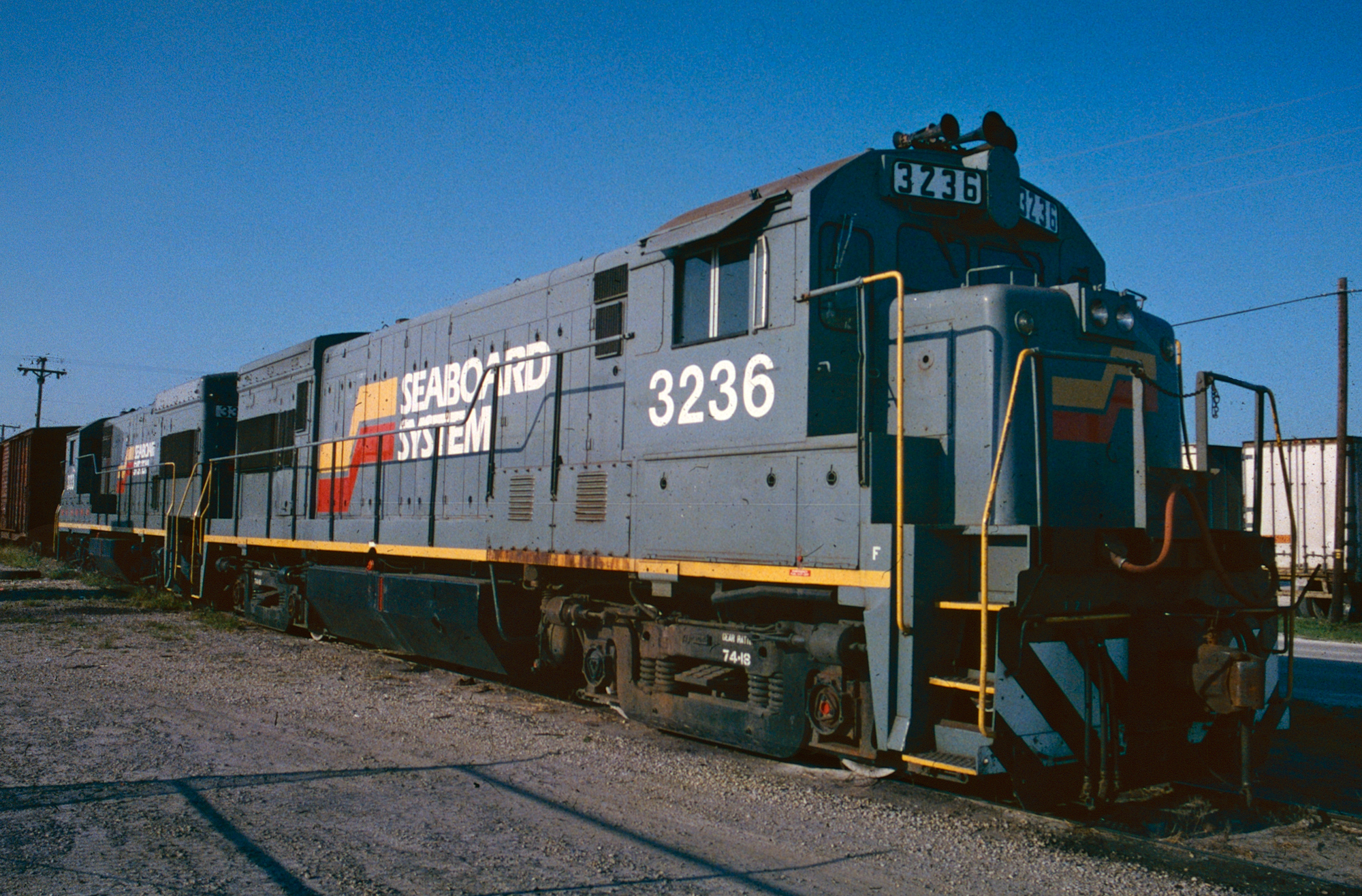 A pair of Seaboard System U23B's are seen here on June 19, 1986. Location unknown. Author's collection.
The Universal series was built through the late 1970s with horsepower ratings reach as high as 3,600.  There was also the experimental U50 and U50C, testbed models manufactured for Union Pacific that boasted 5,000 horsepower but a host of problems.
Future designs, like the U30B, U30C, U33C, and others sold saw increasingly higher sales and design improvements as GE engineers made tweaks recommended by the industry.
The entire four-axle series included the U25B, U28B, U30B, U33B, U23B, U36B and U18B.
"Universal" Models
| Model Type | Units Built | Date Built | Horsepower |
| --- | --- | --- | --- |
| U18B | 163 | 1973-1976 | 1,800 |
| U23B | 481 | 1968-1977 | 2,250 |
| U25B | 478 | 1959-1966 | 2,500 |
| U28B | 148 | 1966 | 2,800 |
| U30B | 296 | 1966-1975 | 3,000 |
| U33B | 137 | 1966-1975 | 3,300 |
| U36B | 125 | 1969-1974 | 3,600 |
| U23C | 223 | 1968-1976 | 2,250-2,300 |
| U25C | 113 | 1963-1965 | 2,500 |
| U28C | 71 | 1965-1966 | 2,800 |
| U30C | 606 | 1966-1976 | 3,000 |
| U33C | 375 | 1968-1975 | 3,300 |
| U36C | 238 | 1971-1975 | 3,600 |
| U50C | 40 | 1969-1971 | 5,000 |
| U50/D | 26 | 1963-1965 | 5,000 |
---
Along with the four-axle models GE offered U-boats in six-axle, "C," as well.
Built mostly after the "B" models as the industry became more accepting of six-axle road-switchers (roughly the mid-1960s and mid-1970s), the C-C versions also did quite well.  
GE's success in the locomotive market blossomed for the same reason as Electro-Motive in the 1930s; high quality, durable locomotives which could used in a variety of assignments with relatively low operational costs.  Today, the GE brand carries on under Wabtec Freight.