Lima Locomotive Works

Last revised: May 16, 2022
By: Adam Burns
What's interesting about the Lima Locomotive Works is that it was originally founded to build farm and general machinery equipment, not steam locomotives for the railroad industry.
The company began as the Lima Machine Works and it was Ephraim Shay's venerable geared locomotive design in the 1870s that ultimately led Lima to producing steam locomotives as its primary product of sale.
Lima was never a large locomotive producer and remained the third largest builder throughout its tenure but it was on the cutting age of new steam technology and designs. Aside from its license to build the Shay the company is also famous for its development of the 2-8-4 "Berkshire." 

Lima was never as successful in the diesel locomotive market and after merging with Baldwin Locomotive Works in 1951 the Baldwin-Lima-Hamilton Corporation exited altogether by 1956. The Lima Machine Works had its start in 1869 setting out to build farm and sawmill machinery.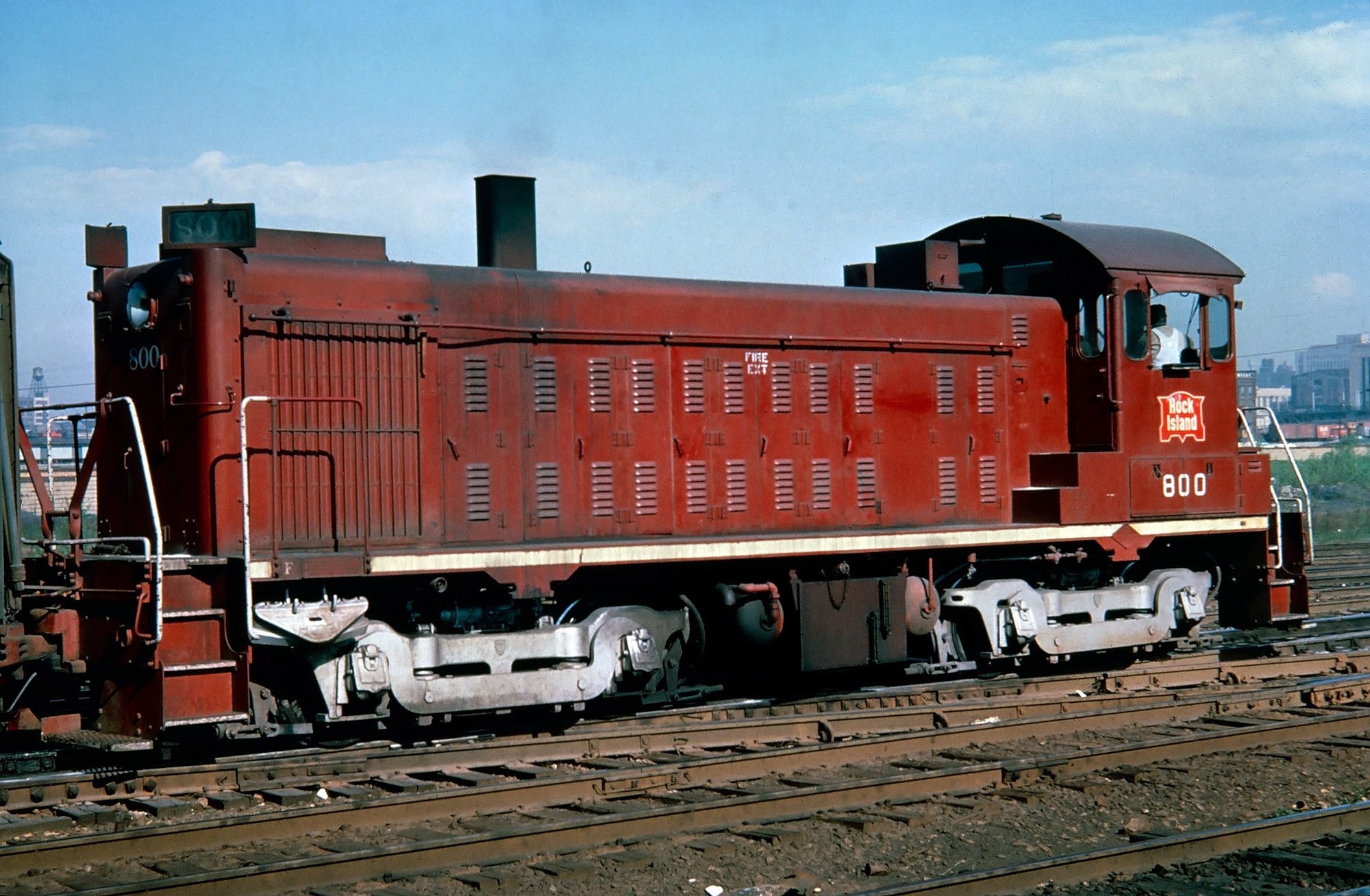 Rock Island #800, an 800 horsepower switcher produced by Lima-Hamilton, carries out switching chores in Chicago, circa 1960. This was one of two such switchers the Rock owned (#801), out-shopped by Lima in September, 1950. While often described as the "LS-800" by railfans, Lima did not designate model names for its brief diesel line. American-Rails.com collection.
A Brief History Of The Lima Locomotive Works
The company gained its name from where it was headquartered, Lima, Ohio. However, less than ten years into business and the company found itself being requested to build a unique type of steam locomotive designed by Michigan logger, Ephraim Shay. 
In the late 1870s through Shay's design and Lima's manufacturing ability the first prototype was turned out and eventually sold to a Michigan logging operation. Soon after the advantages of the design sparked mass interest, particularly by logging companies looking for a locomotive which could pull heavy tonnage over steep grades and rickety track.
The demand for the Shay and license to build it ultimately led Lima to end machinery production and build steam locomotives full time. By 1892 the company had reorganized itself as the Lima Locomotive & Machine Company.

Geared steam locomotives function differently in one significant way from their standard rod-driven brethren (the common steam locomotive), they use a vertical or angled geared system as opposed to a standard horizontal driven rod for propulsion.

A Lima Locomotive builder's photo featuring freshly out-shopped New York Central 4-8-2 "Mohawk" #3122 (L-4b), taken on February 3, 1943. Like nearly all of NYC's late-era steam designs they were fine, reliable machines with an abundance of power.
How geared steam locomotives work, according to William E. Warden in his book West Virginia Logging Railroads, is that these cylinders drive a flexible line shaft with universal couplings and slip joints through bevel gears.

This flexibility thus allows each truck to negotiate the track independently of the other, thus keeping the locomotive on the rails and allowing it to operate over almost any type of track (which was usually nothing more than rails laid directly onto a hillside).
Wabash (Norfolk & Western) Lima-Hamilton switcher #401, a 1,200 horsepower design manufactured in the spring of 1950, is seen here in Decatur, Illinois on May 7, 1966. While these were referred to as an "LS-1200" by train enthusiasts, Lima never named their diesel models. Roger Puta photo.
In the instance of the Shay steam locomotive design it gained propulsion through three vertical cylinders mounted on the right side of the boiler, which was then offset to the left to kept the locomotive properly balanced (also of note, Shays used Stephenson valve gear).
Because all geared steam locomotives have all of their trucks powered, they provided excellent adhesion and could climb grades well over 5% (something all but unthinkable on main line railroads), although this high adhesion factor limited its speed to under 20 mph. 
Through the early 20th century the Shay was Lima's primary production locomotive. However, by 1912 Lima had reorganized itself as the Lima Locomotive Corporation to focus fully on building main line steam locomotives that incorporated both speed and power for Class I railroads.
It again changed names in 1916 to Lima Locomotive Works, Inc. when the company was purchased by Joel Coffin. 
Into the 1920s and as the Lima Locomotive Works' production ramped up the company built several conventional steam locomotive designs such as 4-6-2 Pacifics, 2-8-0 Consolidations, 2-6-2 Prairies, and conventional switch engines (i.e., those with no front or trailing trucks).
However, the builder truly distinguished itself in the mid-1920s when it developed the 2-8-4 Berkshire by way of its ingenious engineer, William Woodward.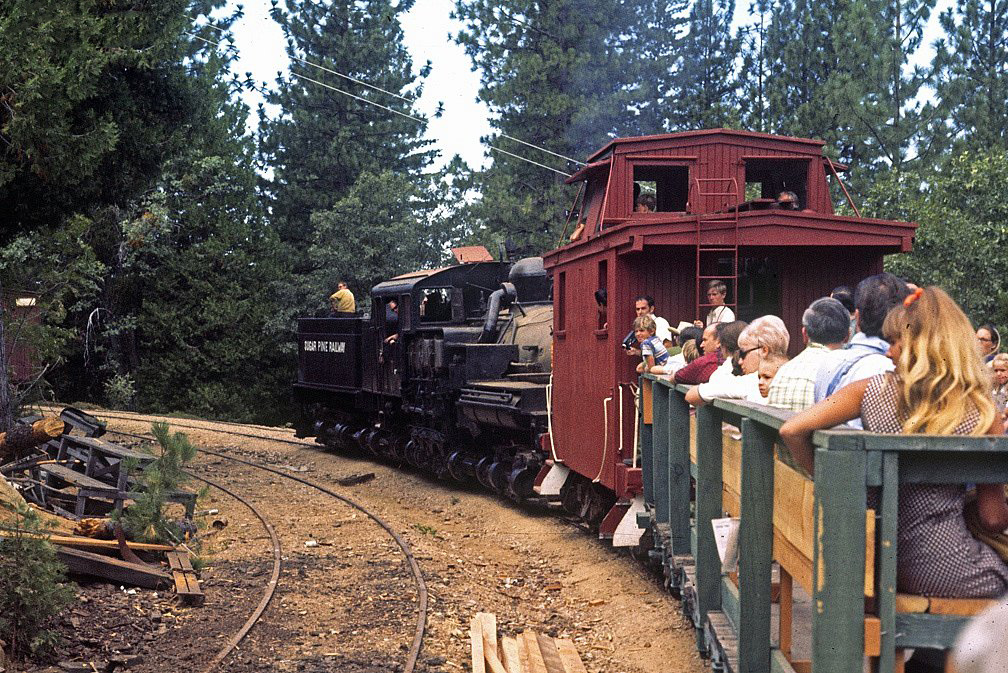 Pickering Lumber Company three-truck Shay #7 arrives at rural Tramway, California with an excursion on September 4, 1971. Manufactured by Lima in 1922, today she sits on display at the Railtown 1897 State Historic Park in Jamestown. Drew Jacksich photo.
Working in conjunction with the New York Central railroad Woodward intended to improve the USRA Mikado design (2-8-2), which lacked sufficient speed and horsepower.
Based initially from a NYC H-7 Mikado design, what Lima ultimately came up with was a locomotive that included a larger, 100 square foot firebox that necessitated the need for an extra trailing axle giving the locomotive (designated a Class A-1) a 2-8-4 wheel arrangement. 
This new locomotive would get its name, Berkshire, because of where it was first tested, the Berkshire Hills on the Boston & Albany Railroad (owned by the NYC) in 1925.
After very successful tests against a Class H-10 Mikado where the Class A-1 easily outperformed the Mikado (the Class A-1 left Selkirk Yard nearly 50 minutes after the Class H-10 and pulled a train that was over 600 tons heavier, yet arrived at North Adams Junction ten minutes ahead of the Mikado!), the B&A quickly ordered 45 Berkshires.
In all some nineteen different railroads would purchase the successful Berks with the Erie Railroad owning the most, 105; in all over 600 of the locomotives were built from the three largest manufacturers, Alco, Lima and Baldwin.
Of note regarding the Berkshire was the 90 owned by the Chesapeake & Ohio Railway who called them Kanawhas.  With the success of the Berk, Lima looked to improved and/or build other larger designs such as the 2-10-4 Texas Type and 4-8-4 Northern.
The builder looked to further its steam locomotive technology with the development of a 4-8-6 wheel arrangement, which had an even larger firebox than a Northern but the locomotive was never built. 
In 1947 the Lima Locomotive Works merged with the General Machinery Corporation to form the Lima-Hamilton Corporation. By this time steam was waning in favor of the diesel-electric and in 1949 Lima outshopped its final steamer.
Between 1949 and 1951 Lima had just enough time to develop four switcher types, one road-switcher, and a transfer unit before merging with the Baldwin Locomotive Works to from Baldwin-Lima-Hamilton (BLH). 
Under Westinghouse control since 1948 Baldwin's purchase of Lima-Hamilton was to diversify its interests outside of the locomotive market (LH, of course, was well known for its heavy machinery business).
Nickel Plate Road 2-8-4 #759 (S-2, manufactured by Lima in 1944) is lettered for the Norfolk & Western as it pulls the final eastbound "Pocahontas," train #4, on April 30, 1971. Roger Puta photo.
Interestingly, Westinghouse control came just as Baldwin management was more focused and interested in strongly competing against Alco and EMD in the diesel-electric market. However, this was not to be as Westinghouse did not share a similar philosophy.  For further reading about the company please click here.

Lima Locomotive Diesel Models

Please note that the below model designations are generic, Lima never cataloged their diesels with a specific name.

Switchers
| Model Type | Units Built | Date Built | Horsepower |
| --- | --- | --- | --- |
| LS-750 | 6 | 1949-1951 | 750 |
Road Switchers

| Model Type | Units Built | Date Built | Horsepower |
| --- | --- | --- | --- |
| LRS-1200 | 16 | 1950 | 1,200 |
Transfer Switchers

| Model Type | Units Built | Date Built | Horsepower |
| --- | --- | --- | --- |
| LT-2500 | 22 | 1950-1951 | 2,500 |
---
Nickel Plate Road 2-8-4 #765 pulls an excursion near Ithaca, Michigan on a July morning in 2009. The Berkshire was built by Lima in 1934 among a fleet of 80 the road would roster. Drew Jacksich photo.
BLH ceased production on diesels by 1955 and a year later had exited the market altogether focusing on the heavy machinery business instead. In 1965 BLH was sold to Armour & Company, which itself was purchased by the Greyhound Corporation in 1970, which dissolved BLH by 1972.
After locomotive production ceased the plant, which was wedged between the Nickel Plate Road's massive yard and the Baltimore & Ohio's main line located in the city's southwest quadrant, moved on to build road graders and general construction equipment under the Baldwin-Lima-Hamilton name.
In 1971 it became the Clark Equipment Company and production ceased entirely in 1980. The Lima factory and shops sat dormant for nearly two more decades until they were finally demolished in 1997.  Since that time the land has remained dormant.