Alco "RSD-4" Locomotives

Last revised: April 16, 2023
By: Adam Burns

The RSD4 was Alco's fourth installment of its six-axle Road Switcher (RS) series built at the same time as the RS3. Essentially, the design was a C-C version of that model (Alco had also produced an A1A-A1A RSC3).

Unfortunately, it was one of the least successful with fewer than 50 produced by the time production had ended during its two year production run. Perhaps most notable was the incredible tractive effort it offered, by far the most of any RS model produced up until that time.
Overview

Alas, railroads still had yet to embrace the six-axle concept, another reason for the design's poor sales (not even EMD could sell many six-axle units at the time). If one wanted to catch these rare locomotives in action by the 1980's, a good place to start was the Chicago & North Western. 

Also known as the "Cheap & Nothing Wasted," C&NW was really pinching pennies in those days; they rebuilt older locomotives, purchased used first-generation power, and continued operating Alco's long after most other Class I's had sold or scrapped theirs. 

The RSD4's could be found working the railroad's famous "Alco Line," a secondary corridor which stretched from Winona, Minnesota to Rapid City, South Dakota.  
Photos
Jersey Central RSD4 #1603 was photographed here at the road's terminal in Jersey City, New Jersey in 1964. American-Rails.com collection.
Remaining first-generation Alco's were sent here to streamline maintenance and it was a railfan's paradise.  One could find RS11's, RS3's, RSD4's, RSD5's, C425's, RS36's, and others pulling freights that creaked and weaved along decaying trackage. 
The RSD4 line was built for two years, between 1951 and 1952 at the same time as the RS3. The locomotive featured Alco's standard, but troublesome, 244 model prime mover allowing for 1,600 horsepower.
As with the original six-axle model (RSD1) the RSD4 was meant to provide a sizable increase in tractive effort. The model had a slight design flaw as there was insufficient space for the unit's main generator, which was corrected with the RSD5 featuring a longer hood and carbody.
As a result of this change the RSD5 sold much better than the RSD4 with nearly six times more units produced during the time Alco cataloged the locomotive, from 1952 through 1956.
Significance
One important historical note about; from a technical standpoint, the model was the very first C-C design (meaning all six axles were powered) that Alco offered standard in its catalog. 
The RSD1 was merely a specialty order for the US Army and the RSC2 and RSC3 locomotive were A1A-A1A designs whereby the center axle was not powered (i.e., lacking traction motors).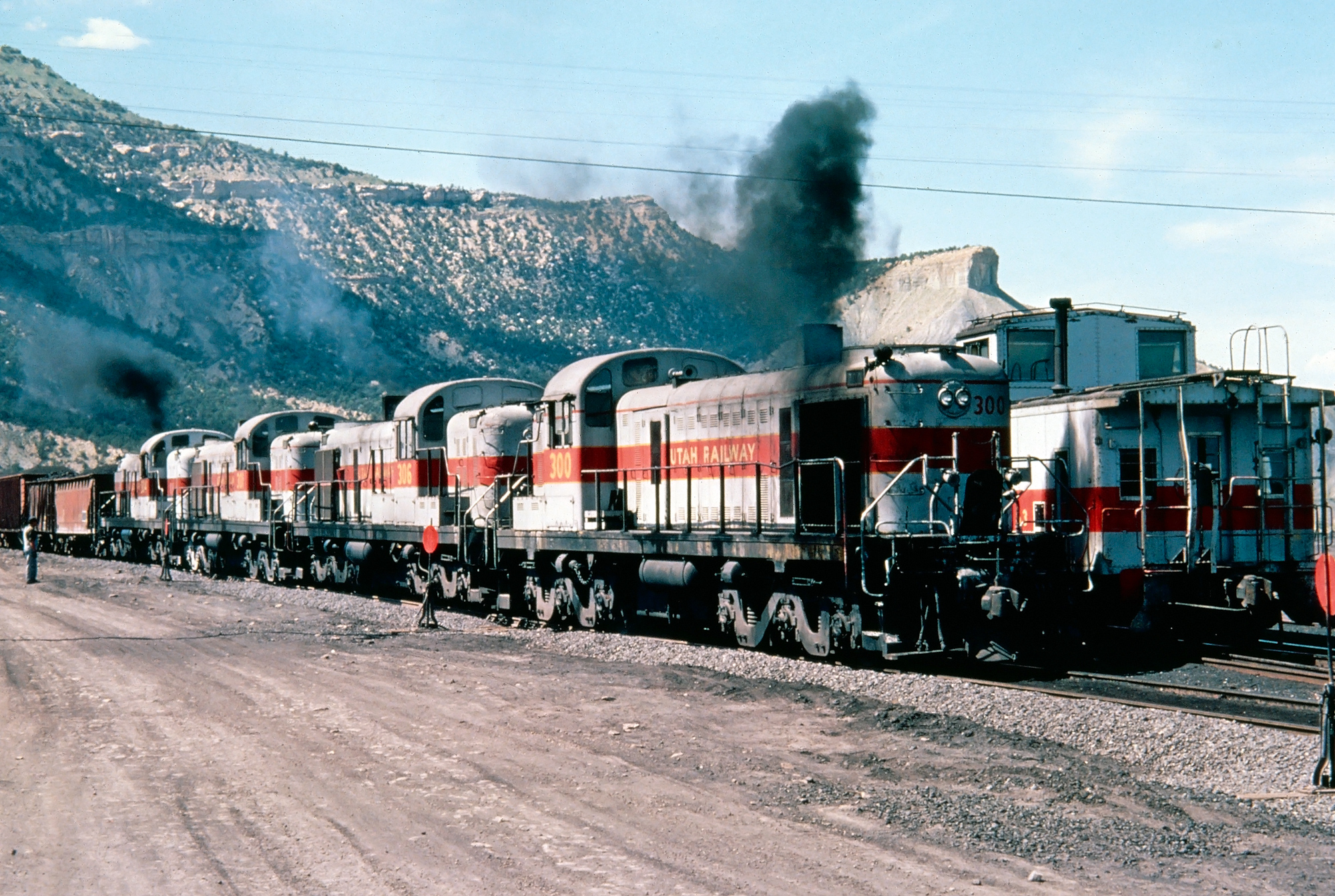 Utah Railway RSD-4's #300, #301, and #304, along with RSD-5 #306, burble and belch away as they work the loadout at Mohrland, Utah during the 1970s. American-Rails.com collection.
With the RSD4's six motors the model could produce a starting tractive effort rating of 89,000 pounds and 78,750 continuous. This was nearly a 33% increase over the RSC3 which could produce 60,100 pounds starting tractive effort and 52,500 continuous.

Data Sheet and Specifications
| | |
| --- | --- |
| Alco Class | 606-DL-360 |
| Entered Production | 3/1951 (Chicago & North Western #1515) |
| Years Produced | 5/16/1950-8/1956 |
| Model Specification | E1663/A |
| Engine | 244, V-12 |
| Horsepower | 1,600 |
| RPM | 1,000 |
| Carbody Styling | Alco |
| Length (Between Coupler Pulling Faces) | 55' 11.75" |
| Weight | 360,000 Lbs. (Optionally reduced to 270,000 Lbs.) |
| Dynamic Brakes | Optional |
| Trucks | C-C |
| Truck Type | Trimount |
| Truck Wheelbase | 12' 6" |
| Wheel Size | 40" |
| Traction Motors | GE 752 (6) |
| Traction Generator | GT581 |
| Steam Generator | - |
| Gear Ratio | 74:18 |
| Tractive Effort Rating | 78,750 Lbs. at 5.5 MPH |
| Top Speed | 60 MPH |
Production Roster
| Owner | Road Number(s) | Quantity | Date Built |
| --- | --- | --- | --- |
| Chicago & North Western | 1515-1517, 1619-1620 | 5 | 1951-1952 |
| Central Railroad Of New Jersey | 1601-1614 | 14 | 1951-1952 |
| Kennecottt Copper | 201 | 1 | 1951 |
| Santa Fe | 2100-2109 | 10 | 1951 |
| Utah Railway | 300-305 | 6 | 1952 |
---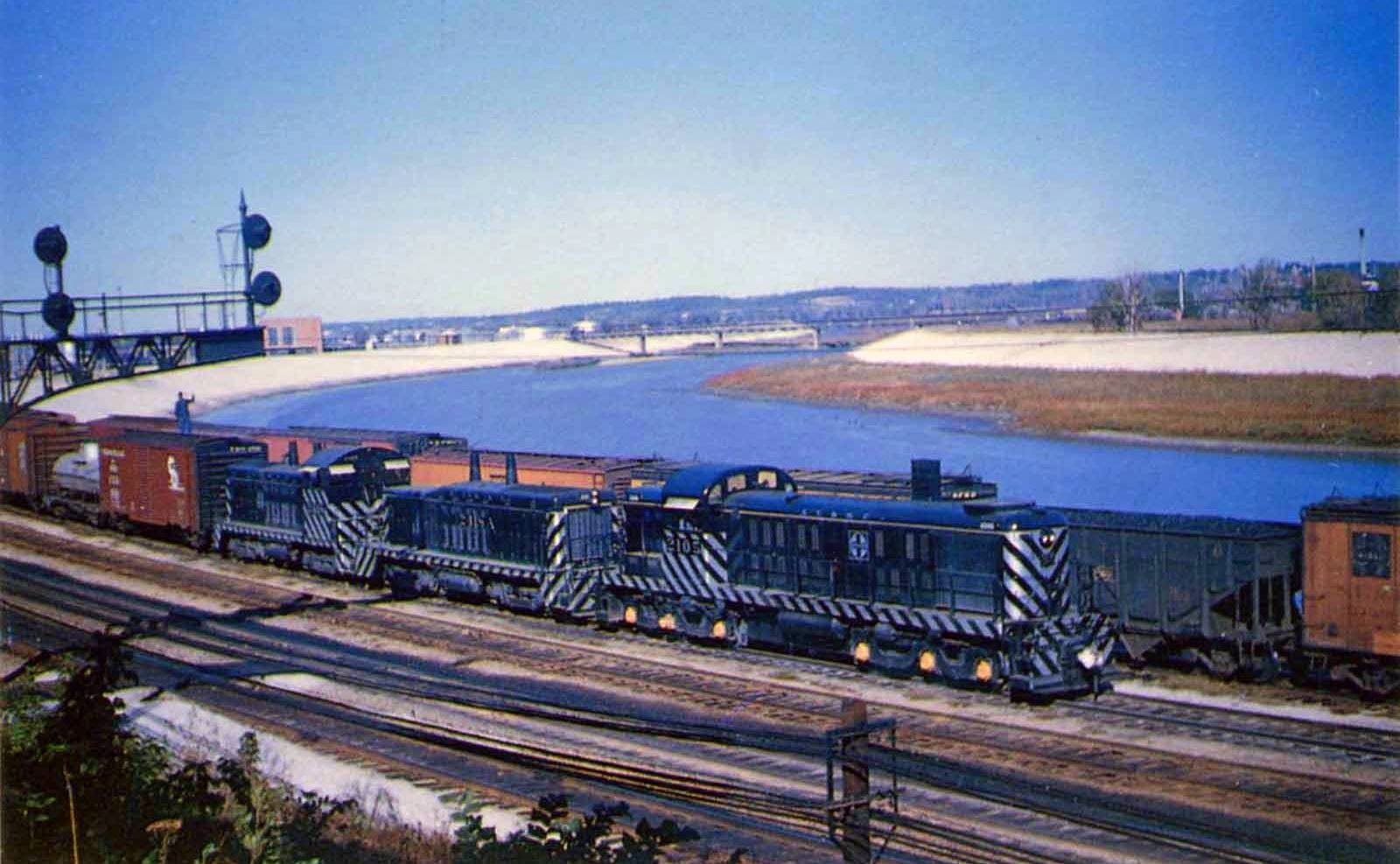 Santa Fe RSD4 #2105 and a cow-calf set (TR4 #2418/#2418A) work yard service in Argentine, Kansas at the east end of Argentine Yard along the Kansas River on October 17, 1954. Mac Owen photo.
Internally, the RSD4 was supplied with parts from General Electric (its model 752 traction motor) and Westinghouse (air brakes and compressors). It kept the same frame as the RS3, remaining at a length of 55 feet, 11 inches.
However, the one striking difference aside from its six axles was the weight; at 180 tons the RSD4 weighed nearly 70 tons more than the RS3 (of course, this weight also added to its increased tractive effort).
Use
The five railroads that ultimately did purchase the model used them as intended, in heavy freight service. This include the Atchison, Topeka & Santa Fe, Utah Railway, Central Railroad of New Jersey, Kennecott Copper Corporation, and the Chicago & North Western.   

Today at least one RSD4 remains preserved, and operational, Kennecott Copper Corporation #201 (the only RSD4 the company ever owned).
Sources
Foster, Gerald. A Field Guide To Trains. New York: Houghton Mifflin, 1996.
Kirkland, John F. Diesel Builders, The:  Volume Two, American Locomotive Company And Montreal Locomotive Works. Glendale: Interurban Press, 1989.
Pinkepank, Jerry A. Diesel Spotter's Guide.  Milwaukee: Kalmbach Publishing Company, 1967.
Solomon, Brian. Alco Locomotives. Minneapolis: Voyageur Press, 2009.