EMC "E4" Locomotives

Last revised: March 6, 2022
By: Adam Burns
Interestingly, the EMC E4 was built prior to its E3 design during an era when the builder's very early passenger models were built for specific railroads (EA through E5).
The E4 was also one of the final produced before Electro-Motive became an official division of General Motors. Aside from a few demonstrator variants the E4s were designed exclusively for the Seaboard Air Line's new streamliner, the Silver Meteor, which debuted in 1939. 
The railroad would also go on to acquire a batch for its heavyweight service, the Orange Blossom Special.  The debut of this train caught rival Atlantic Coast Line off-guard, which quickly launched its own streamliner, the Champion.  
The E4  was virtually identical to the E3 save for a few minor component differences and the Seaboard operated the units for nearly 30 years before scrapping them in the mid-1960s.
Unfortunately, none remain preserved, although the E3 preserved at the North Carolina Transportation Museum gives one a good idea of how the E4 appeared.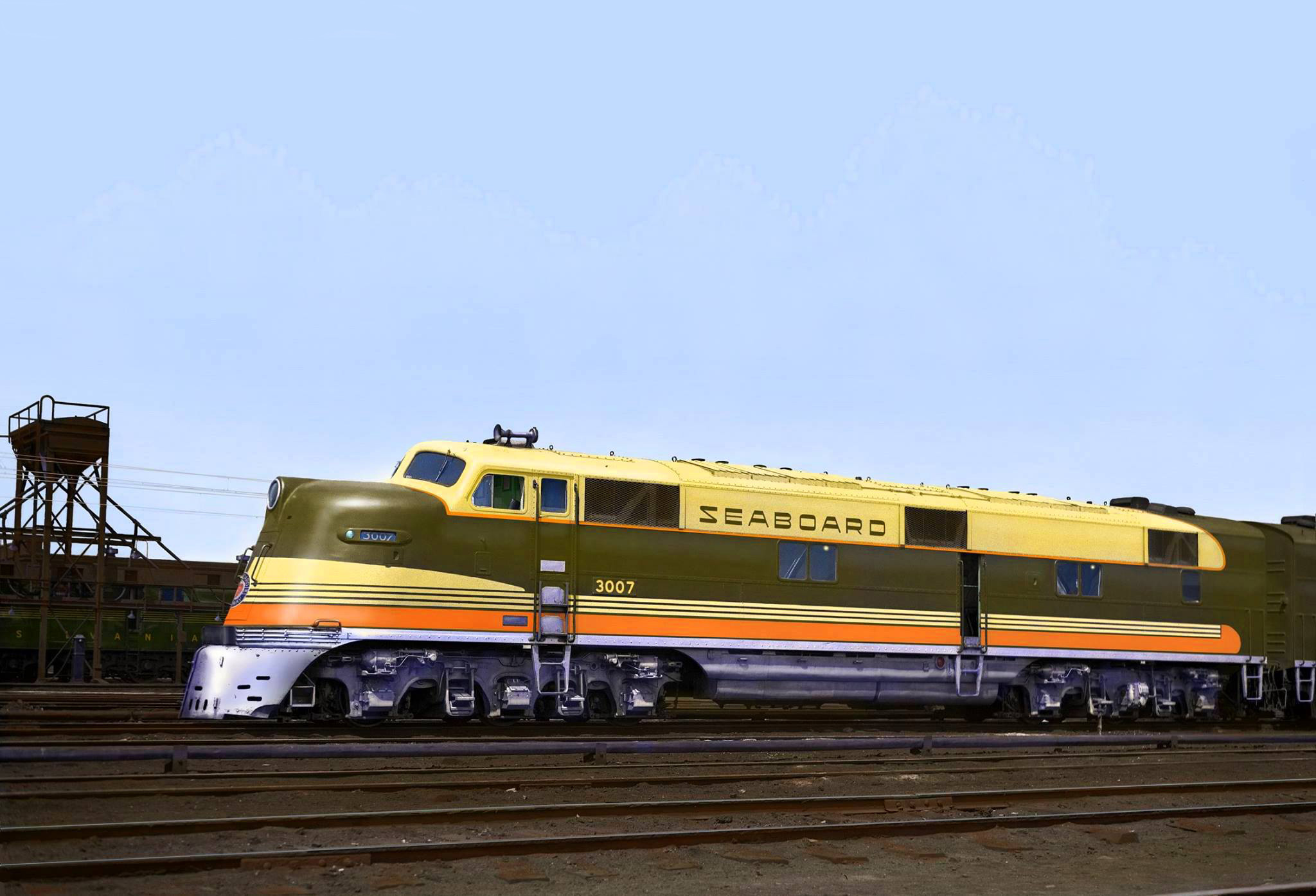 New Seaboard Air Line E4A #3007 is seen here at Washington, D.C.'s Ivy City terminal, circa 1939. Wiley Bryan photo/Warren Calloway collection/Tom Alderman colorization.
The EMC E4 was built only in 1939 and along with the E3 was the first such model to feature a GM prime mover (the model 567) and not a Winton engine.
The E4 featured two 12-cylinder 567s enabling it to produce 2,000 horsepower. As with all other models up to that time the model was equipped with A1A-A1A trucks and GM-built, model D7 traction motors.
The locomotive offered the very same tractive effort as the E3; 56,500 pounds starting and 31,000 pounds continuous. Additionally, it offered both multiple unit control (MU) and dynamic braking ability.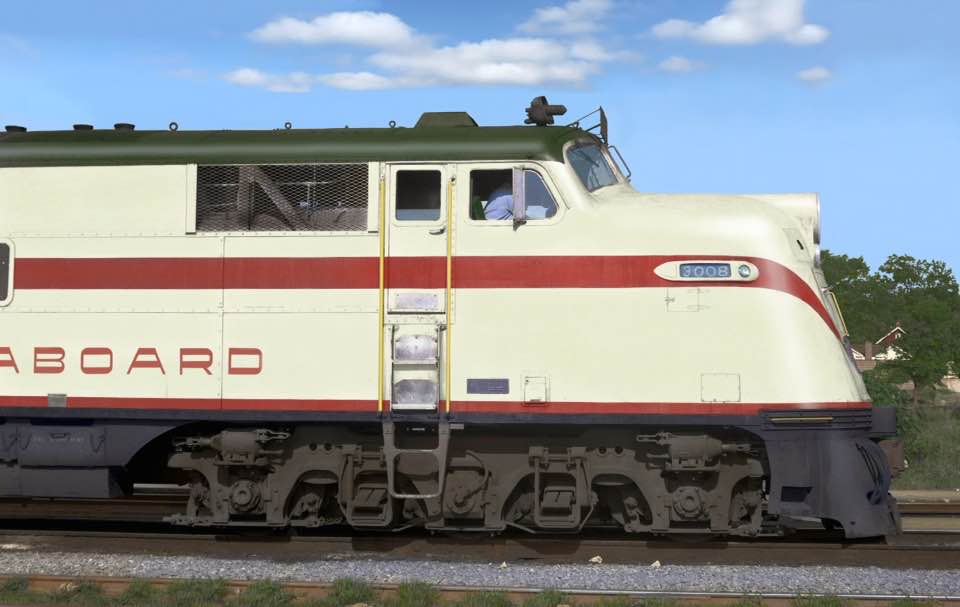 A late era view of Seaboard Air Line E4A #3008 in Raleigh, North Carolina during the 1960's. Warren Calloway collection, colorized by Tom Alderman.
Essentially, the EMC E4 was another test model in that it was produced primarily for one railroad, the Seaboard, which used it to power its new streamliner, the Silver Meteor.
This train was the first streamlined passenger train to serve southern destinations. Working in conjunction with both the Pennsylvania Railroad and Florida East Coast the SAL was able to market its Silver Meteor as a through train connecting New York City (at Pennsylvania Station) with Miami, Florida.
Seaboard Air Line E4's assigned to the "Orange Blossom Special" are seen here at the Ivy City engine terminal in Washington, D.C. during the summer of 1939. Warren Calloway collection (colorized).
Given the train's southern reaches it quickly became phenomenally successful with tourists and those looking to escape the cold weather of the Northeast.
The railroad's rival, Atlantic Coast Line, was totally caught off-guard by this new train and quickly scrambled to catch up. It would release its own train that closely resembled the SAL's (in terms of markets served) just a few months later.
An Electro-Motive photo (colorized) featuring new Seaboard Air Line E4A #3000 in October, 1938. Warren Calloway collection.
To power the Meteor, the Seaboard ordered 13 E4As and 4 E4Bs. Along with an E4A-B demonstrator set, a total of 19 units were built.
The Electro-Motive Corporation began delivering the E4s to the Seaboard in October, 1938 beginning with E4As 3000-3005, that continued to arrive through that December. Beginning in November, its first E4Bs began arriving, 3100-3102.
A month later in January, 1939 SAL received E4A 3006. No more new models arrived until March of that year when E4A 3013 was delivered (former demonstrator #1939) and E4B 3104 (former demonstrator #1939B).
Electro-Motive E4 Production Roster
| Owner | Road Number(s) | Quantity | Date Built |
| --- | --- | --- | --- |
| Electro-Motive (Demo) | 1939 (To SAL, #3013) | 1 | 1939 |
| Electro-Motive (Demo) | 1939B (E4B, to SAL, #3104) | 1 | 1939 |
| Seaboard Air Line | 3000-3012 | 13 | 1938-1939 |
| Seaboard Air Line | 3100-3104 (E4B) | 5 | 1938-1939 |
---
Seaboard Air Line E4A's lined up and ready for service at the Ivy City engine terminal in Washington, D.C. circa 1940's. Warren Calloway collection.
The company's last batch of units arrived in late 1939; in November it began receiving its final A units 3007-3012 that continued to be delivered through December. 
And lastly, also that same month it received its final B unit, 3103. The Seaboard operated their E4s for more than 25 years before retiring them in 1964.
In their place the company used newer models like the E8 and E9 that they had purchased in the 1950s and 1960s (its first large order of new E models arrived after World War II with the E7s).