EMD "SD75" Locomotives

The EMD SD75M and SD75I were essentially a variant design of the builder's SD70 series except slightly more powerful (and also featured its popular steerable truck), all in an attempt to compete with General Eletric's new C44-9W model of the time (which was then the leading model of the industry, eventually selling nearly 2,500 examples). Unfortunately, both designs had little success competing with the C44-9W with only a few hundred examples of each ultimately manufactured. The SD75M was essentially a special request by the Atchison, Topeka & Santa Fe Railway and the SD75I was purchased by Santa Fe successor Burlington Northern and Santa Fe, Canadian National, and the Ontario Northland. Having been built only in the mid-1990s, you can still find the entire fleet of SD75M's and SD75I's in regular service today on the two Class I railroads which purchased the model, Canadian National and BNSF Railway.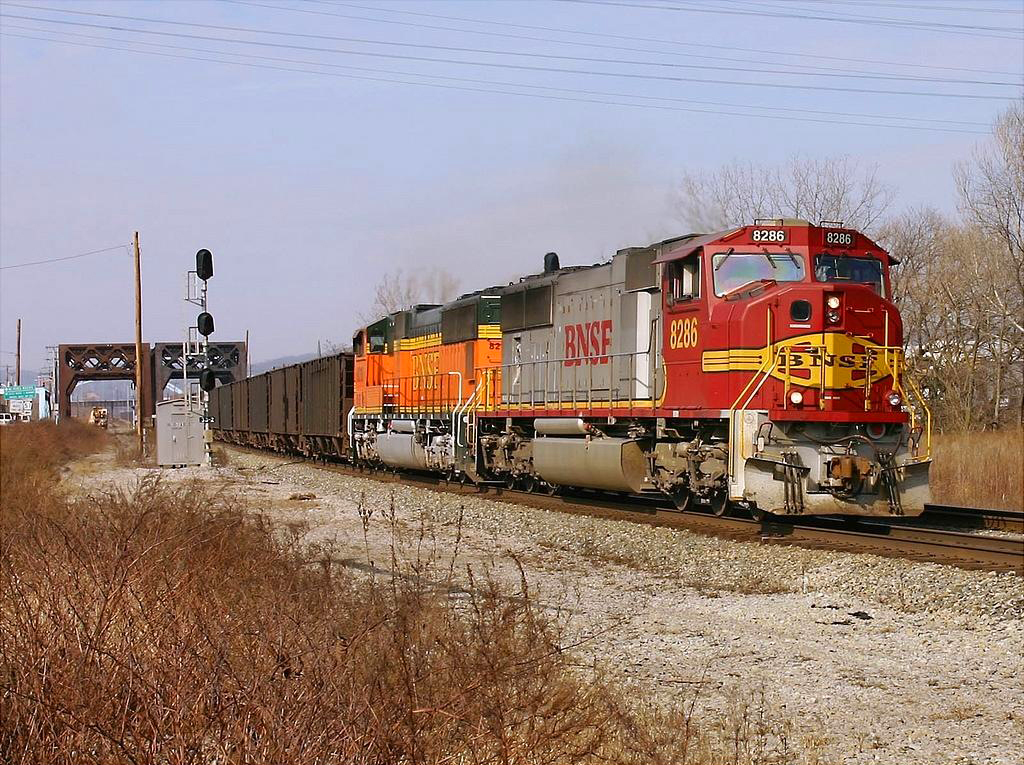 BNSF SD75I #8286 leads CSX freight K180-16 across Chartiers Creek in Pittsburgh on February 19, 2004. Wade Massie photo.
The EMD SD75M and SD75I were constructed at the same time, beginning in 1994. They utilized General Motors' 16-cylinder model 710G3B prime mover, which could produce 4,300 horsepower, a slight increase over the SD70 series which was rated at only 4,000 horsepower. This bump in horsepower was to compete with GE's C44-9W released around the same time. The SD75 series was virtually identical to the SD70 designs of the time, save for the horsepower increase. The models featured the same HTCR-II radial trucks and were rated at a powerful 137,000 pounds of continuous tractive effort (175,000 pounds starting, which was also the same as the SD70) using GM's model D90TR traction motors. The HTCR-II was perhaps the most innovative new feature EMD has debuted in recent times. It allowed the truck to steer itself into curves reducing wear and maintenance costs for railroads.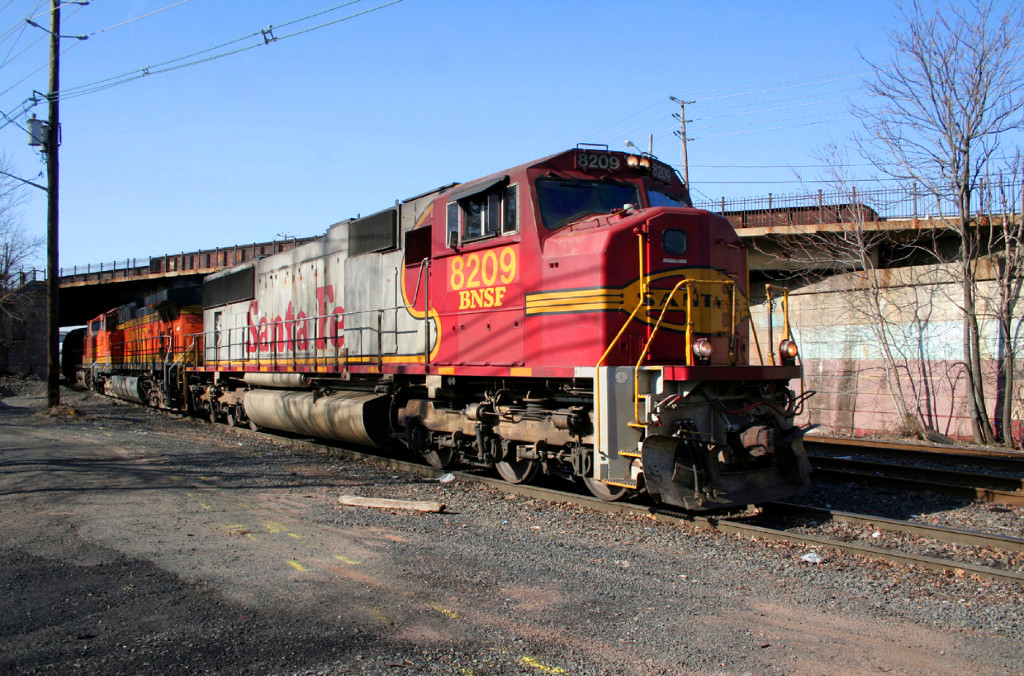 BNSF Railway SD75M #8209 and other units are putting together a train of empty hoppers at Sewaren, New Jersey on March 20, 2011. Randy Kotuby photo.
The truck has become such a big selling point for EMD that some railroads have stated that is the primary reason why they still buy from the builder. The primary differences in the two SD75 designs was with the cab itself. The EMD SD75M featured the wide, safety cab design (thus the "M" designation) while the SD75I featured the isolated cab (also known as the "Whisper Cab" by EMD). The latter's cab was not directly attached to the the frame and had added insulation and rubber built around it to decrease vibration and engine noise (it can be distinguished from the SD75M by the seam which can be seen near the front of the nose).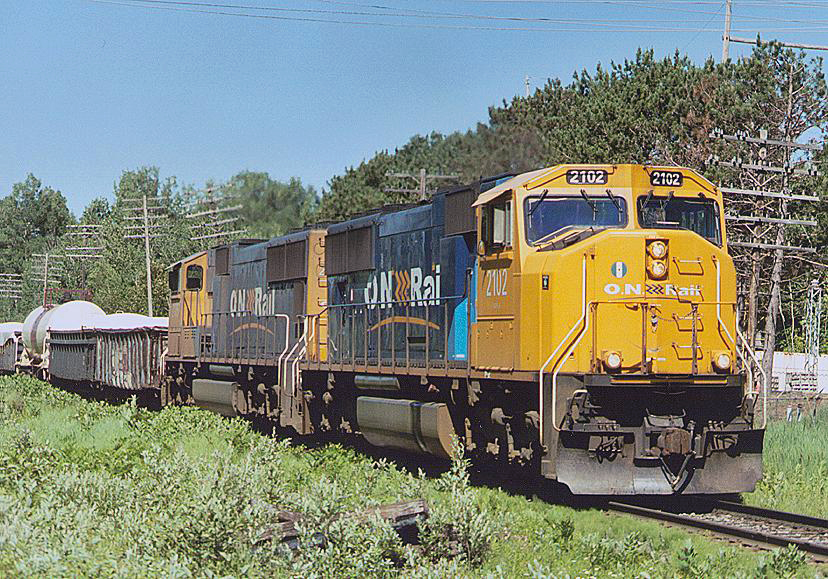 Ontario Northland SD75I's #2102 and #2105 have train #111 at Lounsbury, Ontario on June 23, 2006. Doug Kroll photo.
Ultimately, only the Santa Fe and Canadian National purchased the SD75M and SD75I (the Ontario Northland Railway did purchase a few SD75Is) with a total of 207 of each model produced. One reason why the SD75 variants were not successful from a sales standpoint is that they were basically a special order, as mentioned above. Not only were GE products more preferred by railroads but they also found the SD70 models suited their particular needs. The Santa Fe received its order of SD70Ms between March and August, 1995, a total of 51 units numbered 200-250. Additionally, successor Burlington Northern and Santa Fe purchased another batch of 25 between December, 1995 and March, 1996 numbered 8251-8275.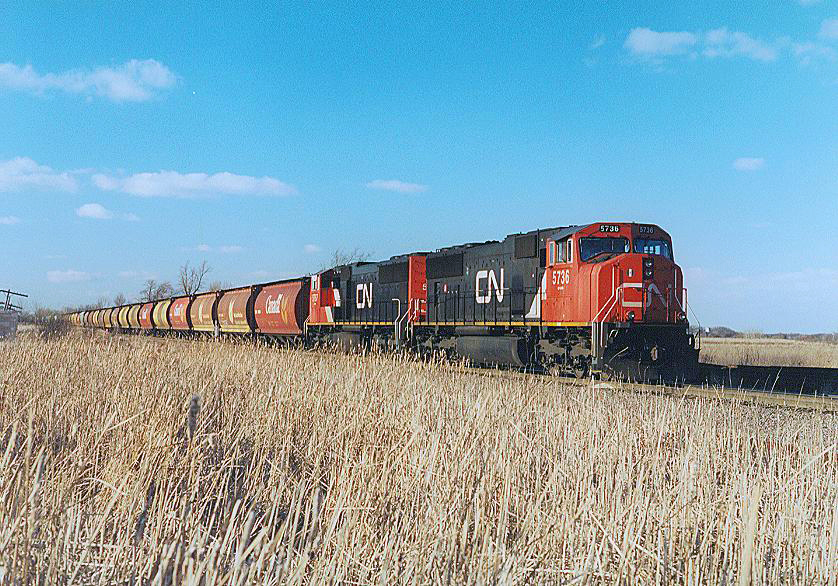 Canadian National SD75I's #5736 and #5767 pull a grain train southbound on the Wisconsin Central as they wait to enter the yard in North Fond du Lac, Wisconsin on March 24, 2001. Doug Kroll photo.
EMD SD75M Production Roster
| Owner | Road Number(s) | Quantity | Date Built |
| --- | --- | --- | --- |
| Burlington Northern Santa Fe | 8251-8275 | 25 | 1995-1996 |
| Santa Fe | 200-250 | 51 | 1995 |
EMD SD75I Production Roster
| Owner | Road Number(s) | Quantity | Date Built |
| --- | --- | --- | --- |
| Burlington Northern Santa Fe | 8276-8301 | 26 | 1997 |
| Canadian National | 5626-7800 | 175 | 1996-1999 |
| Ontario Northland Railway | 2100-2105 | 6 | 1999 |
---
---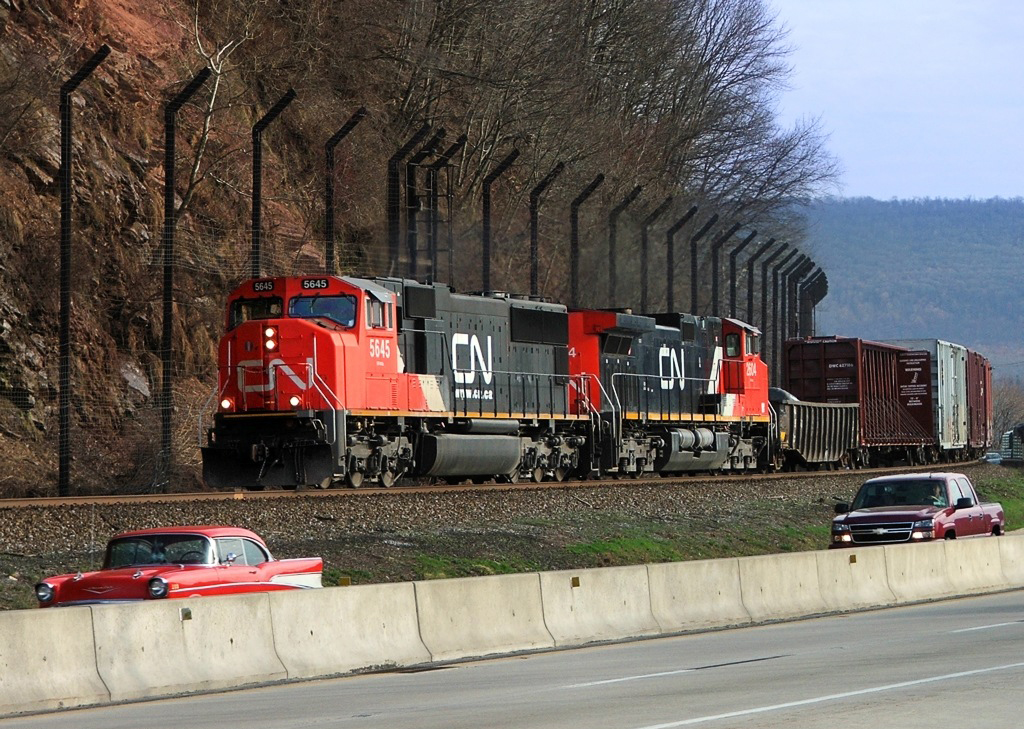 Canadian National SD75I #5645 and a mate roll northbound near Clarks Ferry, Pennsylvania on the Norfolk Southern along Route 22/322 on March 31, 2007. Rob Kitchen photo.
As for the SD75I model, CN first began receiving its order between May and December, 1995, a total of five units numbered 5626-5730. It received another 35 units, numbered 5626-5765, between August and December, 1997. Its final order came in 1999 when it received another 35 units numbered 5766-5800. BNSF picked up its only order of SD75Is between October and December, 1997 numbered 8276-8301. Finally, the Ontario Northern received its only order of 6, numbered 2000-2006, between May and July, 1999. Today, you can still find SD75Is and SD75Ms in regular operation on CN and Santa Fe successor BNSF.