Alco "C-430" Locomotives

The Alco C430 was the builder's final model in its four-axle Century line. It was the most powerful in the series although by the late 1960s railroads had finally recognized the value of six-axle locomotives and began purchasing them in larger numbers.  As a result, and for other reasons, the American Locomotive Company (Alco) found little success with its C430, which saw the worst sales in the series.  Testing with the three demonstrators took place at several locations but, ultimately, only four railroads made purchases; Green Bay & Western, New York Central (the largest buyer), Seaboard Coast Line (which picked up the demonstrators), and the Reading.  The locomotive would also close out Alco's line of four-axle diesels forever as the iconic manufacturer, whose history dated back to 1901, would bow out to General Motors' Electro-Motive Division (EMD) and General Electric in early 1969. 
Today, at least five examples of the C430 remain preserved around the country.  The best place to find these rare units in action is New York state; both the Western New York & Pennsylvania and Livonia, Avon & Lakeville maintain nearly half of the NYC's entire roster (10).  You can also find Green Bay & Western #315 at the National Railroad Museum in Green Bay, Wisconsin.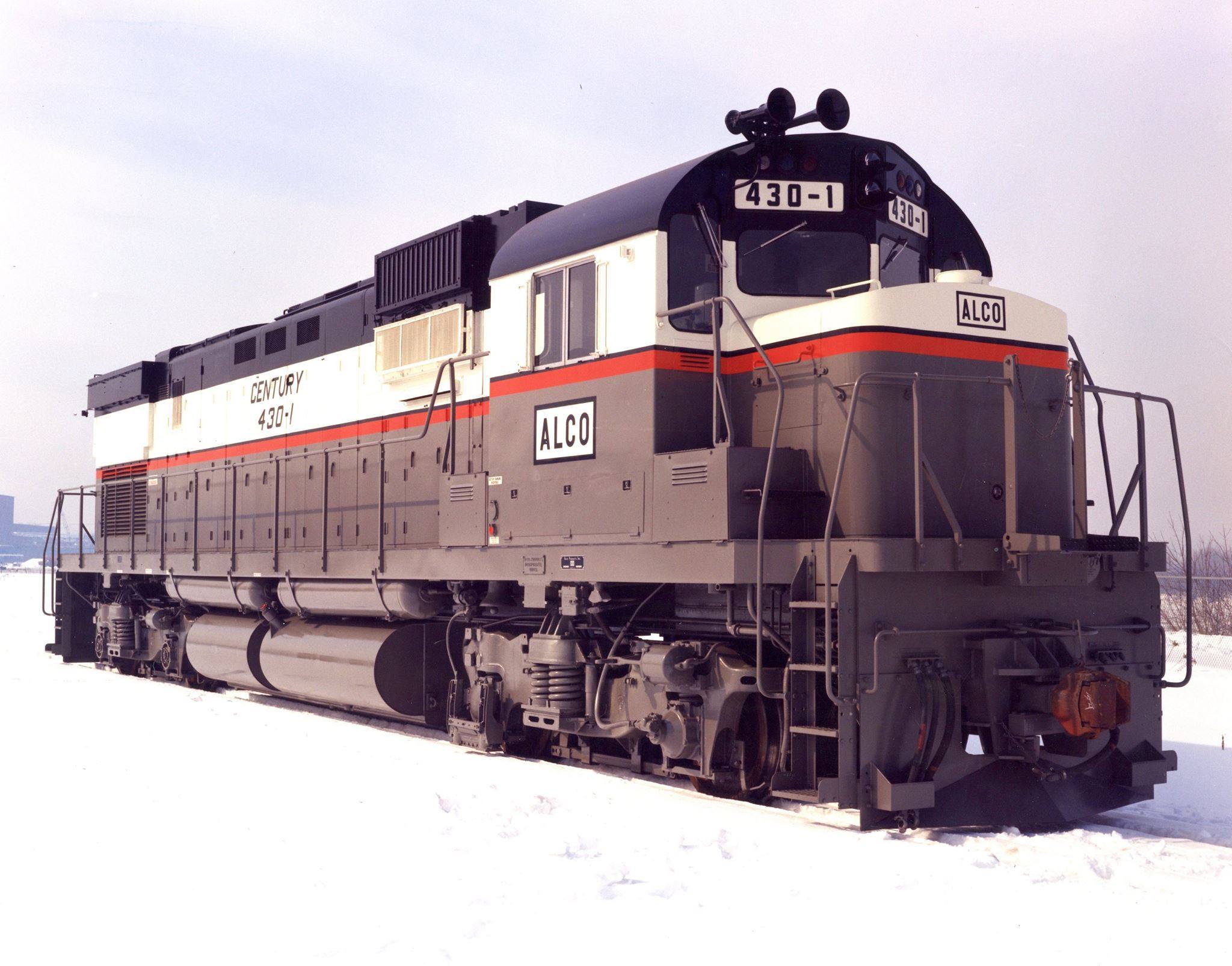 An American Locomotive builder's photo featuring C430 demonstrator #430-1 in 1967. Warren Calloway collection.
The Alco C430 began production in 1966 and used the final variant of its latest prime mover, the 251E.   The unit could produce a hefty 3,000 horsepower and came equipped with standard features for its day such as turbocharging (an Alco trademark) and dynamic braking.  Through the end the builder continued to outsource internal parts like traction motors and generators to General Electric, a one-time partner which, ironically by the mid-1960s was working to put Alco out of business. Unfortunately, the manufacturer just could no longer find success in the market following the failure of its earlier 244 prime mover.  In the end Alco would sell just sixteen C430s; ten went to New York Central, one to Green Bay & Western, two were sold to Reading, and the three Alco demonstrators (#430-1, #430-2, and #430-3) were sold to the Seaboard Coast Line and later acquired by the Louisville & Nashville.
By the mid-1960s railroads were finally realizing the benefits achieved through six-axle designs thanks to their increased tractive effort.  As such, four-axle models were purchased in ever decreasing numbers. Unfortunately, for both General Electric and Alco, EMD had all but captured the remaining four-axle market during the 1960s. For instance, its GP30, GP35, and GP38 models all cataloged at that tim  sold a combined 2,987 examples!  In comparison, GE's four-axle Universal models such as the U25B and U28B sold a little over 1,000 combined units and Alco's four-axle Centuries sold fewer than 500 examples.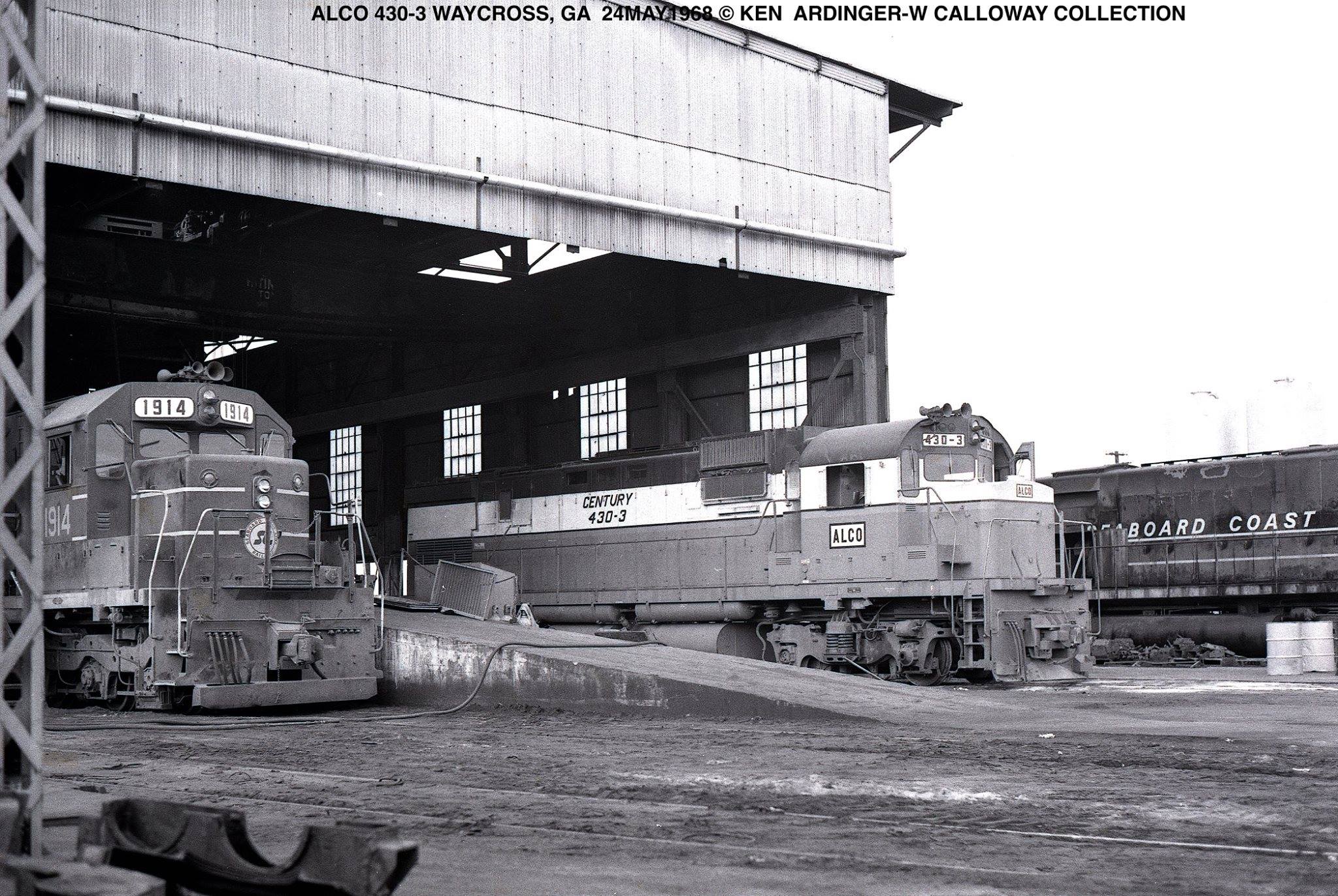 One of Alco's C430 demonstrators rests at the Seaboard Coast Line engine house in Waycross, Georgia on May 24, 1968. Ken Ardinger photo/Warren Calloway collection.
Despite the C430's poor sales numbers it did offer incredible tractive effort at 68,220 pounds starting and 57,200 continuous. The model featured Alco's now-classic carbody design for its Centuries (it had slightly tinkered with the nose length on earlier models) sporting a long, sweeping trailing hood and very short nose ahead of the cab. Overall, the model's appearance was quite pleasing and generally carried a look of similar designs offered by both GE and EMD.   Interestingly, as the six-axle market was just beginning to take off at that time Alco was able to cash in a bit on this development as the builder saw far better sales for its C-C designed Centuries, which were then in production.

Even during this time Alco was an iconic locomotive manufacturer with a history that had dated back to 1901 formed through a merger of several smaller companies. It became legendary during the steam locomotive era and was the top manufacturer along with the Baldwin Locomotive Works (with Lima was a somewhat distant third) producing thousands of high quality, durable, and powerful locomotives. Unfortunately, despite helping pioneer diesel powered designs during the 1920s Alco could simply never foresee the future of main line locomotives would be powered in this manner.  For more information about the C430 model please click here.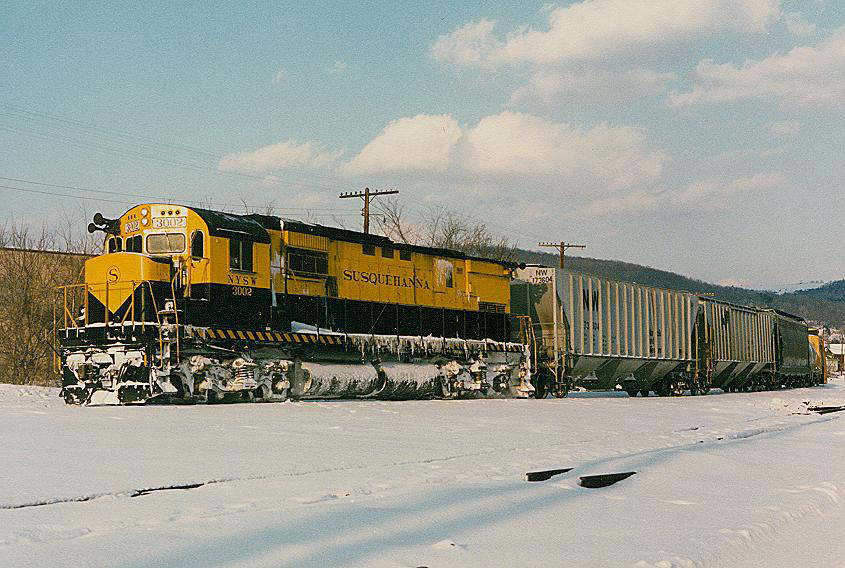 New York, Susquehanna & Western C430 #3002 (built as New York Central #2052) leads covered hoppers through the snow as the train heads off the Utica Line and into the yard at Binghamton, New York on February 15, 1986. This was wrecked following February (1987) at Lisle, New York. Doug Kroll photo.
Alco C430 Production Roster
| Owner | Road Number(s) | Quantity | Date Built |
| --- | --- | --- | --- |
| Alco (Demo) | 430-1, 430-2, 430-3 | 3 | 1967 |
| Green Bay & Western | 315 | 1 | 1968 |
| Seaboard Coast Line | 5600-5602 | 3 (ex-Demo's) | 1967 |
| New York Central | 2050-2059 | 10 | 1967 |
| Reading | 5211-5212 | 2 | 1966 |
---
---
At the engine terminal and maintenance facility in Norwood Yard several Alco road-switchers rest from their duties on May 20, 1979. Of note is C430 #315 to the left, the only such example the GB&W ever owned, purchased new in February of 1968. Doug Kroll photo.
As such it produced very few innovative designs outside of early test models and the first three Road Switcher (RS) series (the RS1, RS2, and RS3).  Today, five Alco C430s are known to survive, the best known of which is Green Bay & Western's #315 preserved at the National Railroad Museum in Green Bay, Wisconsin.  Four others are either in service or to be rebuilt on short line Western New York & Pennsylvania; #430 (former NYC #2050), #431 (former NYC #2053), #432 (ex-NYC #2054), and #433 (ex-NYC #2056).   To read more about other Century models please visit the Diesel Locomotives section of the site, which can be reached from the top of this page.
---
---
---