GE "B32-8" Locomotives

Last revised: February 2, 2023
By: Adam Burns

General Electric's "Dash 8" line ushered in an entirely new era of locomotive development, microprocessor controls.  The company proved a trailblazer in this arena and its success enabled GE to stay ahead of Electro-Motive permanently. 

The original Dash 8 was B36-8 #606, a prototype completed in October, 1982 according to Greg McDonnell's book, "Locomotives: The Modern Diesel & Electric Reference, 2nd Edition."
This unit kicked off a series of prototype models GE debuted in a variety of horsepower ratings to carry out road tests across the country.
Interestingly, the builder even clad these locomotives in their respective railroad liveries although they remained wholly-owned GE products.  
The B32-8 was one of these testbed models with three units sent to Burlington Northern in January, 1984; #5497-5499.  They were never acquired by BN and ultimately returned to Erie where they became test subjects until being scrapped.
However, GE released an updated version of the B32-8 known as the Dash 8-32B in 1988.  Norfolk Southern would go on to purchase 45 examples of this locomotive while Amtrak acquired a variant, the Dash 8-32BWH (or, as Amtrak called it, the P32BH) in 1991, which sported GE's new North American wide cab and HEP for passenger service.
Photos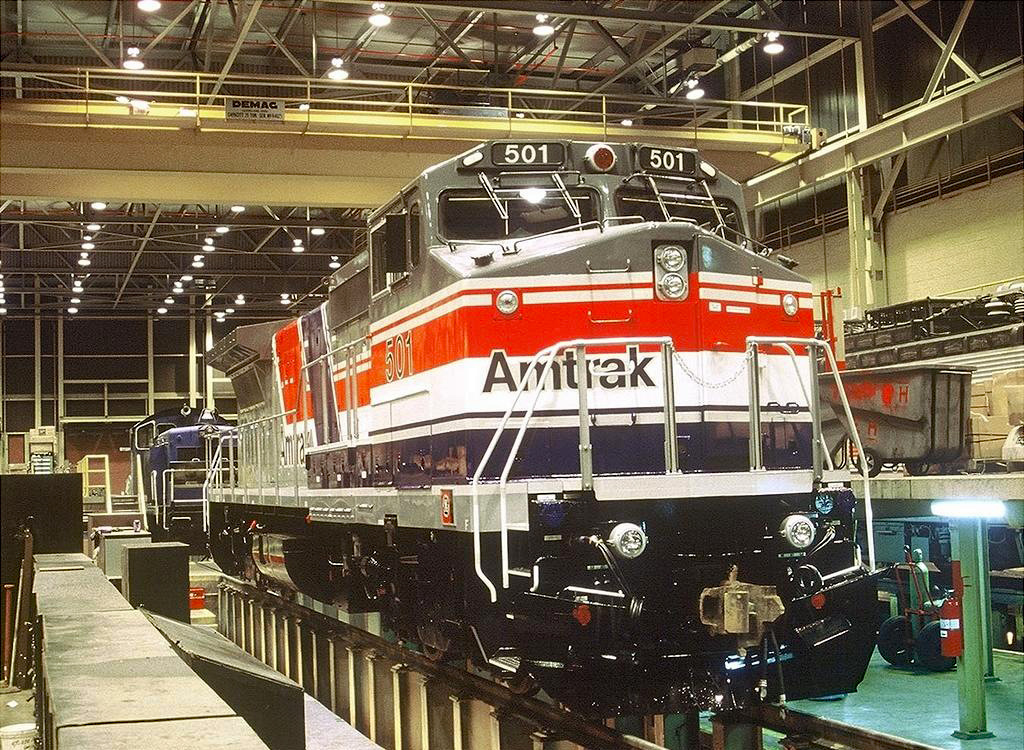 A just-delivered Amtrak P32BWH, #501, (also known as the B32-8WH or Dash 8-32BWH) sits inside the Ivy City Shops in Washington, D.C. for its initial inspection on December 2, 1991. Wade Massie photo.
Overview
The "Dash 8" line thrust General Electric into the leading role thanks largely to the significant research and development it carried out, a process that began with the Universal series. 
The company even completed a test locomotive for its latest series, originally numbered 606.  GE was constantly tweaking and improving this unit as it made consistent advancements in the way of microprocessors.  The locomotive was even the first to wear GE's original North American wide cab.
By the 1980s, computers were now small enough to fit inside a locomotive cab, and GE perfected this technology to meet the rigors of everyday railroad service.
Microprocessors also brought about major changes in how crews, particularly engineers, handled their trains.  Computers now monitored all aspects of a locomotive, outside of actual train speed and braking, to achieve the greatest operational efficiency possible.
As a result, it took much of the subtle nuisances engineers had learned over the years, even in the diesel era, out of their hands.  For instance, the microprocessors on Dash 8 locomotives monitored performance, excitation of the main alternator, and secondary systems. 
If an issue ever arose with any of these, the engineer was either warned, or the computer took action itself to prevent damage to components.  In modern locomotives engineers spend a great deal of time simply monitoring systems.
B36-8 #606
The original Dash 8 prototype was B36-8 #606, completed at Erie in October, 1982.  It was a little over a foot longer than earlier four-axle Dash 7 variants but the carbody appeared vastly different.
Gone was the slight beveling, which had defined GE's road-switchers since the Universal series.  These original Dash 8s (that GE dubbed "Classics") featured sharp lines, a larger nose, a more pronounced winged rear radiator, and a raised "bulge" just behind the cab.
The latter housed dynamic brakes and larger air intakes, which gave the locomotives an uneven roofline.  Internally, #606 was even more impressive featuring GE's new microprocessor controls (the "MicroSentry Adhesion System"), an equally new GMG alternator, and the latest 752AG traction motors.
In March, 1983 GE added a second prototype, C36-8 #607, and then proceeded to build a series of testbed units in 1984 that would operate on a handful of railroads.  All were owned by General Electric but wore their respective railroad liveries:
Burlington Northern B32-8 #5497-5499 (four-axles, 12-cylinders; 3,150 horsepower)


Santa Fe B39-8 #7400-7402 (four-axles, 16-cylinders; 3,900 horsepower) 


Norfolk Southern C39-8 #8550-8551 (six-axles, 16-cylinders; 3,900 horsepower)
Conrail C32-8 #6610-6619 (six-axles, 12-clyinders; 3,150 horsepower)
The Dash 8s' upgraded 752AG traction motors was also a big selling point.  As Brian Solomon notes in his book, "GE Locomotives," they could achieve a continuous tractive effort improvement of between 5% to 11% over earlier models.
In addition, the use of a new epoxy varnish reduced the motor's operating temperature and helped keep moisture out of vital components.  Both improvements helped reduce maintenance costs while keeping the motor in service for longer periods.
Finally, the latest GMG alternator provided the high voltage necessary to maintain adequate current to the motors, both during startup and at-speed.  Previous alternators had not been able to accomplish this.
Ultimately, no railroad elected to purchase the original B32-8.  However, its cataloged successor, the so-called Dash 8-32B, did see 45 examples sold to Norfolk Southern in 1989. 
While GE promoted the new "Dash" series (like the Dash 8-32B) as featuring the latest in advancements, these locomotives actually differed little from the prototypes aside from minor carbody changes.  As a result, most railroads continued referring to them by their original designations.
The Dash 8-32B's notable differences over the earlier B32-8 included:
A Standard Cab flush with the roofline.


The equipment blower and dynamic brake housing blended seamlessly into the carbody just behind the cab.


Angled radiator vents.


A lower, and more proportionate, nose.


Removal of the "notch" located just ahead of the exhaust stack.  This had been a classic trait of the Dash 7 series where a widening of the carbody housed the relocated oil cooler. 
Of note, Amtrak also purchased 20 examples of the B32-8 variant known as the B32-8WH. Equipped with head-end power (HEP) and appearing as a main line freight locomotive, it featured GE's now-ubiquitous "North American" wide cab.

Data Sheets
B32-8, Dash 8-32B, Dash 8-32BWH
| | |
| --- | --- |
| Entered Production | 1/1984 (Burlington Northern/GE #7400-7402) |
| Years Produced | 1/1984 - 12/1991 |
| GE Class | B32-8, Dash 8-32B, Dash 8-32BWH |
| Engine | 7FDL12 (12 cylinder) |
| Engine Builder | General Electric |
| Horsepower | 3150-3200 |
| RPM | 1050 |
| Length (B32-8, Dash 8-32B) | 63' 7" |
| Length (Dash 8-32BWH) | 66' 4" |
| Height (Top Of Rail To Top Of Cab) | 15' 4 1/2" |
| Width | 9' 11" |
| Weight | 262,000 - 284,000 Lbs |
| Fuel Capacity | 3,150 Gallons |
| Air Compressor | 3CDC (Westinghouse) |
| Air Brake Schedule | 26L (Westinghouse) |
| Trucks | B-B |
| Truck Type | Floating Bolster FB2 (GE) |
| Truck Wheelbase | 9' 0" |
| Wheel Size | 40" |
| Traction Motors | 752AG (4), GE |
| Traction Alternator | GMG186, GE |
| Auxiliary Generator | GY27, GE |
| MU (Multiple-Unit) | Yes |
| Dynamic Brakes | Yes |
| Gear Ratio | 83:20 |
| Tractive Effort/Starting | 70,000 Lbs |
| Tractive Effort/Continuous | 64,700 Lbs at 12 mph |
| Top Speed | 70 mph |
Production Rosters
B32-8
| Owner | Road Number | Serial Number | Order Number | Completion Date | Quantity |
| --- | --- | --- | --- | --- | --- |
| Burlington Northern/General Electric | 5497-5499 | 43151-43153 | 1313, 1314-1, 1315-1 | 1/1984 | 3 |
Dash 8-32B
| Owner | Road Number | Serial Number | Order Number | Completion Date | Quantity |
| --- | --- | --- | --- | --- | --- |
| General Electric | 832 | 46116 | 1420 | 9/1989 | 1 |
| Norfolk Southern | 3522-3566 | 46117-46161 | 1419 | 10/1989-12/1989 | 45 |
B32-8WH/P32BH
| Owner | Road Number | Serial Number | Order Number | Completion Date | Quantity |
| --- | --- | --- | --- | --- | --- |
| Amtrak | 500-519 | 46836-46855 | 1426 | 12/1991 | 20 |
Sources
Foster, Gerald. A Field Guide To Trains. New York: Houghton Mifflin, 1996.
Marre, Louis A. and Pinkepank, Jerry A. Contemporary Diesel Spotter's Guide, The: A Comprehensive Reference Manual To Locomotives Since 1972.  Milwaukee: Kalmbach Publishing Company, 1989.
McDonnell, Greg. Locomotives: The Modern Diesel & Electric Reference, 2nd Edition. Buffalo: Boston Mills Press/Firefly Books, 2015.
Solomon, Brian. American Diesel Locomotive, The. Osceola: MBI Publishing, 2000.
Solomon, Brian.  GE and EMD Locomotives:  The Illustrated History.  Minneapolis:  Voyageur Press, 2014.
Solomon, Brian. GE Locomotives: 110 Years Of General Electric Motive Power. St. Paul: MBI Publishing, 2003.
---
The locomotive was also nearly three feet longer than standard B32-8s to house this HEP equipment.   Amtrak had the fleet numbered 500-519.
In the years since they were delivered, the California Department of Transportation has purchased 501 and 502, renumbering them 2051 and 2052 for use in "Amtrak California" service.
Today, they still remain in regular use while the rest of the fleet has been relegated to yard and switching duties as newer models have bumped them from main line service.