Baldwin "RS-12" Locomotives


The RS12 was the final road switcher Baldwin would produce and designed to replace the earlier DRS-4-4-1000 albeit with a bit more horsepower.  Unfortunately, the locomotive found little success as well although it did sell about twice as many examples and to more railroads than its predecessor. One reason the model sold poorly was that Baldwin already cataloged three other, more powerful road switcher models; the AS16, AS416, and AS616.  At the time the then Baldwin-Lima-Hamilton Corporation (BLH) was concentrating much more seriously on being a prominent diesel locomotive manufacturer although its parent Westinghouse decided to exit the market in the mid-1950s, ironically during a time when the builder was seeing record sales.  
Today, there are several RS-12's preserved, most of Seaboard Air Line heritage; McCloud River Railroad #33 (only one of two built with dynamic brakes) can be found at California's popular Skunk Train while short line freight carrier Escanaba & Lake Superior owns eight units (all of Seaboard heritage).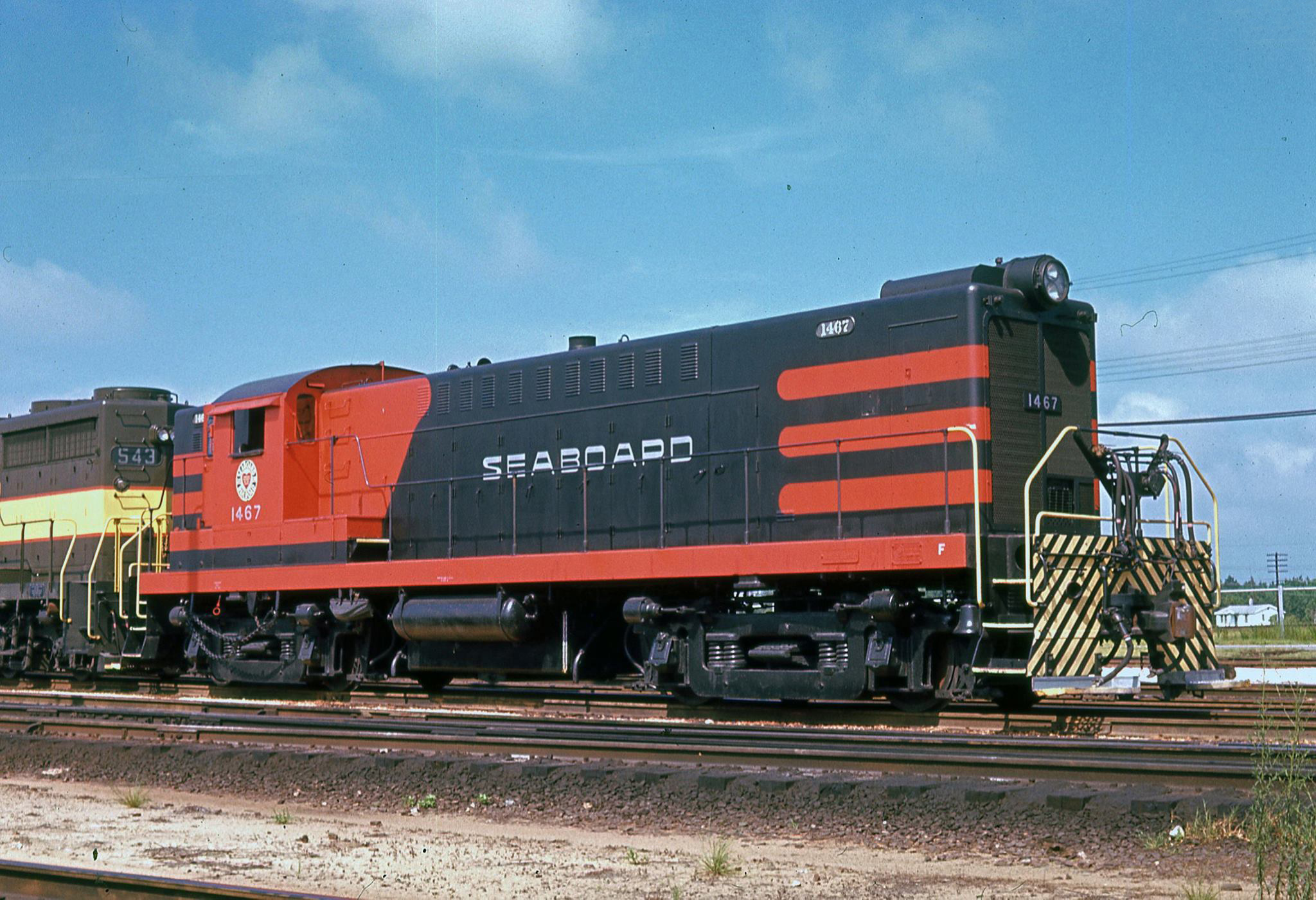 Seaboard Air Line RS12 #1467 is seen here at Hamlet, North Carolina; one of ten light road-switchers SAL acquired from Baldwin in the early 1950s. Warren Calloway photo.
The Baldwin RS12 was essentially an over-sized switcher offering comparable horsepower to similar models being produced by Electro-Motive such as its SW7 and SW9 as well as the American Locomotive Company's (Alco) S-2. Incidentally, Baldwin's success in the diesel market began with a line of switchers and it had been producing small electric locomotives, such a various box cab designs, for years in conjunction with Westinghouse. The RS12 was one of four road switcher models Baldwin-Lima-Hamilton offered in its new Standard line released in 1950. These new locomotives sold far better than the company's earlier designs of the 1940s and one cannot help but wonder how successful BLH would have become had parent Westinghouse allowed it to continue refining its diesels.
In any event, BLH's new classification system was fairly straightforward and certainly much easier to decipher than its earlier system, partially based from the steam era. In the case of the RS12 the "RS" referred to Road Switcher while the "12" regarded its 1,200 horsepower (the model was actually even easier to understand than the AS16, AS416, and AS616 classifications). The RS12 began production in April of 1951 and utilized Baldwin's 608NA prime mover, an upgraded version of a previous engine. The locomotive featured a B-B truck setup (meaning there were two axles per truck) but no dynamic braking. As with all of Baldwin's road switchers the RS12 used its standard carbody design; a short lead hood, offset cab, and trailing long hood. The look was actually quite pleasing with soft beveling and a flush roof line.

Overall, the RS12 was 58 feet in length and weighed in at a very light 133 tons (for a locomotive of its size). While rather long and light for its horsepower rating the locomotive included a starting tractive effort of 60,000 pounds and 34,000 pounds continuous. Unfortunately, Baldwin could find few buyers for the RS12, as had been the case with the earlier DRS-4-4-1000.  One reason for its poor sales numbers is the fact that it did not offer dynamic braking, a feature that Alco and EMD had offered for years.   It is very puzzling as to why Baldwin never included dynamics as a standard feature considering its advantages.   It was offered as an option in the RS12, as was a steam generator but only the McCloud River Railroad ordered dynamics with theirs.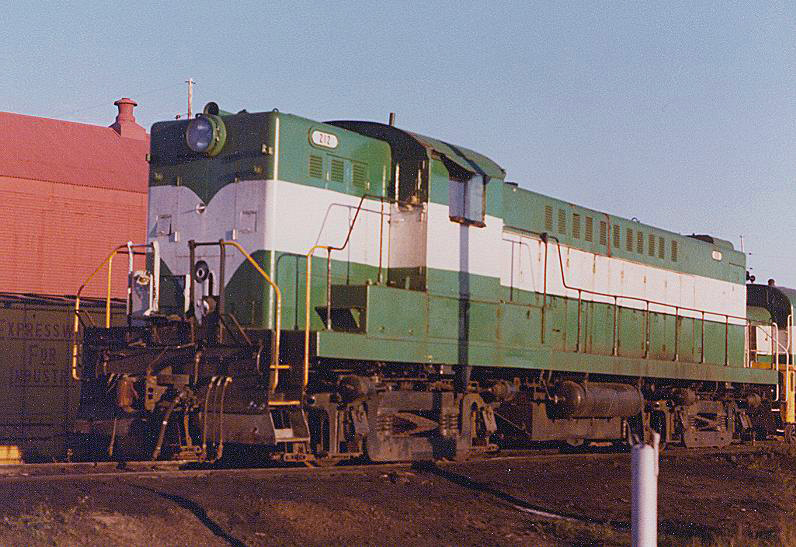 Michigan Northern RS-12 #212 is seen here in Cadillac, Michigan on September 8, 1979. The unit began its career on the Seaboard Air Line and was one of three the Michigan Northern owned. It was later sold to the Escanaba & Lake Superior. Doug Kroll photo.
Baldwin RS-12 Production Roster
| Owner | Road Number(s) | Quantity | Date Built |
| --- | --- | --- | --- |
| Central Railroad Of New Jersey (CNJ) | 1206-1209 | 4 | 1953 |
| Durham & Southern | 1200-1202 | 3 | 1954 |
| Kaiser Bauxite Company | 101-104 | 4 | 1952-1956 |
| McCloud River Railroad | 32-33 | 2 | 1955 |
| Milwaukee Road | 970-971 | 2 | 1951-1952 |
| New York Central | 5820-5836 | 17 | 1951 |
| Pennsylvania | 8105-8110, 8776, 8976 | 8 | 1951-1954 |
| Seaboard Air Line | 1466-1475 | 10 | 1952-1953 |
---
---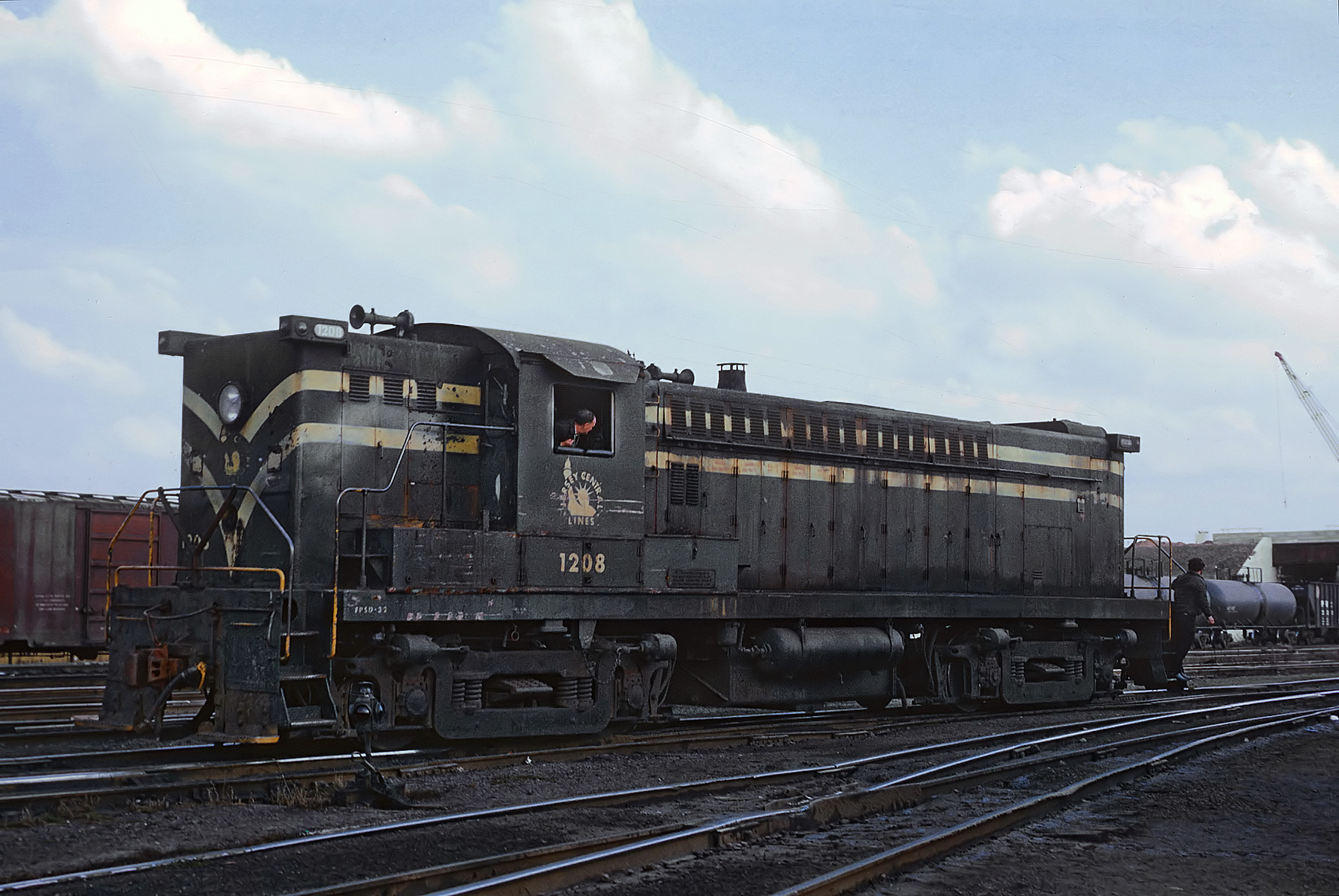 Jersey Central RS-12 #1208, acquired new in 1953, is seen here performing a reverse move (probably carrying out switching chores), at Elizabeth, New Jersey on November 8, 1969. Roger Puta photo.
By the early 1950s EMD's General Purpose (GP) line was well established as was Alco's RS line (especially the RS3); coupled with Baldwin's perception as unreliable and troublesome diesel builder only 50 RS12s were ultimately manufactured by the time production had ended in 1956. The New York Central would come to own the most, seventeen, which interestingly were supposed to be model LRS-1200s from Lima. However, due to the Lima-Baldwin merger NYC accepted the RS12 model instead.  In total, eight railroads purchased the locomotive; the aforementioned NYC and McCloud River as well as the Milwaukee Road, Jersey Central, Durham & Southern, Kaiser Bauxite, Seaboard Air Line, and ever-loyal Pennsylvania.  For more information about the RS12 please refer to the chart above.