Montana Rail Link

Last revised: October 11, 2023
By: Adam Burns

Montana Rail Link (reporting marks MRL) was a regional operation based in Missoula, Montana.  At its peak the railroad operated nearly 1,000 miles of track with nearly 1,000 employees.   

MRL got its start in 1987 when it began leasing Burlington Northern's trackage through central and western Montana that was formerly the Northern Pacific main line.  It was one of two railroads operated by The Washington Companies.
Alas, it appears things have returned full circle as MRL announced on January 10, 2022 that it would terminate its lease with successor BNSF Railway and the Class I would reacquire its property.
Photos
Montana Rail Link SD40XR #265 leads the "Gas Local" along the Clark Fork River near Thompson Falls, Montana on June 10, 2013. Drew Jacksich photo.
During its 35 year's of operation Montana Rail Link was a top-notch, efficiently run operation that enjoyed several connections with Class I carriers BNSF Railway and Union Pacific.
It was the longest end-to-end, non-Class I systems and into the 2000s began acquiring brand new locomotives in the way of Electro-Motive's SD70ACe.
At the time it was one of the first short lines or regionals to do so.  Since then, several others have also purchased new power such as Florida East Coast, Iowa Interstate, and Arkansas & Missouri.
For train enthusiasts with an especial interest in rail history, and the Milwaukee Road in particular, keep a sharp eye on the company's old roadbed along the central portions of Montana Rail Link's system. 
In places like St. Regis, Garrison, Drummond, and elsewhere the old Northern Pacific and Milwaukee main lines were never far apart; in some cases the two right-of-ways even paralleled each other.
History
The history of Montana Rail Link begins in the late 1980s, and amid confusion, when then Burlington Northern agreed to lease (in 1987) its former Northern Pacific main line between Billings, Montana and Sandpoint, Idaho.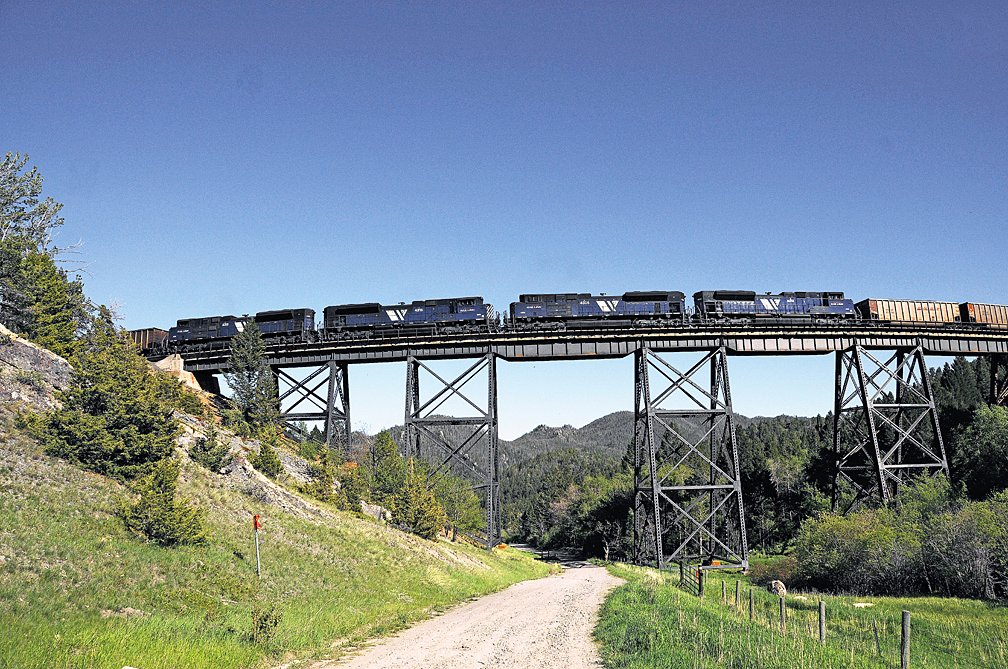 A quartet of Montana Rail Link SD70ACe's, purchased new by the railroad, work in helper service over Mullan Pass, Montana as they cross Slyline Trestle on June 9, 2013. Drew Jacksich photo.
The new line was to be operated by local Montana businessman Dennis Washington, which named it Montana Rail Link. 
Instantly, a large regional, Class II system was born which boasted more than 900 miles. Since its inception, MRL changed very little over years with important yards located at Missoula and Billings. 
Interestingly, had MRL been launched a decade earlier it likely also would now operate components of the old Milwaukee Road in this region, which provided the only other through rail service in central and southern Montana.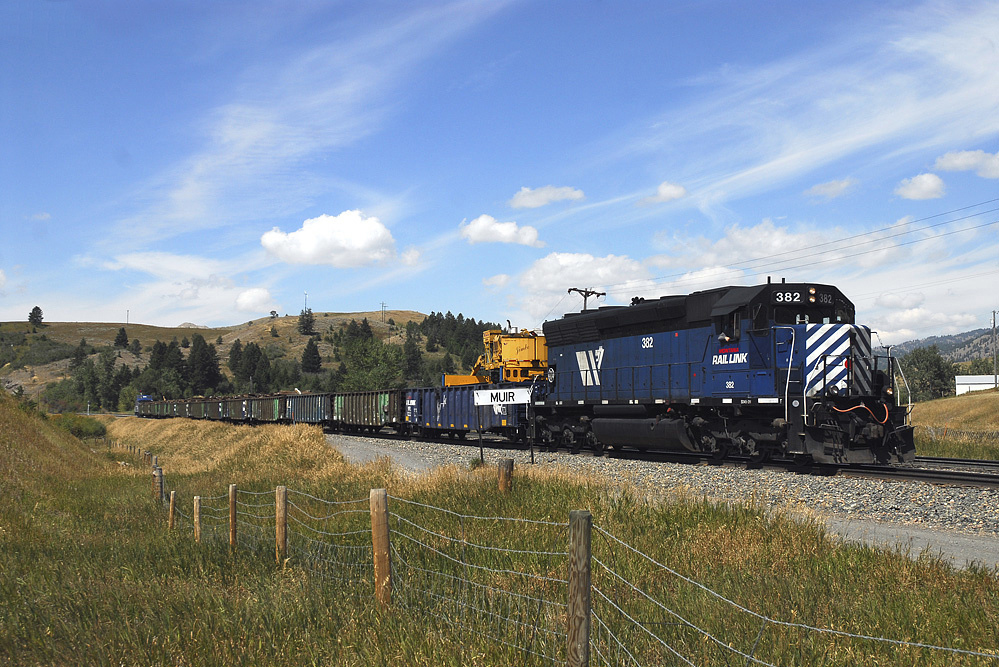 Montana Rail Link SD45 #382 leads a work train of old ties along Bozeman Pass on August 24, 2007. Note the caboose tagging along! Drew Jacksich photo.
Alas, as many railfans are well aware, the company pulled out of the west in 1980, predominantly a result of poor leadership and mismanagement.
Throughout its corporate history, Burlington Northern, and then BNSF, maintained ownership of the former NP line between Minnesota and Seattle.
Logo
It was an important level of foresight during an era when many companies were abandoning large sections of infrastructure, infrastructure that was unlikely to ever be rebuilt once removed.
In addition, then-BN continued to utilize the former NP main line as a through route with trains continuing from an eastern connection at Jones Junction to the western connection at Sandpoint, Idaho.
System Maps
During their time operating over MRL the trains were under the regional's control with dispatchers located in Missoula.  This town was always important to MRL; it not only functioned as the railroad's headquarters but was also fully equipped centralized-traffic-control (CTC).

The MRL's freight traffic consisted of numerous products from grain and corn to timber, aggregates, coal, some intermodal, natural gas, and general merchandise.  However, by and large it relied heavily on through movements of BN/BNSF traffic.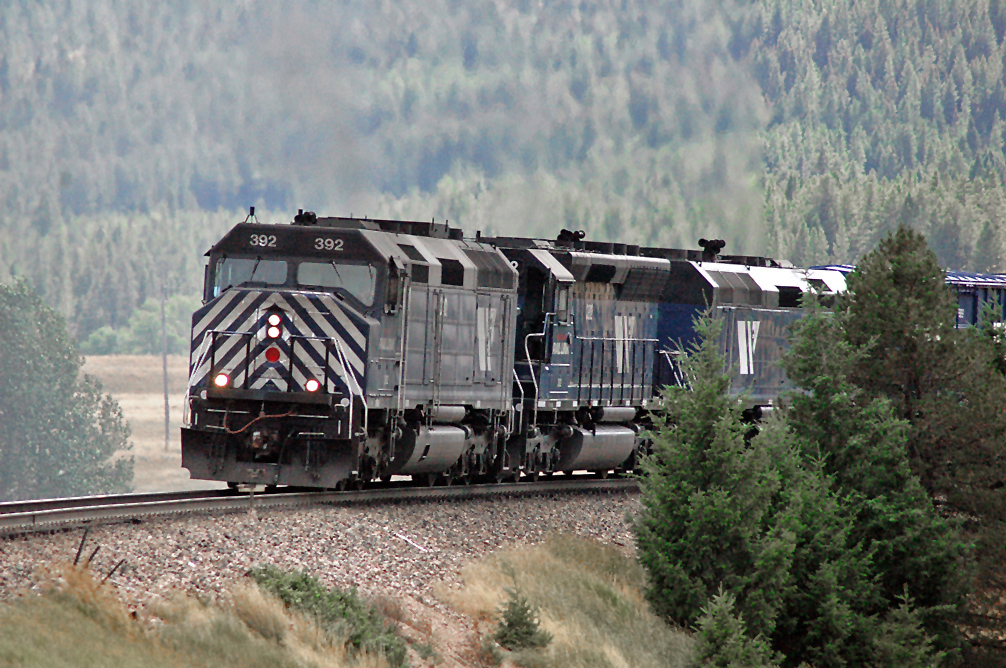 Montana Rail Link F45XR #392 (since retired) leads its freight east as the train climbs out of Elliston, Montana toward Mullan Pass on August 24, 2005. Drew Jacksich photo.
In addition, without through connections to both BNSF and Union Pacific, MRL would never been the successful operation it became during the 1990s and into the early 200s.
In later years the railroad gained additional lines by taking over former NP branches serving Montana towns such as Spire Rock, Twin Bridges, Darby, and Polson.
Additionally, it also gained trackage rights to Spokane, Washington via BNSF.  At its peak, Montana Rail Link boasted a network of 955 miles.
The railroad became so profitable in the early 2000s it purchased new SD70ACe locomotives from Electro-Motive.  Its locomotive roster, which consisted entirely of EMD products, will either be rolled into the BNSF fleet or sold off.
Locomotive Roster
| Builder | Model Type | Road Number | Notes/Disposition | Quantity |
| --- | --- | --- | --- | --- |
| EMD | SW1200 | 12-15, 17-18 | Ex-NP | 6 |
| EMD | SW9 | 16 | Ex-Frisco | 1 |
| EMD | SW1500 | 51-52 | Ex-Island Steel | 2 |
| EMD | GP9 | 106-110, 112-113, 116-117, 119-121, 123, 127-128, 130-133 | Ex-NP, Ex-GN, Ex-CGW, Ex-CRI&P, Ex-MSTL, Ex-QNSL | 19 |
| EMD | GP19-1 | 151 | Ex-NP GP9 | 1 |
| EMD | SD40 | 208-209, 213, 216, 220-224 | Ex-BN, Ex-C&S, Ex-CGW | 9 |
| EMD | SD40-2 | 250 | Ex-BN | 1 |
| EMD | SD40XR | 251-265 | Ex-UP, Ex-C&NW, Ex-BN, Ex-C&S | 15 |
| EMD | SDP40R | 290 | Ex-GN | 1 |
| EMD | SD45-2 | 301-305, 308-311, 313 | Ex-Clinchfield | 10 |
| EMD | SD45R | 314-331 | Ex-SP | 18 |
| EMD | SDP45R | 332 | Ex-Conrail | 1 |
| EMD | SD45 | 342-344, 501-505, 7544-7555, 8941 | Ex-N&W, Ex-AT&SF, Ex-D&RGW, Ex-SP | 11 |
| EMD | SD45XR | 351-358 | Ex-GN, Ex-Frisco | 8 |
| EMD | F45XR | 390, 392 | Ex-BN | 2 |
| EMD | SDP40R | 290 | Ex-GN | 1 |
| EMD | GP35 | 401-406 | Ex-DT&I, Ex-SP | 6 |
| EMD | SD7 | 605-607 | Ex-SP | 3 |
| EMD | SD9 | 608, 610 | Ex-EJ&E | 2 |
| EMD | SD19-1 | 651-652 | Ex-SP, Ex-EJ&E | 2 |
| EMD | SD35 | 701-703, 705 | Ex-N&W, Ex-ACL | 4 |
| EMD | SD70ACe | 4300-4315, 4400-4408 | Purchased New, 2005-2014 | 25 |
---
Along the beautiful Missouri River near Lombard two Geeps have a Montana Rail Link local freight on September 6, 1997. Directly across the river and just out of view was rival Milwaukee Road's fabled Pacific Extension. Doug Kroll photo.
BNSF Acquisition
Following 35 years of operation, Montana Rail Link announced on January 10, 2022 that the company would terminate its lease with BNSF and be folded back into the Class I's operations.
Part of its press release handed out to MRL employees reads as follows:
After careful consideration, we have decided to conclude our long-term lease with BNSF Railway.  BNSF will resume operations and maintenance of MRL which will provide long-term sustainability, predictability, and opportunity for you and our Montana customers.
This decision was made after a great deal of thought including securing BNSF's commitment to continue employment for all MRL employees.
When MRL was created in 1987, our vision was to become a safe, reliable regional railroad in partnership with BNSF, then Burlington Northern, to provide customers with competitive, consistent service and employees with good, stable jobs. 
Thanks to you, we have achieved that vision together and answered the call since the day we began operating trains.
The freight environment has evolved, however, and over 90% of the volume moving on MRL is on BNSF trains.  We are critical link in BNSF's northern transcontinental network, delivering grain, consumer and industrial products to the West Coast.
BNSF operating the line as part of their network will ensure competitive access to global markets while continuing to provide the consistent and reliable service to our customers.  
This will create a more seamless supply chain and will position MRL employees and customers for future success.