Buffalo & Pittsburgh Railroad

Last revised: October 11, 2023
By: Adam Burns

If the Buffalo and Pittsburgh Railroad (reporting marks, BPRR) sounds familiar that is because its name is actually derived from the historic company that originally operated most of its lines, the Buffalo, Rochester & Pittsburgh.

The earliest history of this railroad can be traced back to the 1860s and it eventually grew into a moderate sized system serving western Pennsylvania and New York.
It became part of the Baltimore & Ohio in the 1930s and successor Chessie System/CSX decided to shed the property along with other traces of the B&O in 1988 creating the B&P, which instantly became a Class II, regional in the process.
Since then the B&P, now a part of the Genesee & Wyoming family, has continued to divest itself of low density lines.
Today, it still operates much of its original main line as well as additional routes with a wide range of traffic and numerous connections with both Class Is and small short lines (including other members of the G&W network).
The modern Buffalo & Pittsburgh still links its namesake cities although the original BR&P's route to Rochester is no more. 
In addition, the modern incarnation operates a long branch from Johnsonburg to the Lake Erie port at Erie, Pennsylvania.  This line was originally owned by the Pennsylvania and later operated by another G&W subsidiary, the Allegheny & Eastern.
Photos
Buffalo & Pittsburgh GP38-2 #2004 matches the vibrant fall colors at Glenshaw, Pennsylvania as it exits from Glenshaw Tunnel with the company business train on October 24, 2007. Wade Massie photo.
Buffalo, Rochester & Pittsburgh
The history of the Buffalo, Rochester & Pittsburgh Railway began in 1869 as the Rochester & State Line Railroad.
Interestingly, over the next twenty years the property was split up and then reunited in 1887 as the BR&P as we know it today.
During the course of the railroad's existence it struggled to remain a profitable line.
While the company was able to tap some of the coal mines located in western Pennsylvania it had no end-to-end connections (while it did serve Rochester and Buffalo it did not reach any other city of significant size with Walston, its southern terminus, nearly 100 miles northeast of Pittsburgh).
Regardless of its small size the BR&P was able to field a fleet of massive steam locomotives, including 2-8-8-2 Chesapeakes, 2-6-6-2s, and 2-10-0 Decapods.
Baltimore & Ohio
After the Great Depression hit in 1929 the railroad was hit hard and eventually purchased by the B&O in 1932. 
Under B&O management the property remained relatively unchanged with the railroad using much of the original steam fleet, including the large articulateds.
In 1950 the biggest change to the line came with the ending of carfloat operations between Charlotte, New York (near Rochester) and Cobourg, Ontario with the Grand Trunk Railway.
As coal mines and traffic in general continued to dry up it was eventually decided by Chessie System/CSX Transportation in 1988 to sell off all lines north of Pittsburgh.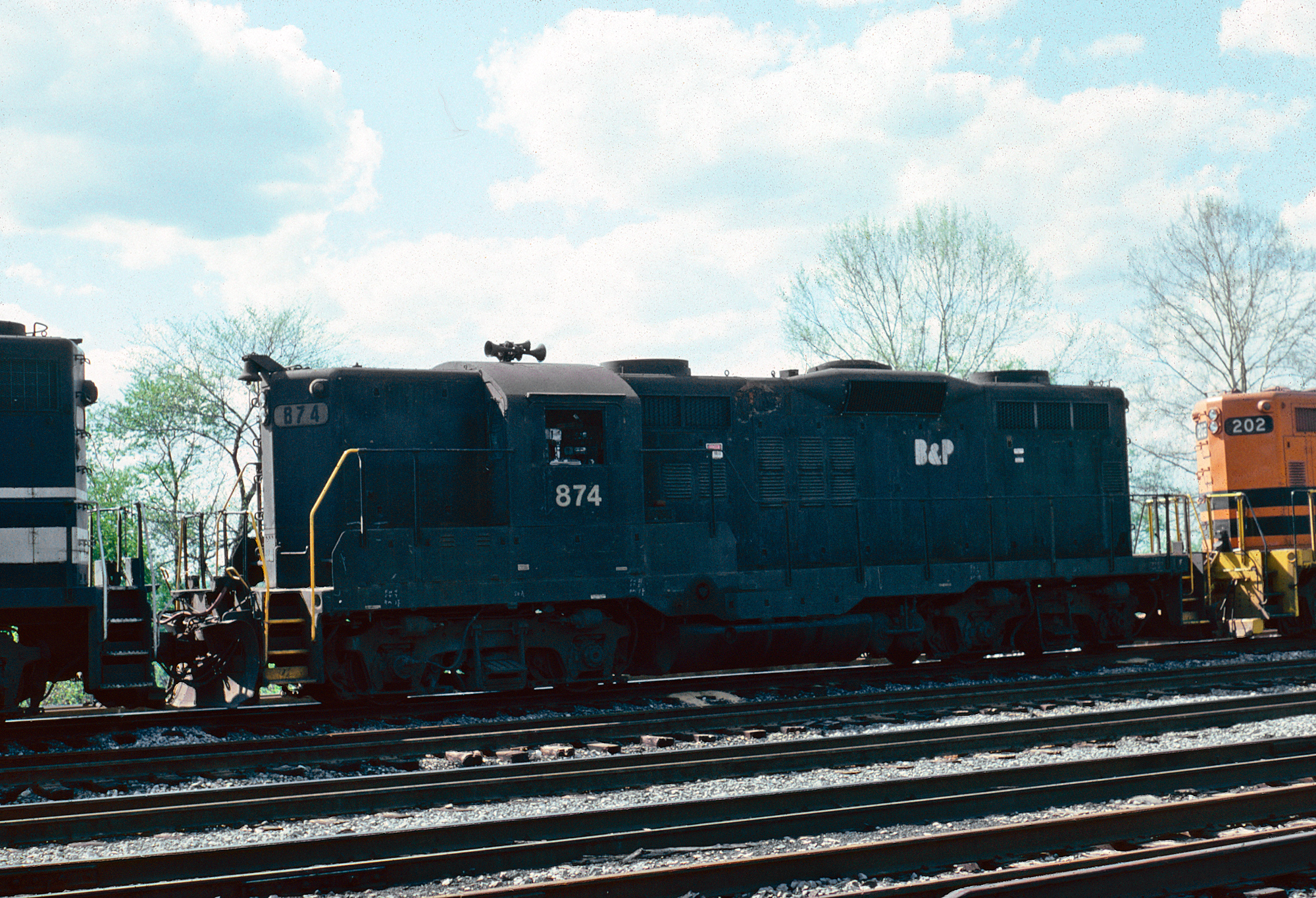 In this early scene, Buffalo & Pittsburgh GP9 #874 (ex-Norfolk & Western #874) and other power lay over in West Pittsburg, Pennsylvania on May 21, 1989. Frank Vollhardt, Jr. photo. American-Rails.com collection.
Genesee & Wyoming
Doing so created the Buffalo And Pittsburgh Railroad, an instant Class II regional that was nearly 400 miles in length, owned by Genesee & Wyoming right from the start.
Since its creation the railroad has continued to expand operations and its reach. Thanks to CSX the B&P reaches New Castle, Pennsylvania and Allison Park (just northeast of Pittsburgh) via the Class I's P&W Subdivision.
Additionally, the Genesee & Wyoming merged several smaller short lines it owned into the B&P including the Allegheny & Eastern, Pittsburg & Shawmut, and the Bradford Industrial Railroad.
The former two lines in particular increased the railroad's length by providing it access to Erie (via the A&E) and the P&S closed the gap between Brockway and Freeport giving it access to the P&W Subdivision.
At Buffalo not only does the B&P connect to Class Is CSX, Norfolk Southern, Canadian Pacific, Canadian National but also its counterpart the Rochester & Southern Railroad.
In general the B&P interchanges with several short lines across its system including the Western New York & Pennsylvania Railway and Nittany & Bald Eagle Railroad.
Current Map
It should also be noted that although coal traffic today is not nearly as heavy as during the BR&P era the Buffalo and Pittsburgh continues to serve several mines in the Pennsylvania region.

Historic System Map
Perhaps the railroad's greatest asset today is its diversified traffic base which, according to G&W includes (aside from coal) general aggregates, timber products, ore, minerals, steel, scrap, chemicals, cement, brick, automotive (they are not specific in terms of actual car movements or just parts), food products, and animal feed.

Locomotive Roster
| Builder | Model Type | Road Number | Notes/Disposition | Quantity |
| --- | --- | --- | --- | --- |
| EMD | NW2 | 21 | Remote Controlled | 1 |
| EMD | SW1200 | 33 | Remote Controlled | 1 |
| EMD | MP15AC | 44 | Ex-SP | 1 |
| EMD | GP40/-2/-3 | 102, 301-302, 3000-3001, 3100, 3101, 3103, 3106, 3107, 3111, 3119, 6673 | Ex-PC, Ex-NYC, Ex-B&O, Ex-SCL | 13 |
| EMD | GP35 | 305 | Ex-UP | 1 |
| EMD | SD45-2/R | 451-461, 463 | Ex-SP, Ex-SSW | 12 |
| EMD | GP9/-3 | 626, 874, 886-887 | Ex-N&W | 4 |
| EMD | GP18/-3 | 922, 926 | Ex-N&W | 2 |
| EMD | Genset | 1400-1401 | Ex-GRR NW2 and Ex-GC SW9 | 2 |
| EMD | SW1500 | 1506-1515 | Ex-PC, Ex-SP | 10 |
| EMD | GP38/-2 | 2000-2004, 7803, 7822, 9425 | Ex-B&O, Ex-L&N, Ex-NdeM, Ex-CR, Ex-FNM | 7 |
| EMD | SD40T-2 | 3301-3302 | Ex-Rio Grande, Ex-SP | 2 |
---
If you might like a good book on the general history of the Baltimore & Ohio consider Baltimore & Ohio Railroad written by Kirk Reynolds and David Oroszi. 
This book has been out for several years now but remains in print through MBI Publishing.  While it's only a little over 100 pages in length the title provides a great look at the B&O with many fine, historic photos several of which are in color. 
I have this one in my collection and still enjoy thumbing through it even today (it's also been used extensively as a resource for this website).