This grittiness in the face of adversity is another reason these railroads have a uniqueness that is all their own and sometimes their very being keeps a rail line from abandonment, not to mention the help they provide their local economy (far too often rail lines are abandoned and left for dead when they could still be serving a purpose and helping the economy in which they are located). Even today, new Class III railroads continue to spring up like the once-dormant, historic Grafton & Upton Railroad in Massachusetts which has sprung to life and the new owner has a vast array of new plans for the company. Of course, not all are privately owned as you may think. Just like the classic, fallen flag lines many are being gobbled up by large conglomerates such as Genesee & Wyoming, Watco Companies, and a number of others.
Northeast
Southeast
Midwest
Chicago, SouthShore & South Bend
Terminal Railroad Association Of St. Louis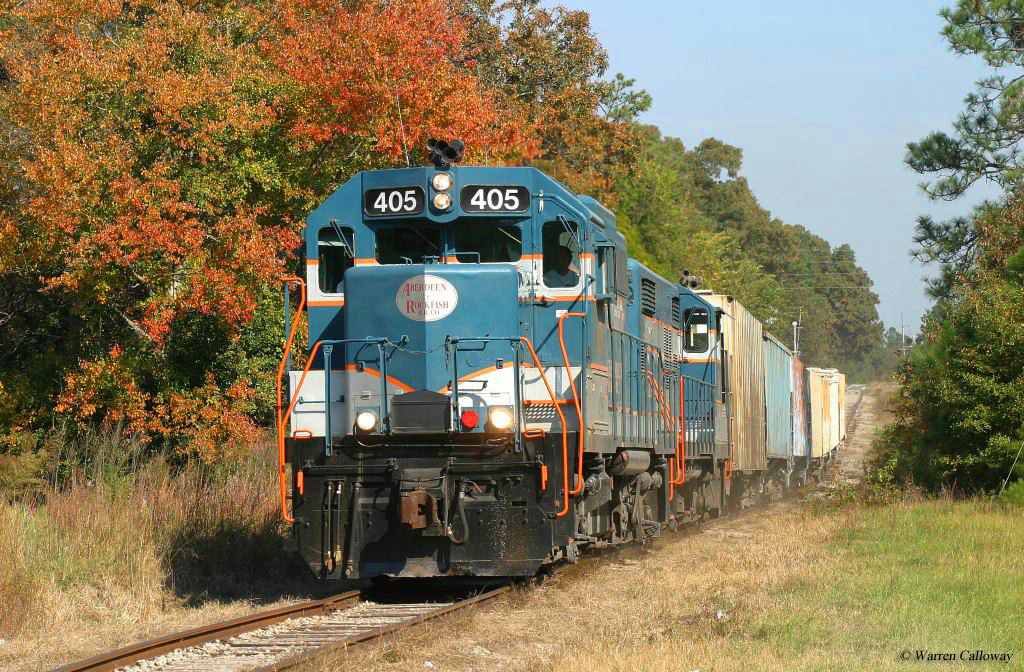 The historic Aberdeen & Rockfish has been operating in North Carolina since 1892. Seen here is a westbound freight at Dundarrach, North Carolina led by GP38 #400 and GP7 #205 during early 2004.
Southwest
Dallas, Garland & Northeastern
Modesto & Empire Traction Company
Northwest
Defunct Lines
East Tennessee & Western North Carolina, The "Tweetsie"
Quanah, Acme & Pacific Railway, "The Quanah Route"
St. Johnsbury & Lamoille County
While these lines continue to keep their names, liveries and management is replaced by the new owners. Also, while the shortline phenomenon is a relatively new trend only 30 years old or so, at least in the sense that it has become quite popular with the large Class Is selling off hundreds of miles of secondary lines there are historic companies that no longer operate. These include names like the Maryland & Pennsylvania ("Ma & Pa"), Virginia & Truckee, and others. Lastly, for more information on a number of the Class IIIs which operate throughout the country please click on their appropriate link listed above.
Please Click Here To Return To The Home Page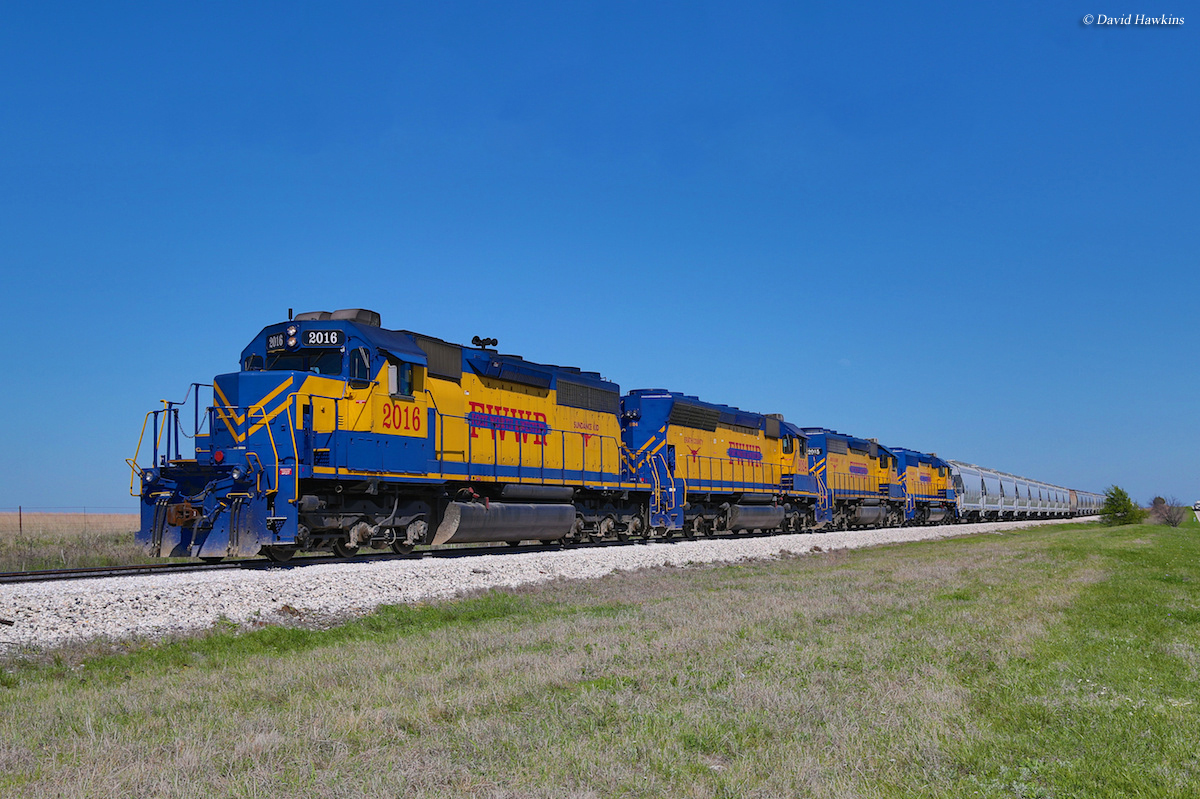 Fort Worth & Western GP50 #2011, better known as Miss Etta, sits at at the yard in Cresson, Texas with several other Geeps during the summer of 2007.
So, if you get the chance and know of a local system in your area be sure and see it in action if the opportunity presents itself (many only operate on certain days of the week). While watching a Class I container train moving at 60+ mph across the Heartland is always thrilling, nothing can likewise beat observing a local line switching its customer(s) and moving those cars between there, the interchange point (where smaller roads swap loaded and empty cars with the big Class Is), and back again. If you want to see the human side of railroading, no one does it better than these small lines. To learn more about them please click here to visit the American Short Line and Regional Railroad Association's (ASLRRA) website. This member organization is similar in nature to the Association of American Railroads but geared towards smaller, non-Class I carriers. Finally, here is a guide to most shore lines operating around the country.
Related Reading You May Enjoy