Pan Am Railways

Last revised: October 10, 2023
By: Adam Burns

Pan Am Railways (reporting marks, PAR) was a relatively new Class II, regional railroad created in 2006.  In 2022 it was fully acquired by CSX Transportation.

Its immediate predecessor is the Guilford Rail System that dates back to the early 1980s, formed as a holding company to oversee management of the railroads under its control (Boston & Maine, Maine Central, Portland Terminal, and the Springfield Terminal). 
For railfans, it has been sad to witness those historic names disappear although technically many are still corporate entities (on paper only). 
More succinctly, Guilford took draconian measures soon after its formation by selling or abandoning hundreds of miles of trackage. 
A good deal of this infrastructure, such as Maine Central's Mountain Division and parts of the Boston & Maine network, would still be quite viable today.  
Photos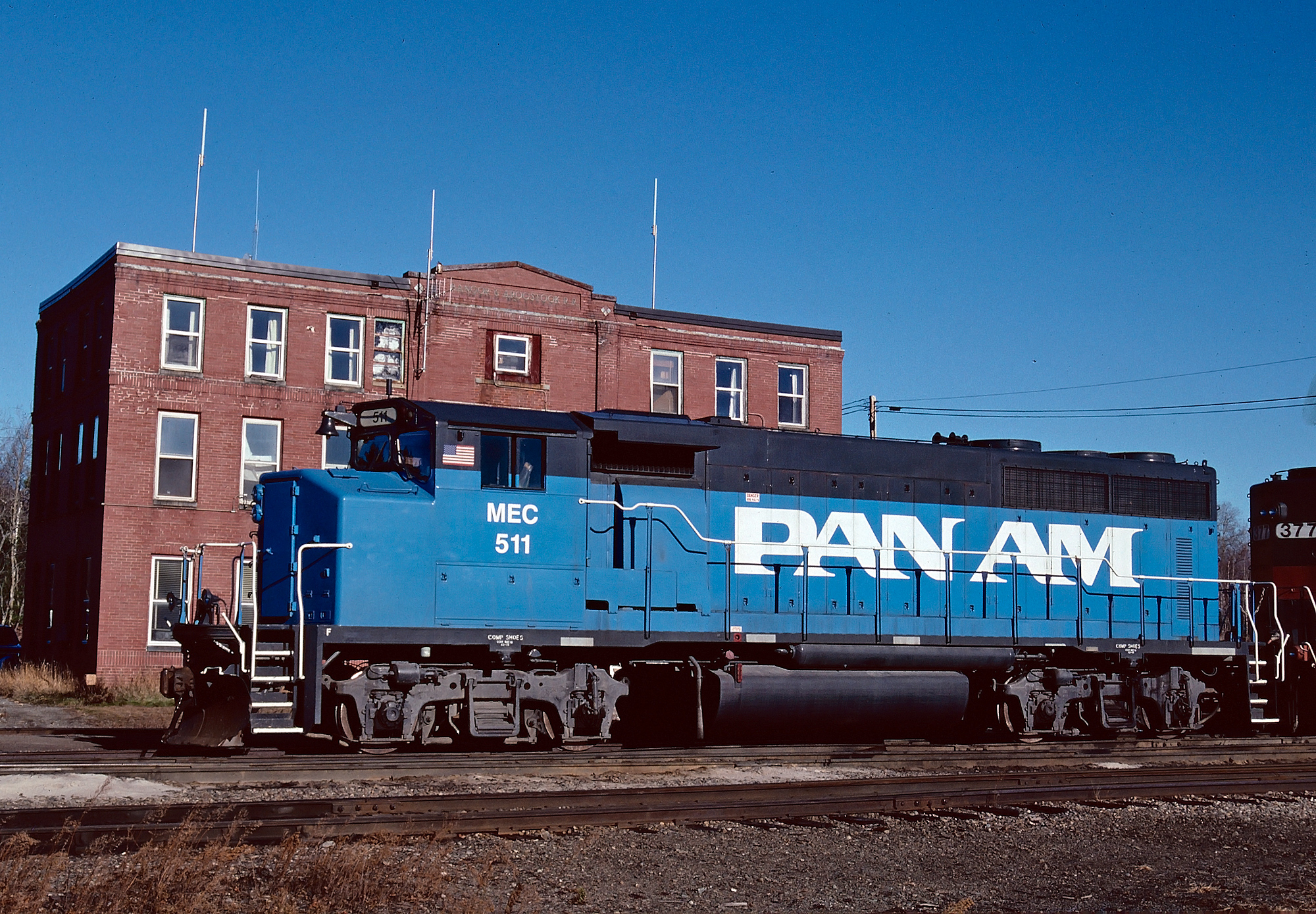 Pan Am Railway GP40-2LW #511 (sub-lettered for Maine Central) sits in front of the former Bangor & Aroostook station in Northern Maine Junction (Hermon), Maine on November 28, 2007. Under Pan Am/Guilford this building was a yard office. American-Rails.com collection.
For its part, Pan Am blossomed into a much more prominent company by partnering with major Class I's, like the Norfolk Southern, to provide high-quality rail service throughout the region. 
This particular program was known as the Patriot Corridor, a high speed freight line designed to serve New England between Albany, New York and Boston. 
During its time in service Pan Am blossomed into the nation's largest Class II carrier; it operated 1,800 route miles, employed 750, and was even large enough to host Amtrak trains.  Trains Magazine broke news on June 29, 2020 that Pan Am was for sale.   
Finally, on November 30, 2020 Railway Age announced that CSX Transportation had acquired the regional for $700 million, which became official in 2022.
History
To understand the history of the Pan Am system one needs to go way back to 1977.
That year the Guilford Transportation Industries (GTI) was formed by Timothy Mellon who was looking to enter the railroad business (the name reflects the owner's hometown of Guilford, Connecticut).
During the late 1970s the Maine Central was becoming a profitable operation once again.
However, it was sold to the U.S. Filter Corporation in late December, 1980 and literally days after that transaction occurred the new parent was sold to Ashland Oil, a company that had no desire or interest being in the railroad business.
With Mr. Mellon looking for a railroad to purchase he wasted no effort in grabbing the MEC with the sale completed by June of 1981.
To oversee the MEC he setup a holding company under GTI known as the Guilford Rail System with a new paint scheme of dark grey with an orange/red central stripe, and "Guilford Rail System" adorning the long hood sporting a large, stylized "G".
After the purchase of the MEC, Guilford picked up the fabled Delaware & Hudson later in 1981 from the Norfolk & Western-owned Dereco for just $500,000, formally completing the purchase in 1984.
The D&H, however, remained in Guilford ownership for just seven more years. 
After declaring the company bankrupt in 1988 it sold the railroad to Canadian Pacific in 1991 for $25 million, which planned to use the route as a through main line between Montreal and New York (and continues to operate it today as a subsidiary).
In 1983, as the Boston & Maine was recovering from bankruptcy it too was purchased by Guilford for a little more than $24 million.
With this final transaction Guilford had a system that stretched throughout Maine, into New Hampshire, across Massachusetts, and also reached parts of Connecticut.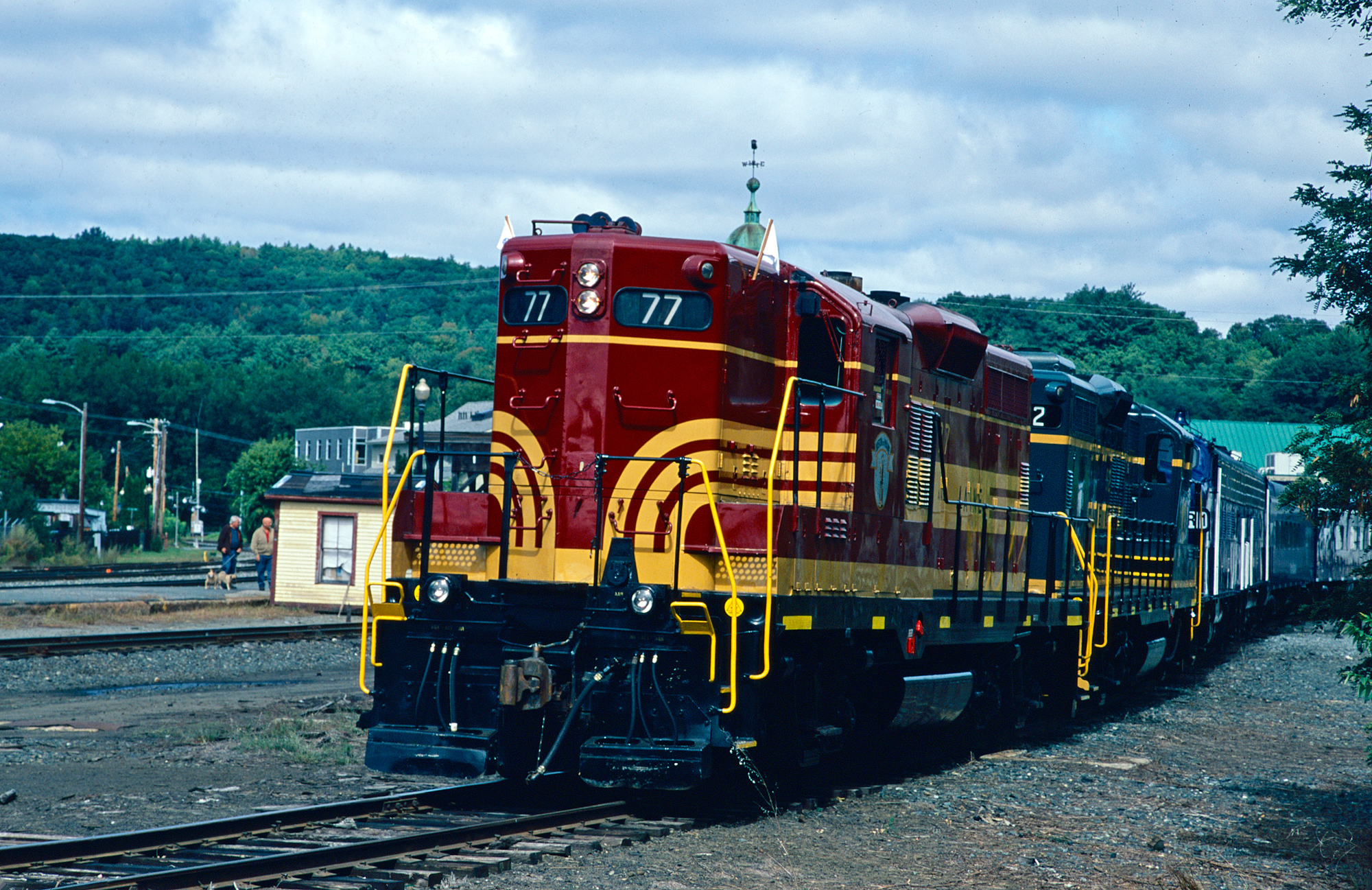 Boston & Maine GP9 #77 and Maine Central GP9 #52, heritage units belonging to Pan Am Railways, lead the company's business train at White River Junction, Vermont on September 14, 2014. Ben Martin photo. American-Rails.com collection.
The goal of in acquiring these roads was three-fold; to create a unified rail system in New England, compete against the region's then major (and only) Class I, Conrail ("Big Blue"), and provide economies of scale by doing such. 
Soon after Guilford took control of these properties it began cutting back and abandoning routes considered superfluous or unprofitable such as several MEC lines in its home state and later virtually all of the original Springfield Terminal Railway, a line which had a long history as a classic electric interurban carrier.
Into the 1990s, Guilford remained much the same in terms of the routes it served and in 1998 it picked up the naming rights of the defunct Pan American World Airways, a once famous air line that had been out of business since 1991.
In 2006 Guilford changed its corporate name to reflect its purchase, even grabbing the old logo, and became known as Pan Am Railways.
From a management aspect not much has changed with the railroad but outwardly, gone is the "G" logo and old paint scheme (replaced with dark blue and white lettering) while still retaining the sub-lettering of independent lines Maine Central, Boston & Maine, and Springfield Terminal.
Despite the fact that under the Guilford name numerous miles of predecessor lines have been abandoned abandoned the railroad still retains a strong presence in New England. 
Along with its own network, Pan Am today had trackage rights reaching New Haven, White River Junction (Vermont), Boston, northern Maine all of the way to border (towns such as Easton, Fort Fairfield, and Madawaska), and southern New Brunswick (Canada) at St. John and St. Stephen.
System Map
Additionally, as mentioned above, the new Patriot Corridor created in partnership with Norfolk Southern in 2008, opened high-valuable freight traffic between eastern New York, central Vermont, southern Connecticut, and eastern Massachusetts as part of the jointly owned Pan Am Southern Railway.
Targeted traffic on the route includes intermodal and automotive.
Aside from this traffic, traditional freight on the Pan Am included paper and timber products from Maine as well as some chemicals, bulk transfer stations, warehouse services, clay, and other general merchandise.

Logo
While it has been disappointing from a railfan perspective to see the classic New England paint schemes of the D&H, Maine Central, and Boston & Maine disappear there is no doubting the economic benefits Pan Am had on the region. 
Additionally, Pan Am became rather railfan friendly in the 2010s. In 2011 they debuted a GP9 in the original Boston & Maine "Minute Man" livery of dark maroon with gold pinstripes.  They also released another GP9 in the Maine Central's classic green and yellow "Pine Tree Route" livery. 
Locomotive Roster
| Builder | Model Type | Road Number | Notes/Disposition | Quantity |
| --- | --- | --- | --- | --- |
| EMD | FP9 | 1-2 | Ex-CN | 2 |
| EMD | GP7/-R | 12, 15 | Springfield Terminal | 2 |
| EMD | GP9 | 45, 51, 52 (MEC heritage livery), 54, 62, 71-72, 77 (B&M heritage livery) | Springfield Terminal | 8 |
| EMD | GP35 | 201-210, 212, 214-215 | Springfield Terminal | 11 |
| EMD | GP40 | 300-321, 326-330, 332-335, 337, 340-342, 343-354, 370-371, 373-374, 376-382 | Maine Central/Boston & Maine | 58 |
| EMD | GP40-2LW | 500-508 | Maine Central, Ex-CN | 9 |
| EMD | GP40-2W | 509-519 | Maine Central, Ex-CN | 11 |
| EMD | SD40-2 | 600-620 | Maine Central, Ex-KCS, Ex-Trona | 21 |
| EMD | SD26 | 621, 643 | Springfield Terminal, Former SD24s | 2 |
| EMD | SD45 | 681 | Springfield Terminal | 1 |
| EMD | SD39 | 690 | Boston & Maine | 1 |
---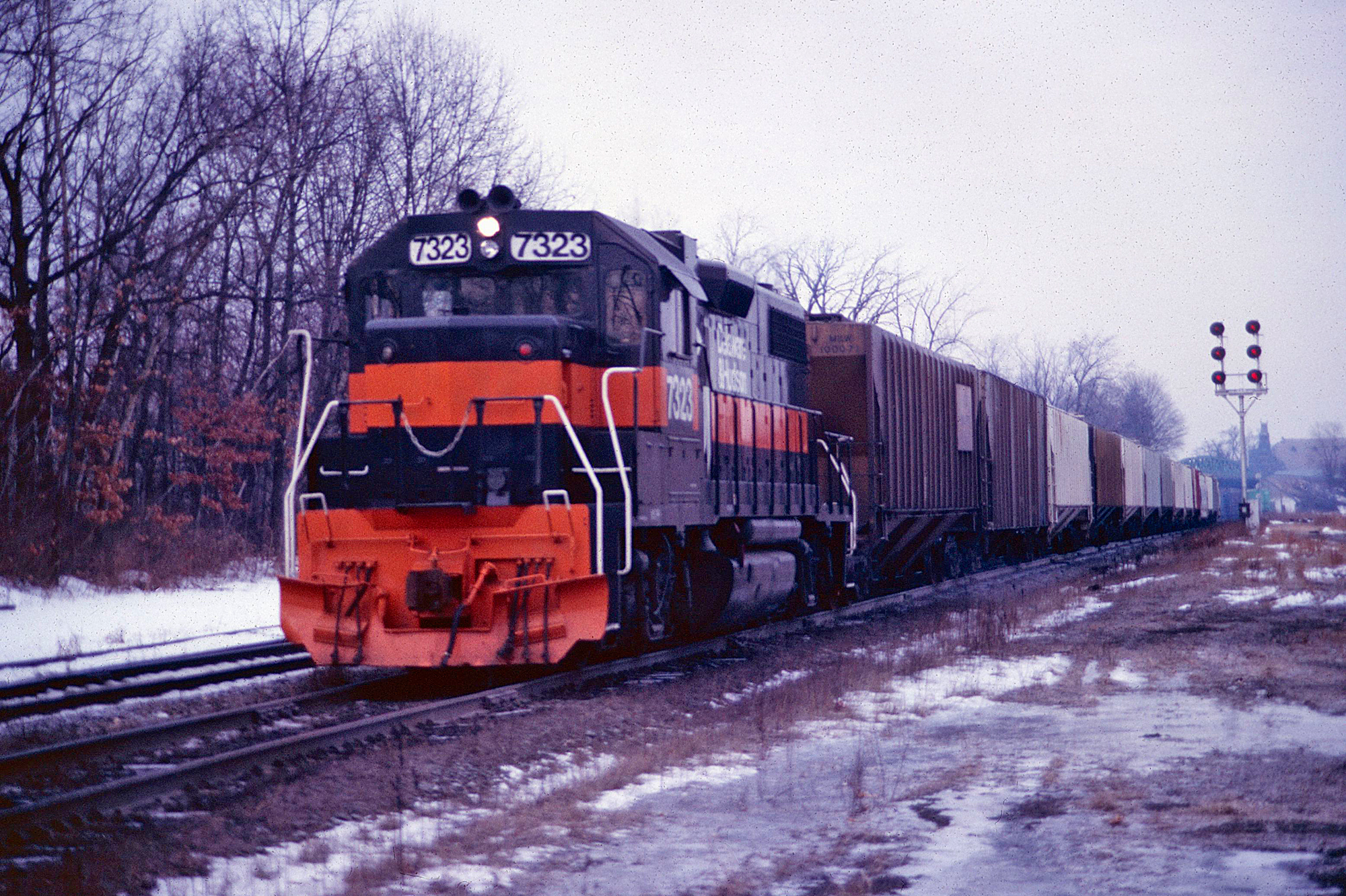 Delaware & Hudson GP38-2 #7323 (ex-Lehigh Valley #323) rolls through Ayers, Massachusetts over the Boston & Maine during the early Guilford era on February 1, 1988. American-Rails.com collection.
CSX Sale (November 30, 2020)
It was announced back in June of 2020 that Pan Am Railway was for sale.  It was believed at that time the only two Class I's potentially interested were Canadian National and Canadian Pacific while short line conglomerates Genesee & Wyoming, OmniTRAX, and Watco may also make bids. 
Perhaps then it was somewhat surprising when CSX Transportation announced on November 30, 2020 it had acquired Pan Am for an estimated $700 million. 
By adding 1,800 miles (1,200 true miles with the 600 mile Pan Am Southern Railway owned in conjunction with Norfolk Southern) to its 21,000-route mile network CSX will expand its reach in the states of Connecticut, New York and Massachusetts. 
In addition, the Class I will open new markets in the states of Vermont, New Hampshire and Maine.  According to CSX's statement: 
"'The transaction will provide significant benefits to shippers and local communities as CSX integrates Pan Am into its best-in-class network. 
In Pan Am, CSX gains a strong regional rail network in one of the most densely populated markets in the U.S., creating new efficiencies and market opportunities for customers as we continue to grow,' CSX President and CEO James M. Foote said. '
We intend to bring CSX's customer-centric focus and industry-leading operating model to shippers and industries served by Pan Am.
We look forward to integrating Pan Am into CSX, with substantial benefits to the rail-served industries of the Northeast, and to working in partnership with connecting railroads to provide exceptional supply chain solutions to New England and beyond.'"
The Surface Transportation Board officially approved the takeover in April, 2022 and CSX officially took over operations on June 1, 2022.
In conjunction with this move, Genesee & Wyoming will operate a new subsidiary, the Berkshire & Eastern, which will continue on the former Pan Am Southern.
This operation had been a joint venture between Pan Am and Norfolk Southern that operated the ex-Boston & Maine west of Ayer, Massachusetts.