Reading & Northern Railroad

Last revised: June 23, 2023
By: Adam Burns

The Reading & Northern, officially the Reading, Blue Mountain & Northern Railroad (or RBM&N), is an eastern Pennsylvania Class II regional railroad which operates over 300 miles of predominantly ex-Reading Railroad trackage (although the company also operates lines owned by other fallen flags).

Due to the R&N operating lines steeped in the history of anthracite railroads of years past it has adopted a paint scheme and logo very similar to the railroad which makes up most of its system, the Reading.
Since the R&N's creation in the early 1980s as just a small short line connecting two Pennsylvanian towns near Reading it has grown nearly 300%.
Today it operates an efficient and profitable railroad being named the Regional Railroad Of The Year in 2002 by Railway Age. Today, the R&N continues to grow as it is reaping the benefits of the massive boom in Marcellus Shale drilling in eastern Pennsylvania.
The railroad's success continues to grow, an astounding achievement considering the former Reading, Jersey Central, and Lehigh Valley lines it inherited during the early 1990's had been left for dead. 
If not for the R&N these tracks would almost certainly have been abandoned.  For the general public the regional continues to grow in popularity thanks to its successful excursions hosted between Reading and Jim Thorpe.
Reading & Northern SD50 #5049 leads manifest MCQA out of the Mahanoy Tunnel at Barnesville, Pennsylvania on November 24, 2010. Mike Thomas photo.
The history of the Reading & Northern began humbly in 1983 when Conrail was looking to abandon a former Pennsylvania Railroad branch between Temple and Hamburg.
Perhaps most interesting is that while the R&N is now recognized for the large assortment of former Reading lines it operates, the company did not start out operating any of its former trackage.
In any event, Conrail, during its first decade of operation severely cutback the thousands and thousands of miles of lines it inherited from the numerous fallen flags making up its system, which included this 13-mile line near Reading.
Reading & Northern SD40-2 #3051 climbs the 2.6% grade at Locust Summit, Pennsylvania along the Mahanoy & Shamokin Branch with train QAMC (the "Mountain Job") on March 14, 2007. Mike Thomas photo.
Before the branch could be ripped out, however, the state of Pennsylvania stepped in and purchased it. It then turned around and hired Andrew Muller, Jr. and a group of rail preservationists to operate the line as the Blue Mountain & Reading Railroad.

It wasn't until 1990 that the Reading & Northern gained its true Reading heritage when it purchased from Conrail 130 miles of the fallen flag's lines between Port Clinton and Tamaqua as well as all of its branch lines in Schuylkill County.
With the new acquisitions the RBM&N not only gained many new customers but also access to several area anthracite coal mines.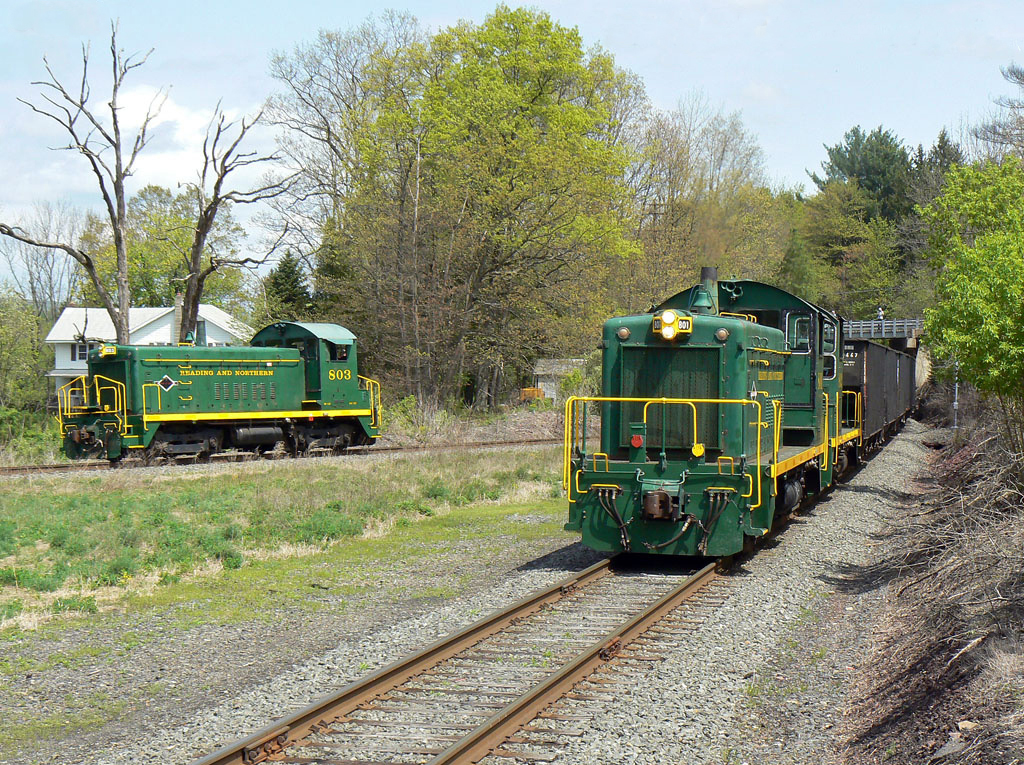 Reading & Northern's SW8 #801 and #802 head onto the Mahanoy & Shamokin Branch as SW8m #803 sits on the main line at East Mahanoy Junction, Pennsylvania on May 5, 2012. Mike Thomas photo.
With the renewed demand for coal, particularly clean coal, these branches today are quite profitable for the R&N and all remain in service. 
The former Reading lines was just the beginning, however. In 1996 the R&N expanded again when it purchased from Conrail former Lehigh Valley trackage between Scranton, Lehighton, and Wilkes-Barre encompassing another 100 miles expansion.
While this provided the Reading and Northern Railroad with additional new customers perhaps most important was its new interchange partners gained including the Delaware-Lackawanna and Canadian Pacific.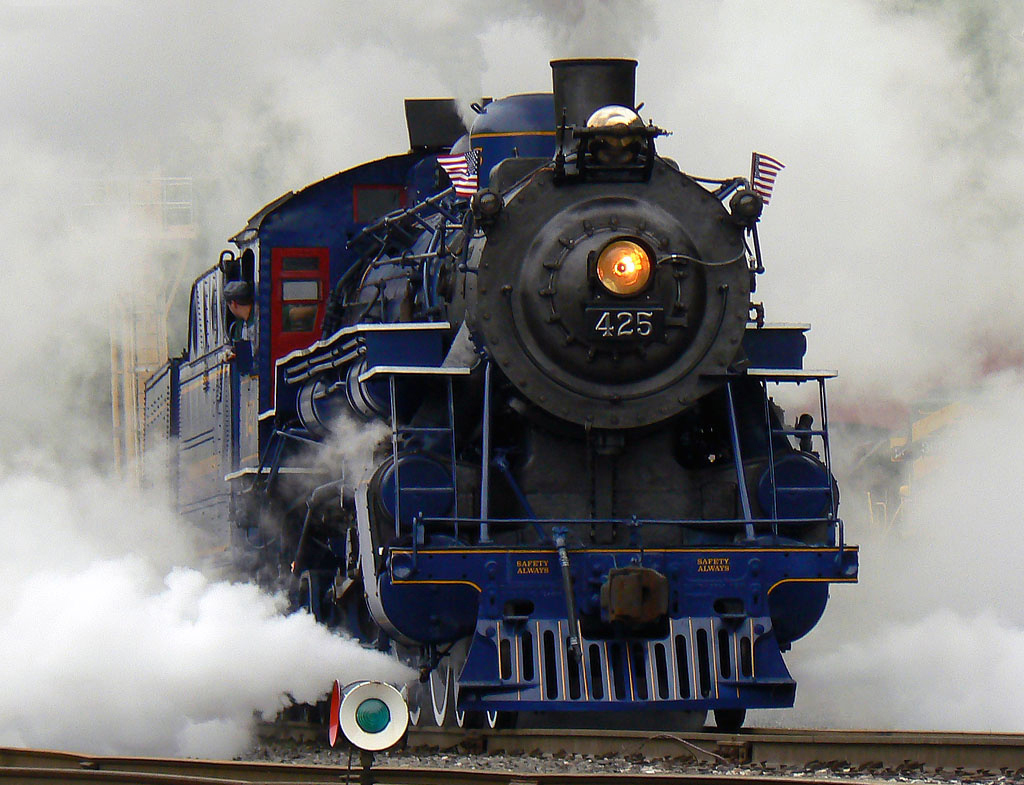 Reading & Northern 4-6-2 #425 performs final testing after its restoration on May 10, 2008 in Port Clinton, Pennsylvania. The Pacific was originally built for the Gulf, Mobile & Northern in 1928 by Baldwin. Mike Thomas photo.
Throughout the rest of the 1990s the R&N saw no more additional expansions, save for the split of Conrail it had to weather with its new Class I interchange being the Norfolk Southern.
Interestingly, NS afforded the railroad even more business opportunities in the early 2000s.
A pair of Reading & Northern SW1500s, ex-Conrail units, appear to have completed the day's assignments as they layover in Port Clinton on the evening of September 9, 2000. Doug Kroll photo.
Additionally, around the same in 2002 both NS and Canadian Pacific entered into trackage rights agreements to use the R&N's former LV lines as a shortcut for freight traffic moving between the New York City area and Canada.
That same year the railroad was able to revive two abandoned bridges over the Lehigh River near Jim Thorpe to connect their northern and southern divisions.
---
Excursions
For the general public the Reading & Northern is most widely recognized for the train excursions it hosts annually. 
Following the railroad's debut it began hosting intermittent trips between Hamburg and Temple in 1990, which later expanded to other parts of its system that decade. 
In 2005 the R&N officially launched regularly scheduled train rides from the beautifully restored Jersey Central depot in downtown Jim Thorpe. 
The trips were operated by an R&N subsidiary, the Lehigh Gorge Scenic Railway with most excursions running to Reading and back. 
On May 29, 2017, the railroad opened a newly built depot in Reading, known as the Reading Outer Station, to provide easier access for travelers departing or boarding at that location.
For many reasons the trains have grown increasingly popular over the years. 
Not only are they just a few hours drive from several major metropolitan regions but also offer perks like:
Authentic steam locomotives


Streamlined diesel locomotives


Navigating beautiful stone-arch bridges (the Peacock Lock Viaduct in Reading)


Soaring over the 156-foot high Hometown High Bridge (constructed in 1881)


Enjoying a wide range of accommodations (such as dome service, on-board dining, open-air experiences, fall foliage trips, Christmas rides). 
Please visit Reading & Northern's website for information regarding its excursion status.
---
After the project was completed the R&N operated a through route between Scranton and Reading.  Since the large route purchases the R&N completed in the 1990s it has not grown considerably in terms of route miles and today still owns a system of some 300+ miles.
During the first decade of the 21st century the railroad focused on improving its infrastructure and overall business such as installing continuous welded rail (CWR) along various stretches of main line and purchasing its own maintenance-of-way equipment. 
Today, traffic continues to grow on the Reading & Northern and current customers appear to be very happy with the service the railroad provides.
Locomotive Roster
| Builder | Model Type | Road Number | Notes | Quantity |
| --- | --- | --- | --- | --- |
| GE | B30-7a | 242 | Ex-MP | 1 |
| EMD | F9A | 270 | Ex-B&O F7A | 1 |
| EMD | F7B | 275 | Ex-CGW | 1 |
| Baldwin | 4-6-2 Pacific | 425 | Ex-GM&N, Operational | 1 |
| EMD | SW1 | 600 | Ex-Warner Sand & Gravel | 1 |
| EMD | SW8 | 800 | Ex-DL&W | 1 |
| EMD | SW8M | 801-803 | Ex-LV SW8s | 3 |
| EMD | NW2 | 1000, 1032 | Ex-Erie, Ex-Southern | 2 |
| EMD | SW7 | 1200-1201 | Ex-NYC | 2 |
| EMD | SW1500 | 1548 | Ex-Reading | 1 |
| EMD | SD38 | 2000 | Ex-PC | 1 |
| EMD | SD38AC | 2003-2004 | Ex-DT&I | 2 |
| Reading | T1 4-8-4 | 2102 | Ex-Reading, Non-Operable | 1 |
| EMD | SD40-2 | 3050-3058, 3066, 3426 | Ex-MP, Ex-C&NW, Ex-Katy | 11 |
| EMD | SD45r | 3200 | Ex-SP | 1 |
| EMD | SD50 | 5014, 5017, 5022, 5029, 5033, 5049 | All Ex-UP | 6 |
---
Reading & Northern SD40-2 #3050 and an SD38 have arrived in Penobscot, Pennsylvania with their train on the late afternoon of November 8, 2003. Doug Kroll photo.
Their interchange partners currently include Norfolk Southern, Canadian Pacific, Delaware-Lackawanna, Lehigh Railway, Luzerne & Susquehanna Railroad, and the Shamokin Valley Railroad.
As public and customer relations grew, in 2005 the railroad branched out with the Lehigh Gorge Scenic Railway, which runs every weekend between May and December from Jim Thorpe.
The star of the tourist railroad is the railroad's recently rehabbed 4-6-2 Pacific Type steam locomotive, #425, painted in a beautiful blue and gold livery.