Paducah & Louisville Railway

Last revised: October 11, 2023
By: Adam Burns

The Paducah and Louisville Railway (reporting marks, PAL) is a regional operation based in Paducah, Kentucky that began operations in 1986 over ex-Illinois Central trackage.

Today it utilizes over 260 miles of railroad and is owned by P&L Transportation (previously known as Four Rivers Transportation), which itself is controlled by CSX Corporation (parent company to CSX Transportation, its railroad division). 
The P&L also operates the Appalachian & Ohio in West Virginia.  This road is predominately a coal hauler, which leases CSX's Cowen Subdivision, a former Baltimore & Ohio corridor. 
Today, the line sees relatively sparse traffic with an uncertain future.  In addition, the P&L oversees the Evansville Western Railway, a 124.5-mile short line which links Evansville, Indiana with Okawville, Illinois (ex-Louisville & Nashville).
Today, the P&L remains an important transportation artery in western Kentucky.  Thanks to its location, the railroad interchanges with several Class I's including CSX, Union Pacific, BNSF Railway, Canadian National, and Norfolk Southern.
It also connects with a handful of smaller lines including the Indiana Rail Road (Louisville), Fredonia Valley Railroad (Princeton) and Louisville & Indiana (Louisville).
Photos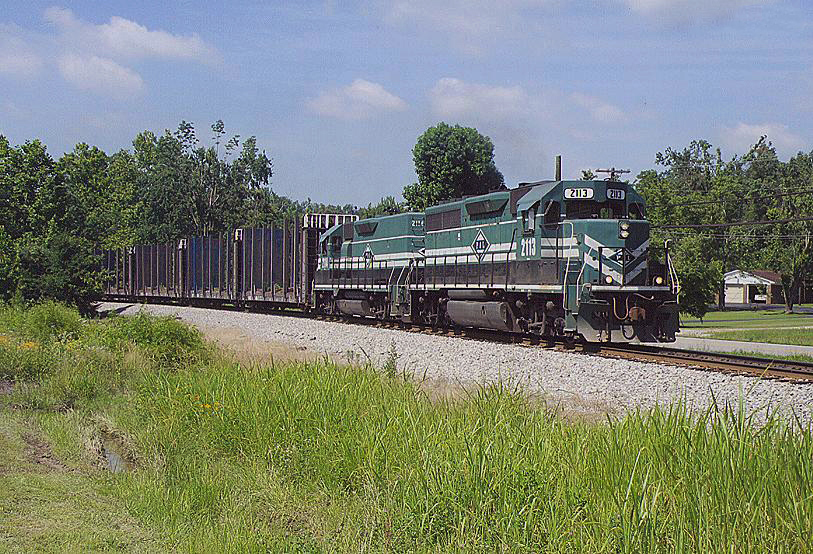 Eastbound Paducah & Louisville freight WYX120 heads through McHenry, Kentucky on June 20, 2009 powered by GP40-3 #2113 and slug #2114. The author notes that soon the mother/slug tandem will switch several customers. Doug Kroll photo.
History
The history of the Paducah and Louisville Railway, one of today's somewhat unknown Class II regionals, began service on August 27, 1986 when Illinois Central Gulf spun-off its main line to Louisville, the extreme eastern terminus of the railroad.
The ICG was a combination of the Illinois Central and Gulf, Mobile & Ohio railroads, which merged in 1972.  The union proved to be rather unsuccessful, a less tumultuous version of the earlier Penn Central debacle. 
The one healthy Illinois Central found itself financially frail by the 1980's.  In an effort to return the company to profitability, management embarked upon a massive sell-off of the 9,500-mile network. 
According to the book "Illinois Central Railroad," author Tom Murray notes this trackage totaled an incredible 3,000 miles. 
The P&L was originally part of the Illinois Central's Kentucky Division and totaled 287 miles. Interestingly, while the IC is most often recognized for Midwestern north-south railroad it did reach well into Kentucky as well as Nashville, Tennessee.
Looking back, the ICG would probably have wished it kept the line to Louisville considering what the P&L has since done with the route, exponentially growing its number of customers and bottom line over the past 30+ years. 
Some of the trackage was, indeed, reacquired, such as the entire Iowa Division (826 miles) in 1996. 
This large corridor comprised the entirety of the former IC's property between Chicago and Omaha/Council Bluffs (including all branches). 
When sold in 1985 it formed an instantly new region, the Chicago, Central & Pacific in 1985, (owned by John Haley). 
The railroad did relatively well until the resale occurred.  The Paducah & Louisville's trackage includes service to Paducah where IC's legendary Paducah Shops were located (in the heart of the city's downtown district). 
These works produced some fine steam and diesel locomotives (rebuilds) that operated all over the IC network.  While not owned by the P&L today the shops remain important to the railroad industry under National Railway Equipment (NRE).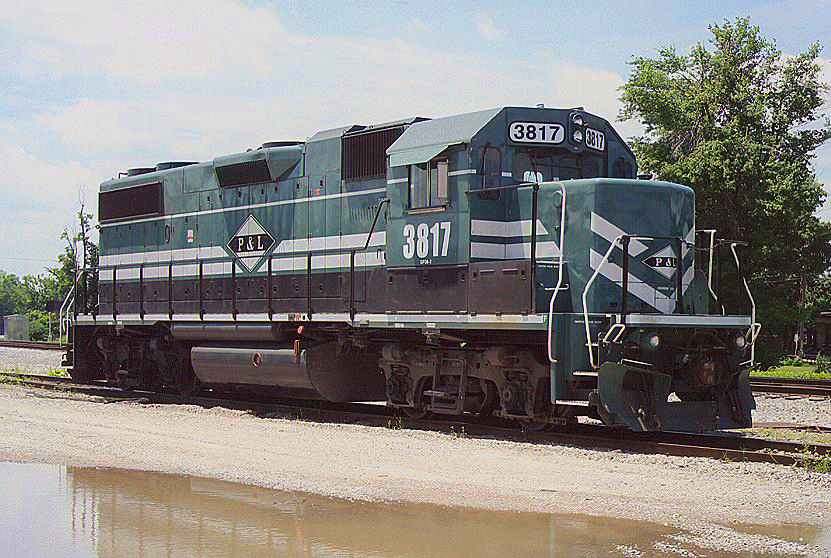 Paducah & Louisville GP38-2 #3817 is tied down in Cecilia Junction, Kentucky on June 20, 2009. The Geep began life on Conrail in September of 1978 as #8227. Doug Kroll photo.
Today, the Paducah and Louisville Railway connects with five of the seven North American Class I carriers; BNSF Railway, CSX Transportation, Canadian National, Norfolk Southern, and even Union Pacific.
The railroad also interchanges traffic with regional Indiana Rail Road and short lines, Louisville & Indiana (itself a very successful operation, maintaining 106 miles of the former Pennsylvania's corridor between Indianapolis and Louisville) and the Fredonia Valley Railroad (FV).
Overall, the P&L's primary interchange points include Paducah, Louisville, and Madisonville along with its connection to the tiny FV at Princeton. 
System Map
Aside from this traffic the railroad also moves a wide range of general freight from coal shipments, chemicals, stone and clay to lumber, grain, heavy equipment, warehouses, and even a local military base. 
It is truly incredible how far the railroad has came from its earliest days when the property was in rather poor condition and handled much, much less business than it does today. 
Logo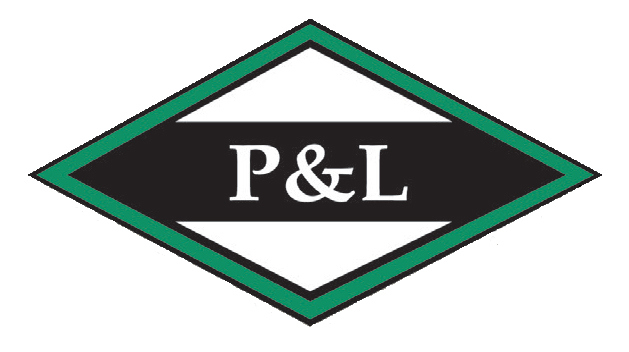 Today's Paducah & Louisville has came a long way from the operation launched in 1986.
Through a combination of business development, partnerships, and numerous interchange points along both ends of its network the regional's carloads have nearly tripled since operations began. 
According to the Federal Register in its first full year (1987) the P&L handled about 77,000 carloads; today, the railroad records about 200,000 carloads annually with its single best year being 216,000 carloads.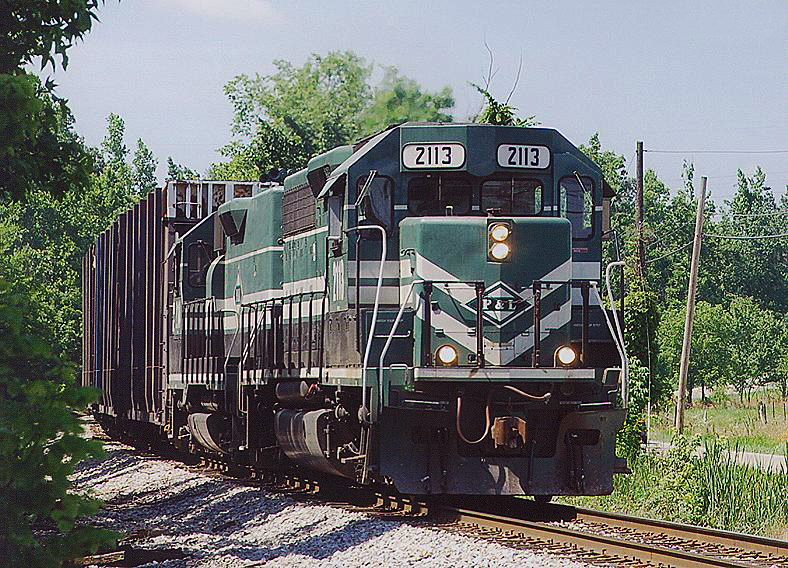 The same train as seen at the top of this article rolls through Simmons, Kentucky. Doug Kroll photo.
The company's growing success can also be seen beyond any locomotive, freight car, or physical plant improvements simply by paying a visit to 200 Clark Street in Paducah where a new, modern office building/dispatching center opened in the early 2010's. 
The P&L's is one that not only continues to prove the importance of rail transportation but also the potential of some corridors left for dead.
Locomotive Roster
| Builder | Model Type | Road Number | Notes/Disposition | Quantity |
| --- | --- | --- | --- | --- |
| EMD | GP38-2 | 1998 | Ex-Cotton Belt/SSW, Painted In University of Kentucky Livery | 1 |
| EMD | Slug | 2100-2120 (Evens) | Ex-NYC, Ex-N&W, Ex-Alaska, Ex-SP, Ex-SSW | 10 |
| EMD | GP40-3 | 2101-2121 (Odds) | Ex-NYC, Ex-N&W, Ex-Alaska, Ex-SP, Ex-SSW | 10 |
| EMD | GP40-2 | 2123-2131, 4201 | Ex-C&O, Ex-SCL, Ex-NYC, Ex-MILW | 10 |
| EMD | GP38-2 | 3800-3801, 3803-3812, 3817, 3831 | Ex-SP, Ex-SSW, Ex-CR | 13 |
| EMD | GP40 | 4002 | Ex-L&N | 1 |
| EMD | SD70MAC | 2012-2013, 4501-4504, 4510-4512, 4516, 4518, 4522-4523 | Ex-CSX, #2012 is painted in a University of Kentucky livery and #2013 in University of Louisville colors. | 13 |
| EMD | GP39 | 8507 | Ex-Atlanta & St. Andrews Bay | 1 |
---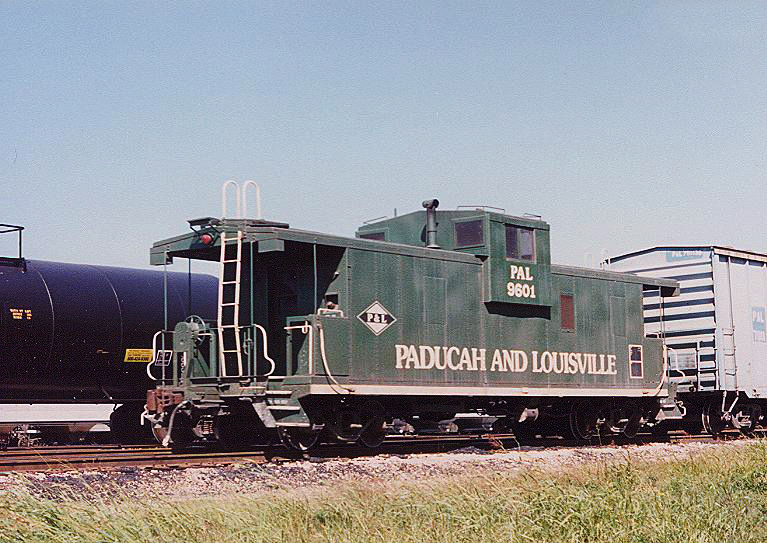 A Paducah & Louisville caboose, originally built for the Illinois Central Gulf, still holds vigil at the end of the a freight train in Paducah, Kentucky on September 23, 1989. Doug Kroll photo.
Current Operations
There are many examples like the P&L around the country; the Indiana & Ohio, Buffalo & Pittsburgh, Montana Rail Link, Wisconsin Central, and others.  In some cases, Class I's have even repurchased the properties (like the Wisconsin Central). 
Being located along the Ohio and Tennessee Rivers the PAL offers transload and bulk terminal services from the numerous barge traffic serving both waterways.
These terminals are located at both Paducah and Louisville. For more information regarding the Paducah and Louisville Railway please click here to visit their official website.
Also, if you may be interested in learning more about the history of the Illinois Central please click here.  Currently the P&L's roster consists entirely of EMDs, all of which are Geeps.
Additionally, they use one of the more attractive paint schemes for a small railroad using a combination of dark green and black with white trim.