Paducah & Louisville Railway

The Paducah and Louisville Railway (reporting marks, PAL) is a Regional operation based in Paducah, Kentucky that began operations in 1986 over ex-Illinois Central trackage. Today it operates over 260 miles of railroad and is owned by Four Rivers Transportation, which itself is partially owned, interestingly enough, by Class I railroad CSX Transportation. The P&L also operates the Appalachian & Ohio Railroad in West Virginia in conjunction with CSX along the latter's Cowen Subdivision, which heads south out of Grafton (this line was originally leased to Watco but in 2006 contracted out to the P&L retaining the A&O name). Today, the P&L remains an important transportation artery in western Kentucky, which because of its location enables it to interchange with several Class Is and a handful of smaller railroads.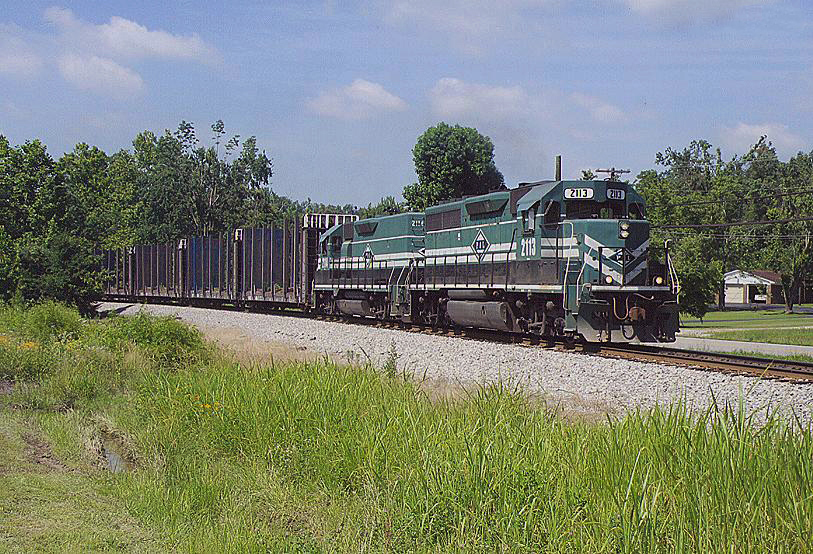 Eastbound Paducah & Louisville freight WYX120 heads through McHenry, Kentucky on June 20, 2009 powered by GP40-3 #2113 and slug #2114. The author notes that soon the mother/slug tandem will switch several customers. Doug Kroll photo.
The history of the Paducah and Louisville Railway, one of today's somewhat unknown Class II regionals, began in the mid-1980s when the Illinois Central Gulf looked to sell or abandon its main line to Louisville, the extreme eastern terminus of the railroad. The ICG was a combination of the Illinois Central and Gulf, Mobile & Ohio railroads in 1972. The trackage the railroad sold in August, 1986 between Paducah and Louisville to form the P&L was originally part of the Illinois Central system. Interestingly, while the IC is most often recognized for Midwestern north-south railroad it did reach well into Kentucky as well as Nashville, Tennessee.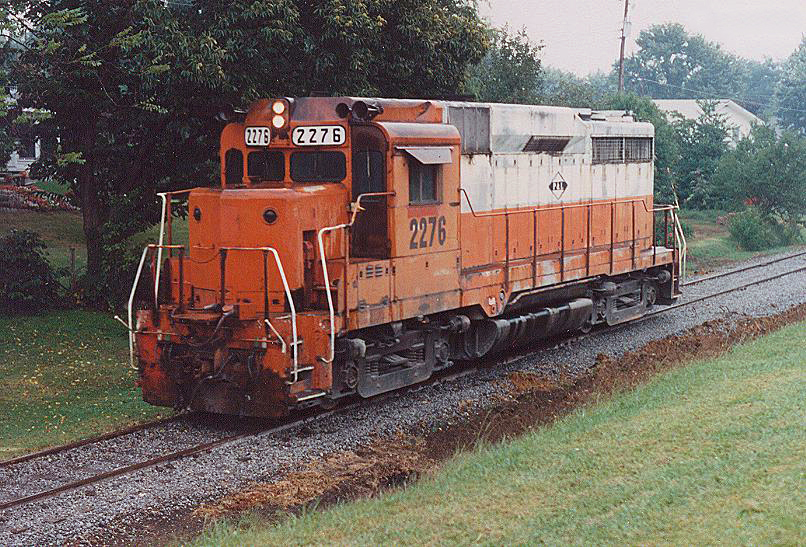 Paducah & Louisville's heritage is illustrated here with a former Illinois Central Gulf GP30 (#2275) running light at Elizabethtown, Kentucky on Septmber 22, 1989. Doug Kroll photo.
In any event, with the sale the Paducah & Louisville instantly became a 223-mile Class II, regional not only because of its initial customer base but also due to the fact that it served two important cities, and three altogether that included at least one Class I interchange partner. Looking back, the ICG would probably have wished it kept the line to Louisville considering what the P&L has since done with the route, exponentially growing its number of customers and bottom line over the past 25+ years.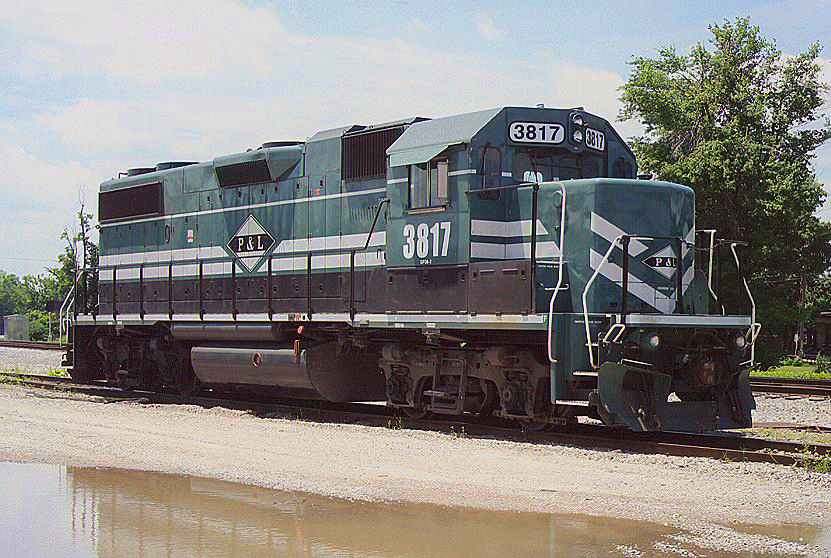 Paducah & Louisville GP38-2 #3817 is tied down in Cecilia Junction, Kentucky on June 20, 2009. The Geep began life on Conrail in September of 1978 as #8227. Doug Kroll photo.
Today, the Paducah and Louisville Railway connects with four of the seven North American Class I carriers; BNSF Railway, CSX Transportation, Canadian National and Norfolk Southern. The railroad also interchanges traffic with regional Indiana Rail Road and shortlines, Louisville & Indiana and the Fredonia Valley Railroad (FV). Overall, the P&L's primary interchange points include Paducah, Louisville, and Madisonville along with its connection to the tiny FV at Princeton. Aside from this traffic the railroad also moves a wide range of general freight from coal shipments, chemicals, stone and clay to lumber, grain, heavy equipment, warehouses, and even a local military base.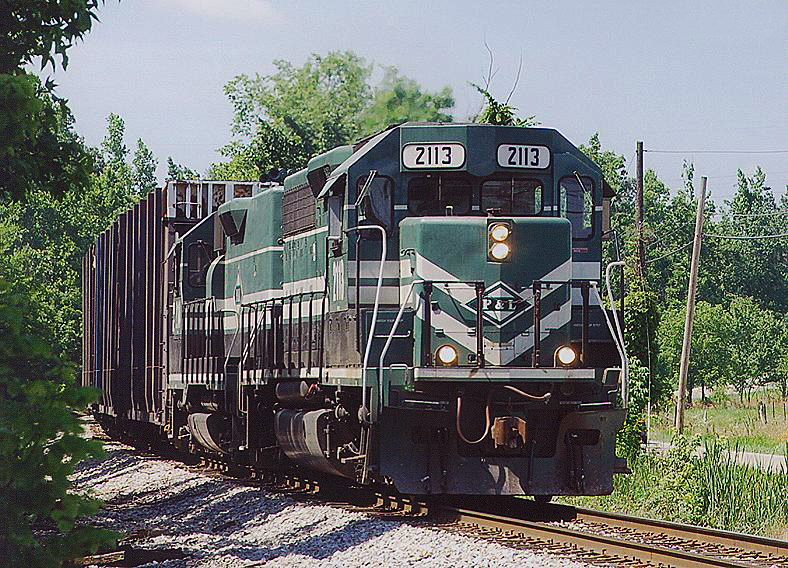 The same train as seen at the top of this article rolls through Simmons, Kentucky. Doug Kroll photo.
Paducah & Louisville Diesel Locomotive Roster
| Builder | Model Type | Road Number | Notes/Disposition | Quantity |
| --- | --- | --- | --- | --- |
| EMD | GP38-2 | 1998 | Ex-Cotton Belt/SSW, Painted In University of Kentucky Livery | 1 |
| EMD | Slug | 2100-2120 (Evens) | Ex-NYC, Ex-N&W, Ex-Alaska, Ex-SP, Ex-SSW | 10 |
| EMD | GP40-3 | 2101-2121 (Odds) | Ex-NYC, Ex-N&W, Ex-Alaska, Ex-SP, Ex-SSW | 10 |
| EMD | GP40-2 | 2123-2131, 4201 | Ex-C&O, Ex-SCL, Ex-NYC, Ex-MILW | 10 |
| EMD | GP38-2 | 3800-3801, 3803-3812, 3817, 3831 | Ex-SP, Ex-SSW, Ex-CR | 13 |
| EMD | GP40 | 4002 | Ex-L&N | 1 |
| EMD | SD70MAC | 2012-2013, 4501-4504, 4510-4512, 4516, 4518, 4522-4523 | Ex-CSX, #2012 is painted in a University of Kentucky livery and #2013 in University of Louisville colors. | 13 |
| EMD | GP39 | 8507 | Ex-Atlanta & St. Andrews Bay | 1 |
---
---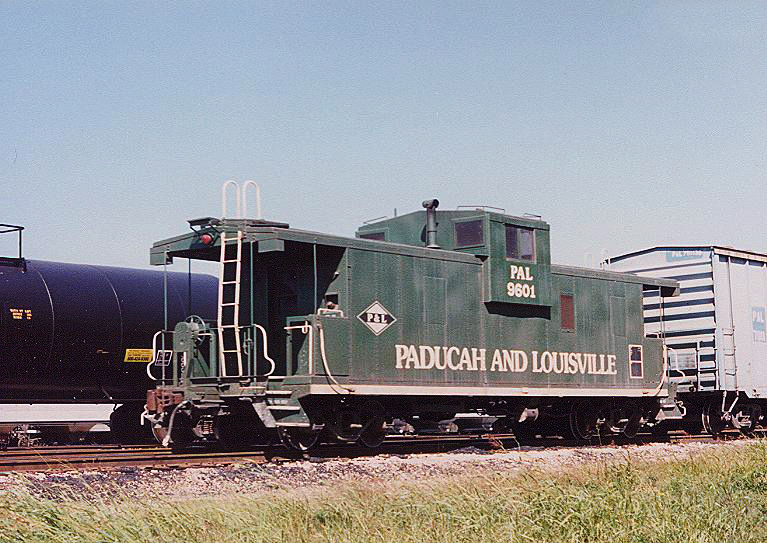 A Paducah & Louisville caboose, originally built for the Illinois Central Gulf, still holds vigil at the end of the a freight train in Paducah, Kentucky on September 23, 1989. Doug Kroll photo.
Being located along the Ohio and Tennessee Rivers the PAL offers transload and bulk terminal services from the numerous barge traffic serving both waterways. These terminals are located at both Paducah and Louisville. For more information regarding the Paducah and Louisville Railway please click here to visit their official website. Also, if you may be interested in learning more about the history of the Illinois Central please click here.  Currently the P&L's roster consists entirely of EMDs, all of which are Geeps. Additionally, they use one of the more attractive paint schemes for a small railroad using a combination of dark green and black with white trim.
Home

›
Class II Railroads
› Paducah & Louisville