Indiana Rail Road: A Class II Success Story

Last revised: October 10, 2023
By: Adam Burns

The Indiana Rail Road (reporting marks, INRD), based in Indianapolis, Indiana is a regional operation that began in 1986.

It currently operates over 500 miles of trackage in a rough "X" between Louisville, Kentucky and Chicago (north-south) and Newton, Illinois to Indianapolis (east-west).
Its current system includes lines made up of ex-Illinois Central and Milwaukee Road trackage with its most recent acquisition being that of the MILW/Soo between Terre Haute and Bedford, Indiana. 
The former Milwaukee lines are arguably the most fascinating. 
Here was a system of over 10,000 miles that was the largest end-to-end American railroad of its day, stretching from Louisville, Kentucky to the Puget Sound. 
Its extreme eastern reach allowed to even interchange with southeastern systems like the Louisville & Nashville and Southern Railway.  
Unfortunately, lack of leadership precluded the company from exploiting this rare advantage.  Thankfully, the Indiana Rail Road retains some of this property for continued service today. 
Because of the major cities the railroad serves today it has allowed the company to grow exponentially since it first began more than 25 years ago.
Today, the Indiana has connections to all seven Class I railroads (one of the only Class IIs to hold such a distinction) and a diversified traffic base ranging from coal to agriculture.
Photos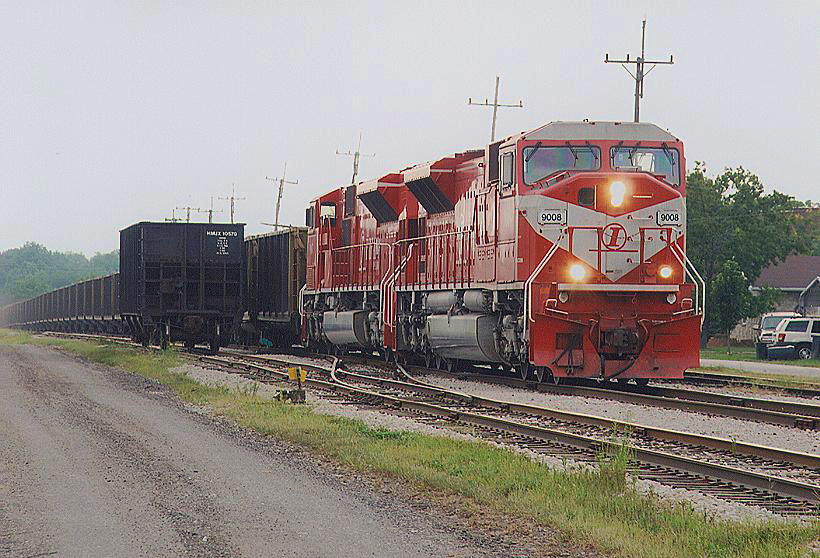 A pair of Indiana Rail Road SD9043MAC's has empty coal hoppers at Linton, Indiana on August 12, 2010. Doug Kroll photo.
History
The history of the Indiana Rail Road began in the mid-1980s when entrepreneur Thomas Hoback took a gamble by purchasing 155 miles of railroad from the Illinois Central Gulf in 1986.
At the time the financially shaky ICG was looking to significantly downsize its system in an attempt to reduce debt and return the company to a state of profitability.
As such, Hoback took over its former line to Indianapolis, as far west as Newton, Illinois (this segment of its system map is presented in more detail below).
Logo
This instantly transformed the new startup into a rather large Class III, short line that provided it connections to both CSX Transportation as well as the ICG (now Canadian National) at its western terminus of Newton.
Interestingly, in terms of size the Indiana Rail Road remained relatively unchanged for the next 20 years although during that time it had been working aggressively to improve its property and gain new business.
In 2006, however, things changed as the railroad saw massive growth of new lines, albeit much of the territory is actually trackage rights.
That year the Indiana purchased from Canadian Pacific former Milwaukee Road route from Terre Haute to Bedford, Indiana once known as the Latta Subdivision.
Under Milwaukee ownership this line was extended from Chicago to Louisville, Kentucky through Indiana. However only the isolated section mentioned above remained by 2006.
- Another case in which the argument could strongly be made that too much infrastructure has been lost nationwide since the 1970's.  If this corridor was still active, the Indiana would have direct access into Chicago. -
What remained under Canadian Pacific could only be accessed via trackage rights over CSX between Chicago and Terre Haute (formerly the Chicago & Eastern Illinois main line, later acquired by Louisville & Nashville).
Additionally, CP had rights over CSX between Bedford, Indiana and Louisville. All of this transferred to the Indiana Rail Railroad upon purchase of the former Milwaukee line.
Aside from the former Milwaukee route the Indiana also has trackage rights over the short line Louisville & Indiana Railroad between Indianapolis and Louisville, Kentucky.
Today the railroad sees more than 170,000 annual carloads; in 2011 it celebrated moving 2 million carloads, a major accomplishment when one considers the properties it operates today were left for dead in the 1980's.
System Map
Thanks to the railroad's Midwestern location it reaches Chicago, has direct connections with all of the Class Is, including CSX, BNSF Railway, Union Pacific, Norfolk Southern, Canadian Pacific and Canadian National.

Illinois Central
Also of interest is the Indiana's logo, which is based roughly from that of the late Monon which also operated in the same region (the company also operates very small sections of the fallen flag's former lines).

Milwaukee Road
The Indiana Rail Road's traffic base includes:
Coal from the Powder River Basin region


Chemicals


Petroleum products


Plastics


Food products


Scrap metal


Recyclables


Grain
Some of the railroad's customers include General Electric, Hershey's Chocolate (yes, Hershey's!), Marathon Petroleum, and a host of power plants.
Indiana Rail Road CF7 #2543, a former Santa Fe unit, sits at Switz City, Indiana on June 19, 2009. Doug Kroll photo.
Other services the railroad offers includes transloading and storage facilities. Perhaps, though, their most important asset is their numerous interchange partners, which allows for the movement of so much traffic.

Locomotive Roster
| Builder | Model Type | Road Number | Notes/Disposition | Quantity |
| --- | --- | --- | --- | --- |
| EMD | GP11 | 1701 | Ex-Clinchfield GP7 | 1 |
| EMD | CF7 | 2543 | Ex-ATSF | 1 |
| EMD | GP38 | 3801 | Ex-PC | 1 |
| EMD | GP38-2 | 3802-3808, 3811 | Ex-CR, Ex-CMA, Ex-L&N | 8 |
| EMD | GP38AC | 3809-3810, 3812 | Ex-GM&O | 3 |
| EMD | SD40-2 | 4001-4006 | Ex-BN | 6 |
| EMD | SD60 | 6004, 6006-6007, 6009-6013, 6016-6018 | Ex-Soo | 13 |
| EMD | SD9043MAC | 9001-9012, 9025 | Leased From CITX | 13 |
---
A pair of Indiana Rail Road's SD40-2's (built as Burlington Northern units) are tied up at the company's Jasonville terminal on September 29, 2017. Warren Calloway photo.
For more information about the Indiana Rail Road please click here to visit their website.
There you can find out more about the company's history and also see a detailed, interactive map of where they operate. 
The Indiana's current roster includes an all-EMD lashup ranging from four to six-axle power. In recent years the railroad gained newer EMD SD9043MACs, which look quite striking in the company's red and white livery.