Wisconsin & Southern Railroad
Last revised: June 23, 2023
By: Adam Burns

The Wisconsin & Southern Railroad, also known by its reporting marks as the WSOR has been a vital transportation resource for its home state since it began operations in 1980, utilizing former Chicago & North Western and Milwaukee Road branch lines.

Today the railroad, now owned by the owned by the Watco Companies (since January 1, 2012), operates 837 miles, jointly owned by Wisconsin and the counties in which the railroad serves.
Over the last 30+ years the Class II has gained an excellent reputation and has worked hard at not only providing superb quality service to its customers but also upgrading its property in conjunction with the State of Wisconsin for better and more efficient operations.
This reputation has not gone unnoticed and just within the past few years the railroad has won a number of awards for its services and business practices.
It is truly incredible what the Wisconsin & Southern has accomplished since it began.  The lines it acquired had largely been left for dead; if not for its efforts these corridors would be abandoned today. 
By the early 1980's railroads were viewed as an archaic and outdated mode of transportation.  For this reason, coupled with Wisconsin's many superfluous agricultural branch lines, thousands of miles were abandoned.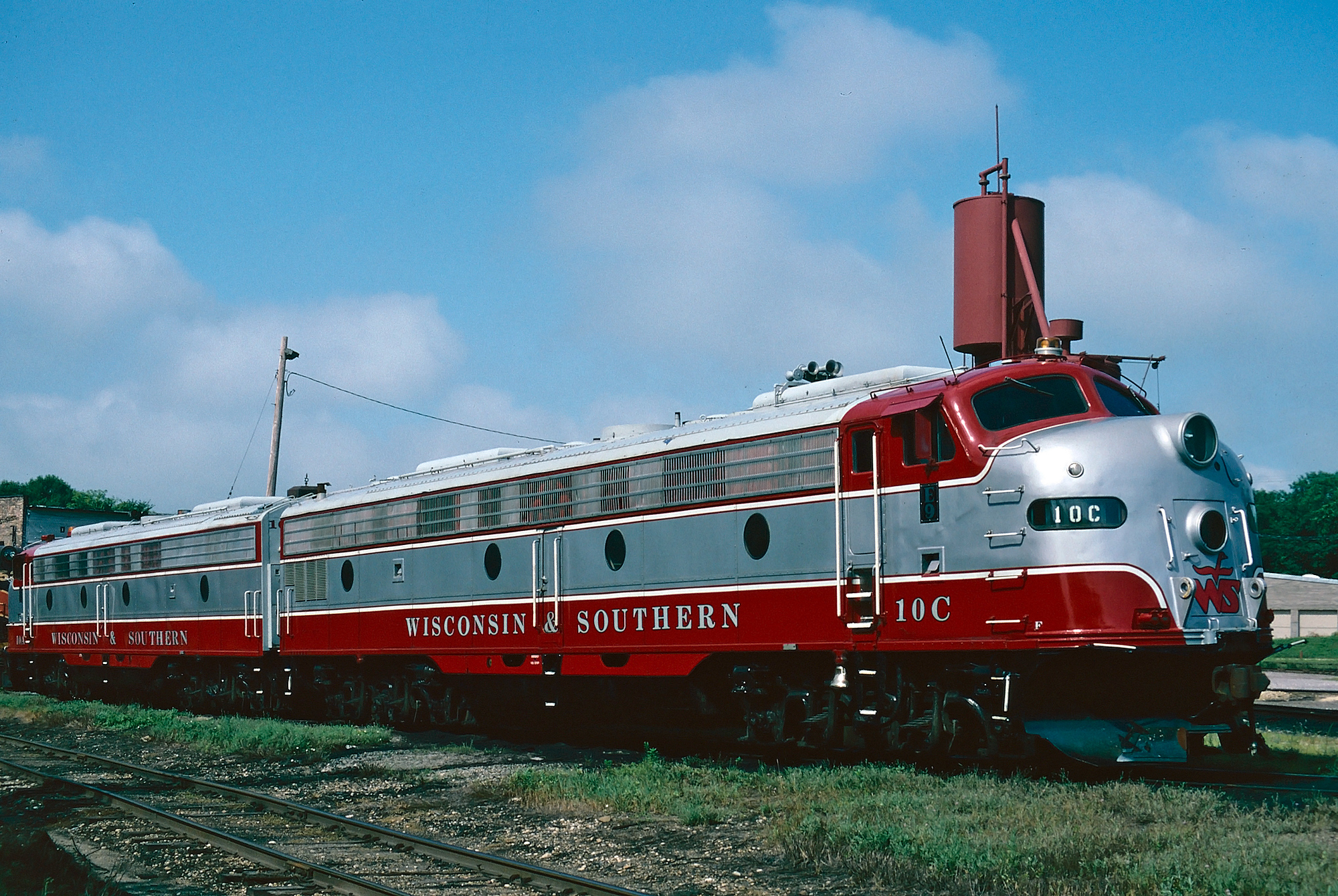 Wisconsin & Southern E9A's #10-C and #10-A at Janesville, Wisconsin; August 4, 1997. This units were built as Milwaukee Road #202-A and Union Pacific #957, respectively. American-Rails.com collection.
The history of the Wisconsin and Southern Railroad began in the late 1970s when the Milwaukee Road was attempting to scale back operations and abandon unprofitable secondary lines in an attempt to salvage their worsening financial situations.
Unfortunately, the Milwaukee had little success in relieving its debt crisis at the time and after filing bankruptcy began the process of abandoning or selling lines.
The railroad's incompetent management abandoned so much of its property, particularly its important western lines, that the company languished in bankruptcy for more than five years before it was purchased by the Soo Line in 1985. 
In any event, Wisconsin caught wind of the Milwaukee's attempt to abandon or sell many of their lines in the state and the legislature had the forward thinking of purchasing most of the routes to save them for future use.
In 1980 the Wisconsin and Southern Railroad was chartered by the FSC Corporation to operate these lines, all of which are located in the southern areas of the state serving such towns as Oshkosh, Prairie Du Chien, Monroe, Kiel, and Reedsburg.
Around the same time the state also gained the Illinois Central Gulf route to Madison.  It was not until the mid-1990s the then-short line W&S saw further expansion when it began purchasing former Chicago & Northwestern lines from successor Union Pacific, notably lines that served Madison and Sheboygan.
Additionally, between 1998 the railroad saw further expansion when the state purchased additional former  Milwaukee Road lines serving Madison, Watertown, Saukville, and Kiel from then-owner Soo (now Canadian Pacific).
While it may seem hard to believe the railroad actually now owns a system covering just over 800 miles in southern Wisconsin.
Additionally, their network of routes are not entirely interconnected but the railroad has been able to circumvent this by obtaining trackage rights from Class I railroads between from Clearing Yard (near Chicago) to Saukville, just above Milwaukee.
They also have trackage rights to Fox Lake, Illinois (the southern terminus of their lines) as well as between Hartford and Grand Avenue. 
The railroad's current partners here include Canadian National, Canadian Pacific, Union Pacific, and Metra.  In addition, it employs grain haulage rights between Rondout, Illinois and Milwaukee via CP (ex-Soo Line). 
Today, the WSOR moves a wide range of freight including agricultural products (corn, grain, beans, etc.), lumber, ethanol, petroleum products, plastics, and various aggregates.
However, perhaps most noteworthy (and important) to the company are its many interchange partners including Class I's Union Pacific, BNSF Railway, Canadian Pacific, and Canadian National.
Additionally, because they can reach Chicago they essentially have indirect connections to all seven Class I railroads.  
The Wisconsin and Southern Railroad, in upholding its commitment to quality service and serving the communities it operates through recently announced intentions to grow even more by restoring yet more abandoned trackage in Wisconsin that has not seen trains for over fifty years!
Locomotive Roster
| Builder | Model Type | Road Number | Notes/Disposition | Quantity |
| --- | --- | --- | --- | --- |
| EMD | E9A | 101, 103 | Ex-MILW, Ex-UP | 2 |
| EMD | E9B | 102 | Ex-UP | 1 |
| EMD | GP7u | 701-702 | Ex-AT&SF GP7s | 2 |
| EMD | MP15AC | 1501-1506 | Ex-MILW | 6 |
| EMD | GP38AC | 3801-3808 | Ex-IC And Former CSX GP40s | 8 |
| EMD | GP38-2 | 3809-3813 | Ex-NDeM | 5 |
| EMD | SD40-2 | 4001-4011, 4030, 4050-4054 | Ex-Rock Island, Ex-UP, Ex-MILW, Ex-MP, Ex-C&EI | 17 |
| EMD | SD40M-2 | 4076-4077 | Ex-C&O SD40-2s | 2 |
---
It is rather interesting to ponder what this railroad could do if more trackage was ever rebuilt. 
For its part the state of Wisconsin has been very supportive of such efforts and has actually enabled the WSOR to revive service over short segments of abandoned/out-of-service lines. 
Unfortunately, the expense (and potential lawsuits) often precludes such endeavors even while studies usually favor or endorse reactivation. 
The more fascinating aspect of this topic is how things have came full circle in many ways; routes once deemed useless in the 1980's are now proving once more they remain critical aspects in the transportation network. 
As such, one can then postulate that other abandoned lines would likely also be successfully, and profitably, reactivated if the upfront costs were put forth. 
This discussion goes beyond the state of Wisconsin and has been looked at by other states with other abandoned lines.  Unfortunately, one more, the subject of cost and push-back always inhibits further discussion.