Cripple Creek, Colorado is located just to the west of Colorado Springs and is actually located in the same region where railroads like the Colorado & Southern and Denver & Rio Grande Western operated their now-iconic narrow-gauge lines. However, the routes serving the small mining town were not owned by either of these two railroads, although they did connect to both and the C&S leased one of the lines for a short time. In 1890 folks began flocking to Cripple Creek as it was reported gold was discovered. As the popular expanded and mines were constructed railroads followed, looking to meet the demand of people and materials moving to the town.
Three lines ultimately reached the town: the Florence & Cripple Creek Railway opened its main line between Florence (where there was a connection with the Denver & Rio Grande), Victor and Cripple Creek in 1893 and was the first railroad to reach the then booming mining towns; the Colorado Springs & Cripple Creek District Railway was chartered on April 13, 1897 to serve the mines east of Cripple Creek, eventually reaching Colorado Springs and a connection with the Colorado & Southern in April, 1901 (this line was ultimately leased by the C&S between 1904 and 1911 and was abandoned by 1920 due to declining revenue); and finally the Midland Terminal Railway, which was organized in 1893 and began operations by December 1895 between Cripple Creek and Divide, where it had a connection with the Colorado & Midland (it remained in operation until 1849).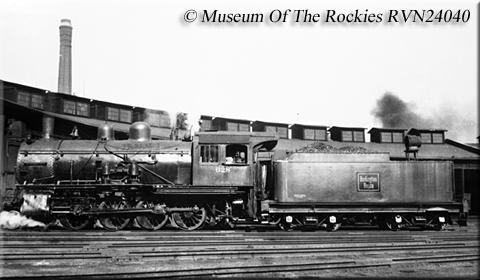 C&S 2-8-0 #628 sports a Burlington tender as it lays over next to the roundhouse in Denver on October 22, 1931.
What became today's Cripple Creek & Victor Narrow Gauge operates on about four miles of track owned by the Midland Terminal and Florence & Cripple Creek. The railroad itself has its start thanks to Dr. John M. Birmingham, which saved the former mining line from certain abandonment in the mid-1960s and worked from that point forward at restoring the property into a popular tourist attraction. For power Birmingham purchased two former mining locomotives, which are still used on the property today. Presently the Cripple Creek and Victor Narrow Gauge Railroad operates four coal-fired, narrow-gauge steam locomotives:
#1 0-4-4-0: An articulated mallet built by Orenstein & Koppel of Germany in 1902.
#2 0-4-0: Built in 1936 by Henschel & Son of Germany.
#3 0-4-0T: A tank locomotive built in 1927 by H.K. Porter, Inc.
#4 0-4-4-0T: An articulated mallet tank locomotive built by W. G. Bagnall of England in 1947, it is currently under restoration. A similar model, a 2-6-6-2T, #110, currently operates on the Black Hills Central Railroad.
GE Diesel Switcher: A very small GE-built diesel-electric locomotive is currently used on the property for maintenance and other general purposes.
To haul passenger the railroad employs a small fleet of open-air and open-covered retrofitted freight cars for passenger service. If you are interested in riding the train be sure and get there between May and October as the railroad is typically closed throughout the rest of the year. While they do not run holiday and other specials you can catch a train on a daily basis during the operating season.  
C&S 2-6-0 #9 has a short passenger consist somewhere in Colorado circa 1915.
So, if you are ever near Colorado Springs, or in central Colorado, considering stopping by the historic town of Cripple Creek and riding aboard the little narrow gauge CC&VNG! For more information about visiting the Cripple Creek and Victor Narrow Gauge Railroad, which operates every year between May and October please click here to visit their website. There, you can find out their exact operating schedule, more history about the railroad, and costs to rid the train.  For more information about excursion trains like the Cripple Creek and Victor Narrow Gauge Railroad you might want to consider the book Tourist Trains Guidebook, which is put together by the editors of Kalmbach Publishing's Trains magazine.