The MM&A itself was owned by Rail World, Inc., an Ed Burkhardt company.  Mr. Burkhardt was widely regarded in the railroad industry for his ability to purchase floundering secondary/branch lines no longer wanted and once again turn them into profitable operations.  At the time of the BAR/Iron Road Railways takeover Rail World also acquired the assets of  the Canadian American Railroad (which dated back to 1994 operating former Canadian Atlantic Railway trackage serving Maine as well as Quebec, New Brunswick and Nova Scotia), Northern Vermont Railroad (now known as the Washington County Railroad it operates former trackage owned by the Boston & Maine and Canadian Pacific in Vermont), and Quebec Southern Railway (a former Canadian Pacific subsidiary that served Quebec).
When it first began operations in 2003 the MM&A held a system of 745 miles and dispatched about 25 trains a day out along the system.  During its last few years of service the railroad operated just over 500 miles after its February, 2010 announcement that it planned to abandon 233 miles of the original Bangor & Aroostook between Madawaska and Millinocket, which was once the extreme eastern section of the fallen flag's main line in the Pine Tree State. Despite few customers still using the corridor the state realized the importance of this transportation asset and purchased the rails on October 20, 2010. Today, the property is operated by the Eastern Maine Railway, which is owned by the New Brunswick Southern Railway.
On July 6, 2013 a horrific derailment in Lac-Mégantic, Quebec saw more than 40 people killed after a train of crude oil exploded and destroyed much of the city's downtown area.  Since then the MM&A has come under considerable scrutiny, which has forced the carrier into bankruptcy by August.  After a lengthy receivership process spanning several months the railroad was sold on January 23, 2014 to Railroad Acquisition Holdings, a division of the Fortress Investment Group.  In total there were some twenty corporations that expressed interest in the MM&A but only three ultimately submitted bids including Fortress, J.D. Irving (through its Eastern Maine Railway), and Pan Am Railways.  Following the purchase the system was renamed as the Central Maine & Quebec Railway.
Montreal Maine & Atlantic Railway All-Time Diesel Locomotive Roster
| Builder | Model Type | Road Number | Notes/Disposition | Quantity |
| --- | --- | --- | --- | --- |
| EMD | GP7u | 21-23 | Ex-AT&SF GP7s | 3 |
| EMD | F3A | 502 | Ex-BAR | 1 |
| GE | B23-7 | 2000 | Ex-Conrail | 1 |
| GE | C30-7 | 3603, 3605, 3607, 3609, 3613-3614, 5016-5018, 5021, 5023, 5026, 5078 | Ex-BN, Ex-AT&SF | 13 |
| GE | B39-8 | 8522, 8225, 8536, 8539, 8541, 8544, 8546, 8548, 8553, 8560-8561, 8569, 8578, 8583, 8592 | Leased From LMX | 15 |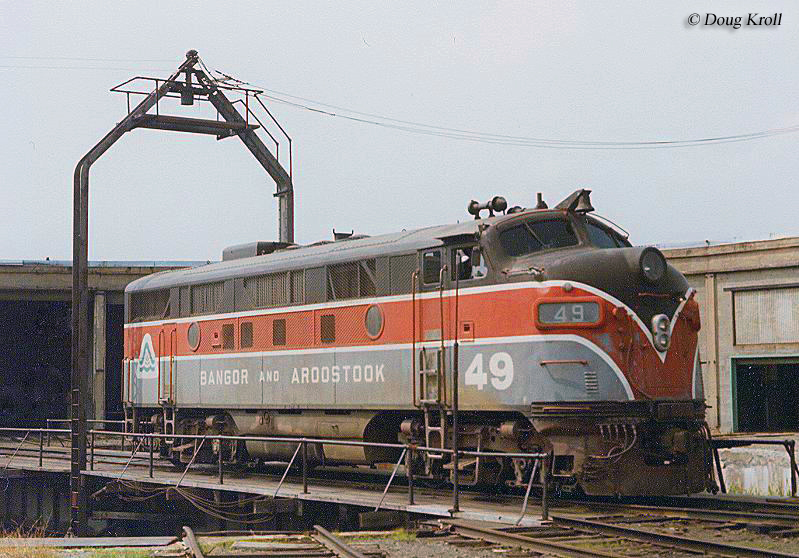 Most likely the new CM&Q will carry on operating the MM&A as it stood in its final form including the extreme northern tip of the former BAR system between Madawaska, and St. Leonard, New Brunswick (to access the line they have trackage rights over their former line sold to Maine). Additionally, the railroad stretched westward into southern Quebec and extreme northern Vermont serving towns such as Montreal (via trackage rights), Brockport, and Newport (Vermont). Finally, the MM&A had connections with nine Class I, regional or short line railroads providing it not only important outside connections but also interchange traffic for the areas it served.   Hopefully, the future of the CM&Q will be brighter than that of the company it acquired.  For a further history of the Bangor & Aroostook please click here.
Related Reading You May Enjoy


Home

›

Class II Railroads

› Montreal, Maine & Atlantic