In one of the few instances in recent memory in which an EMD product was constructed far superior to a GE design (it should be noted that EMD did not really design the model itself although the builder collaborated with other manufacturers), the AEM-7 was simply a much better design and more efficient locomotive than the E60 and its variants. Where the E60 featured a C-C truck setup (three axles per truck) the AEM-7 used a smaller B-B design (two axles per truck). This not only allowed the EMD model to be much smaller at just 51 feet in length (as opposed to the E60's 70 feet) but also much lighter at just 101 tons. In contrast, the GE's model weighed nearly twice that amount, 193.5 tons. The lighter weight allowed the AEM-7 to be much more stable on the rails and operate at higher speeds of 125 mph.
Amtrak began placing orders for the AEM-7 in 1978, before it had even completed its order of E60CPs and E60PHs. All of the model's internal components were designed and built by Allmänna Svenska Elektriska Aktiebolaget (ASEA) of Sweden. However, the locomotive's stainless-steel, ribbed carbody may look familiar to some as it was designed by the legendary Budd Company, which by the late 1970s was still serving a limited market for passenger equipment.
Amtrak's first batch of AEM-7s, 46 units, began service between 1980 and 1982 after it had received its first a year earlier in 1979. By 1988 the carrier's order for the model was complete, at 54 units, more than double the total number it had purchased of GE's E60 design. Altogether, EMD would construct 65 AEM-7s as both the Southeastern Pennsylvania Transportation Authority (SEPTA) and Maryland's MARC commuter service purchased a few examples of the model. Today, Amtrak's entire fleet of AEM-7s remain in regular service along the Northeast Corridor, save for those few destroyed in wrecks. In 1999 the units were rebuilt in conjunction with Alstom which upgraded a number of them for AC power. As such they have been reclassified as AEM-7DCs and AEM-7ACs.
Please Click Here To Return To The Main Electric Locomotives Section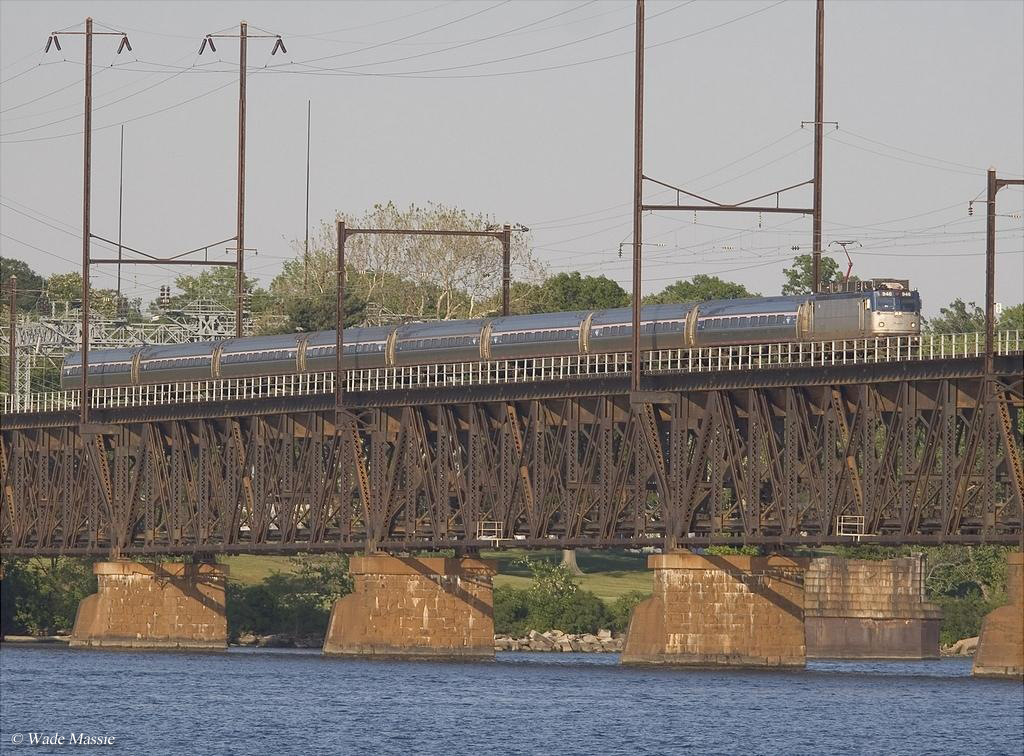 AEM-7 #946 speeds over the massive Susquehanna River Bridge near Havre de Grace, Maryland with regional train #126 on May 12, 2006.
For more reading about Amtrak's AEM-7 electrics and other electrics consider Electric Locomotives from Brian Solomon. Not only does the book give a nice overview about the Amtrak's electrified operations it also covers American electric locomotive technology in general that includes nearly 100 pages of excellent photography.  Another book that covers modern electric locomotives like the AEM-7 is Locomotives: The Modern Diesel and Electric Reference by author Greg McDonnell. Mr. McDonnell's book is much larger in scope than Solomon's Electric Locomotives, covering newer electrics (and diesels) on nearly 250 pages which are packed full with excellent photography, illustrations, and diagrams. The book has received superb reviews by readers and is perhaps the best current work out there covering the topic.