The Belt Railway Of Chicago

The Belt Railway of Chicago has been an integral part of the region's railroad logistics since the early 1880s. The terminal railroad was developed by a growing need to connect many of the city's largest railroads at the time, which radiated out in every which direction. The BRC thus allowed for much more efficient operations and even today, after many mergers, acquisitions, and bankruptcies over the years the company remains an important artery in getting freight transferred through the city and to whatever outbound destination it may be headed. For railfans the BRC is best known for its once large fleet of Alco diesel locomotives, although today the railroad operates entirely second-generation EMD products.
Belt Railway C424s #600 and #604 seem a bit overpowered for their train of a single caboose as they move through the C&NW's Proviso Yard at Bellwood, Illinois on September 28, 1968. The BRC's Centuries remained in service on the railroad for four decades and were not retired until 1996.
The Belt Railway of Chicago dates back to 1882 when it was created by realtor John B. Brown saw a need as early as the 1870s to better coordinate and move freight and passenger rail traffic around and through the city. Brown's idea for the new terminal railroad was to have it connect with most of the major eastern and western railroads which served Chicago at the time, thus making rail movements more efficient through the city. As with most terminal railroads the BRC became a subsidiary of all of the railroads which used its services, although initially it was owned by the Chicago & Western Indiana Railroad (which was specifically chartered to create the BRC). These initial railroads which leased the Belt included the Louisville New Albany & Chicago, Chicago & Atlantic, Chicago & Eastern Illinois, Wabash, St. Louis & Pacific, and Chicago & Grand Trunk.
Along with connecting to through Class Is, the BRC also served a respectable contingent of freight shippers, mostly located in the South Chicago area. As the years progressed and the railroad saw significantly more traffic it looked to grow and expand. As such, the BRC looked to expand and add to its existing infrastructure in 1910, which was completed in a few years. After doing so it gained additional lessees including the Minneapolis, St. Paul & Sault Ste. Marie (Soo Line); Atchison, Topeka & Santa Fe; Chicago Burlington & Quincy; Illinois Central; Chicago, Rock Island & Pacific (Rock Island); Pennsylvania; Pere Marquette; and Chesapeake & Ohio (keep in mind that at this time the large eastern trunk link, Baltimore & Ohio already had its own terminal railroad serving Chicago, the Baltimore & Ohio Connecting Terminal).
BRC GP7 #471 pulls a small four-car freight and a trailing caboose somewhere through Chicago on April 2, 1971. Note the crewman hanging on to the rear platform of the caboose.
Overall, the BRC now operates about 28 miles of main line and 300 miles of total track. The railroad operates mostly in central and northern Chicago although it once had trackage rights extending well into South Chicago and all of the way to the Indiana state line (most of this was using C&WI trackage). The BRC's endearing feature is its Clearing Yard located on the company's western end on Chicago's city limits and in the town of Bedford Park, Illinois. This massive yard was originally conceived and built by Chicago Great Western founder and president Alpheus Beede Stickney to alleviate growing freight traffic congestion around Chicago.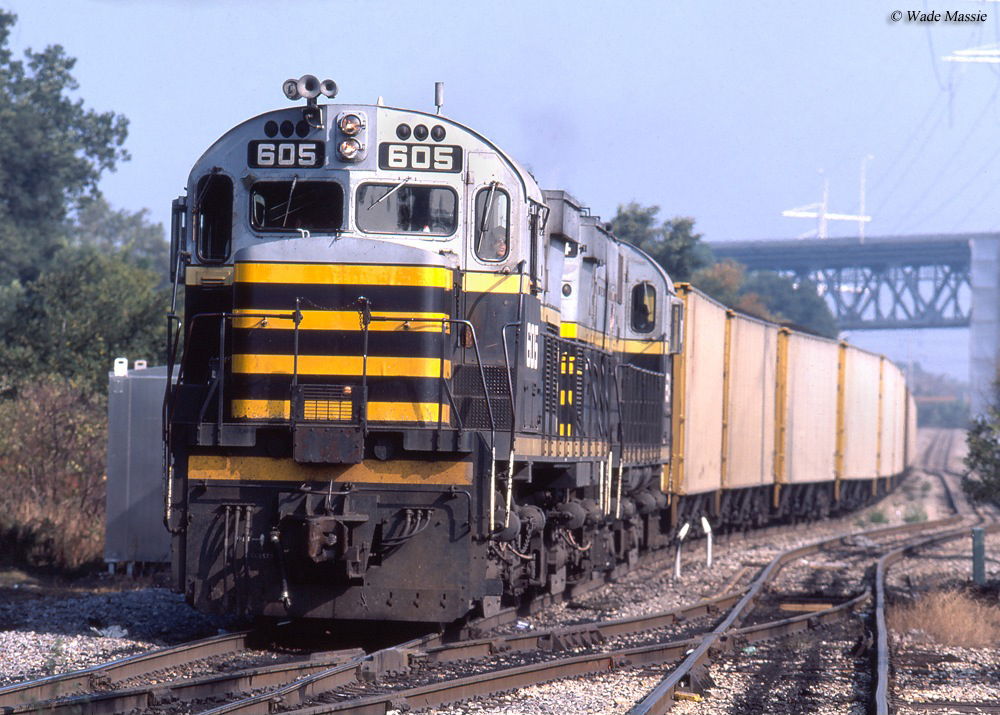 One of the Belt Railway's three SW1500s is performing daily switching duties in Chicago on April 2, 1971.
At the time of its construction in 1889 Clearing Yard was built outside the Chicago city limits to avoid city taxes. However, Stickney could never convince other railroads to likewise use the yard and neither could chairman of the Chicago & Eastern Illinois, H.H. Porter. It remained mostly undeveloped until the Belt Railway of Chicago purchased the property, tore out the minor infrastructure already in place, and completed a massive new complex in 1915 (still named Clearing Yard). Today, Clearing Yard is nearly six miles in length from end to end and is one of the largest classification yards in the country (interestingly, the yard alone makes up most of the Belt's total trackage).
Over the years the BRC's owners have slowly decreased, mostly through mergers and bankruptcies. Today, six of the seven Class I railroads operate the terminal line including; CSX Transportation, Norfolk Southern, BNSF Railway, Union Pacific, Canadian National, and Canadian Pacific. Despite its smaller number of owners it still retains much of its original system. The BRC also still retains its original livery of black and gray with yellow trim along with its classic "belt" logo. For more information about the BRC click here to visit the company's official website.
Diesel Locomotive Roster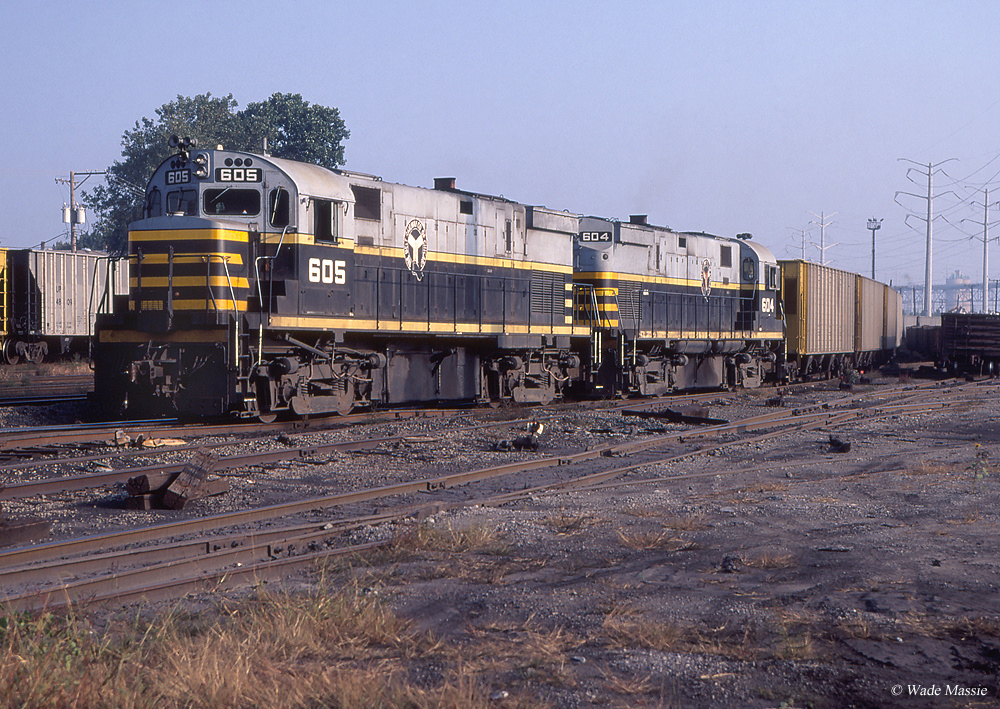 Seen here is the BRC's engine terminal as various units mingle including a GP7, GP9, and two RS2s on May 13, 1964.
The American Locomotive Company
| Model Type | Road Number | Date Built | Quantity |
| --- | --- | --- | --- |
| HH-600 | 302-303 | 1934-1935 | 2 |
| S1 | 304-306 | 1941-1942 | 3 |
| S2 | 400, 403-404, 406-411 | 1941-1950 | 9 |
| S6 | 420 | 1957 | 1 |
| RS2 | 450-458 | 1949 | 9 |
| C424 | 600-605 | 1963-1966 | 6 |
The Baldwin Locomotive Works
| Model Type | Road Number | Date Built | Quantity |
| --- | --- | --- | --- |
| VO-1000 | 401-402 | 1942-1944 | 2 |
| DS-4-4-1000 | 405 | 1947 | 1 |
Electro-Motive Division
| Model Type | Road Number | Date Built | Quantity |
| --- | --- | --- | --- |
| GP7 | 470-477 | 1951-1952 | 8 |
| GP9 | 471 (Second), 480-481 | 1956-1958 | 3 |
| GP38-2 | 490-495 | 1972 | 6 |
| TR2 | 500A-501A (Cow), 500B-501B (Calf) | 1949 | 4 |
| TR4 | 502A-506A (Cow), 502B-506B (Calf) | 1950 | 10 |
| SW9 | 520-523 | 1951 | 4 |
| SW1200 | 524-526 | 1963 | 3 |
| SW1500 | 530-532 | 1967-1968 | 3 |
| MP15DC | 533-536 | 1975-1980 | 4 |
Steam Locomotive Roster
| Class | Type | Wheel Arrangement |
| --- | --- | --- |
| C-1, C-2 | Santa Fe | 2-10-2 |
| E-2 Through E-4 | Switcher | 0-6-0 |
| G-1, H-1, J-1/2, K-1 Through K-4, M | Switcher | 0-8-0 |
---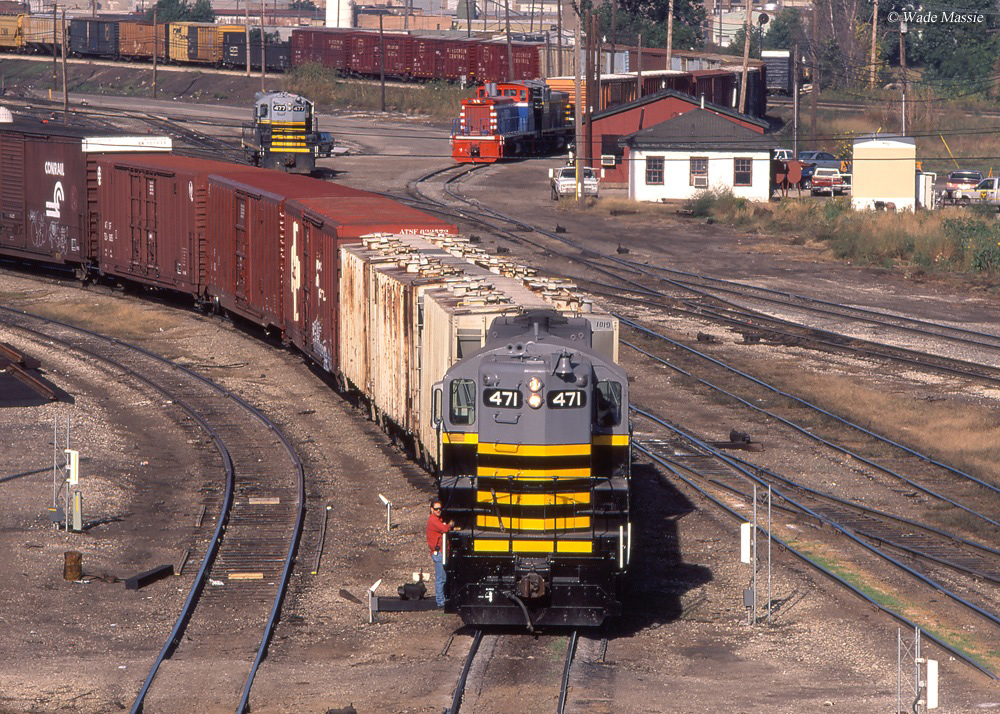 Two of the Belt Railway's popular Centuries, C424s ##605 and #603, perform a transfer run as it rolls through Broadview, Illinois on June 17, 1986.
For more reading about classic railroads like the Belt Railway of Chicago I would suggest purchasing one, or all three volumes of Mike Schafer's Classic American Railroads series of books. The publications feature a wealth of information and are loaded with colored photographs covering names like the Baltimore & Ohio, Santa Fe, Pennsylvania, Milwaukee Road, and lots more. If you have any interest in most famous bygone railroads which once operated in the U.S. I would strongly recommend picking up one, two, or even all three of Mr. Schafer's book. I truly cannot say enough just how enjoyable and fun they are to read and peruse through. If you're interested in perhaps purchasing these books please visit the link below which will take you to ordering information through Amazon.com, the trusted online shopping network.