This setup would last until 1972 when a new holding company was created to oversee the railroads, which would also include the Western Maryland, a much smaller railroad that served parts of Maryland and West Virginia and had come under the control of the B&O. This new company was known as the Chessie System and it remained little more than simply a name, which united all three railroads. All three continued to remain as separate entities the only significant difference, aside from some consolidated departments, was the vibrant new paint scheme they shared of blue, yellow, and vermilion (although their names continued to be stenciled on locomotives; "B&O," "C&O," and "WM"). This would change slightly in 1976 when the Chessie began to operate more as one, unified, railroad although the individual company names continued to be included on locomotives.
One of the former Western Maryland chop-nose GP9s, #6415, is leading a freight westbound as it exits the Sand Patch Tunnel in Pennsylvania on September 21, 1980.
The biggest change for the company began in 1980 when Chessie was merged with southeastern conglomerate, Seaboard Coast Line Industries (which consisted of a number of railroads, such as the Seaboard Coast Line, Louisville & Nashville, Clinchfield, and others), to create a holding company known as CSX Corporation (and the division which would operate the railroads was CSX Transportation). After the formation of CSX, the railroads under its banner began to quickly disappear. Seaboard Coast Line Industries became simply the Seaboard System and was merged into CSX in 1982 and the Chessie roads would follow five years later. The WM was formally merged out of existence when it was folded into the B&O, which itself disappeared on April 30th, 1987 (just weeks after its 160th birthday). The C&O soon followed a month later in May and with that so ended the Chessie System.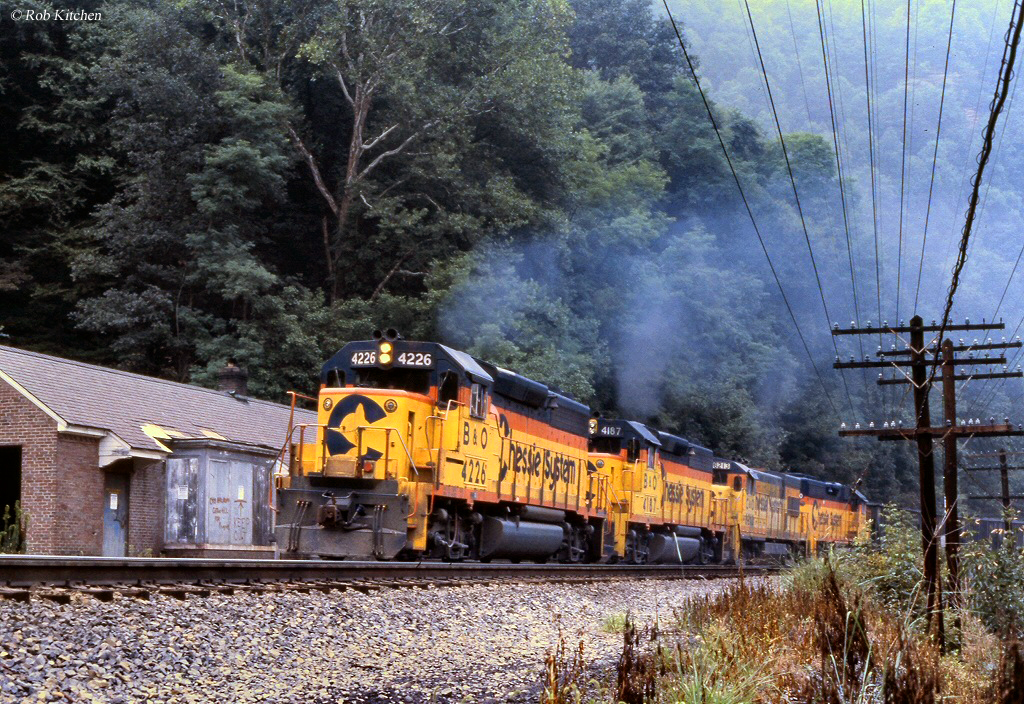 An eastbound freight led by B&O GP40-2 #4226 climbs the grade at Cotton Hill, West Virginia during August of 1982.
It is rather interesting that a railroad, which lived essentially only 8 years, continues to hold such a mystic about it and not only has had several books written in its honor but also numerous layouts modeled after it. Perhaps this is due to both its alluring paint scheme as well as the legendary railroads that made up the Chessie. Whatever the reason there is no denying the impact it continues to hold over railfans and historians today and will undoubtedly continue to so into the future.  For more information about the railroad please visit the Chessie System Historical Society's website. 
Please Click Here To Return To The Main Fallen Flags Section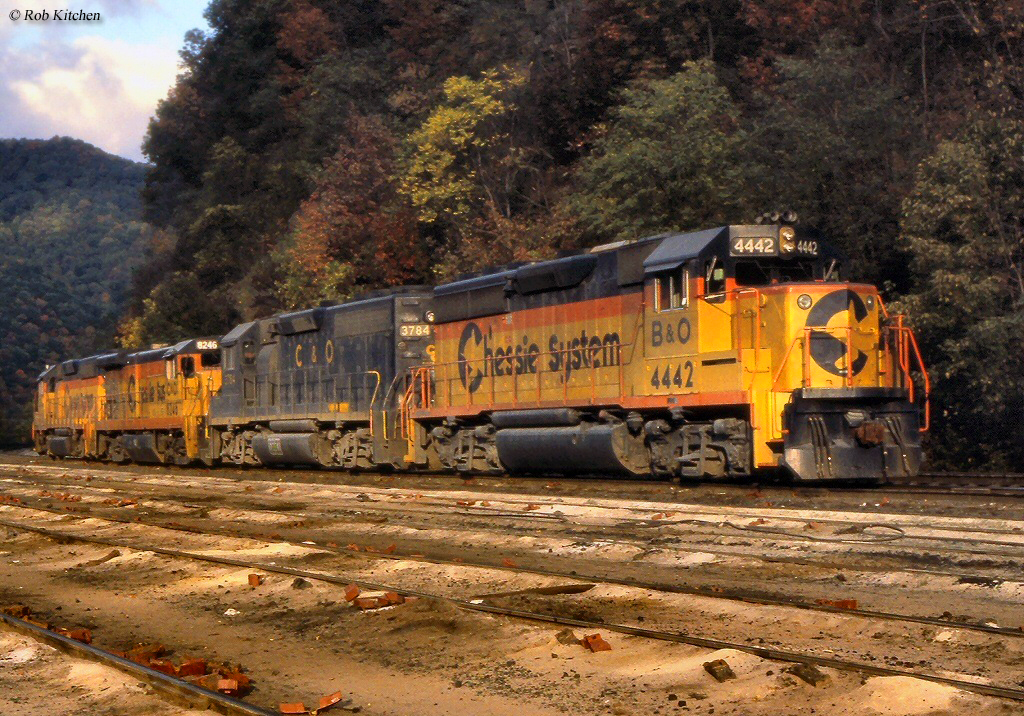 Deep within coal country in southern West Virginia several units head toward their coal train at Avis Yard in Hinton during October of 1981.
Finally, for additional reading about the company, especially a pictorial history of the railroad in West Virginia covering all three affiliated roads (the C&O, B&O, and WM) consider the book Chessie System by Dave Ori. The book is stuffed full of colored pictures and anyone interested in the railroad will very much enjoy it!  Another book on the subject of Chessie is The Chessie Era by author Thomas Dixon.  This particular book is part of my collection and while most photos are in black and white it is still an interesting title.  If you're interested in perhaps purchasing either book (or both) please visit the link(s) below which will take you to ordering information through Amazon.com.