Once more, the CC&O was faced with a difficult challenge; the Breaks of the Big Sandy River, just south of Elkhorn City, held a chasm descending some 1,600 feet along the eastern periphery of Pine Mountain while the Sandy Ridge Mountain loomed just north of Dante.  Company engineers were able to maintain grades of 1.5% through the Breaks while a 1.8% grade was required over Sandy Ridge which included an impressive 7,854-foot tunnel.  Mr. Hemphill notes the entire 35-mile extension had cost around $140,000 per mile and a golden spike ceremony was held at Trammel, Virginia, just north of Sandy Ridge, on February 9, 1915 signaling the completion of the 276.9-mile main line between Elkhorn City and Spartanburg.  In all, Carter's railroad featured 55 tunnels (totaling nearly 10 miles in length) and 80 bridges (totaling 3.3. miles in length).  According to Scientific American it was the "...costliest railroad to cross the Appalachian Blue Ridge Mountains."  The project's expense, however, paid off in the coming years; in 1951 the road reported 4.7 million tons of merchandise freight and 9 million tons in coal.  That year it boasted an operating income of $23.6 million and in 1960 held a ridiculously low operating ratio of just 55.5%.  The railroad was so well built that even into the CSX era it operated more or less unchanged.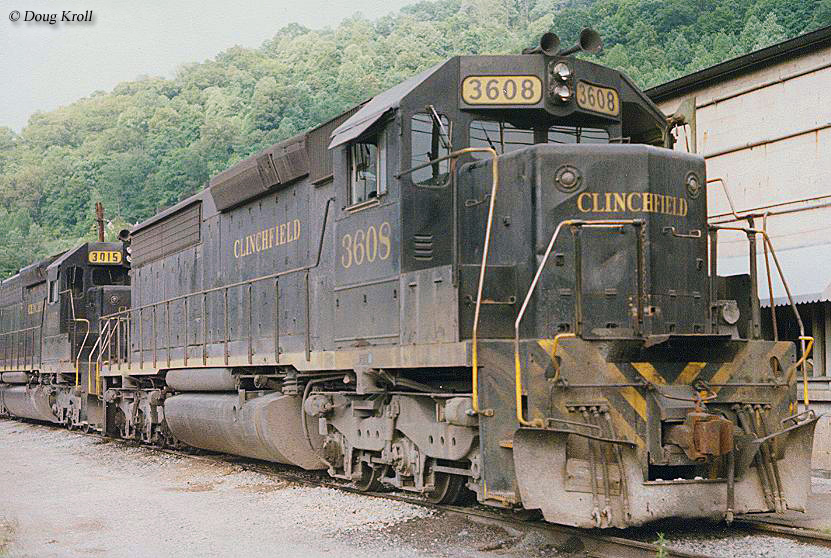 The Clinchfield's so-called "Inside Gateway" made it ideal for bridge traffic as the numbers above attest.  To the north, of course, it interchanged with the C&O for a Midwestern outlet while to the south it made important connections at Norton, Virginia with the Interstate Railroad, Louisville & Nashville, and Norfolk & Western.  All three handed traffic over to the Clinchfield, some of which moved on to Spartanburg.  At this South Carolina town the railroad interchanged with the ACL, Southern, and Seaboard Air Line.  Not surprisingly, its superb route drew attention from much larger carriers.  In 1924, made retroactive to May 11, 1923, the Atlantic Coast Line and Louisville & Nashville (itself controlled by the ACL), mutually agreed to lease the Carolina, Clinchfield & Ohio for a term of 999 years.  It was placed under the holding company known as the Clinchfield Railroad and remained there for the rest of its days.  However, it continued operating largely independent, maintaining its own equipment, locomotives, and a large terminal at Erwin, Tennessee.  Within this small town its locomotives were serviced and a general office was located.
It seems coal mines dotted the Clinchfield's network everywhere. These generators of black diamonds were particularly heavy along the northern end at Haysi, Dante (The location of its major classification yard where loaded hoppers/gondolas were sorted to be shipped to their intended destination.) and Norton (The final major extension of the Clinchfield took place with the completion of the 5.7-mile Haysi Railroad in February of 1970.  What was essentially a branch served mines of the Clinchfield Coal Corporation's along Russel Prater Creek from the main line near Berta, Virginia).  The region was so blessed with the rock that it sustained not only the Clinchfield but also the N&W, Southern, Chesapeake & Ohio, Interstate, and L&N.  All six roads owed much of their success to the heavy coal tonnage originating or passing over their rails.  Coal generally moved in both directions on the CRR depending upon where it was headed; its mines generated roughly 60%, lower grade steam coal that usually found its way to power plants throughout the South.  The rest, a higher grade, metallurgical coal was hauled north to steel mills located throughout the Mid-Atlantic region.
Operations On The Clinchfield Railroad
If one was old enough to remember the Clinchfield prior to the 1950s you were treated to quite a show as huge articulated wheel arrangements like 2-8-8-2's, 4-6-6-4's, and 2-6-6-2's fought the mountain to move long strings of heavy coal over the grades.  As Mr. Schafer notes, the first steamers the CC&O utilized were four 4-6-0's, fifteen 2-8-0's, and a single 2-6-6-2 (M-1) purchased from the Baldwin Locomotive Works in 1909.  A year later it acquired twenty more Mallet's from Baldwin; listed as Class M-2 they were numbered 510-519 and 550-559.  In 1910 it also picked up three 4-6-2's for its modest, but respectable passenger services, numbered 150-152 (P-1); it later added two more from Baldwin in 1914 numbered 153-154 (P-2).  Its first two 2-8-2's arrived in 1917, which were second-hand units (K-2 #499 arrived from the Cambria & Indiana while K-3 #498 came from the Spanish-American Iron Company).  Between 1919 and 1923 it added nineteen more, #400-408 (K-1, 1919) built by Baldwin and #410-419 (K-4) manufactured at Alco's Brooks Works.  The year 1919 witnessed the arrival of the big power which would define the Clinchfield when it purchased seventeen 2-8-8-2's from Baldwin (#700-706 and #725-734, L-1 and L-2) and another ten arrived in 1923 from Alco's Brooks Works (#735-744, L-3).  
Its final new steamers are long remembered and the most celebrated among fans; Clinchfield was one of just a few to acquire the huge 4-6-6-4 wheel arrangement.  These modern machines, simple-expansion articulateds, were designed for high-speed operations.  They were based from the Delaware & Hudson's J-95's manufactured in 1940.  The first eight Challengers arrived in 1943 from Alco's Schenectady plant, #650-657, and given Class E-1 while four more arrived later (#660-663, E-2).  Apparently, the railroad was so pleased they went on to pick up six more, second-hand from the Rio Grande after the World War II!  Since coal was at the heart of its business the Clinchfield did not expedite its switch from steam to diesel.  A similar event unfolded on the nearby C&O and N&W, which continued maintaining their steam fleets well into the 1950s.  The first diesels finally arrived in 1948 by way of F3's.  It went on to roster a fleet comprising almost entirely Electro-Motive products, except for a small collection of U36C's and a few Alco switchers. To read much more about the Clinchfield's daily operations I would highly recommend picking up a copy of Robert Helm's, "The Clinchfield Railroad In The Coal Fields," or try to find past copies of Trains Magazine where rail historian Ron Flanary has superbly documented the road's glory days.
The Clinchfield's network listed 302 route miles as of 1950, which included all main line and secondary trackage.  Its previously noted branches were few as it predominantly acted as a conveyor belt for bridge and coal traffic.  The biggest change occurred in the mid-1970s when it came under the Family Lines System banner with the L&N, the new Seaboard Coast Line (a merger between the ACL and Seaboard Air Line in 1967), and a number of other smaller lines. With this came a new livery applied to all (with sub-lettering stenciled under locomotive cabs identifying each company) and gone was the Clinchfield's familiar black and yellow paint scheme (Its original livery featured a gray and yellow design with black lettering.  However, the heavy grime incurred regularly while passing through so many tunnels made it impossible to keep clean).   As the 1970s gave way to the 1980s the Clinchfield Railroad would officially disappear when the Family Lines System formally became the Seaboard System in 1982, dissolving its corporate name.  In 1986 Seaboard was merged into CSX Transportation, followed by the Chessie System a year later.
Diesel Locomotive Roster
American Locomotive Company (Alco)

| Model Type | Road Number | Date Built | Quantity |
| --- | --- | --- | --- |
| S4 | 3034, 3039, 3049 | Leased | 3 |
Electro-Motive Corporation/Electro-Motive Division

| Model Type | Road Number | Date Built | Quantity |
| --- | --- | --- | --- |
| FP7 | 200 | 1952 | 1 |
| SW7 | 350-355 | 1950 | 6 |
| F3A | 800-805 | 1948 | 6 |
| F7A | 806-820 | 1951-1952 | 15 |
| F3B | 850-852 | 1949 | 3 |
| F7B | 853-863 | 1949-1952 | 11 |
| F9B | 864-868 | 1955 | 5 |
| GP7 | 900-916 | 1950-1952 | 17 |
| GP9 | 917-918 | 1956 | 2 |
| GP16 | 4600-4613 | Ex-SCL and rebuilt GP7s | 14 |
| GP38 | 2000-2009 | 1967 | 10 |
| SD40 | 3000-3008, 3015-3024 | 1966-1971 | 19 |
| SD45-2 | 3607-3624 | 1972 | 18 |
| SD45-2 | 3625-3631 | Ex-SCL | 7 |
| GP38-2 | 6000-6006, 6045 | 1978-1979 | 8 |
| SD40-2 | 8127-8129, 8131-8132 | 1980-1981 | 5 |
General Electric (GE)
| Model Type | Road Number | Date Built | Quantity |
| --- | --- | --- | --- |
| U36C | 3600-3606 | 1971 | 7 |
Steam Locomotive Roster
| Class | Type | Wheel Arrangement |
| --- | --- | --- |
| E-1, E-3 | Challenger | 4-6-6-4 |
| F-1 | Mogul | 2-6-0 |
| G-1, G-2 | Ten-Wheeler | 4-6-0 |
| H-1, H-2, H-4 | Consolidation | 2-8-0 |
| H-3 | Switcher | 0-8-0 |
| K-1 Through K-4 | Mikado | 2-8-2 |
| L-1 Through L-3 | Articulated | 2-8-8-2 |
| M-1 Through M-3 | Articulated | 2-6-6-2 |
| P-1, P-2 | Pacific | 4-6-2 |
Until 2015 the former Clinchfield route served as a vital coal artery under CSX.  The Class I announced on October 15th that year significant reductions would occur along the old CRR network as a result of losing more than $1 billion in coal business since 2012.  The move resulted in roughly 300 employees either losing their jobs or transferred to other areas.  In addition the railroad has mothballed or closed sections of the main line between Elkhorn City, Kentucky and Spartanburg, South Carolina.  Officially, the corridors affected include the Kingsport Subdivision between Shelby Yard in Pikeville, Kentucky and Erwin, Tennessee along with the Blue Ridge Subdivision between Erwin and Spartanburg.   The results of this move will almost certainly affect the famous Santa Claus Special, originally started during the Christmas of 1943 and has operated every year since. Over the past 60+ years of its annual holiday trek the train has traveled the very same Clinchfield main line since its first year.  Today it is co-sponsored by both the Kingsport Area Chamber of Commerce and of course, CSX. 
Related Reading You May Enjoy


Home

›

Fallen Flags

› Clinchfield Railroad