Conrail, The Consolidated Rail Corporation

The Consolidated Rail Corporation, better known as simply Conrail, was the government's answer to the collapse of rail service in the northeast in the early 1970s. While its creation and ultimate monopoly in the northeast has been questioned and shunned by some what cannot be argued is the ultimate success of the carrier. After picking up the pieces of the collapsed Penn Central and bankrupt Erie Lackawanna, Lehigh Valley, Reading, Central Railroad of New Jersey, and Lehigh & Hudson River the company was able to finally turn a profit by the end of 1981, 5 1/2 years after beginning operations on April 1, 1976. In the mid-1990s the now profitable Conrail was split up between Norfolk Southern and CSX Transportation with the railroads taking over their respective halves on June 1, 1999.
An intermodal freight travels over the Ohio River in Pittsburgh led by a C39-8 during July of 1996.
To understand how the railroad came about we first must look back to the railroad market of the northeast in the 1970s. Once Penn Central was created on February 1, 1968 pandemonium soon followed. The railroad was losing over $1 million a day and trains were becoming lost throughout the system, as dispatchers were not properly trained on how to dispatch their trains. To make matters worse as the red ink began to become an unstoppable flash flood maintenance was deferred and derailments became the norm with large sections of main line reduced to 10 mph slow orders and freight snarled to a crawl. After Penn Central collapsed and entered bankruptcy on June 21, 1970 the rest of the major Class I railroads (except the Erie Lackawanna, which fell victim to Hurricane Agnus' torrential flooding in late June of 1972 and soon after declared bankruptcy) in the region soon followed as they were not only also in a precarious state financially but also the PC was their primary outlet for shipping their traffic
Realizing the severity of the situation the federal government stepped and setup the Consolidated Rail Corporation, or Conrail in the mid-1970s and the new railroad began operations on April 1, 1976. It should be noted that the monopoly, which became Consolidate Rail tried to be avoided. After the EL went bankrupt following Hurricane Agnus and the Norfolk & Western Railway (which owned the EL under through the Dereco Corporation, a holding company the railroad owned) the Chessie System approached with an interest in purchasing the railroad. All signs point to the purchased happening if it was not for the unions of the Erie Lackawanna, which rejected the offer by the Chessie System forcing Conrail to take the railroad and operating virtually all of the trackage in the northeast, save for the tiny Delaware & Hudson Railway.
It's a shame that the EL, whether as an independent company or purchased by a railroad like the Chessie was not allowed to remain under different ownership than through Consolidated Rail as it could have provided serious competition to CR through its doubled-tracked main line between New York and Chicago. Sadly, after the railroad took control on April 1st, it opted to use the Pennsylvania's and New York Central's Chicago – New York main lines and completely abandoned the EL property.
The business train wore a simple Brunswick green livery with gold lettering and powered by E8As. It is seen here in Pittsburgh on March 19, 1997.
In hindsight, setting up the system was a lot easier than actually making it profitable. Stiff governmental regulations and thousands of miles of redundant trackage made it virtually impossible for the railroad to make any money. If there was any one person most credited with turning around the company it most certainly would be Stanley Crane. He wasted no time in setting to work to get Conrail out of the ever-deepening red ink that the government was growing increasingly tired of seeing since it was footing the bill entirely for the railroad to remain in operation.  When the company was formed in 1976 it set to abandoning thousands of miles of track (a stipulation it was granted during its creation) to shed unprofitable lines. However, when Crane took office at the beginning of 1981 he reduced its size by another 4,400 miles over the next two years! Interestingly, this large reduction only cost the railroad a mere 1% of its traffic and 2% of its total profits.
Rolling westbound is a local freight led by GP15-1 #1659 during a beautiful fall day in Emsworth, Pennsylvania on October 11, 1997.
Further improvements to the railroad's bottom line by Crane included CTC (centralized traffic control) to more efficiently move trains, job cuts approved by the unions, and the ability to drop its money-draining commuter responsibilities taken over by state agencies through the Northeast Rail Services Act (NERSA). By the end of 1981 Conrail was finally in the black and turning a profit, something which had not been seen since the early days of Penn Central in 1968, over thirteen years earlier!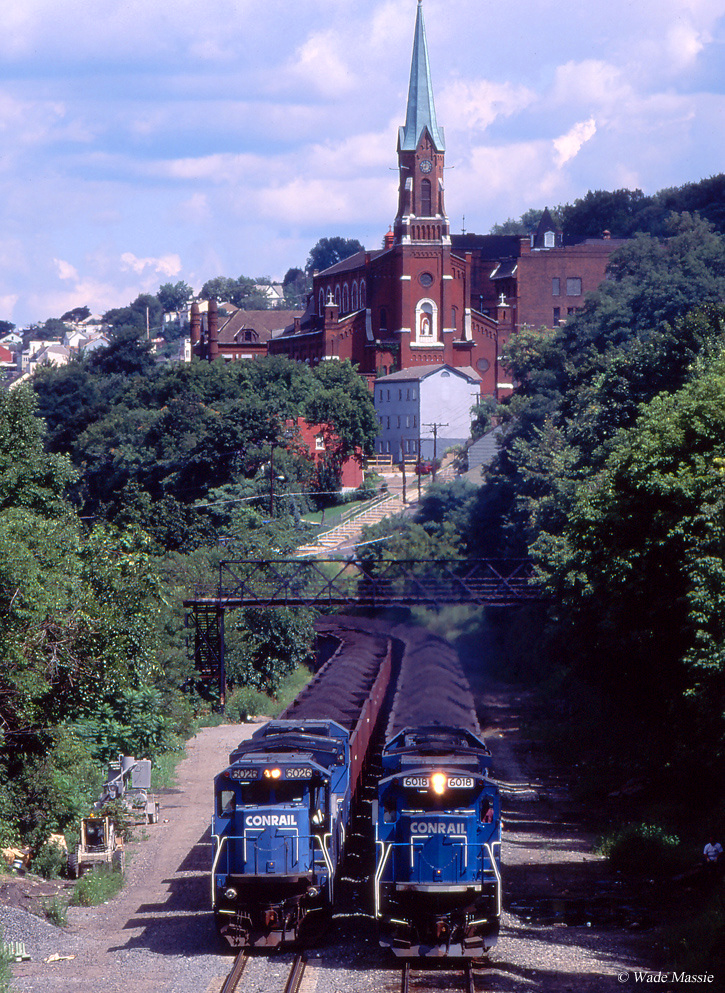 With a stunning backdrop two unit coal trains meet on the Mon Line near Pittsburgh on August 10, 1996.
In March 1987, eleven years after it was created, the railroad was sold to the public and became a private, independent railroad (an interesting side note here is that the first battle between Norfolk Southern and CSX Transportation for Conrail began in the mid-1980s but the railroad was ultimately sold to the public). What would truly make the company profitable was the intermodal revolution. With two direct main lines serving New York and Chicago it dominated piggyback and intermodal services between the two cities.
Despite this Consolidate Rail was still the smallest of the three eastern Class I carriers and its not surprising that CSX and NS once again came calling to purchase the railroad. The second battle for the railroad began in the mid-1990s when CSX announced its intentions to purchase the railroad outright. However, a successful fight and intervention by NS curtailed the sale and eventually the two railroads settled on splitting the system with CSX receiving 42% of the railroad and gaining most of the ex-New York Central lines while Norfolk Southern received 58% and received most of the ex-Pennsylvania Railroad routes. Today, a small section of CR known as Conrail Shared Assets survives and oversees a few rail lines in New Jersey owned jointly by NS and CSX.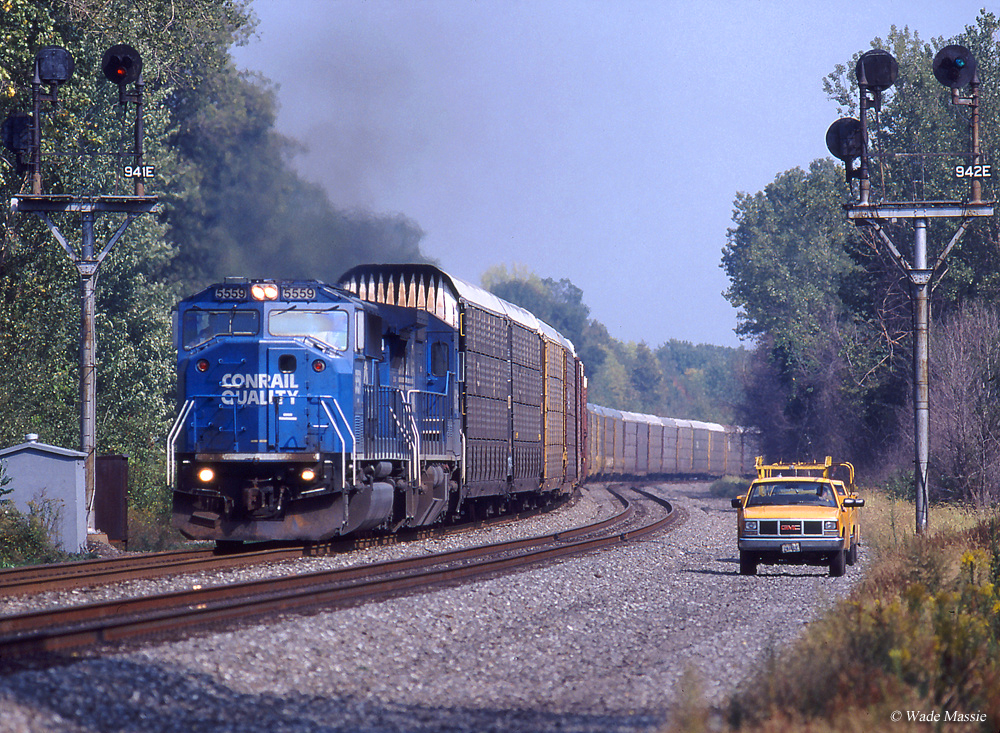 Some of the newest and final power ever purchased, SD60M #5509 leads a westbound autorack train past the historic signals at Swanville, Pennsylvania on September 26, 1998.
For information about the railroad please visit the Conrail Historical Society's website by clicking here.
Diesel Locomotive Roster
For more information regarding its diesel locomotives please click here. Please note the diesel roster featured here includes its latter-day fleet and not its early units.
The American Locomotive Company
| Model Type | Road Number | Date Built | Quantity |
| --- | --- | --- | --- |
| MT-4 | 1000-1023 (Former PRR RS11s, converted as slugs.) | 1957 | 24 |
| MT-6 | 1100-1128 (Former PRR RSD12s and RSD15s, converted as slugs.) | 1955-1958 | 29 |
Electro-Motive Division
| Model Type | Road Number | Date Built | Quantity |
| --- | --- | --- | --- |
| GP15-1 | 1600-1699 | 1979 | 100 |
| SD70 | 2557-2580 | 1998 | 24 |
| GP40-2 | 3275-3403 | 1973-1980 | 129 |
| E8A | 4020-4022 (Ex-PRR/Erie) | 1951-1952 | 3 |
| SD80MAC | 4100-4129 | 1996-1997 | 30 |
| SD70MAC | 4130-4144 | 1998 | 15 |
| SD60M | 5500-5574 | 1993 | 75 |
| SD60I | 5575-5654 | 1994-1995 | 80 |
| SD40-2 | 6358-6524, 6960-6999 (Rebuilt PRR SD40s) | 1977-1979 | 207 |
| SD45-2 | 6654-6666 (Ex-EL) | 1972 | 13 |
| SD50 | 6700-6834 | 1983-1986 | 135 |
| SD60 | 6840-6867 | 1984-1989 | 28 |
| SD38 | 6925-6959 (Ex-PC) | 1970 | 35 |
| GP38 | 7600-7939 (Some Ex-LV/PRSL/PC) | 1965-1971 | 340 |
| GP38-2 (Some Ex-PC) | 8040-8281 | 1972-1979 | 242 |
| SW1001 | 9400-9424 (Ex-Reading) | 1973 | 25 |
| SW1500 | 9500-9620 (Ex-IU/LV/PC/Reading) | 1966-1973 | 121 |
General Electric
| Model Type | Road Number | Date Built | Quantity |
| --- | --- | --- | --- |
| 80-Tonner | 99 | (Ex-Housatonic) | 1 |
| C40-8W | 700-759 | 1994 | 60 |
| B23-7/R | 1900-2023, 2030-2040, 2800-2816 | 1972-1979 | 152 |
| B36-7 | 5000-5059 | 1983 | 60 |
| B40-8 | 5060-5089 | 1988 | 30 |
| C39-8 | 6000-6021 | 1986 | 22 |
| C40-8/W | 6025-6265 | 1989-1994 | 241 |
| C30-7a | 6550-6599 | 1984 | 50 |
| C32-8 | 6610-6619 | 1984 | 10 |
| C36-7 | 6620-6644 | 1985 | 25 |
(Thanks to Rushing Loving Jr.'s The Men Who Loved Trains for providing much of the factual information on this page.)
---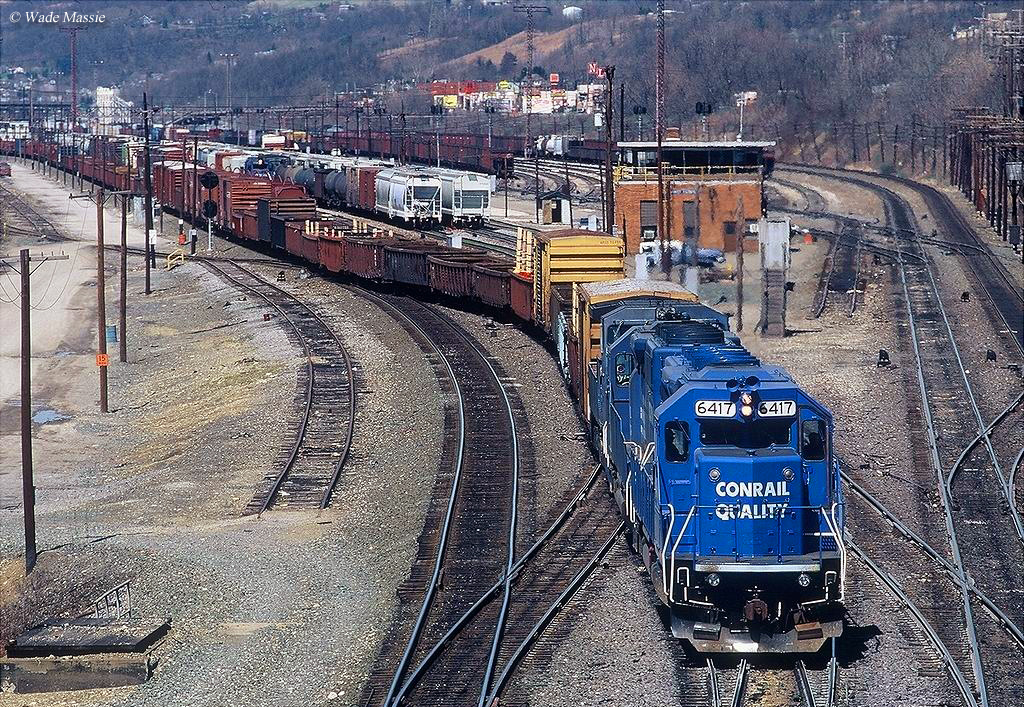 When it was completed by the Pennsylvania Railroad Conway Yard was the largest of its kind in the world. Seen here during the Conrail era an eastbound manifest freight departs the terminal led by SD40-2 #6417 on April 2, 1997.
For more reading on the railroad, its creation, years of operation, and ultimate sale to Norfolk Southern and CSX I strongly recommend The Men Who Loved Trains: The Story of Men Who Battled Greed to Save an Ailing Industry from Rush Loving, Jr. It is one of my personal favorites and Loving gives a detailed look (as he was in the middle of and lived through the disaster) at management and operations (and their fundamental problems and flaws) while also keeping things very interesting and not just a boring textbook filled with dull numbers and procedures (the book was also given high marks by the leading industry magazine, Trains from Kalmbach Publishing). The book will also give you a bit of understanding about how the current eastern road's fate came about through failed mergers and other attempts that were unsuccessful. If you own one railroad book in your collection I would highly suggest it be this one, you won't be disappointed!
Also, you might want to consider the book Conrail from author Tim Doherty which gives a general history of the railroad. Along with the information the book, along with all MBI publications, are filled with high quality color photographs. In any event, if you're interested in perhaps purchasing either (or both) of these books please visit the links below which will take you to ordering information through Amazon.com, the trusted online shopping network.
Adam Burns, Site Author