The CPRR's route was engineered by acclaimed surveyor Theodore Dehone Judah.  He had surveyed California's first railroad, the Sacramento Valley, in 1854 which eventually opened a 23-mile route linking Sacramento and Folsom.  Additionally, Judah had completed a number of difficult projects in the eastern U.S.   Mapping out half, and most difficult, segment of the Transcontinental Railroad would certainly be an exciting challenge.  After convincing the "Big Four" to support the Central Pacific project he and his team scaled steep cliffs to lay out a route heading northeast out of Sacramento, reaching Reno and Winnemucca, and then generally heading east towards Ogden, Utah.  The railroad's groundbreaking took place on January 8, 1863 at K Street in Sacramento along the Sacramento River waterfront.  

Ironically, the CPRR's struggles began immediately following this event.  Judah and the "Big Four" differed on the railroad's future and the latter would succeed in pushing out the former.  The project languished for months and the first actual construction of new rails did not begin until October 26, 1863.  As Brian Solomon points out in his book, "Southern Pacific Railroad," the CPRR initially received little funding from the well-funded "Big Four" and had only opened 35 miles to Auburn by 1865.  However, from that point forward construction quickened.  Both railroads did have a particular incentive to complete their respective routes; land grants.  According to John Stover's book, "The Routledge Historical Atlas Of The American Railroads," between 1850 and 1871 the U.S. government offered railroads 170 million acres of land to construct 80 different projects.  Over this time about 131 million acres were actually used, which would constitute 18,738 miles of new lines put into operation.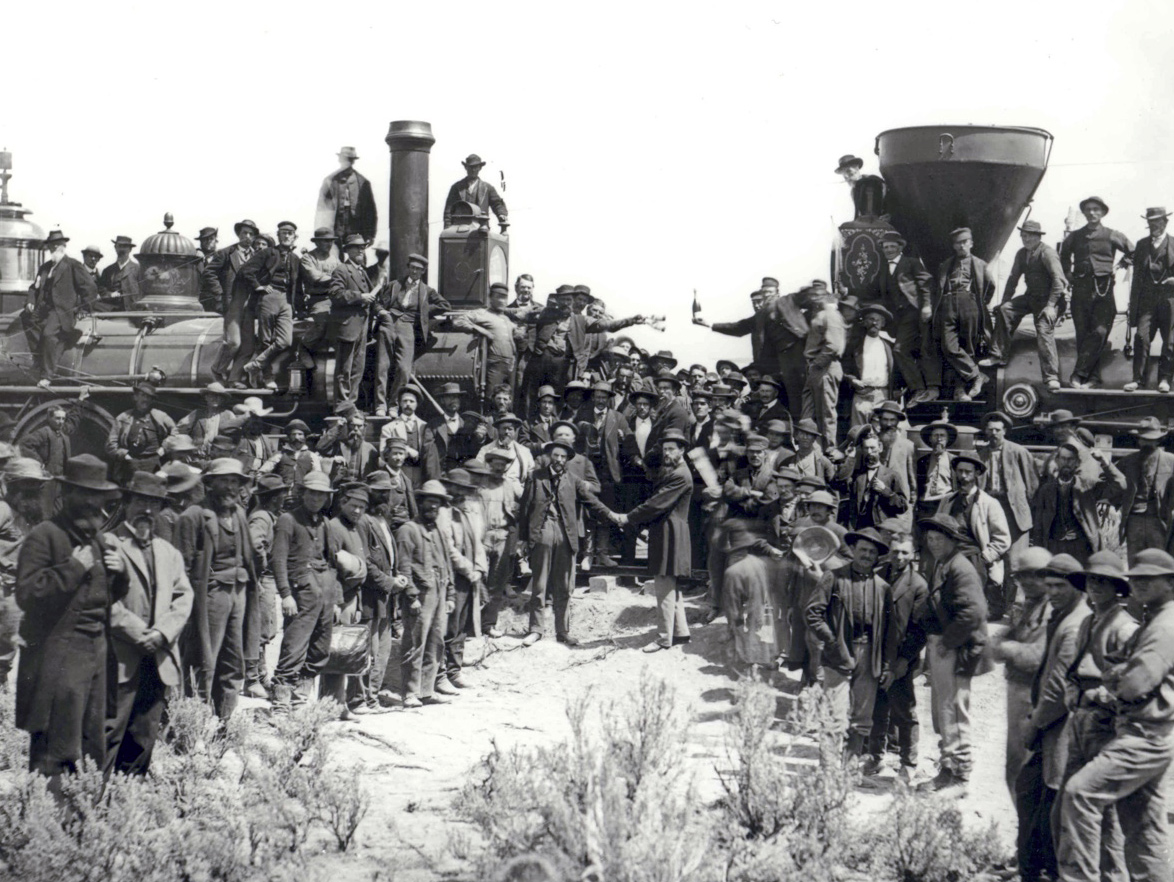 To help speed construction over the Sierras more than 14,000 Chinese immigrants were hired.  With very few mechanical devices available at the time virtually all of the grading, tunneling, fills, bridge projects, and other aspects required to grade a new rail line were carried out through sweat and hard labor.  By July of 1867 rails had reached the summit of Donner Pass but the work was slow, tedious, and extremely difficult.  This was made all the more problematic by a number of bad winters during the mid-1860s.  As work through the mountains slowed some CPRR crews broke ahead and began grading right-of-way through the open deserts of Nevada in an attempt to see the project completed on time to reach Union Pacific near Salt Lake City.
It is here where a famous feet of railroading was achieved and has never since been duplicated.  As Earl Heath describes the story in an article from the January, 1943 issue of Trains Magazine entitled "Track-Laying Extravaganza," to a win a $10,000 bet against the Union Pacific that day eight Irishmen along with a band of Chinese workers laid an astounding 10 miles of new railroad in a single 12-hour work day (beginning at 7 AM) on April 28, 1868.  Interestingly, the event had been planned the day before but a locomotive went off the rails and forced the postponement.  This endeavor greatly aided in the CPRR's attempt to reach the UP at Promontory.  During that same May the railroad had also finished its route over Donner Pass.  Once clear of the mountains, crews worked feverishly eastward.
Amid a large, staged event a major ceremony of the railroads' meeting at Promontory Summit, Utah took place on May 10, 1869 where numerous famous photos were taken depicting Central Pacific 4-4-0 #60, "The Jupiter," and Union Pacific 4-4-0 #119 coupler-to-coupler, surrounded by large crowds while through freight and passenger service commenced a few days later.  Interestingly, Central Pacific's role in railroad history more or less fades away following the Transcontinental Railroad's completion.  One of its last notable projects as an independent system was to open service to Oakland/San Francisco.  As an arm of the "Big Four" the Central Pacific became part of bigger plans and was leased by their Southern Pacific on April 1, 1885 where it remained a corporate entity until June 30, 1959.  While improvement projects, realignments, and other upgrades took place over the years much of the CP's original line became an important corridor under SP known as the Overland Route, which is still used today by Union Pacific. 
Related Reading You May Enjoy


Home

›

Fallen Flags

› Central Pacific