The EMD E9

The EMD E9 was the builder's final in the series built during a ten year production run beginning in the 1950s. The locomotive varied little from the earlier E7 and E8, save for some minor external changes and upgraded prime mover, which offered the most horsepower of any passenger model the builder ever produced. With passenger rail travel in perpetual decline by the time it was manufactured far fewer E9s sold in comparison to its counterparts. Interestingly, while less than 150 A and B units were ultimately built nearly 50 remain preserved or in use today. The most notable of these are in service on the Union Pacific, originally purchased by the railroad and power its business train as well as other special runs (this train is still clad in the company's classic passenger livery of Armour yellow and with gray trim).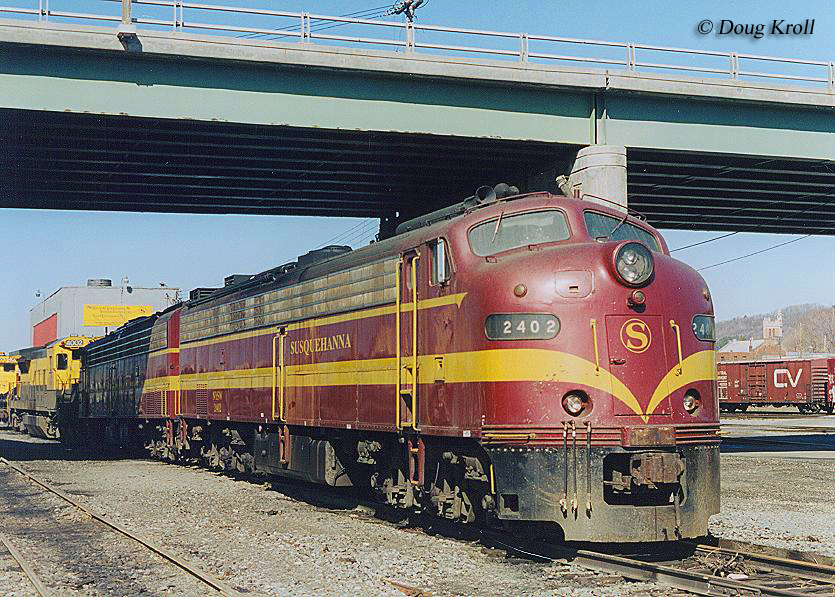 Susquehanna E9As #2402 and #2400 lay over at the shops in Binghamton, New York on April 12, 2003. The two units were acquired from Burlington Northern and built as CB&Q #9991 (#2400) and #9985A (#2402) between 1954 and 1955. They are no longer owned by the NYS&W.
The EMD E9 began production in the spring of 1954 as the builder's final entry in a series that spanned ten different models, dating back to the Electro-Motive Corporation's EA of 1937, built for the Baltimore & Ohio and Santa Fe (E1). The E9 was quite similar to the E8 externally and internally carried similar to components to models dating back to the E6. Outwardly, it was 70-feet long with a grill parallel to the cab windows running along the entire flank of the carbody with four centered port holes. It continued to feature an A1A-A1A truck setup (whereby the center axle was unpowered) and used GM's model D37 traction motors enabling the E9 to produce 31,000 pounds of continuous tractive effort and 56,500 pounds continuous (the same as nearly all of the E models).
Internally, the E9 was the only unit in the series to feature GM's model 567C prime mover, which could produce 1,200 horsepower. Featuring two 12-cylinder 567Cs the E9 offering 2,400 horsepower, easily making it the most powerful in the series. The locomotive's overall weight (for A units) remained in the same as other Es, 157.5 tons. With passenger rail travel on the decline by the 1950s and railroads beginning to use other models in passenger service (such as FP7s), sales for Es slowed considerably. When production of the E9 had ended in early 1964 just 100 E9As and 44 E9Bs had been built for ten Class I railroads (the Union Pacific picked up the most, 35 A units and 34 B units).
Rock Island E9A #663 has a string of former Chicago & North Western bi-levels, painted in Amtrak colors, at Blue Island, Illinois on June 24, 1977. This E was purchased second-hand from the Union Pacific.
Other systems to purchase the E9 included the Baltimore & Ohio (4 A units), Burlington (16 A units), Chicago & Eastern Illinois (1 A unit), Milwaukee Road (18 A units, 6 B units), Florida East Coast (5 A units), Illinois Central (10 A units, 4 B units), Kansas City Southern (1 A unit), Seaboard Air Line (1 A unit), and Southern Pacific (9 A units). It is rather interesting that the UP saw the need to purchase such a large fleet of new passenger locomotives considering the environment of rail travel during the 1950s and 1960s. The railroad actually purchased more E9s than it did either E7s or E8s. 
Please Click Here To Return To The Diesel Locomotives Section
EMD E9A Production Roster
| Owner | Road Number(s) | Quantity | Date Built |
| --- | --- | --- | --- |
| Baltimore & Ohio | 34-40 (Evens) | 4 | 1955 |
| Burlington | 9985A-9989A, 9985B-9989B, 9990-9995 | 16 | 1954-1956 |
| Chicago & Eastern Illinois | 1102 | 1 | 1958 |
| Florida East Coast | 1031-1035 | 5 | 1955 |
| Illinois Central | 4034-4043 | 10 | 1961 |
| Kansas City Southern | 25 | 1 | 1959 |
| Milwaukee Road | 36A-38A, 36C-38C, 200A-205A, 200C-205C | 18 | 1956-1961 |
| Seaboard Air Line | 3060 | 1 | 1963 |
| Southern Pacific | 6046-6054 | 9 | 1954 |
| Union Pacific | 900-914, 943-962 | 35 | 1954-1964 |
E9B Production Roster
| Owner | Road Number(s) | Quantity | Date Built |
| --- | --- | --- | --- |
| Illinois Central | 4106-4109 | 4 | 1956-1957 |
| Milwaukee Road | 200B-205B | 6 | 1956 |
| Union Pacific | 900B-904B, 910B-913B, 950B-974B | 34 | 1954-1963 |
Burlington E9A #9985A rolls along the main line at Westmont, Illinois with a commuter run during the afternoon of May 20, 1964.
In any event, the E9s that are still owned by Union Pacific as part of its heritage program include E9Am #949 and #951 along with E9B #966-B and E9Bm #970-B (the 'm' designation refers to units repowered with just one prime mover). Interestingly, despite their slow sales numbers, several railroads saved their E9s for use on business trains or for other specialized services. As such, 42 are preserved today. Some of these include Baltimore & Ohio #36; Burlington numbers #9989-9989A and #9990; Union Pacific E9B #967B; Milwaukee Road #33C, #37A, and #38A; Union Pacific #912A; and Southern Pacific #6051. 
Related Reading You May Enjoy




A History Of Electro-Motive



A History Of General Motors Diesel
Other E Series Models



EA/E1/E2



E3



E4



E5


E6



E7



E8
F Series Models



FT



F2



F3



F7



FP7



F9



FL9



F40PH



F45
Other Reading



C&NW's "Crandall Cabs"


Rock Island's AB6



The B Unit