Among the nation's true belt lines, Indiana Harbor Belt was the largest of them all.  According to Michael Blaszak's article, "Whither The Indiana Harbor Belt?  Change On The Harbor" from the March, 1986 issue of Trains Magazine, at its peak the carrier maintained 561 total miles with a main line stretching just 40 miles.  It was nearly 200 miles larger than the nation's first, the Belt Railway of Chicago (398 miles).  Like all of the city's belt roads, the IHB got its start towards the end of the 1800's when evermore trunk lines arrived in Chicago.  As the big railroad's came to realize, the only way to efficiently handle, block, dispatch freight through the mayhem was to establish a series of small terminal systems.  In the IHB's case its heritage began with the Chicago, Hammond & Western Railroad's (CH&W) chartering on April 21, 1896.  While the carrier initially held no ties to the G.H. Hammond Company, an early player in the meatpacking industry, the firm acquired a 55% ownership in the company to serve its plant based in Hammond, Indiana.  The railroad would also serve numerous other companies sin the heavily industrialized lakefront area southeast of Chicago.  All told, the CH&W would cover 39 miles connecting Whiting, Indiana to a connection with the Chicago, Milwaukee & St. Paul in DuPage, County, Illinois running via Blue Island.
From the outset the CH&W ran into an issue, another road had already constructed from northwestern Indiana to McCook, Illinois.  It was known as the Chicago & Calumet Terminal (C&CT) with a charter dating to 1890.  The C&CT carried an interesting history; it was originally promoted by the Northern Pacific as part of that road's reach into Chicago.  Then, NP served the Windy City directly via its control of the Wisconsin Central.  A few years prior, in 1883, it had completed its initial transcontinental route to Puget Sound and was quickly positioning itself as a dominant western carrier.  Alas, the financial Panic of 1893 found it in receivership on August 15th. As a result, it lost control of both the Wisconsin Central and Chicago & Calumet with the latter acquired by the Baltimore & Ohio and becoming part of its Baltimore & Ohio Chicago Terminal belt line.  In the end, the C&CT and CH&W worked out an agreement to avoid duplication of trackage; the CH&W would maintain trackage rights over the C&CT between Blue Island and McCook.  In exchange, C&CT would garner the same from the CH&W between McCook and the latter's end of track connection with the Chicago, Milwaukee & St. Paul (Milwaukee Road) at Franklin Park located northwest of downtown Chicago in DuPage County.
The deal was consummated on October 9, 1996 and the CH&W completed its line to Franklin Park in 1897, carrying a total mileage (including trackage rights) of 39 miles.  While the terminal line was owned by G.H. Hammond, its construction was largely financed through both the Michigan Central (MC) and Lake Shore & Michigan Southern (LS&MS), controlled by the mighty New York Central, as a means of improving their terminal services within Chicago.  As this was ongoing the MC and LS&MS was funding two similar projects; the Terminal Railroad which opened on January 24, 1897 and the East Chicago Belt Railroad (ECB) finished that same year.  The former provided a better connection the Chicago's Union Stock Yards, running 10 miles south from that point to a connection with the CH&W at Argo. The latter ran from a connection with the CH&W at the Indiana/Illinois state line to Grasselli, Indiana (East Chicago) to serve a chemical plant.  After all three roads had been completed a series of corporate maneuverings saw a handful of name and "ownership" changes; on January 1, 1898 the CH&W was merged into the Chicago Junction Railway (CJ), whose president was a NYC executive.
Next, CJ leased the Terminal Railroad (later renamed as the Indiana Harbor Railroad) and East Chicago Belt.  Throughout this time, the New York Central was never, truly out of the loop as the CJ's president was a Central executive.  Nearly ten years later the East Chicago Belt was renamed as the Indiana Harbor Belt Railroad on June 29, 1907 and it subsequently acquired the Chicago, Hammond & Western and Indiana Harbor on October 31st.  Such numerous name changes and corporate shakeups can be extremely confusing when studying rail history although at the time were fairly common events for a variety reasons.  While these predecessors comprised the bulk of IHB's network it continued to expand during the early 20th century by tapping into northwestern Indiana's growing industrialized area, the so-called "Calumet Region," at Indiana Harbor through the 1907 lease of the Chicago, Indiana & Southern, another NYC property.  There were two final extensions opened between 1908 and 1909 to Roby and Cudahy in East Chicago.  In addition, more customers were accessed here via trackage rights over the Elgin, Joliet & Eastern and Pennsylvania.
---
With the addition of these lines the IHB was essentially complete, operating a system that stretched from northeastern Indiana, west to Blue Island, and north to Franklin Park.  Its system was not unlike that of the EJ&E, albeit situated closer to the downtown area than the Outer Belt.  In the end, Central wound up as only part-owner of IHB.  In 1911, as a means of improving their interchange connections in the area, the Chicago & North Western and Milwaukee Road both acquired a 20% stake in terminal road.  Its positioning, enabled interchange with all of the city's major Class I's just as its slogan stated.  These included the Alton Railroad (later Gulf, Mobil & Ohio); Santa Fe; Chicago & Eastern Illinois; Baltimore & Ohio; Chesapeake & Ohio; Chicago, Aurora & Elgin; Burlington; Chicago Great Western; Erie; Monon; South Shore Line; Rock Island; Soo Line; Nickel Plate Road; Pennsylvania; Pere Marquette; and the Wabash.  The company's base of operations was Gibson Yard, located in the Hammond, Indiana area somewhat removed from the rest of the system.  The area contained shops, a roundhouse, coaling facilities and a hump yard and was likely chosen due to it being an NYC property.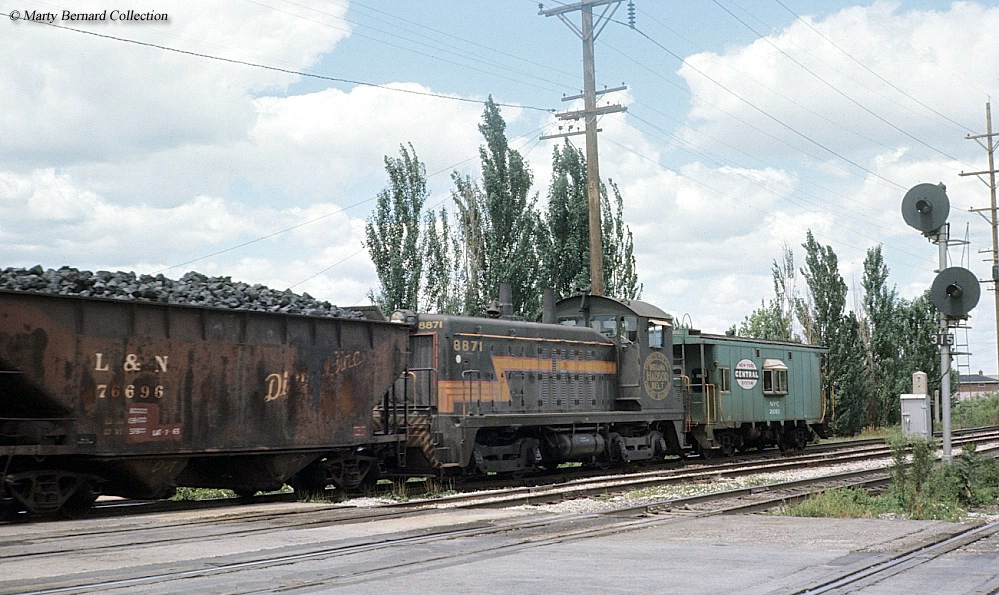 IHB's ownership may have been a three-way consortium but there was no mistaking the primary owner, particularly into the diesel era when its fleet of Electro-Motive switchers carried a NYC-inspired lightning-stripe livery (this was replaced in 1980 with a black and orange scheme, shedding any former connection with the Central).  It's steam fleet, which by the World War II years comprised a mix of switcher arrangements including 0-4-0's, 0-6-0's, and 0-8-0's (There was a small, three-unit sub-grouping of these classed U-4a and dubbed "Super Switchers."  They were a late-era design of Alco's Brooks Works, outshopped in 1927.  The steamers boasted a whopping 89,500 pounds of tractive, greater than the Harbor's batch of 2-8-2's!) along with an additional 40 2-8-2's.    In all, the IHB owned more than 150 examples of the iron horse.  The company's transition to diesel-electrics took place quite quickly; once more it stuck largely with switchers, purchasing 118 from Electro-Motive between 1948 and 1950.  It also picked up a few of Fairbanks-Morse's design including the H12-44 and H20-44.  During the 1960's its roster was overhauled with SW1500's and then it moved on to standard road-switchers in 1973, the SD38.  Today, its fleet is a bit more diversified with slugs, gensets, and even more road-switchers.
Diesel Locomotive Roster

Electro-Motive Division
| Model Type | Road Number | Date Built | Quantity |
| --- | --- | --- | --- |
| NW2 | 8715-8739, 8774-8802, 8811-8834 | 1948-1949 | 78 |
| SW7 | 8836-8879 | 1950 | 44 |
| SW9 | 9002-9008 | 1953 | 7 |
| SW1500 | 9200-9227 | 1966-1970 | 28 |
| SW1200 | 2256, 2272 | Ex-SP, Ex-MILW | 2 |
| SD20 | 2920-2925 | Ex-IC SD18s/24s | 6 |
| GP38-2 | 3801-3802 | Ex-NS, Ex-Altos Hornos Steel | 2 |
| SD38-2 | 3861-3862 | Ex-NS, Ex-MILW, Ex-BN SD40-2 | 2 |
| GP40-2 | 4010-4019 | Ex-SP | 10 |
National Railway Equipment

| Model Type | Road Number | Date Built | Quantity |
| --- | --- | --- | --- |
| 3GS21B (Genset) | 2140-2143 | 2011 | 4 |
| 3GS21C (Genset) | 2160-2163 | 2012 | 4 |
Fairbanks Morse

| Model Type | Road Number | Date Built | Quantity |
| --- | --- | --- | --- |
| H10-44 | 8904-8905 | 1949 | 2 |
| H20-44 | 7110-7118 | 1948-1949 | 9 |
Steam Locomotive Roster

| Class | Type | Wheel Arrangement |
| --- | --- | --- |
| B (Various) | Switcher | 0-6-0 |
| E-49/a | Mogul | 2-6-0 |
| U-1 Through U-4 (Various) | Switcher | 0-8-0 |
| H-5, H-6 (Various) | Mikado | 2-8-2 |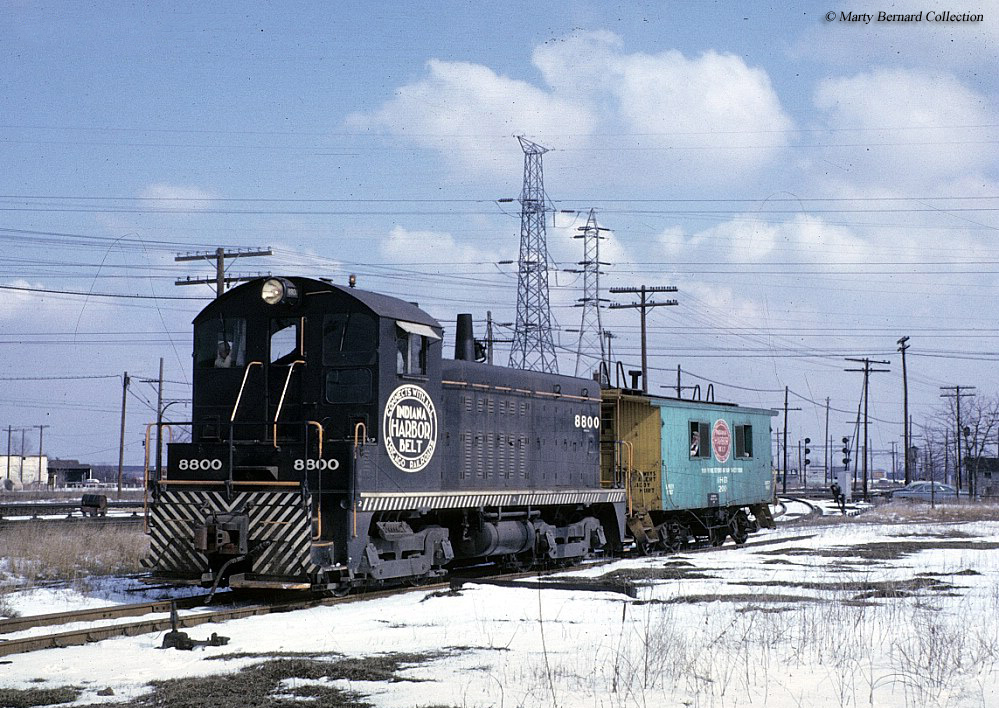 IHB's ownership remained unchanged until 1961 when C&NW sold out its interest to the Milwaukee Road due to its declining financial condition; this realigned ownership to the Milwaukee controlling 49% and New York Central the 51% majority.  The railroad's toughest years were during the 1970s and 1980s, a time that found the industry in general at its lowest point. With interchange traffic virtually gone the Indiana Harbor Belt came to rely almost exclusively on through, bridge traffic. Interestingly, its main line was situated in just a way to be quite successful at such and today much of its profits are derived in this way.  With the mergers, bankruptcies, and acquisitions which have occurred since the Harbor Belt's last ownership shakeup in the early 1960s three railroads now own the company today: the Canadian Pacific picked up a 49% stake with its purchase of the Soo (which purchased the Milwaukee in 1985), and the 1999 buyout of Conrail by CSX and Norfolk Southern gave them each a 25.5% stake. In any event, the IHB remains an important part of the rail infrastructure in the Chicago area with its double-tracked main line that runs nearly the length of its property and 320 total miles of trackage.
Related Reading You May Enjoy


Home

›

Short Lines

› Indiana Harbor Belt