The name Interstate Railroad is a fascinating one, considering that the system never actually served multiple states. It was created in 1896 by the Virginia Coal & Iron Company to haul soft, bituminous coal from its mines around Stonega (operated by another subsidiary, the Stonega Coke & Coal Company) southward to Appalachia and a connection with the Louisville & Nashville Railroad as well as the Virginia & Southwestern Railway (a later subsidiary of the Southern). The little IRR at this point was only about 6 miles in length and built its primary yards and headquarters at Andover, just north of Appalachia. Interestingly, despite the railroad's vast growth later on, particularly eastward, Andover forever remained its hub of operations. Also, during these early years the railroad used just a single locomotive, a few freight cars, and one coach, baggage, and combine each for its small passenger train.
During the first decade of the 20th century the Interstate began its expansion to the east as well as constructing new branches to tap more coal reserves. Its main line snaked along the Guest River where it met up with the Norfolk & Western at Norton in 1909, establishing a new interchange there. From its original line around Andover it constructed two additional branches; one towards Roda and another to Derby. The IRR also extended its Stonega branch north to Wentz. With three branches now radiating away from its headquarters, Andover became an even more important yard and hub for inbound mine runs. In 1919 the Interstate acquired the 35-mile Roaring Fork Railroad. It paralleled the IRR's main line from Kent Junction to Norton and operated coal branches northward to Roaring Fork and another reaching Pardee.
IRR 2-8-0 Consolidation #8 has already been retired when it was pictured here parked at the yard in Andover, Virginia on June 18, 1954.
Expansion continued in the early 1920s as it stretched further eastward to a connection with the Clinchfield Railroad's Miller Yard in 1923, just north of Dungannon, which became known as the Guest River Extension. The IRR also completed an eight-mile northward extension just east of Norton that tapped more coal mines at Glamorgan, Critical Fork, and Dixiana. Interestingly, its route was engineered very well for being tucked in between a river valley and mountains; grades were no greater than 2.5% and curves no tighter than 18 degrees. This constituted the bulk of the railroad's system although this did not signal the end of the company's growth. To make operations more efficient and streamlined it built a new, three-story office building in Andover in 1921, which moved the superintendent, dispatcher, and other executives together under one roof. With longer and heavier coal trains the railroad needed more power, its fleet of 2-8-0 Consolidations simply could no longer handle the increased demand.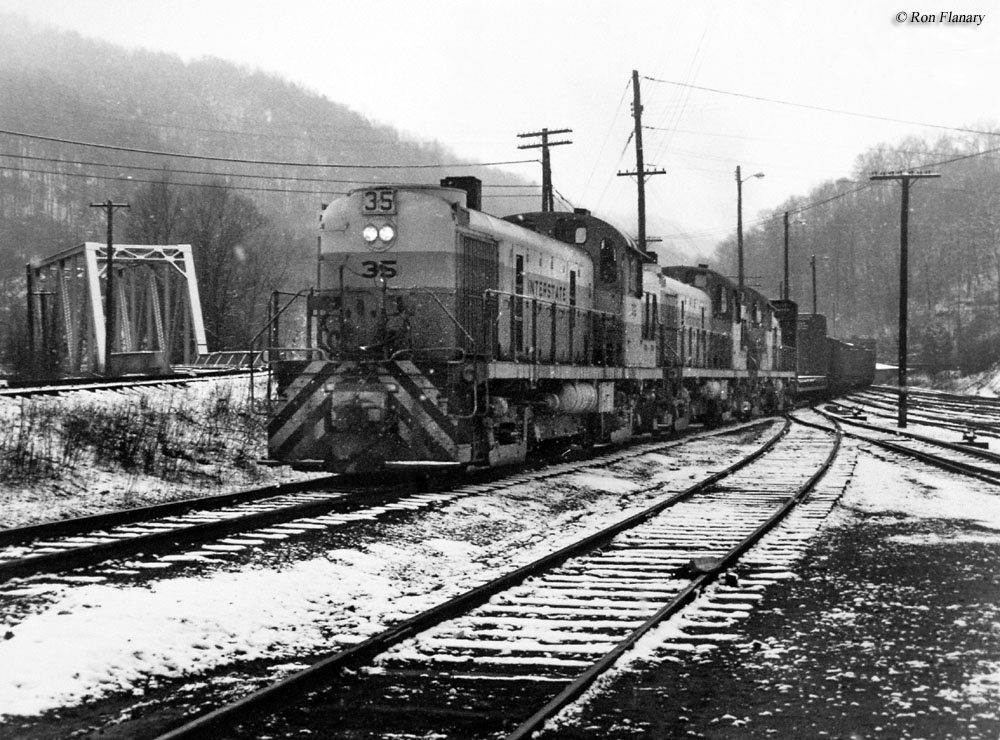 A pair of RS3s, led by #36, lead a coal train through Atlanta, Georgia on October 26, 1968. The Southern liked to use its RS3s in such service.
So, in 1923 it acquired two massive new 2-8-8-2 Mallets (also known be their nickname, Chesapeakes) from the American Locomotive Company (Alco); #20-21.  These beasts could produce 101,465 pounds of tractive effort and were beloved by management.  In 1937 the IRR complemented these with three former N&W 2-6-6-2s, #22-24.  Overall, the five Mallets were easily the largest locomotives ever operated on the Interstate and remained in regular service until the early 1950s when diesels began to replace them.  Alco was always a favorite product of railroad's officials and so it approached the builder when it came to dieselizing.  In November, 1953 it began receiving RS3s, the first of which was former Alco demonstrator #1607 clad in blue paint.  While the unit was repainted into Interstate's cream, orange, and grey livery and renumbered 37 it was always referred to be crews as the "Blue Goose". 

In all, the IRR would roster ten RS3s, #30-39, which all arrived in the late fall of 1953. The railroad did offer passenger services during its early years although the remote nature of its location saw these disappear before 1930. During peak services it dispatched two passenger trains per day, which was usually handled by its lone 4-4-2 Atlantic, #9 (when needed a 2-8-0 would pull these duties). A typical consist included three wooden cars; a combine, baggage, and a standard coach. Sometimes, the railroad would even offer an excursion if there was enough local interest. In any event, by the late 1920s there was no longer need for two trains per day, and the one which remained carried so few passengers after 1928 that the crew outnumbered paying customers! Because of this, the railroad ended passenger service in 1929 after receiving ICC approval.
After World War II the IRR grew to fleet more than 600 hoppers to serve its 10 coal docks and nine tipples. However, its hopper fleet was becoming outdated by the late 1950s and management did not feel it had the resources available to acquire a large enough equipment roster to keep up with growing demand. So, the IRR was put up for sale with both the L&N and Southern showing interest. However, it was the latter that came out with the highest bid, taking over the Interstate in October, 1960.   Until 1965 the railroad remained relatively unchanged until the Southern shifted the RS3s to work other areas of the south and closed the Appalachia yard.
(A big thanks to H. Reid's article, "Whistle In The Valley" from the August, 1953 issue of Trains as a primary reference for this page.)
2-8-2 #14 is in storage at the yard in Andover, Virginia on June 18, 1954.
Following the creation of Norfolk Southern during 1982 the IRR disappeared officially on October 31, 1985 as the new company began consolidating its subsidiaries.   In March of 2012 NS announced that it would be painting nineteen new diesel locomotives, GE ES44ACs and EMD SD70ACes, into historic liveries as part of a new heritage fleet. Surprisingly, despite the IRR being one of the smallest aspects of the entire NS network it was one of the predecessors chosen as part of the fleet. To learn more about the history of the IRR please click here to visit a website dedicated to the company's operations from its earliest beginnings to final years under Southern.