A year earlier the L&NW also began to cutback its extension south of Gibsland, abandoning the line between Natchitoches and Chestnut, 22 miles in all. The rest of the line was pulled up 20 years later in 1949 between Gibsland and Chestnut (except for the 15 miles between Bienville and Gibsland, purchased by the North Louisiana & Gulf) leaving the Louisiana and North West Railroad with a 61.5-mile system it still operates today. During World War II the system was not able to cash in on the explosion of traffic growth experienced by the industry as a whole since it did not serve any munitions plants or related companies that served the war effort. However, this changed a few decades later with the start of the Vietnam War in the mid-1960s. It moved munitions in conjunction with the IC via the Gibsland interchange from the Louisiana Army Munition plant at Doyline.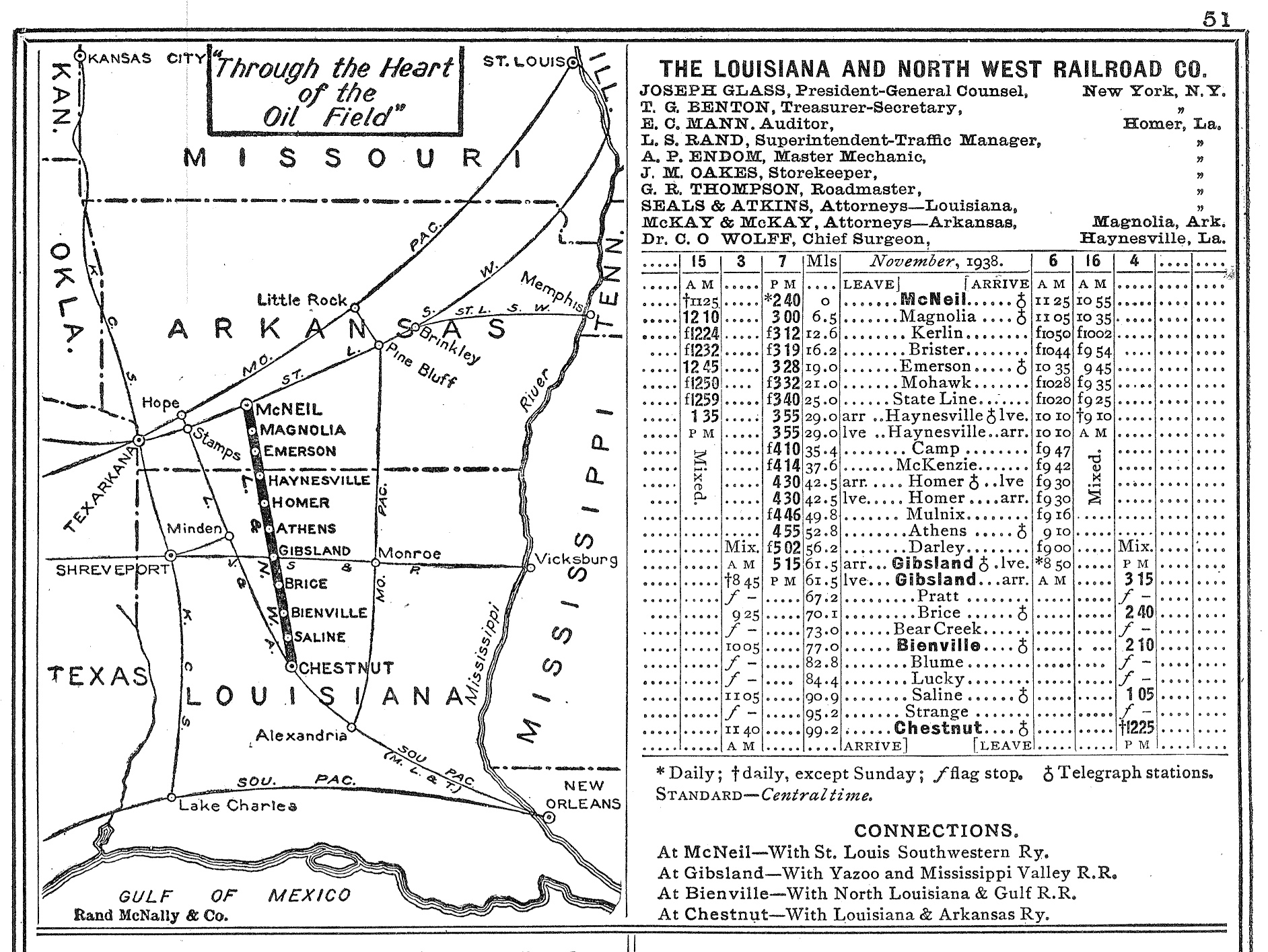 This time period also signaled three other notable events for the railroad; on June 5, 1958 it was added to the Salzberg family of shortlines (which included the Fort Dodge Des Moines & Southern, Des Moines & Central Iowa, and the well known Wellsvile Addison & Galeton), Electro-Motive F units began to arrive (the largest locomotives it owned up until that time), and a major source of new traffic appeared, bromine. The red-colored chemical is highly corrosive but is very useful as a fire retardant among other things. The discovery of bromine in southern Arkansas, which just so happened to be home to one of the largest concentrations of the substance anywhere on the planet, could not have come at a better time with the traffic from Vietnam conflict winding down. Today, it still makes up part of the L&NW's traffic base.
Under Salzberg ownership the railroad gained a new, standard look sporting a common livery of red and yellow. However, unlike its cousin, the WAG, the L&NW sustained its profitability through the years. Interestingly, it still carries a version of its red/yellow scheme today even though it is now owned by Patriot Rail (since 2008). The arrival of the F7s (and an FP7) also drew the interest of railfans as the locomotives were still in regular use well through the 1980s. Today, the covered wagons have long since disappeared, replaced by various first and second-generation EMD Geeps. The railroad's traffic base has also changed. While bromine is still an important source of traffic it no longer moves petroleum products with other freight including, wood products (lumber and plywood), steel, and plastics. Major customers include Albemarle Corporation, Weyerhaeuser, Schlumberger, Kinder Morgan, CMC Steel Arkansas, Partee Flooring, and Berry Plastics.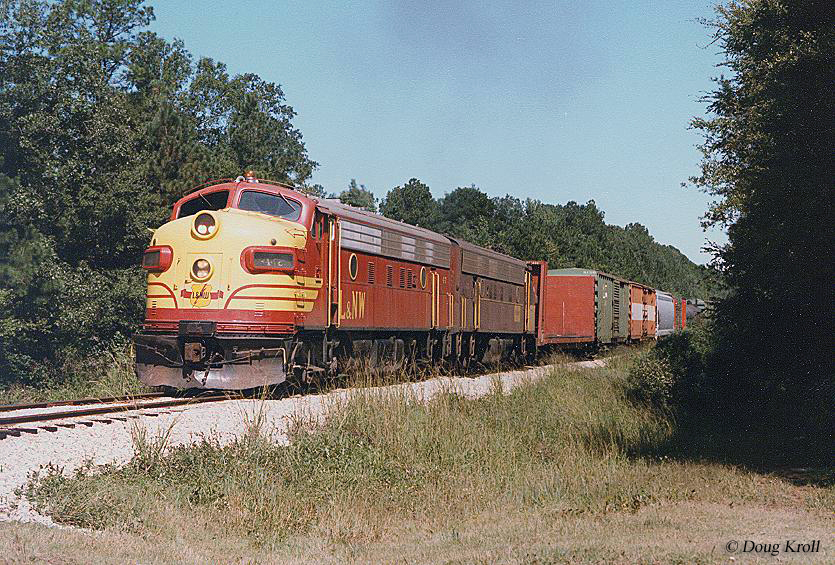 It should be noted that for many years the L&NW offered regular passenger service, through the late 1940s in fact, which is a quite long for a railroad of its size. Until 1925 the railroad used standard steamers to power its trains until it began acquiring American Car & Foundry/J.G. Brill Company carbodied gasoline-powered cars ("doodlebugs") to reduce operating costs. The company owned three; #200, #300, and #400. The latter was acquired on August 8, 1944 from the Chicago & Eastern Illinois, which had received it new May, 1937 and named the Mount Vernon. It was built with a shovel-nosed, streamlined design that sported a eye-catching livery although was pulled from service in 1948 due to its unreliability. The retirement of #400 that year ended all passenger services.
Louisiana & North West Locomotive Roster
| Builder | Model Type | Road Number | Notes | Quantity |
| --- | --- | --- | --- | --- |
| EMD | SW8 | 40-41 | Acquired new: December, 1950. Sold to NL&G in 1969. | 2 |
| Baldwin | VO-1000 | 42-43 | Ex-Cotton Belt, sold in 1967 to Georgetown Railroad. | 2 |
| EMD | F7A | 44-48 | Ex-SP, all sold. | 5 |
| EMD | FP7 | 49 | Ex-WP, trade-in to GE for a U23B in 1968 that went to the WAG. | 1 |
| EMD | GP7 | 50, 52 | Ex-UP, Ex-C&O: The former traded-in to GE, the latter sold to CSS&SB | 2 |
| EMD | GP9 | 51, 53 | Ex-UP, traded in to GE. | 2 |
| EMD | GP35 | 54 | Ex-Cotton Belt | 1 |
| EMD | GP11 | 55 | Ex-IC GP. | 1 |
| EMD | GP40 | 56-57 | Ex-DT&I | 2 |
| EMD | GP15-1 | 1448 | Ex-Conrail | 1 |
| EMD | GP7 | 4153 | Ex-L&A | 1 |
| EMD | GP9 | 4164 | Ex-L&A | 1 |
(
Thanks to Alton B. Lanier's "567B's in the Bromine Belt" from the May, 1985 issue of
Trains
magazine as a primary reference for this article.
)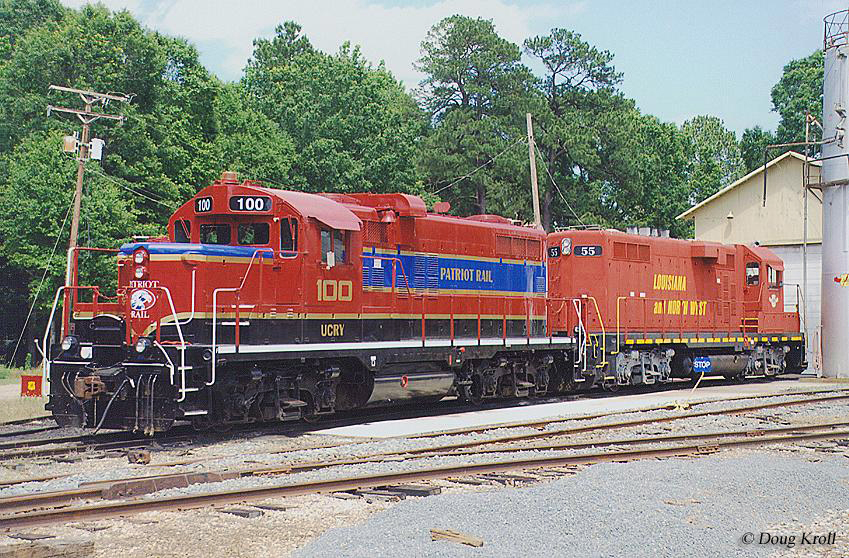 Over the years, the Louisiana and North West Railroad owned a wide variety of steam and diesel locomotives, both purchased new as well as secondhand. Its largest steamer was a 2-8-2 Mikado and most such locomotives were Baldwin products. However, during the diesel era it owned only two Baldwins, a pair of VO-1000 switchers. Aside from these its diesels have exclusively been EMD products from GP7s and GP9s to GP35s and GP40s. The future of the L&NW looks to be very good with a profitable mixed traffic base and connections to Union Pacific at McNeil and Kansas City Southern at Gibsland (which purchased the old IC route). 
Related Reading You May Enjoy


Home

›

Short Lines

› Louisiana & North West