The Monon Route had its beginnings dating all of the way back to 1847 with the New Albany & Salem Railroad, chartered to connect New Albany, Indiana with Salem, Indiana. The NA&S would eventually connect with Michigan City on Lake Michigan, at the time thought to be a strategic gateway for inbound and outbound traffic, even more so than Chicago to the west! In the late 1850s the railroad realized Chicago was fast becoming the nation's largest gateway (which continues to this day) and connected to it, including Louisville, Kentucky to the south.  After problems forced the company into reorganization, it emerged in the early 1880s as the Louisville, New Albany & Chicago Railway.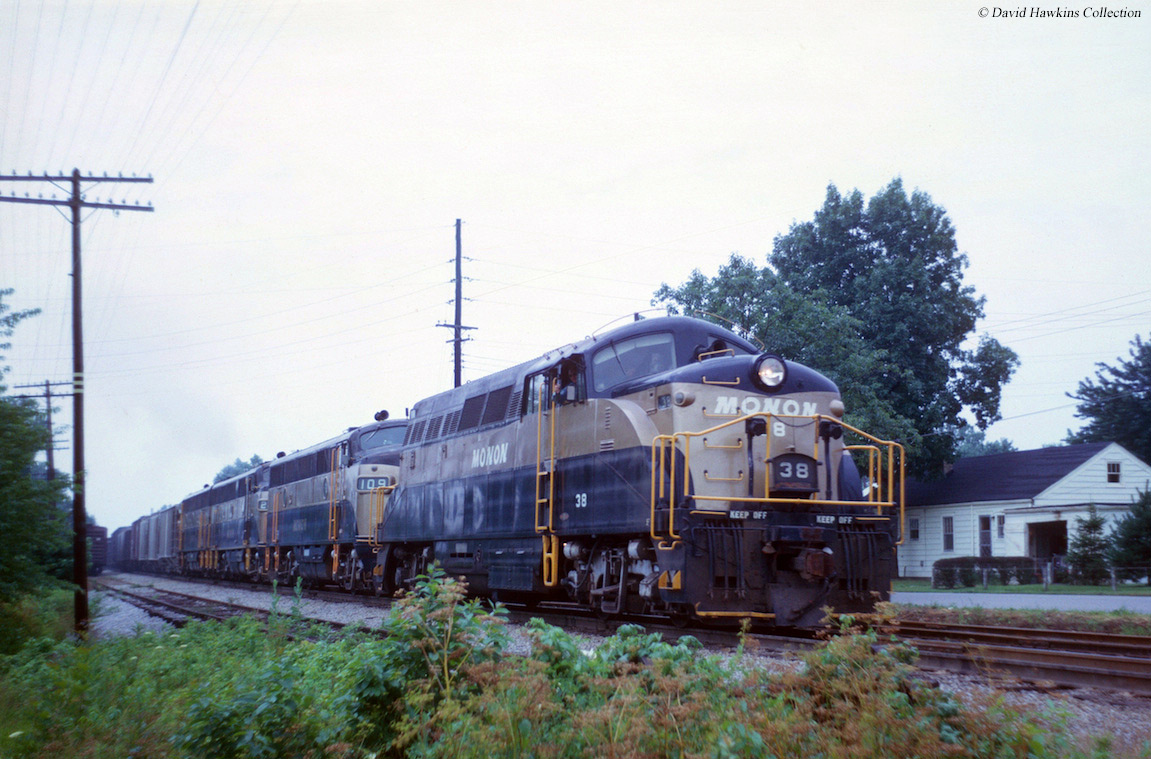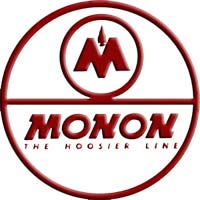 Through acquisitions and mergers by the late 19th century the Monon had all but taken its final form, a rough "X" connecting Chicago, Indianapolis and Louisville with a number of branch lines extended to other areas through Indiana (for instance, the original Michigan City main line was reduced to all but a branch after that city failed to live up to traffic expectations).  The Monon Railroad continued to struggle as it entered into the 20th century. While it carried the shortest route between Chicago and Indianapolis it unfortunately had few allies. Surrounded by much larger systems such as the New York Central, Pennsylvania Railroad, and Baltimore & Ohio Railroad, those roads chose to use their own lines or subsidiaries to reach Chicago and Indianapolis and not the Monon.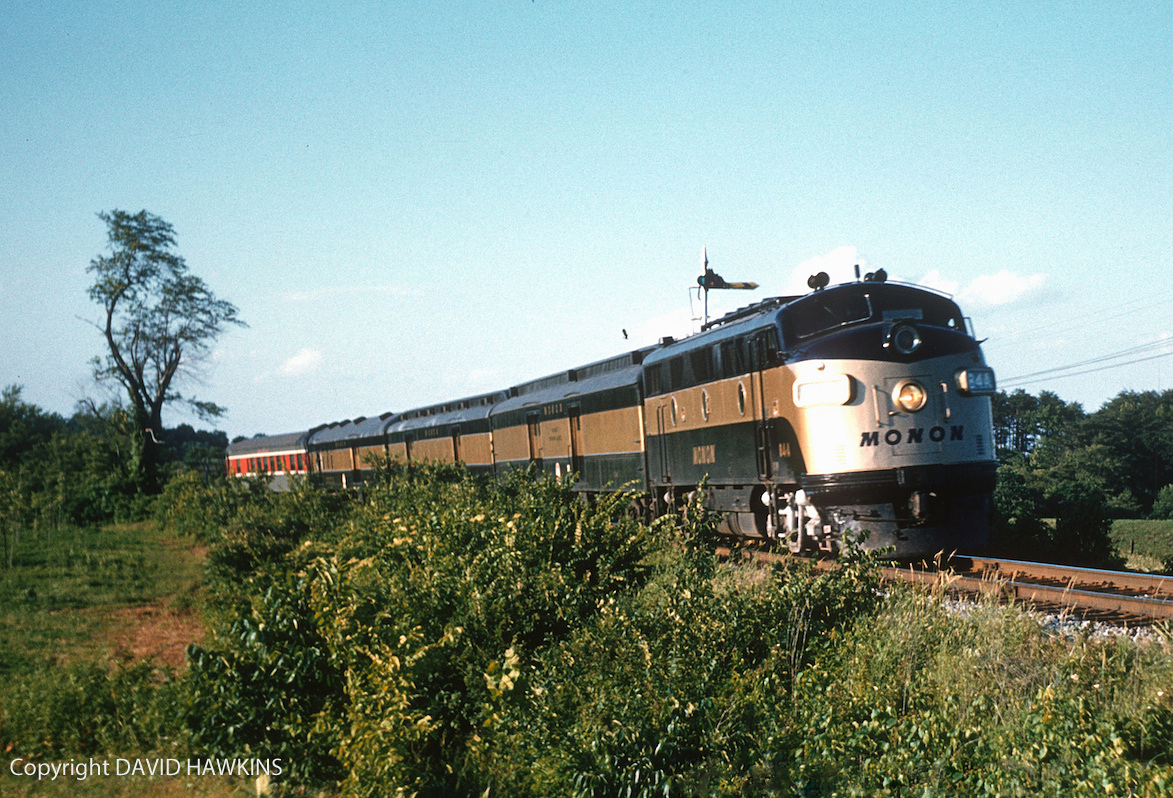 Even the Southern Railway and Louisville & Nashville Railroad who jointly controlled the Monon during this time usually chose the PRR to handle its northbound traffic!  With almost no friends and because it depended heavily on bridge traffic, the Monon's owners were seriously considering completely shutting down the railroad after the Great Depression forced the carrier into yet another bankruptcy. Its savior would come in the way of wartime traffic in the early 1940s, which gave the entire industry a much-needed boost after the rough years during and after the depression. After enjoying the prosperity of wartime traffic the Monon Railroad gained its most influential president in 1946 who would secure its future, John Barriger.
Barriger insisted on upgrading the entire railroad from its locomotive and freight car fleet to its right-of-way, making the Monon a first-rate operation. Where he could, track was straightened and grades reduced. Barriger also quickly understood the efficiencies of diesel locomotives and he had the entire railroad dieselized before 1950! These tactics quickly helped to improve the railroads fortune and it would remain in the black for the rest of its life. During this time the Monon Railroad also introduced two new liveries. The first to debut was a red and gray scheme with white trim and the other a gold and black scheme with white lettering. What's most interesting about these liveries is that they are inspired from Indiana colleges and universities the railroad ran near. The red and gray was that of Wabash College and the black and gold of both Purdue University and DePauw University.
Not surprisingly this down home look the Monon gave to its locomotive fleet earned it a devout following with the local communities along its lines. Because of this, while the railroad never spent heavily on passenger operations and streamlining it did do quite well for many years following WWII, in large part due to the number of local colleges and universities it served. It was also during this time that the railroad completely dropped its original name as the Chicago, Indianapolis & Louisville Railway and instead became known simply as the Monon Route in the mid-1950s (it had received this nickname because Monon, Indiana was where all of its lines converged).  Throughout the 1960s and early 1970s the company remained a top-rate railroad, albeit always a David surrounded by Goliaths. It was during this time that due to mergers beginning to sweep the industry the Monon Railroad went looking for a partner.

Its first choice was turned down with the Southern Railway but in 1971 its other former owner, the Louisville & Nashville Railroad accepted its offer and merged the Monon Railroad into its system that summer.   While the Monon remained relatively obscure for most of its life it is well remembered and beloved in the communities it served, which continues on today in the historical society dedicated to preserving its memory. The railroad also lives on under CSX Transportation although due to better routes by the Monon's one-time surrounding competitors much of the trackage that CSX inherited upon its creation in 1987 has either been sold off to short lines or abandoned altogether (including much of its famous street trackage in small town Indiana).
Streamliners
For a line of its small size that did not reach outside of Indiana (except for its connection to Chicago) and at the time was suffering through severe financial problems there were, surprisingly, several Monon streamliners which the company operated. Most notable of these trains included the Thoroughbred, Tippecanoe, Hoosier, and Varsity. These trains would likely never have became a reality had it not been for the railroad's new leadership at the time by one John W. Barriger III. Under his direction the company vastly improved its operations and was able to dive into the streamliner fad itself, albeit not with new equipment. Still, the fleet it sported was nonetheless a classy, well-maintained operation with exceptional service revered by the folks of Indiana that lived near the Monon. While most of the line's trains were retired even prior to 1960 due to declining ridership one did survive late into that decade.  The railroad always struggled financially for much of its early years, through the 20th century, and all of the up until World War II.
The war effort did allow the CI&L the ability to gain much needed traffic and pay off some of its debt although it was partially hampered by the fact that its infrastructure by that point was sorely outdated and its motive power fleet was very aged with the newest locomotives dating back more than 20 years. Change for the Monon finally came in 1946 when John Barriger became president.  It was under his direction that the railroad finally turned around its financial situation and added streamliners to its passenger fleet. Barriger was a professional railroader and knew how the business worked. He replaced the Monon's steam fleet as quickly as possible and updated its infrastructure with heavier rail to the greatest extent across the system as money would allow. Additionally, with the streamliner era in full swing directly after the war Barriger felt that his company would not pass up such an opportunity to dazzle the public and get folks to return to the rails. Unfortunately, however, the Monon did not have the funds at the time to purchase a large fleet of new cars from companies like Pullman-Standard, Budd, or American Car & Foundry (ACF).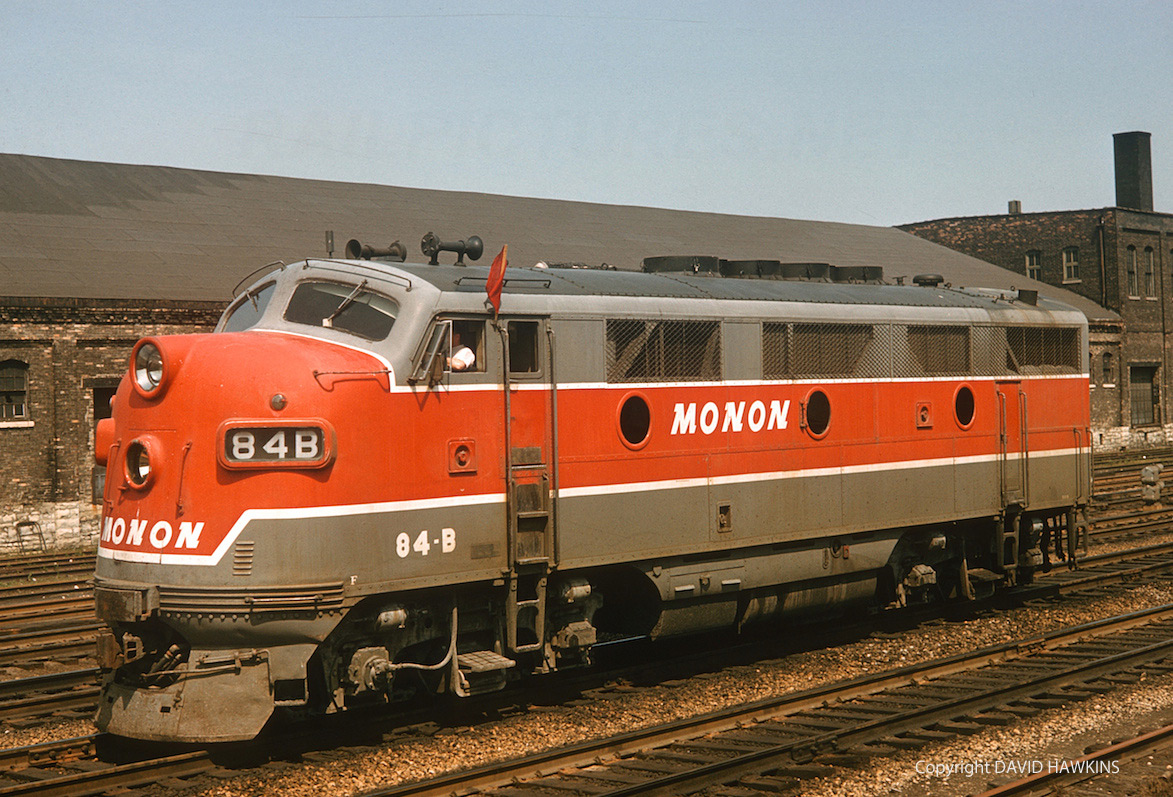 Instead, Barriger went out looking for secondary equipment which his shops could then overhaul. He quickly located several former hospital and troop cars built by the ACF for the U.S. Army. Not only was the equipment in excellent condition but it was also very inexpensive. Barriger tasked his Lafayette, Indiana shops to overhaul the cars into streamliner status and they did quite an impressive job turning out express-mail cars, coaches, grill-parlor cars, diner-bar-lounges, diner-parlor observations, and parlor observations! Perhaps most amazing is that after only one year on the job there were three streamliners in operation by 1947; the flagship Thoroughbred as well as the Hoosier and Tippecanoe.  For power the trains featured Electro-Motive F3A and F3B diesel locomotives, 30 of which in total were purchased between 1946 and 1948.
The trains featured a rather simple but attractive livery of two-tone grey offset by red with white trim. Both the Hoosier and Tippecanoe operated as local/regional runs providing two daily round trips between Chicago and Indianapolis via Monon covering the distance in about 184 miles. The Thoroughbred, however, operated between Chicago and Louisville, via Lafayette on a route that was around 324, which provided passengers connections to other eastern/southeastern trains if they so chose like the Chesapeake & Ohio, Southern, and Louisville & Nashville.  For instance, in the case of the Thoroughbred (train #5, southbound) it left Chicago's Dearborn Station daily at 1 P.M. arriving in Louisville eight hours later at 9 P.M. Its companion, #4 northbound, left Louisville at 9:30 A.M. and arrived back in Chicago by 5:15 P.M.
Diesel Locomotive Roster

The American Locomotive Company
| Model Type | Road Number | Date Built | Quantity |
| --- | --- | --- | --- |
| RS2 | 51-59 | 1947 | 9 |
| C628 | 400-408 | 1964 | 9 |
| C420 | 501-518 | 1966-1967 | 18 |
Electro-Motive Division
| Model Type | Road Number | Date Built | Quantity |
| --- | --- | --- | --- |
| NW2 | 5-6, 11-17 | 1942-1949 | 9 |
| BL2 | 30-38 | 1948-1949 | 9 |
| SW1 | 5-6, 50, 105-106 | 1942-1950 | 5 |
| F3A | 51A-52A, 51B-52B, 61A-64A, 61B-64B, 81A-85A, 81B-85B | 1946-1948 | 22 |
| F3B | 61C-65C, 64C (2nd) | 1946-1947 | 6 |
Fairbanks Morse
| Model Type | Road Number | Date Built | Quantity |
| --- | --- | --- | --- |
| H10-44 | 18 | 1946 | 1 |
| H15-44 | 45-46 | 1947 | 2 |
General Electric
| Model Type | Road Number | Date Built | Quantity |
| --- | --- | --- | --- |
| U23B | 601-608 | 1970 | 8 |
Steam Locomotive Roster
| Class | Type | Wheel Arrangement |
| --- | --- | --- |
| B-3 Through B-9 | Switcher | 0-6-0/T |
| D-4 Through D-7A | American | 4-4-0 |
| E-1/A/B, E-2 | Twelve-Wheeler | 4-8-0 |
| G-1 Through G-6 | Ten-Wheeler | 4-6-0 |
| H-1 Through H-6 | Consolidation | 2-8-0 |
| I-1/A | Atlantic | 4-4-2 |
| J-1 Through J-4 (Various) | Mikado | 2-8-2 |
| K-1 Through K-6 | Pacific | 4-6-2 |
| L-1 | Santa Fe | 2-10-2 |
Notable Passenger Trains
Daylight Limited: Chicago - Indianapolis
Hoosier: Chicago - Indianapolis
Midnight Special: Chicago - Indianapolis
Night Express: Chicago - Louisville
Red Devil: Operated in Conjunction with the Pennsylvania Railroad between Indianapolis and French Lick.
Thoroughbred: Chicago - Louisville
Tippecanoe: Chicago - Indianapolis
Varsity: Chicago - Bloomington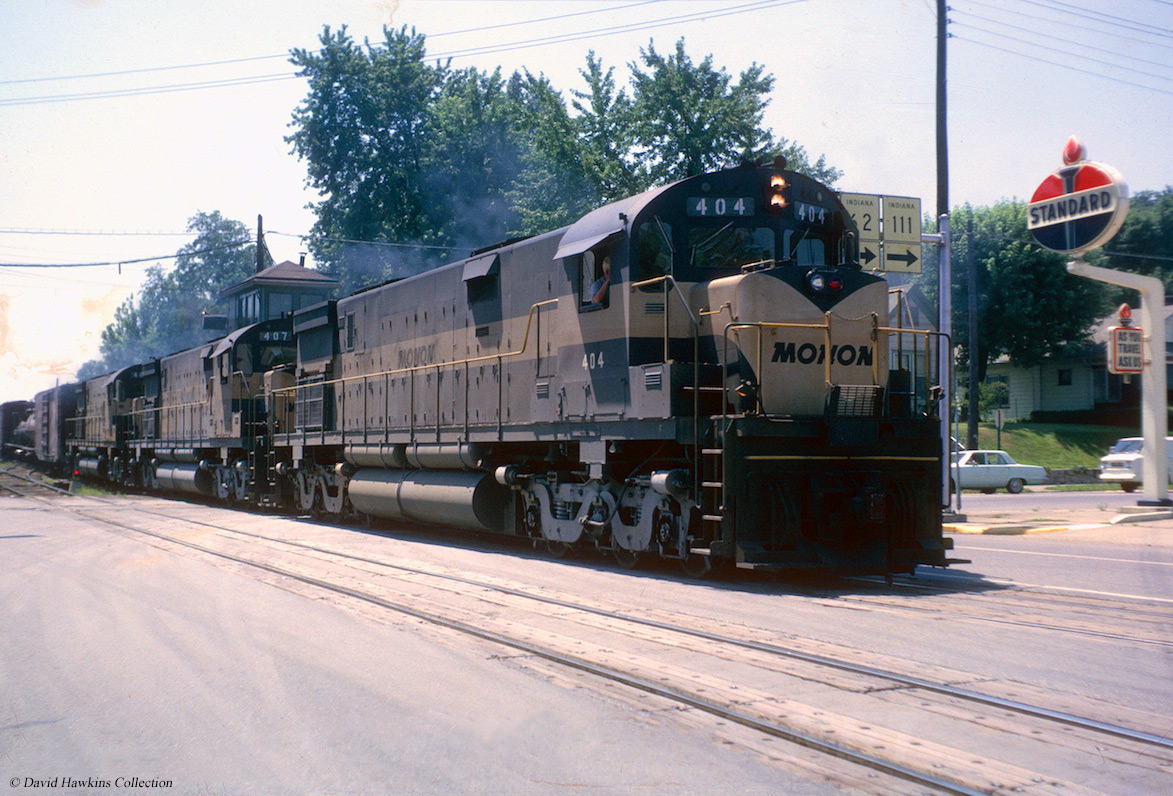 In the early 1950s this train featured reclining seat coaches and a dining-parlor observation. Soon after the first three streamliners were launched the company inaugurated the Varsity between Chicago and Bloomington, Indiana, a distance of 221.5 miles. As the name implies the train was meant to serve the several universities along the railroad's route (including Purdue and Indiana Universities).  Perhaps more than any other system around the country, no other state loved its hometown railroad like the folks of the Hoosier State and as a result its passenger trains did quite well for several years, particularly among college students. Many lamented the loss of the Monon's streamliners, the first two of which were dropped in 1959, the Hoosier and Tippecanoe. The cost to continue operating the trains was simply too great as they were becoming a serious drain on revenues. Surprisingly, the Thoroughbred survived all of the way until September 30, 1967 when it was finally discontinued.
Related Reading You May Enjoy


Home

›

Fallen Flags

› Monon Railroad