The NYO&W began life as the New York & Oswego Midland Railroad, a railroad envisioned by Dewitt C. Littlejohn as a powerful transportation artery serving north and western New York state with New York City and its surrounding urban centers. The railroad was incorporated in 1868 and began construction from Middletown, New York. However, the railroad quickly ran into money troubles within a month when it proved to be much more costly to build than anticipated as the lower Catskill Mountains were simply too difficult to circumvent reasonably requiring many tunnels, bridges and fills.
Still, the NY&OM survived until 1880 when it was reorganized as the New York, Ontario and Western Railway. By this time the railroad had completed its main line between its headquarters of Middletown and Oswego, on the banks of Lake Ontario. In addition to its main line the O&W also inherited branches to Delhi, New Berlin and Ellenville, New York from its predecessor.  Perhaps, though, the most important railroad lines the O&W would come to operate was through its association with the New York, West Shore & Buffalo Railway.
The NYWS&B operated between Cornwall, New York and Weehawken, New Jersey (just north of Jersey City) and once the railroad completed its line between Cornwall and Middletown the O&W had a direct route to New York City. Unfortunately, the O&W lost controlling interest in the NYWS&B when it fell into bankruptcy in 1884 and was then purchased by the then New York Central & Hudson River Railroad (predecessor to the New York Central Railroad). Still, the NYC&HR allowed the O&W to continue operating over the NYWS&B between Cornwall and Weehawken. 

The O&W became a modestly successful operation with its transportation of milk and dairy products along with very popular passenger and tourism operations since the railroad served resorts and hotels in the lower Catskill Mountains (located along the railroad's line through Orange, Delaware and Sullivan counties). However, perhaps the O&W most important traffic source was anthracite coal.  In 1890 it completed its 55-mile Scranton Division which connected Scranton, Pennsylvania via a branch from its main line at Cadosia, New York.
This route would move significant amounts of coal (a commodity at that time which was used heavily by the residential and commercial sector for heating purposes) and also included connections with other important systems in the region such as the Lehigh Valley; Delaware, Lackawanna & Western; and Delaware & Hudson Railway.  Unfortunately, the 20th century proved to be a disaster for the O&W. While the O&W was somewhat successful in the late 19th century multiple factors would lead to its eventual liquidation in the 1950s. First, the New York, New Haven & Hartford Railroad gained control of the system and wanted nothing more of it than to use it as a bargaining tool with the NYC. This proved unsuccessful but resulted in the railroad being left poorly maintained and in need of updated equipment.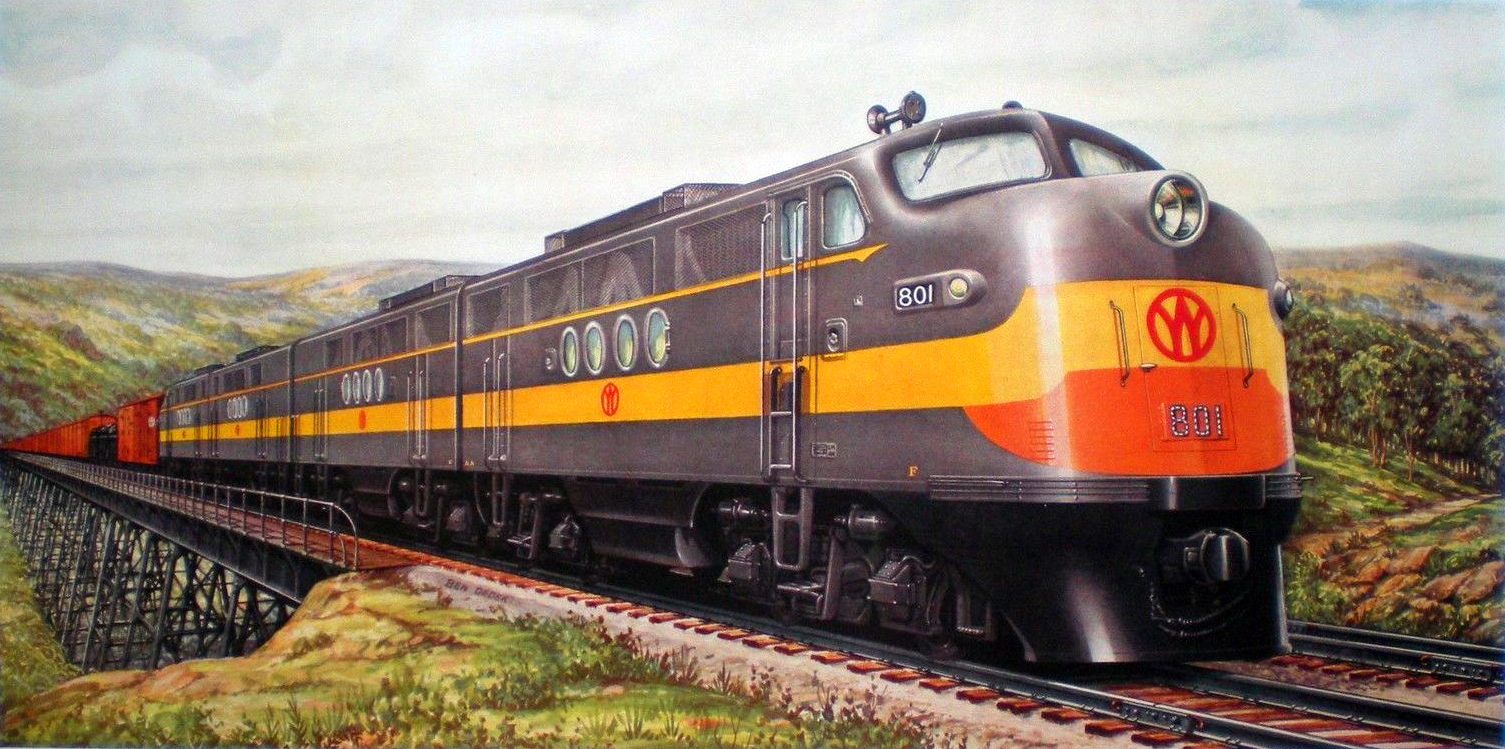 Diesel Locomotive Roster
Electro-Motive Corporation/Electro-Motive Division
| Model Type | Road Number | Date Built | Quantity |
| --- | --- | --- | --- |
| NW2 | 111-131 | 1948 | 21 |
| F3A | 501-503, 821-822 | 1948 | 5 |
| FTA | 601, 801-808 | 1945 | 9 |
| FTB | 601B, 801B-808B | 1945 | 9 |
| F3B | 821B-822B | 1948 | 2 |
General Electric
| Model Type | Road Number | Date Built | Quantity |
| --- | --- | --- | --- |
| 44-Tonner | 101-105 | 1942 | 5 |
Steam Locomotive Roster
| Class | Type | Wheel Arrangement |
| --- | --- | --- |
| A | American | 4-4-0 |
| E, I-1, U-1 | Ten-Wheeler | 4-6-0 |
| I, U, V | Mogul | 2-6-0 |
| L | Switcher | 0-6-0 |
| P, S, W, W-2 | Consolidation | 2-8-0 |
| X | Santa Fe | 2-10-2 |
| Y Through Y-2 | Mountain | 4-8-2 |
The next setback was the result of better roads and highways being built into interior and upstate New York. This, along with improved and cheaper vehicles, allowed folks much more independence thus severely eroding the O&W's lucrative passenger traffic to and from the Catskills. Finally, as the 1920s dawned anthracite coal began losing its appeal as a primary heating source. While it still remained in demand for another 10 years or so, anthracite was simply no longer profitable by the 1930s. This in itself was the major blow that caused the New York, Ontario and Western Railway to fall into bankruptcy in 1937.
The railroad's bankruptcy in 1937 would ultimately be the beginning of the end. The ailing O&W was unable to ebb the flowing red ink; with its loss of passenger, coal and diary traffic along with a system that simply did not serve many large population centers the railroad was in a hopeless situation. By the late 1950s the writing was on the wall and the railroad also known as the "Old & Weary" due to its antiquated equipment and physical plant which was still partially stuck in the late 19th and early 20th centuries, a bankruptcy court ordered the O&W liquidated and assets sold on March 29, 1957. 
Related Reading You May Enjoy


Home

›

Fallen Flags

› New York, Ontario & Western