The Electro-Motive Diesel SD70ACe

Electro-Motive Diesel's new SD70ACe debuted in 2005 and is not only the main competition to General Electric's Evolution Series™ of road-switchers but also meets the EPA's Tier 2 requirements for diesel locomotive emissions. Although the SD70 series, which was first cataloged by the company in 1992, has never been able to regain EMD's dominance as the number one locomotive builder it was still a very successful design with a few thousand different versions of the model operating around the country today. The SD70ACe carries on the success of variants like the SD70MAC and SD70M (which sold more than 2,700 examples combined), as EMD has outshopped more than 1,000 examples since the locomotive debuted. Today, the locomotive can be found in operation on every Class I except Canadian National (which rosters the variant design, SD70M-2). Additionally, even regional Montana Rail Link has purchased sixteen of the locomotives and may order more as power requirements are needed.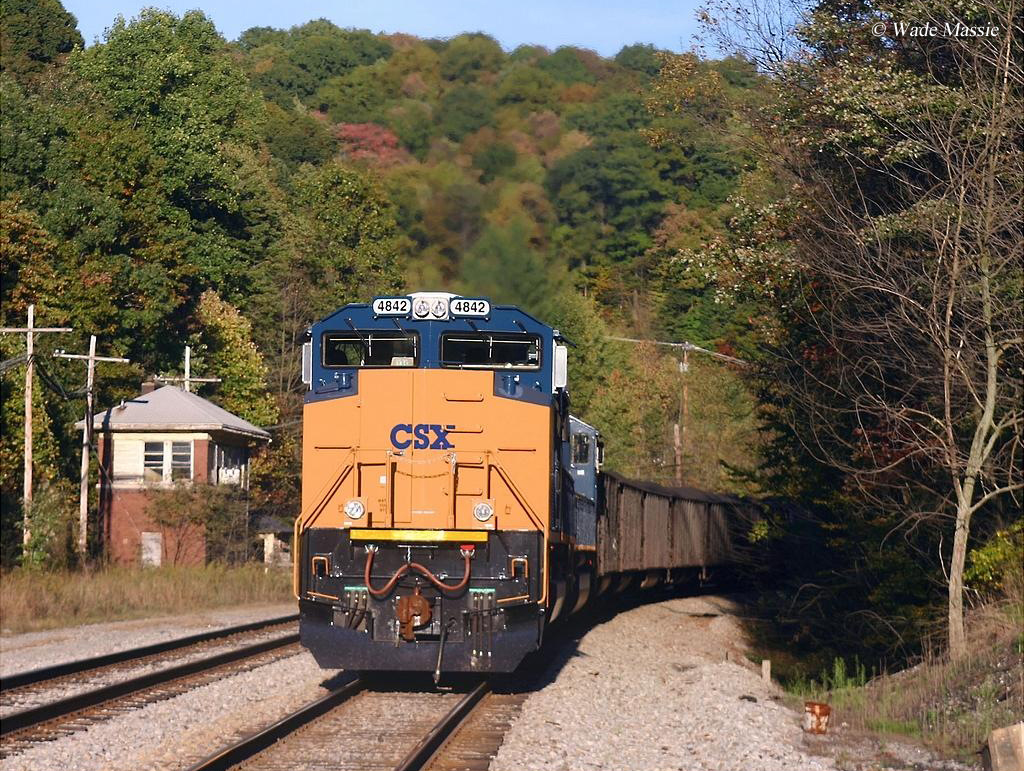 CSX SD70ACe #4842 and a mate act as helpers shoving on a heavy coal drag near West End, West Virginia as the train eases past the B&O's old WS Tower on October 6, 2004.
The EMD SD70ACe, as with General Electric's Evolution models, were born out of a requirement by the EPA that newly locomotives meet the agency's new "Tier II" standards for diesel admissions. In the case of GE its new GEVOs utilize a 12-cylinder prime mover that also captures diesel exhaust and captures it as energy in storable batteries to reuse later. While EMD has not yet achieved such technological advances with its locomotives the SD70ACe is still holding its own and is a fine design. Rated at 4,300 hp, the SD70ACe is essentially a more environmentally friendly version of the builder's SD70 series and features EMD's 16-cylinder model 710G3C-T2 engine, along with upgraded computer systems, electronics, and the builder's famous self-steering trucks (the HTCR-II).
The HCTR-II is a significant reason why EMD products continue to sell so well despite the fact that the company lags quite a ways behind GE in research and development. The HTCR-II was created during the 1990s and first equipped on the original SD70 designs. It uses computer software to steer itself into oncoming curves which greatly reduces the wear on both truck, axles, and the track itself. While not quite as successful, to date, as GE's Evolution Series™ sales nonetheless have been brisk. Hopefully with Electro-Motive Diesel, now part of the Progress Rail Services Corporation (itself owned by Caterpillar, Inc. will one day again become either leader of the locomotive or industry or offer GE serious competition in the market.
While the EMD SD70ACe does use the same basic carbody of the SD70 series part of its design is inspired by SD80MAC of 1995. Although the '80MAC (also known as the "Conrail Cadillac" because it was the only railroad to purchase the locomotive) did not sell particularly well EMD rearranged some of its features on the longer frame. Not only was it the first model of the company's to feature the flared rear radiator (common on GE models since the 1970s) but EMD also moved its dynamic brakes from directly behind the cab to the very rear of the locomotive. This new design feature was used on the later SD90MAC and kept with the SD70ACe as well.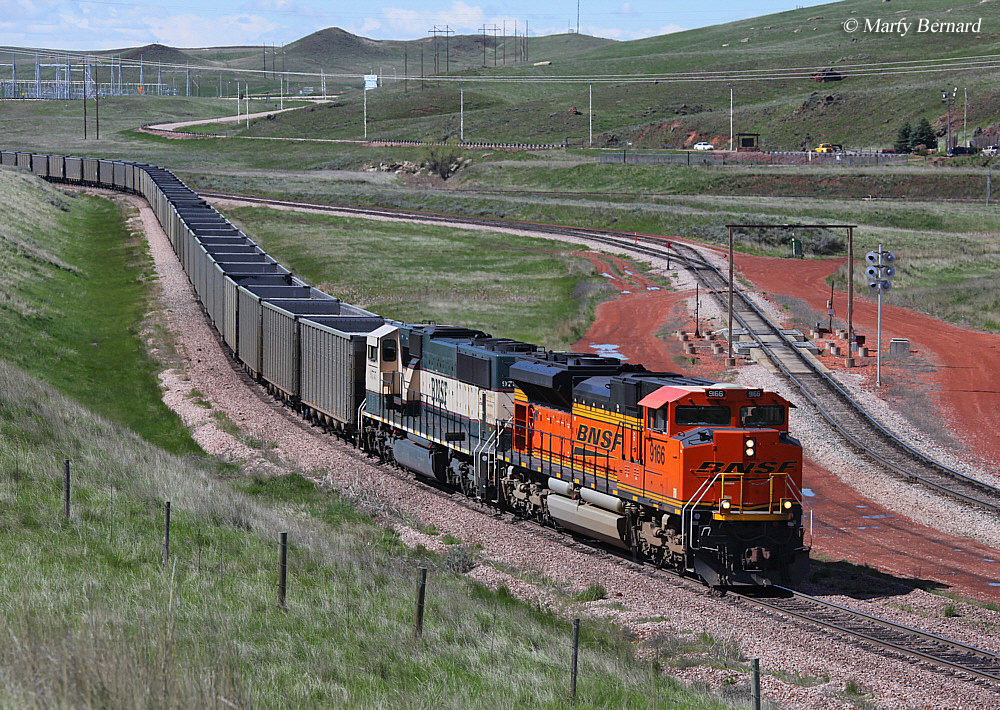 BNSF SD70ACe #9166 heads an empty coal train near Gillette, Wyoming on May 27, 2011.
EMD also offered one notable variant of the locomotive for North American lines, the SD70M-2. This locomotive was essentially the DC version of the SD70ACe employing General Motors' model AR20AB generator instead of the TA17/CA7A alternator. Thus far the locomotive as been ordered by Canadian National (numbered, 8000-8024, 8800-8874), Norfolk Southern (numbered 2649-2778), and Florida East Coast (numbered 100-107). Additionally, EMD's three demonstrators of this variant went to CIT Financial as leasing units. Dimensionally, the SD70ACe is 74 feet, 3 inches length or about six feet shorter than the SD80MAC and SD90MAC. 
Please Click Here To Return To The Diesel Locomotives Section
EMD SD70ACe Production Roster (Known, To Date)
| Owner | Road Number(s) | Quantity | Date Built |
| --- | --- | --- | --- |
| Arkansas & Missouri Railroad | 70-72 (Demos, 1201-1203) | 3 | 2012 |
| BHP Billiton Iron Ore (Australia) | 4324-4333 | 10 | 2008 |
| BNSF Railway | 8750-8799, 9000-9399 | 450 | 2006-2013 |
| Electro-Motive (Demo) | GM70-GM73, 1201-1205, 2012 | 8 | 2003-2012 |
| CSX | 4831-4850 | 20 | 2003 |
| Kansas City Southern | 4000-4059, 4100-4129, 4140-4164 | 115 | 2005-2008 |
| Luminant Energy | 53008-53009 (Demos, 1204-1205) | 2 | 2012 |
| Montana Rail Link | 4300-4315, 4400-4403 | 20 | 2005-2013 |
| Norfolk Southern | 1000-1064, 1065-1074 (Wears Heritage Liveries), 1075-1099 | 100 | 2011 |
| Quebec, North Shore & Labrador | 501-513 | 13 | 2009-2011 |
| Union Pacific | 1982, 1983, 1988, 1989, 1995, 1996, 4141 (All Wear Special/Heritage Liveries): 8309-8423, 8521-8823 | 425 | 2005-2011 |
EMD SD70ACe-P4/6 Production Roster (Known, To Date)
| Owner | Road Number(s) | Quantity | Date Built |
| --- | --- | --- | --- |
| Canadian National | 8100-8103 (Ex-SD70ACe-P6 Demos 1206, 1208-1210) | 4 | 2013 |
| Electro-Motive (Demo) | 1206, 1208-1210, 4223 (SD70ACe-P6) | 5 | 2013 |
| Electro-Motive (Demo) | 1207, 1211-1212 (SD70ACe-P4) | 3 | 2013 |
| Tacoma Rail | 7000-7001 (Ex-SD70ACe-P4 Demos 1211-1212) | 2 | 2013 |
Union Pacific SD70ACes #8369 and #8343 work a freight a long way from home in Ontario, Canada on November 7, 2009.
Its tractive effort ratings are very comparable to the GEVOs; 191,000 pounds starting (slightly more) and 157,000 pounds continuous (slightly less).   There are also a few international variants of the model known as the SD70ACe/Ic and the SD70ACS. The former was purchased by BHP Billiton of Australia with a lower height profile to clear low hanging obstacles. The latter design was developed for arid desert enivronments and has been purchased by Saudi Railway, Mauritania's Société Nationale Industrielle et Minière, and the Etihad Railway. The table below lists those railroads and companies which have purchased SD70ACes and SD70M-2s, including a few regional railroads.
Related Reading You May Enjoy