The Virginian Railway

The Virginian Railway was one of the smallest Class I systems in the east, not to mention one of the youngest. However, despite its small size the VGN was a force to be reckoned with in the movement of southern West Virginia coal to the ports of southern Virginia. The VGN, built during the first decade of the 20th century, spent lavishly in featuring the best engineering and lowest graded railroad between the two points, even better than larger rivals Norfolk & Western Railway and Chesapeake & Ohio. However, because of the railroad's small size and dominance in hauling southern Appalachian coal it comes as no surprise that it was eventually purchased by one of its rivals, in this case the Norfolk & Western. Today, the former VGN main line remains an important and vital link in successor Norfolk Southern's system.
One of its newer electric freight motors, Class EL-2B #127 takes a break at the Roanoke engine terminal on June 20, 1954.
The Virginian has its beginnings when engineer William Page and financer Henry Rogers, the richest man in the world at the time, teamed up to initially build the short line Deepwater Railway in southern West Virginia. However, their attempts to move coal over their new railroad proved unsuccessful as the larger surrounding railroads, attempting to keep competition out, refused to give the little shortline favorable interchange rates. Undeterred and with unlimited amounts of cash at their disposal the team set about building their own railroad to Norfolk, Virginia.  In 1907 they chartered the Virginian Railway and after acquiring the necessary right-of-ways completed their line in 1909.
The new railroad had a mainline stretching from Deepwater, West Virginia to Norfolk, Virginia with several branch lines snaking out into the deep hollers of West Virginia to tap the many coalmines in the region. The VGN was an extremely well engineered and profitable railroad, particularly for its small size. Always looking for a more efficient means of moving its product to market and with a near endless supply of cash at its disposal the VGN began contemplating replacing its fleet of massive steam locomotives with an electrified system. While its main line was the most efficient compared to its surrounding competitors, like the Norfolk & Western Railway, it still had to contend with some steep grades, particularly at Clarks Gap, West Virginia.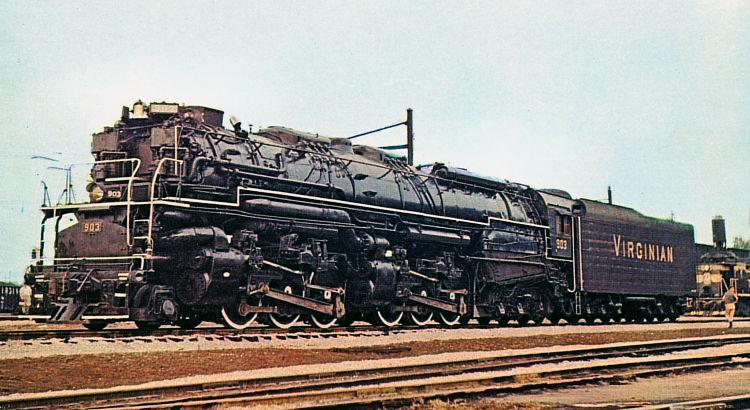 One of its larger steamers, Class BA 2-8-4 Berkshire #506 appears to be in storage at Norfolk, Virginia on May 31, 1958.
Even though the Clarks Gap grade was the prominent bottleneck on the system the Virginian decided to electrically operate its entire main line. The project began in 1922 and was completed three years later in 1925 at a cost of $15 million, in all stringing wires 134 miles from Mullens, West Virginia to Roanoke, Virginia.  By the 1920s when the electrification project was completed, high-voltage single-phase alternating current (AC) transmission had become the preferred means of electrifying rail lines.
AC transmission has none of the inherent drawbacks of DC systems, requires relatively cheaper overhead wires (or catenary), and can employ thousands of volts of power (although AC's significant drawback is lower traction in comparison to what DC allows). As it were the Virginian went with an 11,000-volt AC system with powered supplied by its very own power plant located in Narrows, Virginia.  For initial power on the electrification system, the railroad turned to Alco and Westinghouse, the latter of which specialized in AC transmission (whereas General Electric at the time preferred DC transmission). What resulted was the ubiquitous boxcab design (famous in the era), delivered beginning in April of 1925.
To supplement its aging boxcabs, which were reliable and effective but heavy (thus hard on the rails) and only operated with two gears, the VGN turned to General Electric. Its first purchase came in 1948 when it took delivery of four new units known as AC rectifiers. AC rectifiers are a truly exceptional and an efficient type of motive power. Since by the 1930s AC was the preferred method of electrification most new electric locomotives were likewise built to AC specifications. However, AC, again did not provide quite such high tractive efforts as could be achieved with DC systems.
To counter this railroads, particularly those which found high tractive efforts very beneficial in mountainous territory like the Great Northern, Virginian, Pennsylvania, and Norfolk & Western, needed a new locomotive that operated on AC power but could use DC traction motors to gain the best of both worlds. These new semi-permanently coupled units numbered 125-128 were classified as EL-2Bs by the VGN, featured a B-B+B-B + B-B+B-B wheel arrangement, were rated at 50 mph, and produced 260,000 pounds of tractive effort with a phenomenal 6,800 horsepower! The EL-2Bs also featured a more contemporary streamlined cab design than their utilitarian boxcab predecessors.
The railroad never had much interest in passenger operations but did provide some service as witnessed here with a train entering Roanoke on June 20, 1954 led by Class PA 4-6-2 #212.
Eight years later in 1958 the VGN would take delivery of its final motors; 12 Ignitron rectifiers (also from GE) designated class EL-C. Even more contemporary than the EL-2B design the EL-Cs featured the now-classic diesel road-switcher design (and accompanying cab design) with a C-C wheel arrangement (i.e., six powered axles in total). The EL-Cs were rated at 3,300 horsepower and delivered 98,500 pounds of tractive effort.  For fifty years the Virginian Railway made a very profitable living hauling bituminous coal from southern WV mines to tidewater ports at Norfolk. In an interesting historical footnote the VGN is credited with kicking off the modern mega-merger movement when the Norfolk & Western courted the railroad in the late 1950s in hopes of purchasing it. After approval the company disappeared into the N&W's system in 1959 and while its electrification was shutdown on June 30, 1962 its well-engineered main line continues to play an important role in the Norfolk Southern system today.
Diesel Locomotive Roster
Fairbanks Morse
| Model Type | Road Number | Date Built | Quantity |
| --- | --- | --- | --- |
| H16-44 | 10-49 | 1954-1957 | 40 |
| H24-66 (Train Master) | 50-74 | 1954-1957 | 25 |
General Electric
| Model Type | Road Number | Date Built | Quantity |
| --- | --- | --- | --- |
| 44-Tonner | 6 | 1941 | 1 |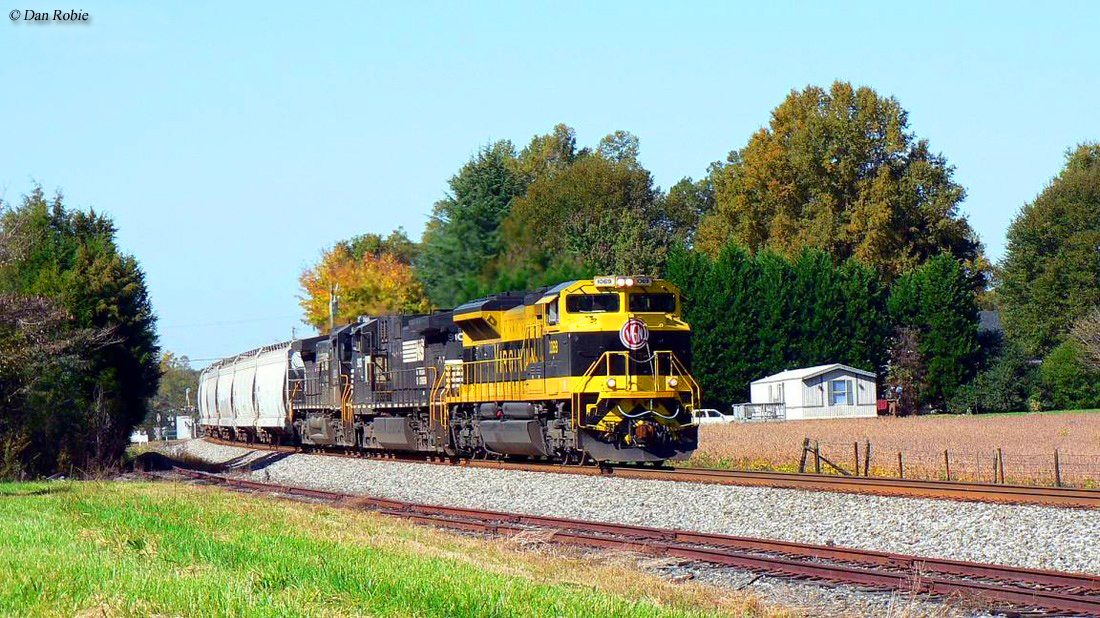 Norfolk Southern's Virginian heritage locomotive, SD70ACe #1069, heads east on freight 162 between Salisbury and Statesville, North Carolina on October 20, 2012. This yellow and black scheme was the original livery worn by Virginian locomotives.
Steam Locomotive Roster
| Class | Type | Wheel Arrangement |
| --- | --- | --- |
| AA, AC | Articulated | 2-6-6-0 |
| AD, AF, USA, USC, USD, USE | Chesapeake | 2-8-8-2 |
| AE | Articulated | 2-10-10-2 |
| AF | Mallet | 2-8-8-0 |
| AG | Allegheny | 2-6-6-6 |
| BA | Berkshire | 2-8-4 |
| EA | American | 4-4-0 |
| MA, MB, MC/A, MD | Mikado | 2-8-2 |
| PA | Pacific | 4-6-2 |
| SA, SB | Switcher | 0-8-0 |
| TA | Ten-Wheeler | 4-6-0 |
| XA | Triplex | 2-8-8-8-4 |
---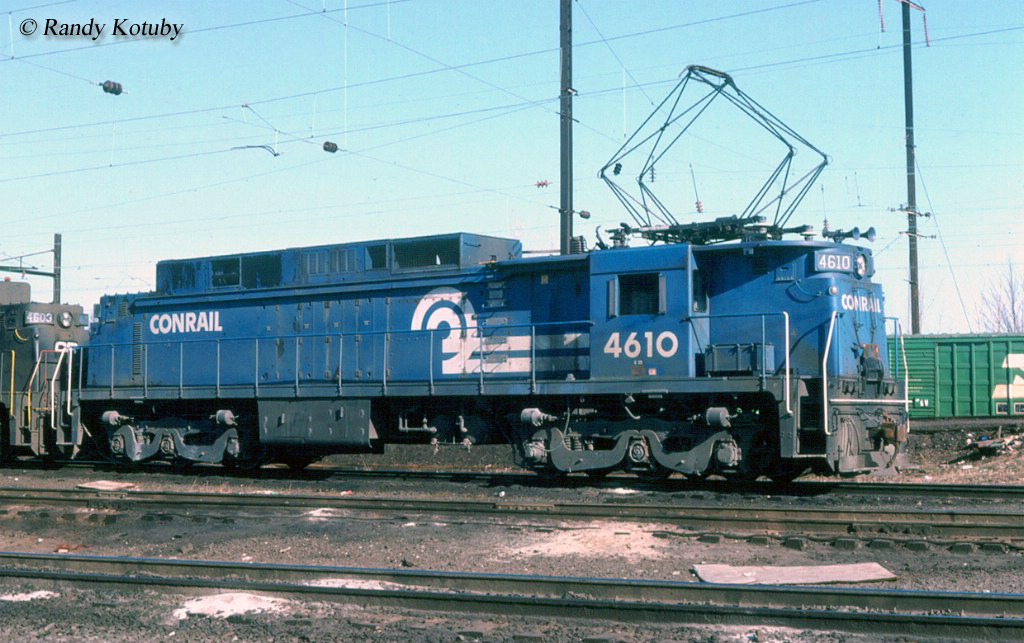 Just prior to its retirement after five different owners is then Conrail E-33 #4610 (and #4603 coupled to it) resting at Harrisburg, Pennsylvania in the spring of 1979. Both motors began their careers under the Virginian as Class EL-Cs.
(Please note that the above photograph depicts an E33 electric motor, which was originally owned by the VGN but the fleet was sold to the New York, New Haven & Hartford, which became part of Conrail in 1976.)
For more reading on the company you might want to consider The Virginian Railway from William Archers and the Princeton Railroad Museum. I own this book myself and I must caution, while it offers some excellent photographs of the VGN it does lack an in-depth history of the railroad so if you are interested in such you may be disappointed in the book. Still, the photography is excellent and overall I very much enjoyed the book. If you're interested in perhaps purchasing this book please visit the link below which will take you to ordering information through Amazon.com, the trusted online shopping network.