The second wagontop, C-2502 was also built at Mt. Clare in 1936 although the next five, through C-2507, were constructed at the Cumberland shops with the last one outshopped in 1940. These first wagontops were 31 feet, 4 1/2 inches in length from overhead running board (i.e., entire roof length including the porches) with 23 feet, 9 3/4 inches of interior space. The width of the car was 9 feet, 8 3/8 inches from each outside bay window or 8 feet, 1/4 inch to each interior wall. Roughly, the cars had 190 square feet of liveable interior space. Originally, the cars' wheelbase was set to 15 feet but this was later changed in 1954 to 19 feet for better stability and use in pusher service. In 1941 standard production wagontops were produced at yet another location, the Keyser, West Virginia shops (once an important and major B&O yard, today nothing remains at this location).
These cabeese were numbered in the C-2400 series and classed as I-12s. In total, the B&O owned 100 production wagontops, through C-2499 or 107 altogether including experimentals. At the same time the Baltimore & Ohio was producing the cabooses it also began building wagontop boxcars with the first three test cars built between the summer of 1934 and spring of 1935; they included #279000 (Class M-15ba), #279998 (Class M-15bb), and #279999 (Class M-15bc). These cars led to the B&O's three production classes of wagontop boxcars the M-49, M-50, and M-53. Not only were these boxcars cheaper to build but they also offered more interior space, weighed less, were prone to fewer leaks, and with less parts than a conventional design were easier to maintain.
By the time the railroad stopped building the boxcars it had thousands roaming around its system (the M-53 Class alone including 2,000 cars) adorned in a bright red just like the "cabeese."  The covered hopper wagontop was also born in 1935. The original test design was classed as N-31 and listed as #630200 and could hold about 47 tons of material. Soon after the B&O began constructing production covered hoppers classed N-34, N-38, and N-40 which could hold much more material, about 70 tons. Finally, there was also a rare open hopper the B&O was going to employ in coal service, the Class N-0. The first example rolled out of Mt. Clare on April 1, 1935 listed as #632200 and looked just like its covered counterpart save for the mostly open top section. This single car was the only ever built, however ,as the introduction of the AAR twin offset-side hopper design that same year proved to be more efficient.

Please Click Here To Return To The Main Freight Cars Section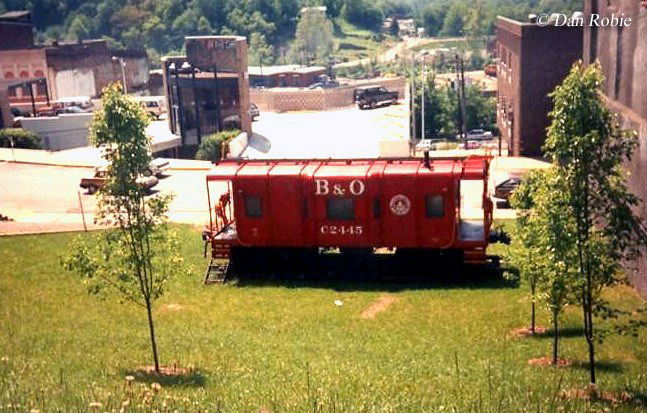 Back in her classic red paint, B&O Wagontop caboose #C-2445 is seen on display in Grafton, West Virginia on May 18, 1991.
Overall, it is rather amazing how such a simple design proved so successful to a railroad that truly relied on innovation to help sustain itself through the years.   For more reading and history about the B&O consider the book, Baltimore & Ohio Railroad, written by Kirk Reynolds and David Oroszi. While there are several more excellent books with superb illustrations out there covering different aspects of the B&O this publication includes a fine general history of the railroad with wonderful historical photos (many in color). If you're interested in perhaps purchasing this book please visit the link below which will take you to ordering information through Amazon.com.