The Western Maryland Railway, The Fast Freight Line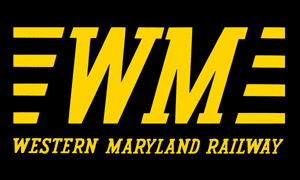 While the Western Maryland Railway, affectionately known as the Wild Mary was never a large carrier (only roughly a 700-mile system) although for those who followed it, it was a legendary line. The railroad was built over rough terrain and thus used numerous tunnels and bridges to achieve a manageable grade. While aspects of the system were difficult to operate from a railroad perspective (Black Fork Grade, for instance) the WM allowed for some of the most fantastic photography one could ever hope or wish for with everything from big 4-8-4s bursting from Knobley Tunnel and crossing the Potomac River to brawny 4-6-6-4s lugging freight through legendary Helmstetter's Curve. To put it bluntly, what a fantastic scenic railroad (at the very least) the entire WM main line (especially through Maryland and West Virginia) would have made if it were all still intact today. Its territory would easily rival anything offered today from other famous tourist lines like the Strasburg Railroad and Durango & Silverton.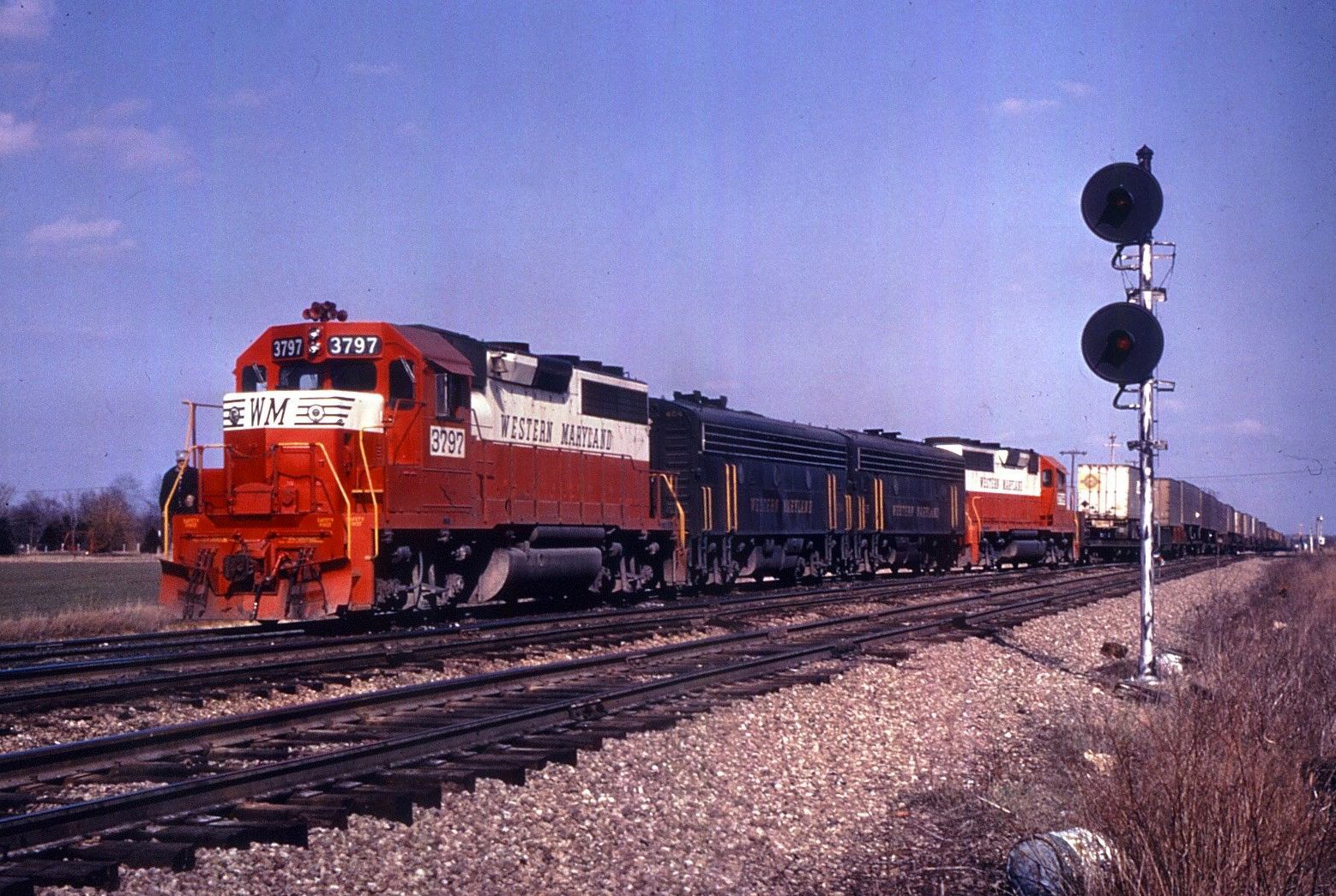 SD35 #7435 sporting the road's Circus livery, pulls a freight through Cumberland, Maryland with a B&O GP38 trailing and two other WM Geeps during May of 1978.
The "Wild Mary" has its beginnings dating back to 1852 when the Baltimore, Carroll & Frederick Railroad was chartered by the Maryland General Assembly on May 27th to connect Baltimore with Hagerstown in Washington County. A year later the assembly changed the charter's name as the Western Maryland Rail Road Company on March 21, 1853 and construction began on July 11, 1857 (it took more than four years to gain needed funding). Officially, the WM opened its initial 20-mile line between Calvert Station (Baltimroe) and Owings Mills, Maryland on August 5, 1859. From this point expansion westward continued, albeit slowly due to the Civil War, reaching Reisterstown in 1859, Westminster in 1861, and Union Bridge not until 1868. Finally, in 1872 the road reached Hagerstown.
Essentially the WM had two main lines splitting from its Baltimore-Cumberland main (known as the East and West Subdivisons), the Connellsville Subdivision and Thomas Subdivision. The Connellsville Sub connected Cumberland, Maryland with Connellsville, Pennsylvania and it would become the WM's main source of bridge-through merchandise and general freight traffic going east and west. The line originally began construction in 1910 and was completed to Connellsville two years later in 1912. Unfortunately, it was around this time that the WM experienced a rough financial stretch. In 1902 the railroad was acquired by the Fuller Syndicate, headed by George Gould, which was hoping to use the WM as part of his planned transcontinental railroad stretching from coast to coast.
It was under his direction that the property saw incredible growth westward reaching Cumberland (in 1906), Connellsville, and eventually central West Virginia. However, the expansion was quite taxing on the road and it fell into bankruptcy in 1908, emerging from receivership in a relatively short time span in 1910 as the Western Maryland Railway Company. While the WM continued to grow and expand after this time it never saw such serious financial conditions as during this time (thanks in no small part to the fact that it was no longer controlled by Gould interests).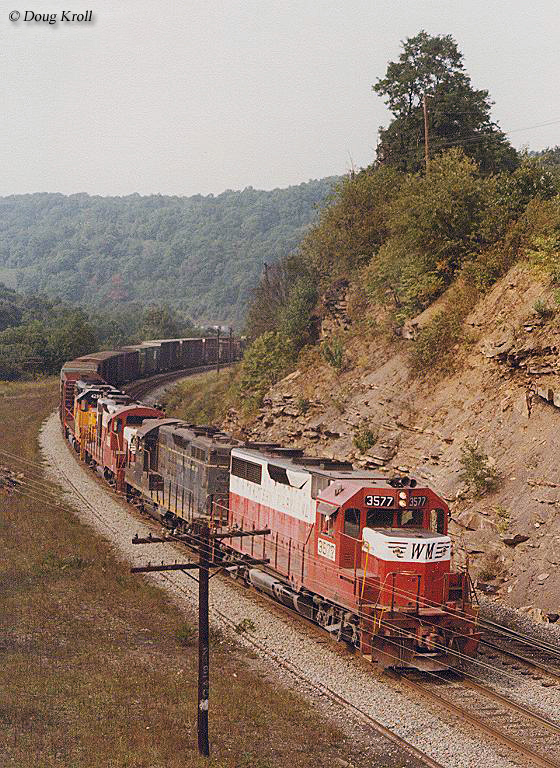 WM GP35 #3577 leads a trio of Geeps from the Chessie System family as they roll eastbound with a freight at Garrett, Pennsylvania along the B&O on September 20, 1980.
The Thomas Subdivision, which connected Cumberland with Elkins, West Virginia located in roughly the east-central area of the state was predominantly used to access the lucrative bituminous coal in the region. The WM was able to gain access to this traffic when the original builder of the line, the West Virginia Central and Pittsburgh Railway, was sold to the WM in 1905.  While it had a myriad of other feeder and branch lines all across its system the Thomas Sub, Connellsville Sub, East Sub, and West Sub essentially made up the railroad and were its primary lines.
While the railroad ran into money problems on a number of different occasions throughout its history its primary problem was that it virtually paralleled the Baltimore & Ohio everywhere it went and while its grades were comparable to the B&O's the WM's main line was single-tracked while the B&O's was double-tracked.  The company did its best to remain competitive with nearby competitors, particularly the B&O but it simply did not serve any large markets outside of Baltimore and Cumberland and held main lines that were choked with high maintenance costs (due to the many tunnels and bridges).
Despite its setbacks the "Wild Mary" earned a reputation from its customers by having extremely fast, efficient, and quality freight service which it prided itself on (and also which it marketed).  The WM as a truly independent carrier ended in 1964 when the Chesapeake & Ohio and B&O (both of which were affiliated with the 1962 takeover of the B&O by the C&O) jointly applied with the ICC to acquire the WM, which was granted (the B&O had held a controlling interest in the railroad for years).
WM Class J-1 4-8-4 #1403 sits at the yard in Hagerstown, Maryland on May 4, 1947. The Wild Mary owned quite a fleet of massive steam locomotives for its small size to battle the grades in Maryland and West Virginia. In all, it owned 12 4-8-4s, #1401-1412, built by Baldwin.
Under this new setup the Western Maryland Railway continued to operate mostly independent from its parents (of which the B&O had full control of the line) until the 1972 creation of the new holding company for all three, the Chessie System, when the WM mostly disappeared (from an operating and visual standpoint) as a division of the B&O (although Chessie units continued to be sub-lettered as WM). The most significant and lasting changes for the WM began in the mid-1980s when Chessie merged with the Seaboard Coast Line and the Family Lines (to form the shortlived-1982 creation of Seaboard System) to form CSX Corporation.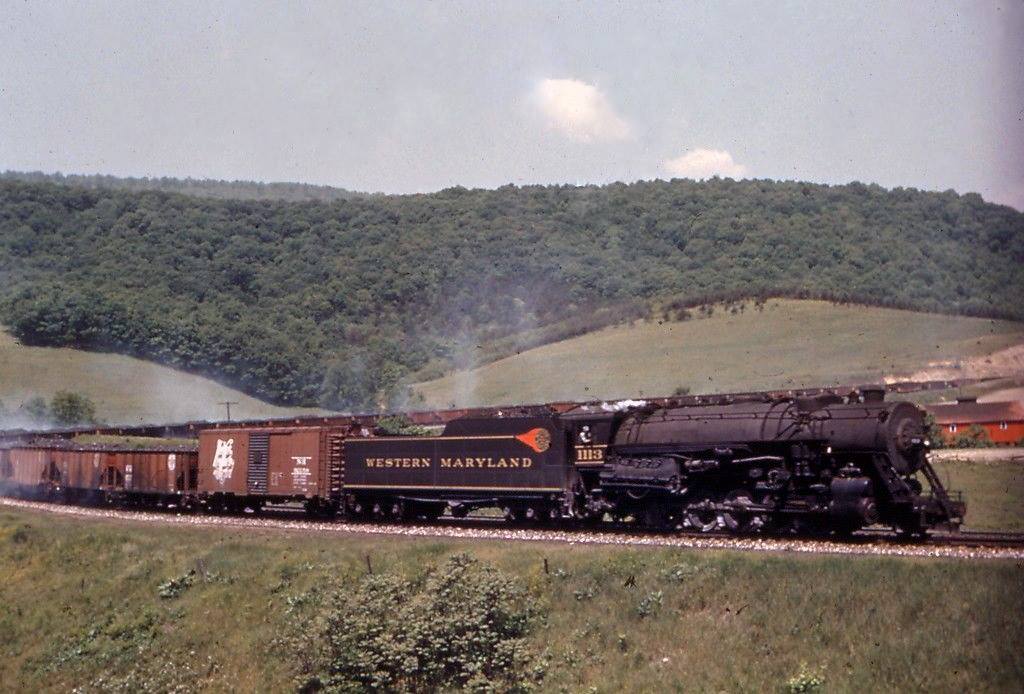 The WM's beautiful and unique Thomas, West Virginia depot is seen here in a postcard thanks to its construction over the narrow Blackwater River (which has made it the subject of at least a few paintings over the years). This local area once offered the railroad considerable business but alas this town is just a shell of its former self today. The tracks have long since been removed and the depot razed but the bridge still remains.
The railroad division of this company was CSX Transportation, which slowly began to merge the carriers. In 1987 the WM was the first Chessie road to disappear, followed soon after by the B&O and then C&O (the final railroad merged into CSX). It was around this time that the WM itself began to truly disappear, as its lines (which were considered redundant) were wholesale abandoned in favor of others, particularly the B&O's.  Today only small sections of the WM are still active, with the best known of these operated by the Western Maryland Scenic Railroad and West Virginia Central. Under the WMSR a short segment of the WM main line around Cumberland (still using the original WM Cumberland Station) remains active, which includes famous Helmstetter's Curve.
The railroad has gained much fame for its use of #734, a 2-8-0 steam locomotive, especially traveling through Helmstetter's! In recent years a newer tourist/freight line, the West Virginia Central, owned by the State of West Virginia and operated by the Durbin & Greenbrier Valley has gained much attention. The WVC operates over 100 miles of ex-B&O and WM (the former Elkins Division) trackage and just recently restored the bridge to the former Elkins Yard in Elkins, WV where the railroad will not only serve passengers at the restored WM station but also use the building as its central headquarters. For further reading about the history of the WM please click here.
Diesel Locomotive Roster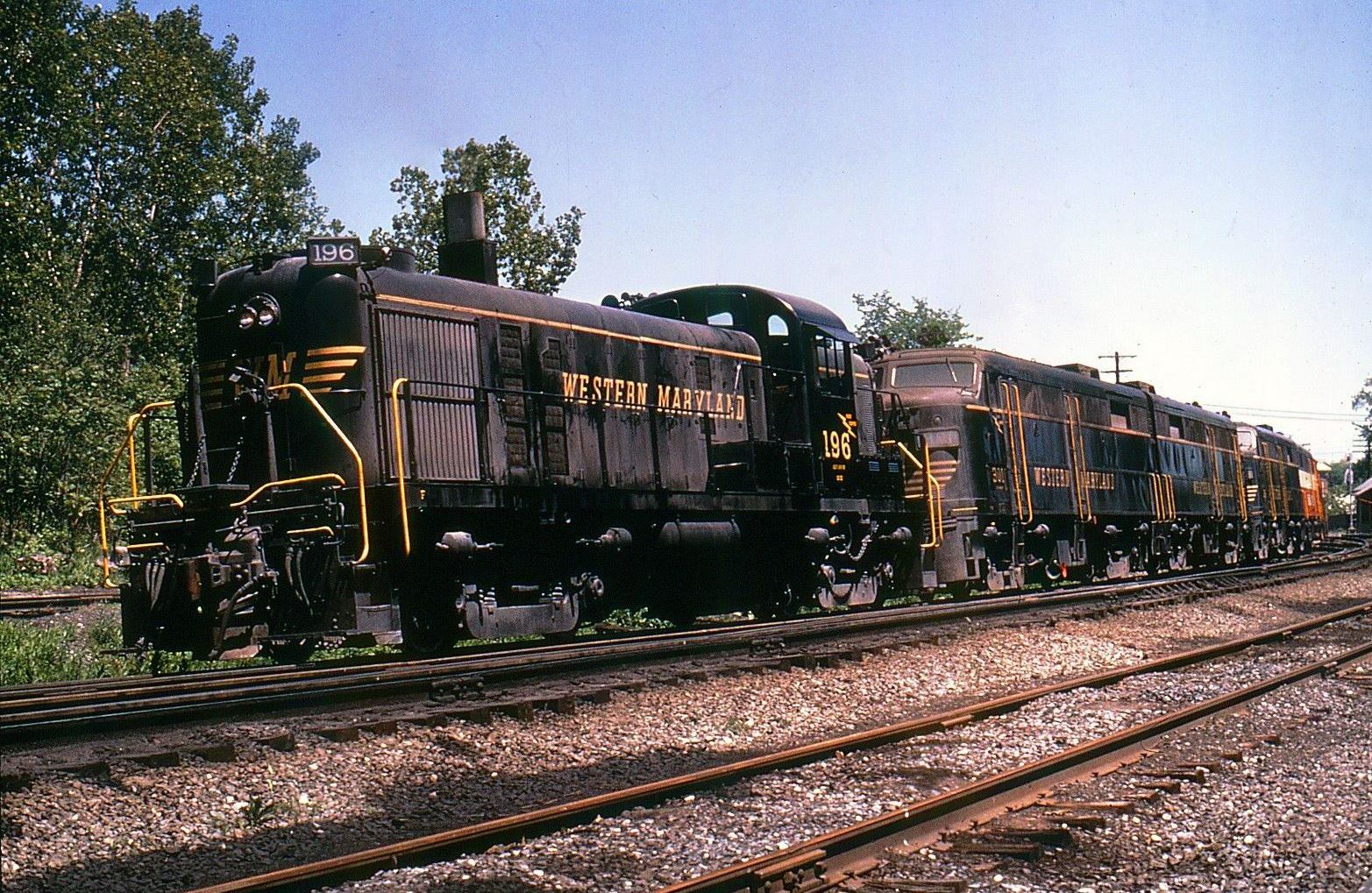 A five unit helper set including all four of the WM's FA-2s (led by #301) are shown here along with a Geep as they roll through Williamsport, Maryland during October of 1970.
The American Locomotive Company
| Model Type | Road Number | Date Built | Quantity |
| --- | --- | --- | --- |
| S1 | 102 | 1941 | 1 |
| S2 | 125-127, 140-144 | 1943-1944 | 8 |
| S4 | 145-146 | 1951 | 2 |
| S6 | 151-152 | 1956 | 2 |
| RS2 | 180-184 | 1947-1950 | 5 |
| RS3 | 185-198 | 1953-1954 | 14 |
| FA-2 | 301-304 | 1951 | 4 |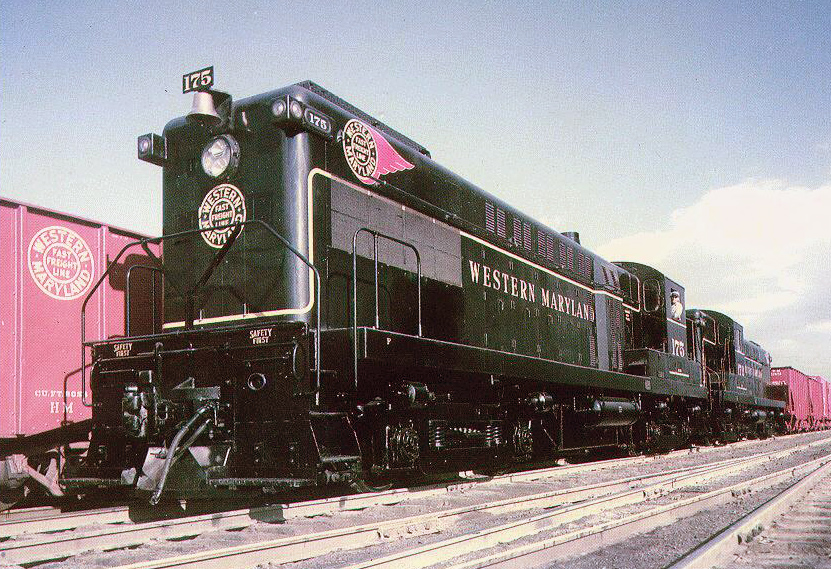 WM Class I-2 2-10-0 Decapod #1116 sits at the yard in Hagerstown on May 4, 1947." In all the railroad owned 30 units, #1101-1130, built by Baldwin and Alco.
The Baldwin Locomotive Works
| Model Type | Road Number | Date Built | Quantity |
| --- | --- | --- | --- |
| VO-660 | 101-105 | 1941-1942 | 5 |
| VO-1000 | 128-132 | 1943-1944 | 5 |
| DRS-4-4-1500 | 170-172 | 1947-1948 | 3 |
| DS-4-4-1000 | 133-134 | 1946 | 2 |
| AS16 | 173-176 | 1951 | 4 |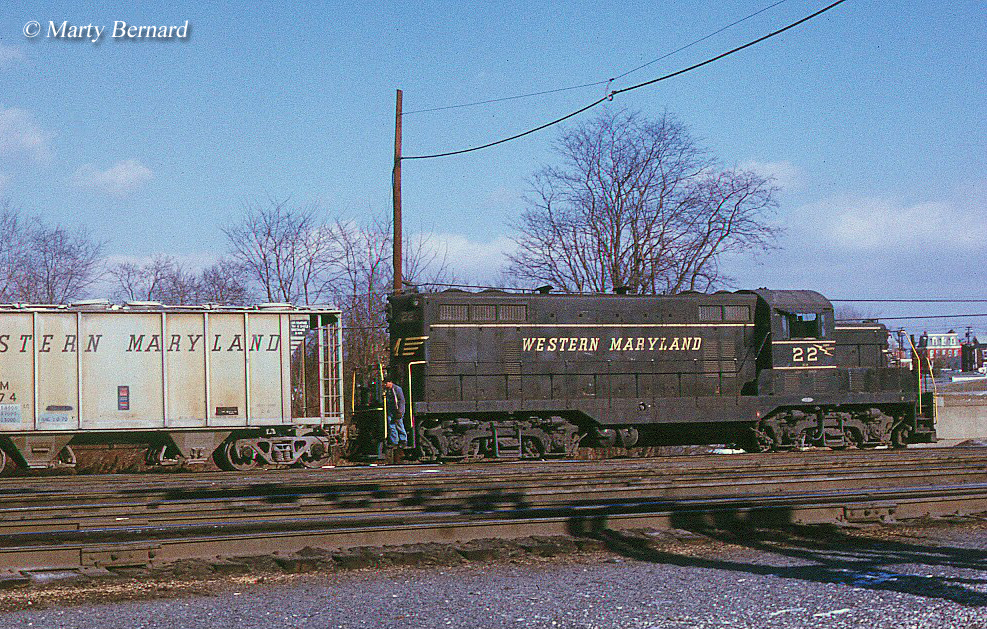 WM GP9 #22 works the yard in Hagerstown on December 29, 1970.
Electro-Motive Division
| Model Type | Road Number | Date Built | Quantity |
| --- | --- | --- | --- |
| GP7 | 20-23 | 1950 | 4 |
| GP9 | 25-45 | 1954-1957 | 21 |
| F3A | 51-52 | 1947 | 2 |
| F7A | 53-66, 231-242 | 1950-1952 | 26 |
| F7B | 53B-59B, 61B-65B (Odds), 231B-237B, 239B-243B (Odds) | 1950-1953 | 20 |
| BL2 | 81-82 | 1948 | 2 |
| GP35 | 501-505, 3011-3012 | 1963-1964 | 7 |
| GP40 | 3795-3799 | 1971 | 5 |
| GP40-2 | 4257-4261, 4312-4321, 4352-4371 | 1977-1979 | 35 |
| SD35 | 7432-7436 | 1964 | 5 |
| SD40 | 7445-7449, 7470-7474, 7495-7496 | 1966-1969 | 12 |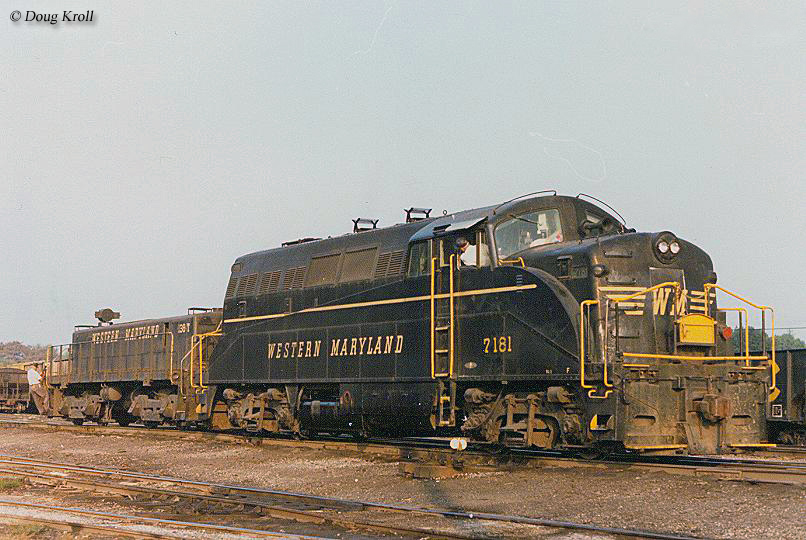 Despite their rare status, the WM's two BL2s became quite popular celebrities. Seen here is #7181 (originally #81) pulling switching duties with slug #138T in Hagerstown on September 22, 1980.
General Electric
| Model Type | Road Number | Date Built | Quantity |
| --- | --- | --- | --- |
| 44-Tonner | 75-76 | 1943 | 2 |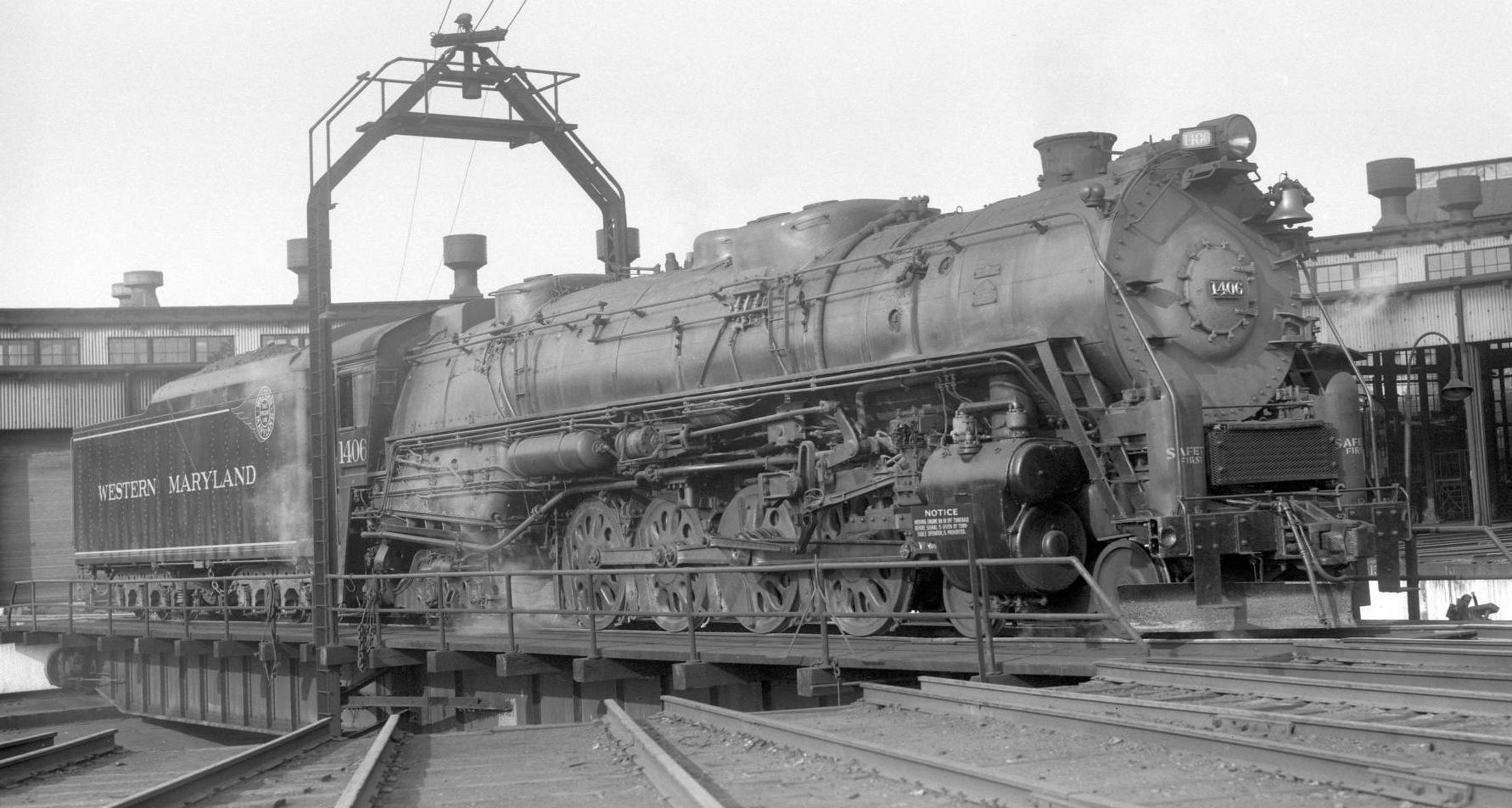 Seen here is another of the WM's Class J-1 4-8-4s, #1409, as it rests at the yard in Hagestown on October 2, 1953 just a year prior to its retirement. This side-profile gives you a good idea of just how large these locomotives were.
Steam Locomotive Roster
| Class | Type | Wheel Arrangement |
| --- | --- | --- |
| B (Various) | Switcher | 0-6-0 |
| C1/a, C2 | Switcher | 0-8-0 |
| D-8 | American | 4-4-0 |
| H-3 Through H-9 (Various) | Consolidation | 2-8-0 |
| G (Various) | Ten-Wheeler | 4-6-0 |
| I-1, I-2 | Decapod | 2-10-0 |
| J-1 | Northern | 4-8-4 |
| K-1, K-2 | Pacific | 4-6-2 |
| L1/a, L2 | Chesapeake | 2-8-8-2 |
| M-1/a | Mallet | 2-6-6-2, 0-6-6-0 |
| M-2 | Challenger | 4-6-6-4 |
| Shay | Shay | 0-4-4-4-0T |
---
In a quiet, bucolic setting along the Casselman River an eastbound B&O freight with WM GP35 #3577 on point grinds upgrade at Salisbury Junction, Pennsylvania on September 20, 1980.
For more reading on the WM you might want to consider the book, Western Maryland Diesel Locomotives from Patrick Stakem. This book, which has received excellent reviews, gives a very nice history of the WM's unique diesel locomotive fleet, which included many unique models manufactured by Alco and EMD. If you're interested in perhaps purchasing this book please visit the link below which will take you to ordering information through Amazon.com, the trusted online shopping network. Finally, you may want to check what Morning Sun Books has to offer regarding the WM. While expensive their books are excellent and highly recommended (currently, I believe they have three in print covering the railroad).