The Akron, Canton and Youngstown Railroad: Ohio's Road of Service

The Akron, Canton and Youngstown Railroad was a small Class I carrier that came into existence in 1907. Throughout much of its life the AC&Y served northern Ohio's industries and was actually rather profitable despite the fact that it only stretched from roughly Akron to Delphos operating a singular main line. The AC&Y lasted as a completely independent railroad until 1964 when it was sold to the Norfolk & Western Railway. The AC&Y's name remained in use until 1982 when it was finally dissolved with the formation of the new Norfolk Southern Railway. Today, the former AC&Y lines continue to remain in operation under the new Wheeling & Lake Erie Railway a Class II, regional that stretches into western Pennsylvania.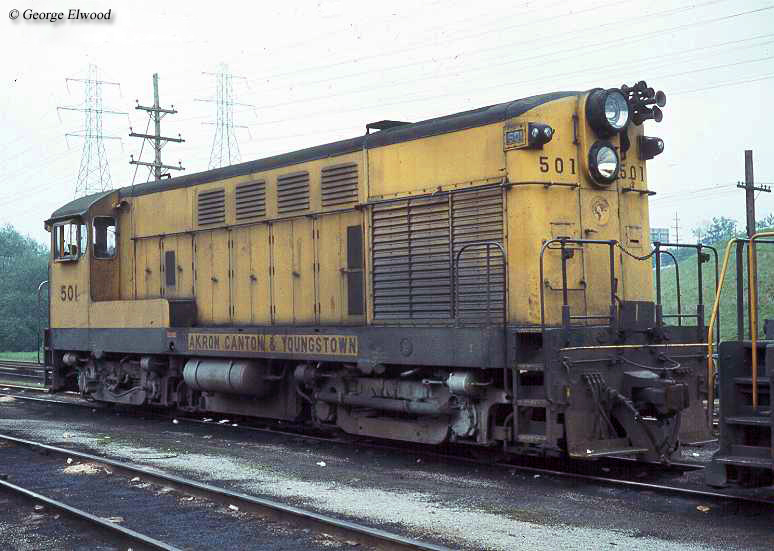 Wheeling & Lake Erie SD40-3 #3049 leads two other Electro-Motive units as all three locomotives pull a string of coal hoppers over the bridge at Kirwan Heights, Pennsylvania during the evening of May 31, 2009.
The AC&Y has its beginnings dating back to the Akron, Canton and Youngstown Railway and Northern Ohio Railway. The original AC&Y was formed in 1907 as a small 7-mile system connecting Akron with Mogadore, Ohio to the east. The point of the railroad was to serve as a transportation artery for Akron's industry base, particularly its established rubber businesses.  The other half of the future AC&Y was the Northern Ohio Railway. This railroad was chartered in 1881 with the dream of becoming a major narrow-gauge operation. However, these plans never materialized and the unprofitable railroad, which connected Akron with Delphos, Ohio to the west was leased to the Lake Erie & Western Railroad. The LE&W operated the property from 1895 until the Akron, Canton & Youngstown Railway purchased it in 1920 and in 1944 the two systems were formally merged to form the Akron, Canton & Youngstown Railroad.
The new railroad, although interestingly never reaching its namesake cities of Canton and Youngstown, became a rather profitable system, moving merchandise across its east-west route in Ohio's industrious northern region. The new AC&Y was also successful due to its many connections with other, larger Class I systems including the Chesapeake & Ohio Railway; Norfolk & Western Railway; Erie Railroad; New York Central; Baltimore & Ohio; Detroit, Toledo & Ironton Railroad; Wheeling & Lake Erie Railway; and Pennsylvania Railroad.  As the 1960s unfolded the modern-day merger movement was just getting underway. Understanding that it was a David among Goliaths the AC&Y approached the Norfolk & Western about a possible merger. The N&W agreed to the purchase and took over the AC&Y in 1964.
The N&W is remembered as one of the most highly respected railroad companies in history and for good reason. Aside from well-managed operations the railroad's property was meticulous and its equipment was always in excellent working order. Of course, operations aside, from a railfan and historical standpoint the railroad is remembered for many other things such as being the last Class I to operate steam locomotives (until 1960), its symbolism with coal, and legendary photographer O. Winston Link whose black and white photos of the railroad's final days of steam are now considered all but priceless works of art (not only for the photography itself but also the historical images captured).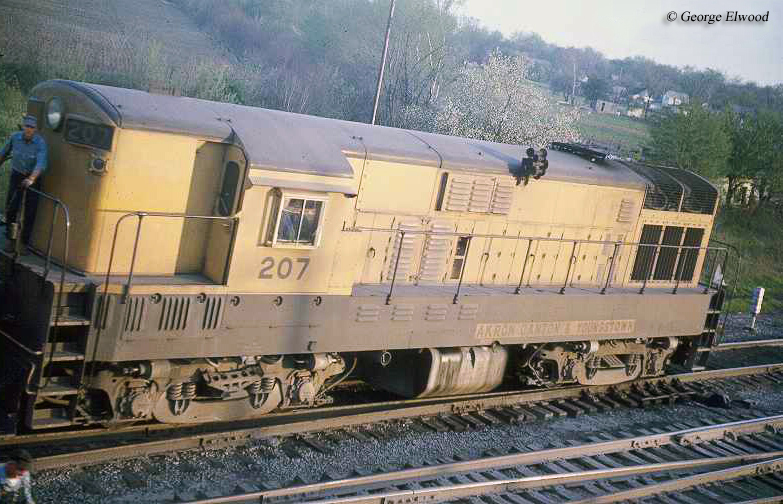 W&LE GP35-3 #708, a former Southern unit, leads an interesting lashup of counterparts wearing other liveries as all three power an ore drag over the trestle at Baidland, Pennsylvania on May 12, 2009.
The AC&Y's steam locomotive roster consisted mostly of 2-8-0 Consolidations. However, aside from small switchers the railroad also rostered a small fleet of 2-8-2 Mikados (11 in total). During the diesel era the railroad stuck entirely with Alco and Fairbanks-Morse for power. More information about its locomotive rosters can be found below.
Despite the its purchase by the N&W, this wasn't the end for the northern Ohio railroad. It remained mostly an independent operation under the N&W until the merger of the AC&Y's parent with the Southern Railway in 1982 to form today's Norfolk Southern Railway at which the AC&Y was dissolved and became yet another fallen flag. Today, the portion of the original AC&Y main line between Carey and Akron remains in use by the new Wheeling & Lake Erie system. For more information on the railroad please click here to visit the AC&Y Historical Society.
Diesel Locomotive Roster
For an all-time diesel locomotive roster please click here. Lastly, please click here to locate preserved AC&Y diesel locomotives.
The American Locomotive Company
| Model Type | Road Number | Date Built | Quantity |
| --- | --- | --- | --- |
| S2 | D-1, 103 (Ex-Delray Connecting), 104-105 (Ex-NKP), 106-108 (Ex-N&W) | 1942-1947 | 7 |
| RS1 | D-2 | 1945 | 1 |
Fairbanks Morse
| Model Type | Road Number | Date Built | Quantity |
| --- | --- | --- | --- |
| H15-44 | 200 | 1949 | 1 |
| H16-44 | 201-208 | 1951-1957 | 8 |
| H20-44 | 501-505, 506-508 (Ex-P&WV) | 1948-1953 | 8 |
Steam Locomotive Roster
For a more complete roster of steam locomotives please click here. Also, for information regarding surviving AC&Y steam locomotives please click here.
| Class | Type | Wheel Arrangement |
| --- | --- | --- |
| C-1, C-2 | Switcher | 0-6-0 |
| E | Mogul | 2-6-0 |
| L, L-1 | Switcher | 0-8-0 |
| M, O | Consolidation | 2-8-0 |
| P | Ten-Wheeler | 4-6-0 |
| R Through R-2 | Mikado | 2-8-2 |
---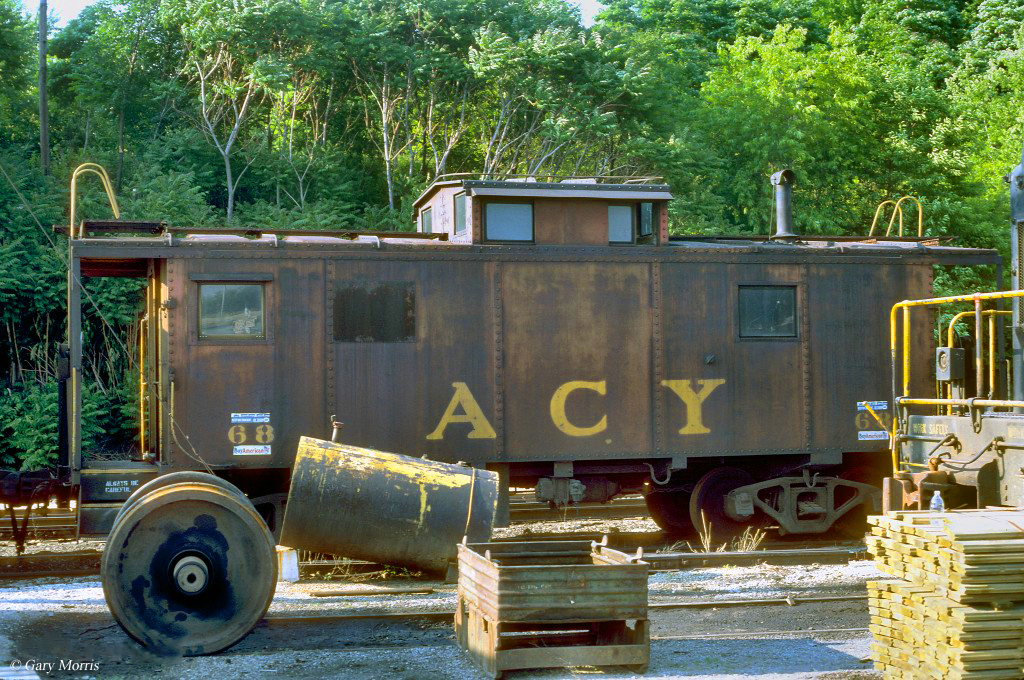 A worn and faded AC&Y caboose has yet to be repainted as it sits at the yard in Akron, Ohio during June of 1983.
For more on the fallen flag railroads like the AC&Y consider one (or all) of Mike Schafer's Classic American Railroads books (listed below is the first in the series). He has published three thus far covering virtually all of the most well known fallen flags. I have all three in my collection and highly recommend them, the photography is excellent along with learning a general history of each railroad. If you're interested in perhaps purchasing this book please visit the link below which will take you to ordering information through Amazon.com, the trusted online shopping network.
Adam Burns, Site Author