The BAR was never a large railroad, consisting of less than a 1,000 miles at its peak size.  During its final years the road operated just over 800 miles after being acquired by Iron Road Railways. The railroad was also late to the game being chartered in February of 1891 to build from Brownsville, Maine north to Caribou. Interestingly, the reason for the railroad's creation was the very business that the company survived on throughout its existence, potatoes and timber.  Being that Maine was still extremely isolated even by the late 19th century (so much so that for a very long time the northern areas of the state did not have adequate highways and other important infrastructure), the BAR earned healthy profits for many years on this business.  One of its largest customers, Great Northern Paper, would supply the Bangor & Aroostook with business for decades and would be the driving force behind it gaining its one and only port connection along Penobscot Bay in the early 1900s (Searsport and Cape Jellison).
Throughout the years the railroad's traffic base remained relatively unchanged hauling timber, coal (early on for the paper mill operations), and potatoes to either port or connections with other railroads (notably the Maine Central, Canadian Pacific, and Canadian National). Along with this the BAR operated a small fleet of passenger trains between Bangor and northern points (aside from this the rest of the railroad's passenger operations were with mixed freights or local runs), the most famous two being the Aroostook Flyer and Potatoland Special.  While it dabbled with streamlining in later years because the BAR operated such a small system and served rather unpopulated areas when compared to other, larger railroads it did not spend heavily on the concept, or passenger operations altogether for that matter.  Instead, the company focused on its core freight business and by the early 1960s the had dropped passenger operations entirely with the Potatoland making its last run on September 4, 1961.
The little railroad found in the northern, virtually unknown and unheard of areas of Maine surprisingly found itself in a pop star role beginning in 1950 with a new freight service it initiated. That year the BAR decided to build a fleet of 500 insulated refrigerator cars (known as refers, the railroad needed these cars to keep their potato shipments at a constant 40 degrees Fahrenheit while en route to market) and painted them in a striking and eye-catching Americana scheme of red, white, and blue with STATE OF MAINE PRODUCTS proudly adorning the cars' flanks. Their celebrity status was result of their operating all across the country when leased out to railroads and companies for use during the months when the BAR did not need them.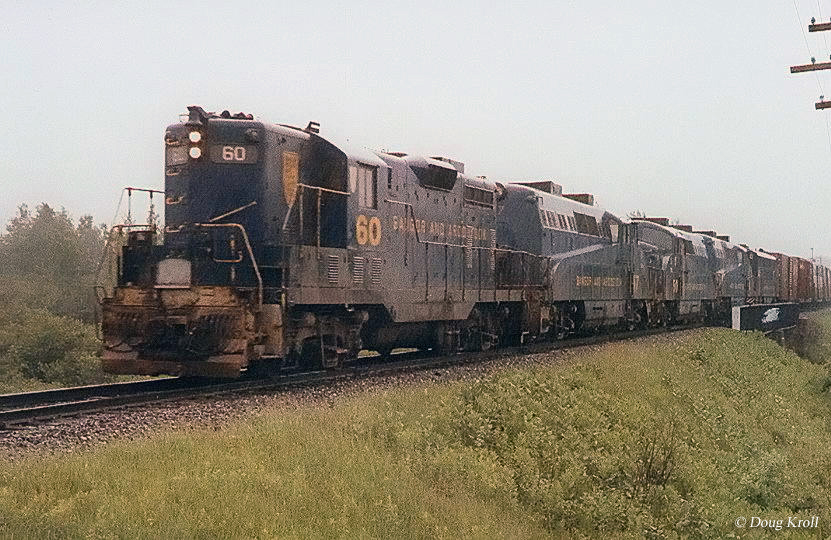 As the 1960s progressed things slowly went downhill for the railroad. During this time with highways and interstates ever-expanding trucks began to slowly eat into the BAR's lucrative potato business. Essentially it was one of the railroad's primary sources of revenue and freight, which would be lost during the end of the 1960s when the Penn Central's service was so bad that an entire season's crop rotted in transit after becoming lost in the PC's Selkirk Yard in New York. What resulted was not only lost profits for the BAR but also many of the farms themselves, which went out of business soon after the service collapse.  For those that remained, most elected to stop shipping by rail ever again.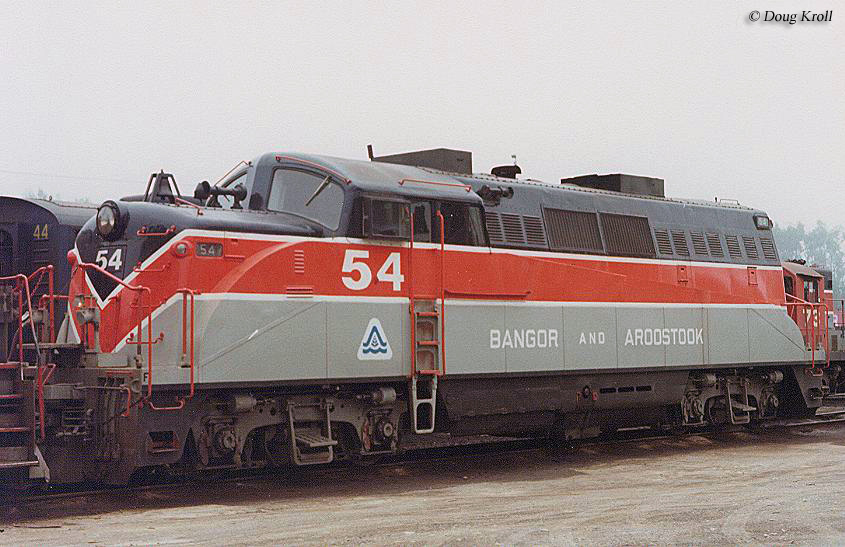 This loss of business would begin the path to the BAR's eventual end in 2003. While it continued to serve paper mills it struggled to make ends meet and was purchased by the Amoskeag Corporation, the same year of the PC disaster, 1969. In the early 1990s the railroad's ownership changed again when its final owner, Iron Road Railways, purchased the company. Never truly recovering from its potato loss the Bangor and Aroostook continued to slump under Iron Road Railways.  Unfortunately, when the paper mills it served could no longer support the railroad financially its owner elected to file the BAR for bankruptcy in the early 2000s, selling off its property to Rail World, Inc. in 2003 which renamed the route as the Montreal, Maine & Atlantic Railway. 

Diesel Locomotive Roster
Electro-Motive Corporation/Electro-Motive Division
| Model Type | Road Number | Date Built | Quantity |
| --- | --- | --- | --- |
| SW9 | 30-39 | 1951-1953 | 10 |
| GP9 | 76-80 | 1954 | 5 |
| GP38 | 81-88 | 1966-1967 | 8 |
| F3A | 500A-507A | 1947-1948 | 8 |
| BL2 | 550-557 | 1949 | 8 |
| GP7 | 560-575 | 1950-1952 | 16 |
| F3B | 600B-603B | 1947-1948 | 4 |
| E7A | 700-701 | 1949 | 2 |
| NW | 800-803 | 1949 | 4 |
General Electric
| Model Type | Road Number | Date Built | Quantity |
| --- | --- | --- | --- |
| 65-Tonner | 10 | 1950 | 1 |
Steam Locomotive Roster
| Class | Type | Wheel Arrangement |
| --- | --- | --- |
| A | Mogul | 2-6-0 |
| C, C-1, D Through D-3, E, F, F-1 | Ten-Wheeler | 4-6-0 |
| F | Pacific | 4-6-2 |
| G Through G-2 | Consolidation | 2-8-0 |
| H-2, H-3, K Through K-2 | American | 4-4-0 |
| M, M-1 | Mountain | 4-8-2 |
| P | Switcher | 0-6-0 |
| S Through S-2 | Switcher | 0-8-0 |
With this sale the BAR ended an interesting history of Maine railroading that had carried on for over 110 years.  Since the MM&A takeover the former BAR system has again been sold to new operator Central Maine & Quebec Railway, a Fortress Investment Group property.  The MM&A experienced a horrific derailment during the summer of 2013 that witnessed an oil train exploded in downtown Lac-Mégantic, Quebec killing dozens of people.  The succeeding lawsuits, cleanup, and other expenses related to the disaster forced the railroad into bankruptcy and its assets were acquired by today's CM&A which began operations during the spring of 2014.  

Related Reading You May Enjoy


Home

›

Fallen Flags

› Bangor & Aroostook