The Bessemer and Lake Erie Railroad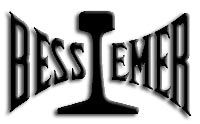 The Bessemer and Lake Erie Railroad was a regional railroad (once a Class I) based in western Pennsylvania that connected Bessemer, Pennsylvania (near Pittsburgh) with the Lake Erie port of Conneaut, Ohio and an interchange point with Norfolk Southern at Wallace Junction, near Erie, Pennsylvania (originally this connection was with the New York Central along its main line to Chicago). Similar to the Pittsburgh & Lake Erie, which operated in the same region as the B&LE but connected different cities in Pennsylvania and Ohio, the Bessemer is best remembered for the large amounts of steel and steel-related traffic it moved over its rails (i.e., coal, ore, coke, etc.) While the B&LE is technically still on the books as an operating entity, it was acquired in 2004 by Canadian National so it remains to be seen just how long the railroad will maintain its identity before being swallowed into the Class I giant. However, you can still catch bright orange and black EMD six-axle locomotives in full B&LE colors and logo hauling trains along the railroad's original route.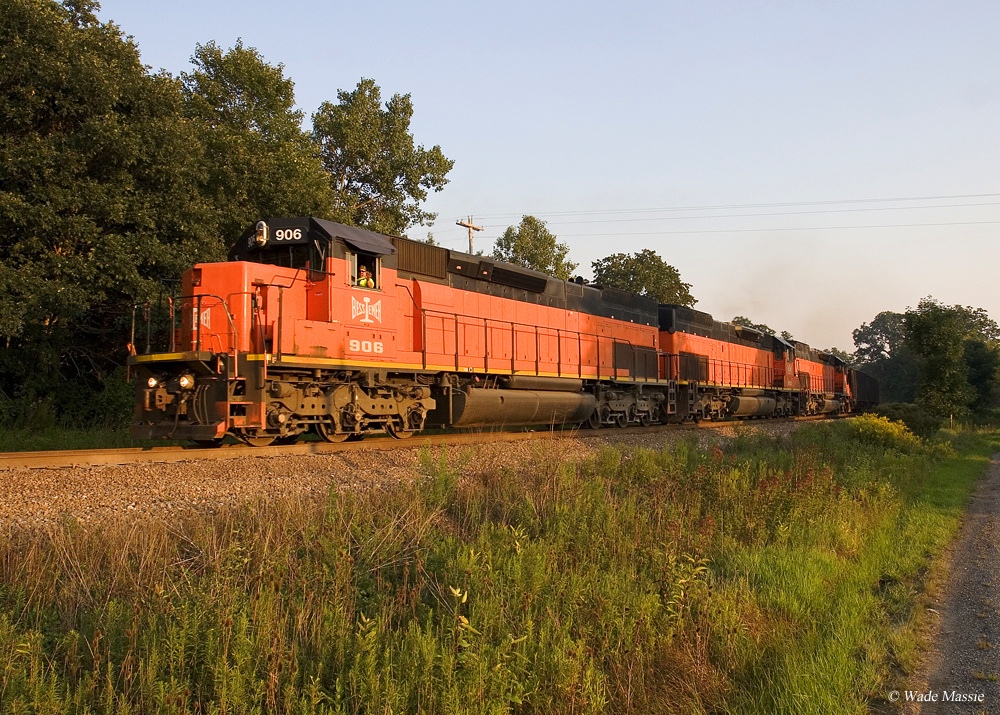 A northbound Bessemer & Lake Erie coal train led by a trio of SD40T-3s is traveling northbound through Ivywood, Pennsylvania August 28, 2007.
The B&LE dates as far back as the Shenango & Allegheny Railroad of 1869. However, the modern system has its roots traced to steel tycoon Andrew Carnegie who chartered the Pittsburgh, Bessemer & Lake Erie Railroad in 1897. The purpose of Carnegie's railroad was to haul steel products such as iron ore from the Lake Erie port of Conneaut, Ohio to serve his steel mills located near Pittsburgh. The present day B&LE received its name in 1900 through the merger with smaller systems, the Pittsburgh, Shenango & Lake Erie Railroad and the Butler & Pittsburgh Railroad.
In 1901 the Bessemer would become a sister road with the Minnesota ore hauler, Duluth, Missabe & Iron Range Railway when the Carnegie steel interests were purchased by United States Steel, which had taken over the DM&IR some years prior. The Duluth Missabe and Iron Range Railway is a Minnesota institution and best remembered for its primary source of traffic, iron ore. The railroads that eventually made up the DM&IR had their beginnings dating back to the mid-1880s when high-grade ore was discovered in northern Minnesota.
The DM&IR was also somewhat unique in having the ability to move its product directly from the mine to dock without the need of another railroad or transportation source to do so. While the DM&IR would remain under steel interest ownership for much of its life, for over 120 years this chorus of moving ore kept the railroad quite profitable. By the 21st the DM&IR was one of only a small handful of classic lines still around. However, that all changed in May 2004 when Canadian National purchased Great Lakes Transportation, which owned the railroad, thus finally closing the book on the fabled Duluth, Missabe & Iron Range.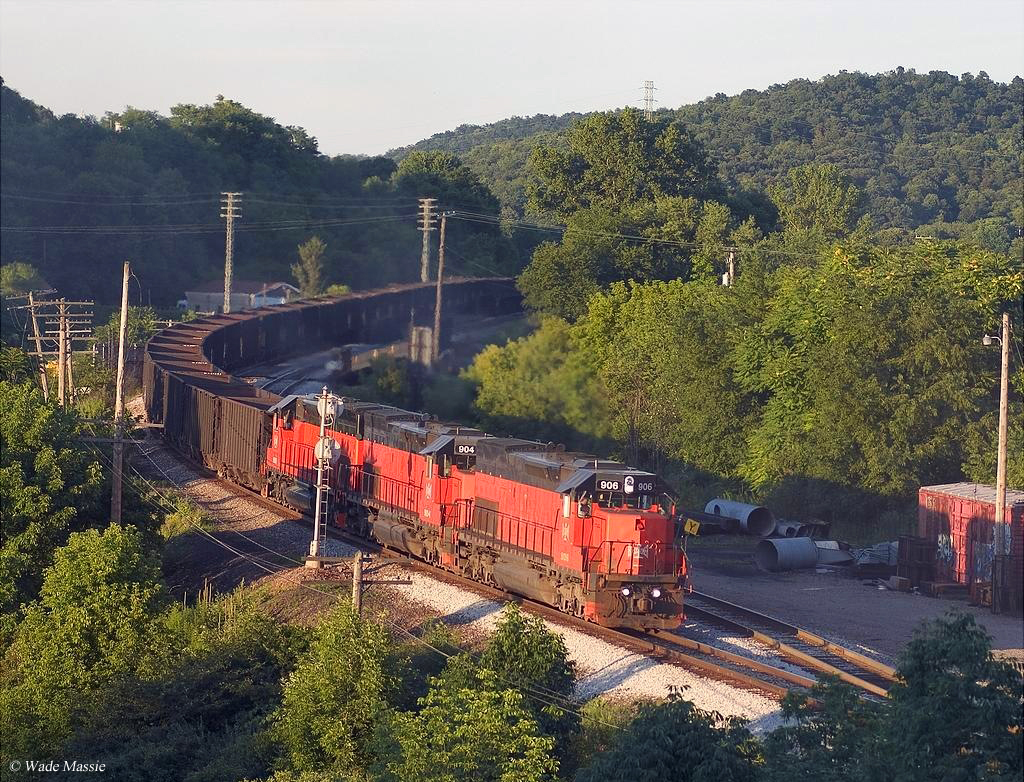 Three BL&E SD40T-3s power an empty string of coal hoppers through Butler, Pennsylvania on the evening of July 23, 2005."
In total, the Bessemer & Lake Erie's main line stretches some 149 miles from Bessemer, Pennsylvania (where it still connects with the Union Railroad, a terminal railroad that serves Pittsburgh) to Conneaut, Ohio. The railroad also once had three branch lines diverging from its main line; the Hilliards Branch (connecting Branchton with Hilliards, Pennsylvania, a distance of over 10 miles), the Meadville Branch (connecting Meadville Junction with Meadville, Pennsylvania, a distance of over 15 miles), and the Kaylor Branch (connecting Hooker with Kaylor, Pennsylvania, a distance of 18 miles).
While the B&LE never rostered such an impressive fleet of steam locomotives as its sister road it did operate a few Pacifics (4-6-2s) and its largest model, the 2-10-4 Texas Type (of which it owned 47). The locomotives (designated Class H-1a through H-1g) were quite impressive moving ore from the Lake Erie docks to the mills along with hauling coal back to the lake. The railroad's diesel locomotive fleet was perhaps more interesting. While it mostly preferred EMDs the B&LE also experimented with rare Baldwins.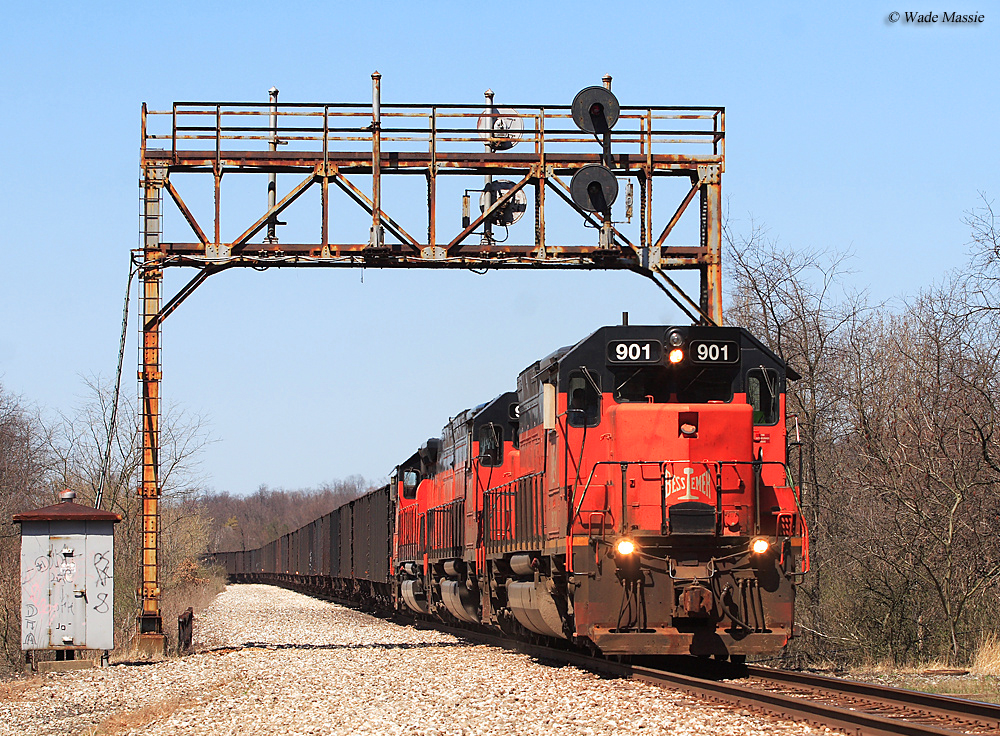 A southbound B&LE ore train passes under the aging signal tower at Russellton, Pennsylvania led by SD40T-3 #901 on April 15, 2008.
While the Bessemer and Lake Erie Railroad is now under CN control (now known as its Bessemer Subdivision), it is still very much alive and is said to still be operating virtually the same as before the 2004 takeover. However, it is unclear how much longer the CN will allow the locomotives to keep their classic orange and black livery and maintain operations as they were. That being said if you are interested in checking out this railroad before it disappears into the CN system I would certainly suggest getting out there to see it before its too late!
Diesel Locomotive Roster
The American Locomotive Company
| Model Type | Road Number | Date Built | Quantity |
| --- | --- | --- | --- |
| S4 | 291-292 | 1952 | 2 |
The Baldwin Locomotive Works
| Model Type | Road Number | Date Built | Quantity |
| --- | --- | --- | --- |
| DS-4-4-1000 | 282 | 1949 | 1 |
| DRS-6-6-1500 | 401-407 | 1949-1950 | 7 |
| AS616 | 408-409 | 1952 | 2 |
The Electro-Motive Corporation/Electro-Motive Division
| Model Type | Road Number | Date Built | Quantity |
| --- | --- | --- | --- |
| SD7 | 451-455, 801-803 | 1952-1953 | 8 |
| F7A | 701A-728A | 1950-1953 | 28 |
| F7B | 701B-726B | 1950-1953 | 26 |
| SD18 | 851-857 | 1962 | 7 |
| SD38 | 861-863 | 1967 | 3 |
| SD38AC | 864-869 | 1971 | 6 |
| SD38-2 | 870-879, 890-892 | 1973-1976 | 13 |
Steam Locomotive Roster

| Class | Type | Wheel Arrangement |
| --- | --- | --- |
| C | Consolidation | 2-8-0 |
| D | Santa Fe | 2-10-2 |
| E | American | 4-4-0 |
| H | Texas | 2-10-4 |
| M | Mogul | 2-6-0 |
| P | Pacific | 4-6-2 |
| S | Switcher | 0-6-0/0-8-0 |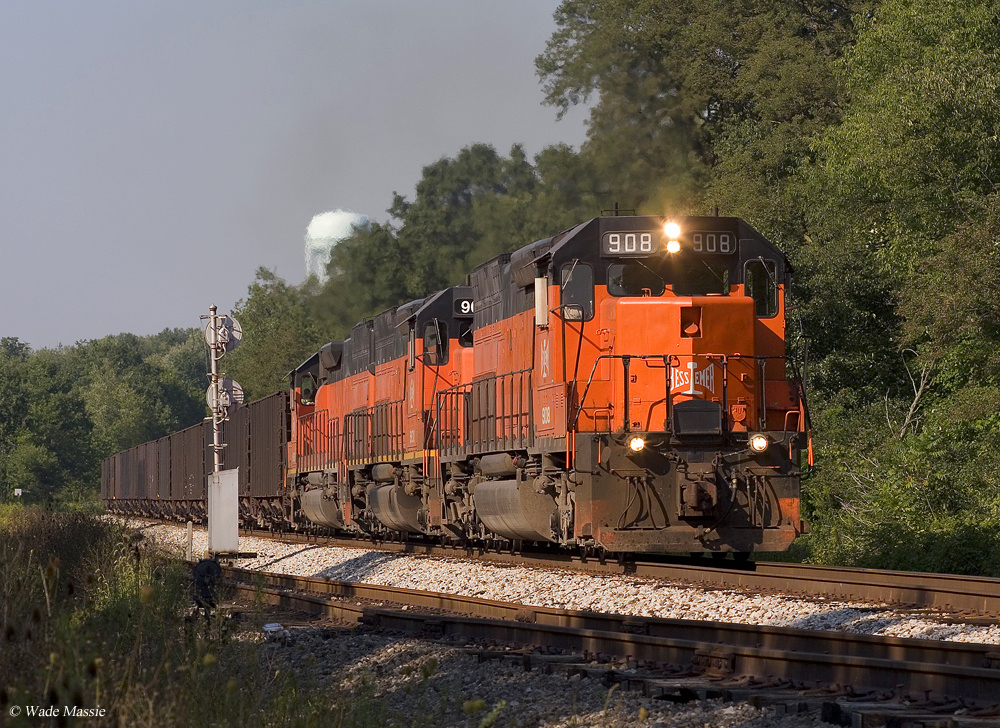 Seen here rolling through Ivywood, Pennsylvania, a B&LE ore train with three SD40T-3s up front heads southward on August 28, 2007.
For more reading on the Bessemer and Lake Erie Railroad you might want to consider purchasing a copy of Bessemer & Lake Erie Railroad In Color by authors Robert Lorenzo and Nathan Clark, Jr.  As a Morning Sun publication it is primarily filled with historic photos (more than 200, all of which are in color) of the classic B&LE ranging from the 1950s to the 1990s.  As owner of many Morning Sun books they are always excellent and fascinating to see railroading scenes from those classic years predating the 1980s.  If you're interested in perhaps purchasing this book please visit the link above which will take you to ordering information through Amazon.com.