The Alco Century Series

Alco's Century series was perhaps a diesel locomotive model developed more from desperation than anything else in an attempt to gain a footing in the locomotive market and better compete with both General Electric and General Motors. The American Locomotive Company (Alco) was a locomotive manufacturer icon for years before it switched from building steamers to diesels. During the steam era Alco built some of the best and well-known locomotives to ever roam the rails, many of which still survive today. These included locomotives such as the 4-6-4 Hudson, 4-8-4 Niagara, 4-6-6-4 Challenger and 4-8-8-4 Big Boy. Even when the diesel locomotive first began to see widespread use in switching service Alco did quite well selling hundreds of S and RS switcher models.
This gorgeous scene was captured on August 5, 2009 as five Apache Railway Centuries head southbound, away from the BNSF interchange at Holbrook, Arizona towards Snowflake. In the lead is C420 #81 built as Louisville & Nashville #1305 in June of 1964.
However, when main line diesel locomotives began to be favored because of their superior efficiencies (this was where the real money was made for the manufacturers), steam manufacturers like Alco had no choice but to follow suit. EMD instantly became the industry standard for first and second-generation diesel models (such as its Es, Fs, and GP series) and held well over half the market share for years. However, convinced that railroads would never favor diesels over steam, Alco (and the other steam builders) did not invest heavily in diesel research and development for years, which cost the company dearly in the future.   While Alco held second place in the diesel locomotive market for the first twenty years or so from the late 1930s onward, it was essentially no contender to EMD.
The company's outlook would worsen in the 1950s when General Electric not only broke ranks with Alco but also went on to debut their very own line of diesels, its ubiquitous Universal series, which was not only quite popular but also bumped Alco into third place.  To counter GE's new locomotive model Alco debuted its Century series in the early 1960s. The first in the series was the C420; a powerful, clean design that unfortunately was much more successful with railfans (and still is) than railroads. The Century series also brought out a new numbering system by Alco, replacing the straightforward symbols from before ("RS" for road-switcher, "PA" for passenger and A-unit, etc.) with letters and digits, something roughly similar to Baldwin's numbering system. With the C420, "C", of course, stood for Century series, "4" was the axle number (in this case a B-B arrangement), and the last two digits were the horsepower rating.
One of the few big Centuries to receive Conrail paint, C628 #6742 is seen here near Cleveland's Hopkins Airport during December of 1978. The Alco began its career as Pennsy #6304 in April of 1965.
Later models followed the C420 such as the C425 and C430, except that they were just a bit more powerful than their earlier sister. The model certainly had a modern look to it and with a rather tall nose and carbody design gave it a beefy, powerful look that was especially true for the six-axle, C-C version. The most powerful locomotives for their time, the C628, C630 and C636 were true monsters and could certainly lug a heavy freight train with ease.  While the most powerful locomotive series since F-M's Trainmaster model, the model (especially the C636) could just not compete with EMD and GE. To make matters worse, around the time the Century series C-C models debuted EMD had launched its SD40, and later upgraded SD40-2 series, one of the most successful diesel locomotive designs ever built with several thousand rolling off of the assembly line through the 1980s (most of which are still in regular freight use today).
Alco's Century Series

| Model Type | Units Built | Date Built | Horsepower |
| --- | --- | --- | --- |
| C-415 | 26 | 1966-1968 | 1,500 |
| C-420 | 131 | 1963-1968 | 2,000 |
| C-424 | 190 | 1963-1967 | 2,400 |
| C-425 | 91 | 1964-1966 | 2,500 |
| C-430 | 16 | 1966-1968 | 3,000 |
| C-628 | 186 | 1963-1968 | 2,750 |
| C-630 | 133 | 1965-1969 | 3,000 |
| C-636 | 83 | 1967-1968 | 3,600 |
| C-643H | 3 (Built For SP) | 1964 | 4,300 |
| C-855 | 3 (Built For UP) | 1964 | 5,500 |
---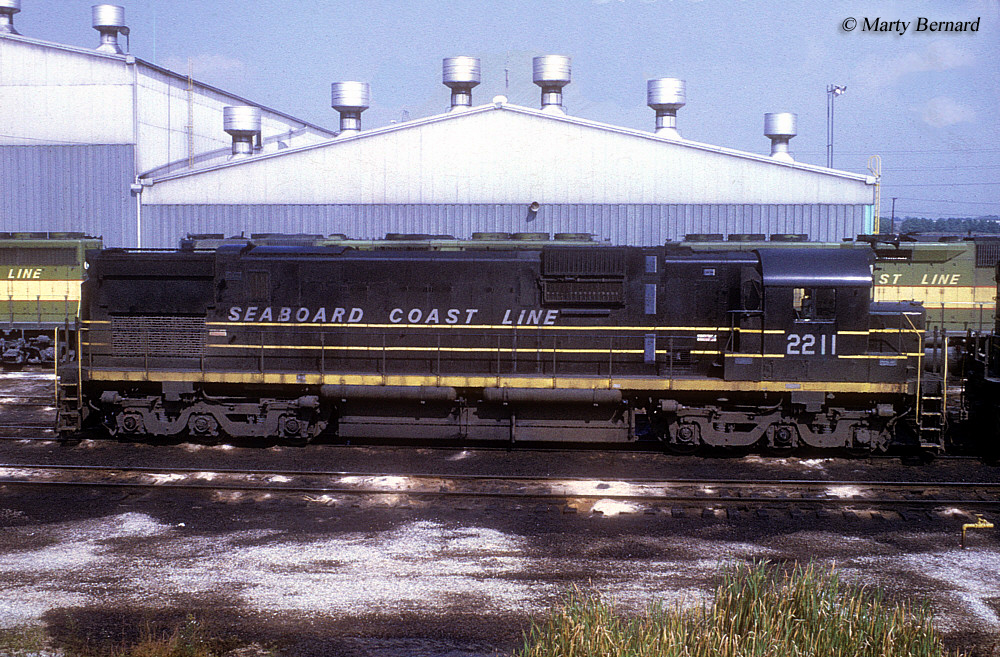 Seaboard Coast Line C630 #2211 rests with other power at the RF&P's Bryan Park Shops in Richmond, Virginia on September 27, 1969. The unit started out on the Atlantic Coast Line as #2011 in July of 1965.
In all, between the Century series four and six-axle models, only a few hundred were ever built, a mere drop in the bucket to what EMD and GE were cranking out with their similar designs. The C636 would also prove to be Alco's last entry into its long and storied history book, sadly closing its doors in the fall of 1968, no longer able to compete with GE and EMD. Today, Century series models can still be found roaming the country here and there, especially the four axle units, although most are relegated to museums and tourist lines.  In any event, more information regarding the Century series can be found below.

Related Reading