The Chicago Great Western Railway, The Corn Belt Route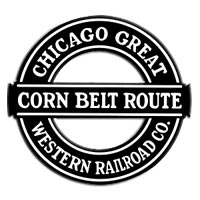 The Chicago Great Western Railway is one of the lesser-recognized fallen flags because of its small size and the fact that among most of the other granger roads it was a David among Goliaths. Altogether the railroad consisted of less than 1,500 miles of trackage serving Chicago and points northwest and southwest including St. Paul/Minneapolis, Omaha, and Kansas City. However, what the railroad lacked in size it more than made up for in customer service. Always the innovator the CGW was constantly looking to streamline operations and not only find new customers but also retain the ones it already served. Alas, however, the railroad would succumb to the economics of a region so overpopulated with railroad tracks that by the 1960s demand was no longer able to support supply and the CGW merged with the Chicago & North Western Railway in the late 1960s to save itself from a gloomy fate, such as what would happen with neighbor Rock Island roughly ten years later.
A parade of covered wagons led by F3A #107-A pull their freight train through Elmhurst, Illinois on June 26, 1966.
The CGW has its beginnings with the Minnesota & North Western, which began building south out of St. Paul, Minnesota in 1884. The rapidly expanding Chicago, St. Paul & Kansas City, would later acquire the M&NW in 1887, and from that point would begin expanding south, southwest and east connecting the cities of Omaha, Nebraska and Kansas City by the 1890s. This was the decade the railroad would also be given its now-classic name, the Chicago Great Western when the CStP&KC was reorganized.  Like all granger roads the CGW first and foremost served the farmlands, the territory which it operated through and it did this successfully for over 70 years. However, unlike many other railroads it did not embrace the streamliner concept and only kept a modest passenger train fleet before it finally gave up on the business altogether in the mid-1960s when competition from the highways and other railroads made the company realize that it was fruitless to continue the money-losing operation.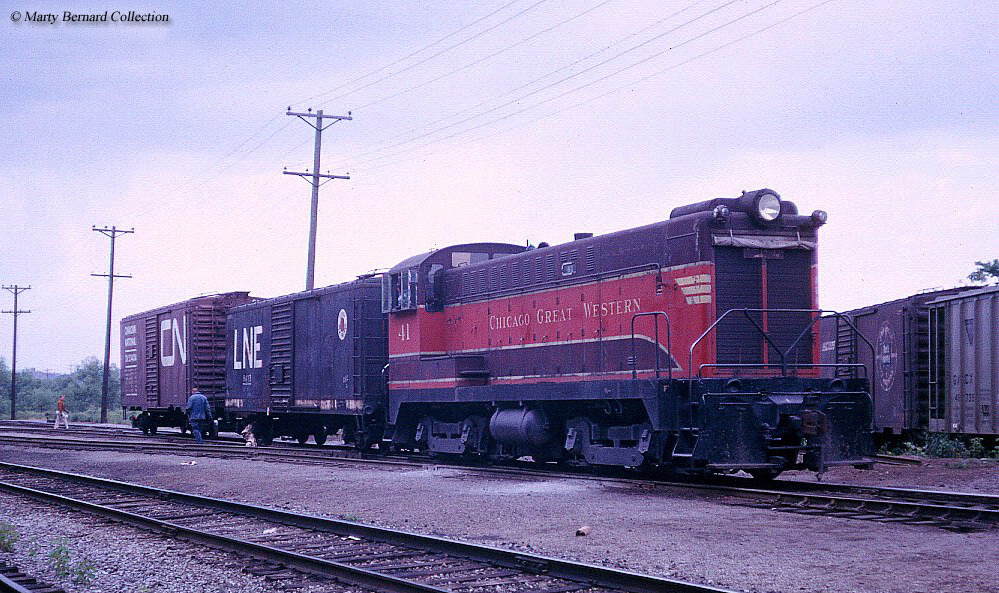 The CGW mostly stuck with Electro-Motive diesels but occasionally purchased from other builders, such as Baldwin. Seen here is one of its ten DS-4-4-1000 switchers, #41, kicking cars around the yard at Saint Paul, Minnesota on June 2, 1964.
Prior to this, however, the railroad realized the mediocrity of the passenger business. As early as the 1920s it was looking for innovative and cheaper methods of carrying about its passenger operations, especially on light branch lines that made little, if any, revenue at all hauling people. It did this by purchasing a number of gas-electric motorcars, which were typically single car operations that were powered by conventional gasoline engines and could handle the job much more cheaply than a steam/diesel locomotive and coaches.
Because of the railroad's frugal attitude it was quick to adopt the diesel-electric concept and the efficiencies which could be gained from it. The Chicago Great Western so embraced diesels that it was one of the very first Class Is to entirely dieselize, completing the transformation prior to 1950, in 1949 (many railroads were still operating vast steam fleets at that time)! Another concept the railroad was famous for by means of cost savings, included very long freight trains, sometimes nearing 200 cars in length.  For the CGW's small size the railroad interestingly had the future TOFC (Trailer-On-Flat-Car) innovation (also known as "piggyback") to its credit by being one of the first to pioneer the concept in the 1930s as a means to combat the ever-increasing truck traffic threat, especially when the new interstate highways were being constructed in the 1950s.
GP7 #121 and its trailing caboose await their next assignment sitting at the siding in Ingalton, Illinois during the fall of 1966.
Despite the railroad's attempt to remain as efficient as possible by the 1960s traffic was just drying up. It was not the only railroad suffering, however, as many of the granger roads were also facing traffic crises, as America's Heartland region could simply no longer support so many railroads. The railroad had talked with many neighboring railroads over the years about possible mergers but none allowed for much in the way of savings. Eventually the CGW would find a partner in the way of the Chicago & North Western and the merger took place in 1968. While the merger with the C&NW signaled the end of the CGW the railroad likely had no other alternative as traffic was simply no longer able to support the railroad and it likely would have fallen into another bankruptcy. The CGW was certainly one of the more interesting granger roads that will forever be remembered for its innovation and commitment to not only itself but also the customers which it served.
Diesel Locomotive Roster
The American Locomotive Company
| Model Type | Road Number | Date Built | Quantity |
| --- | --- | --- | --- |
| S2 | 8-10 | 1947 | 3 |
| S1 | 11-15 | 1948 | 5 |
| RS2 | 50-57 | 1949 | 8 |
The Baldwin Locomotive Works
| Model Type | Road Number | Date Built | Quantity |
| --- | --- | --- | --- |
| DS-4-4-1000 | 32-41 | 1949 | 10 |
The Electro-Motive Corporation/Electro-Motive Division
| Model Type | Road Number | Date Built | Quantity |
| --- | --- | --- | --- |
| SC | 5-7 | 1936 | 3 |
| SW900 | 5 | 1957 | 1 |
| NW2 | 16-31, 42 | 1948-1949 | 17 |
| TR2 | 58A-66A, 58B-66B | 1948-1949 | 18 |
| F3A | 101A-115A, 101C-115C, 150-152 | 1947-1949 | 33 |
| F3B | 101B-112B, 101D-104D | 1947-1949 | 16 |
| F7B | 113B-116B, 108D-116D, 116E, 116F, 116G | 1949-1951 | 16 |
| GP7 | 120-121 | 1951 | 2 |
| GP9 | 120 | 1956 | 1 |
| F7A | 153-156 | 1949 | 4 |
| GP30 | 201-208 | 1963 | 8 |
| SD40 | 401-409 | 1966 | 9 |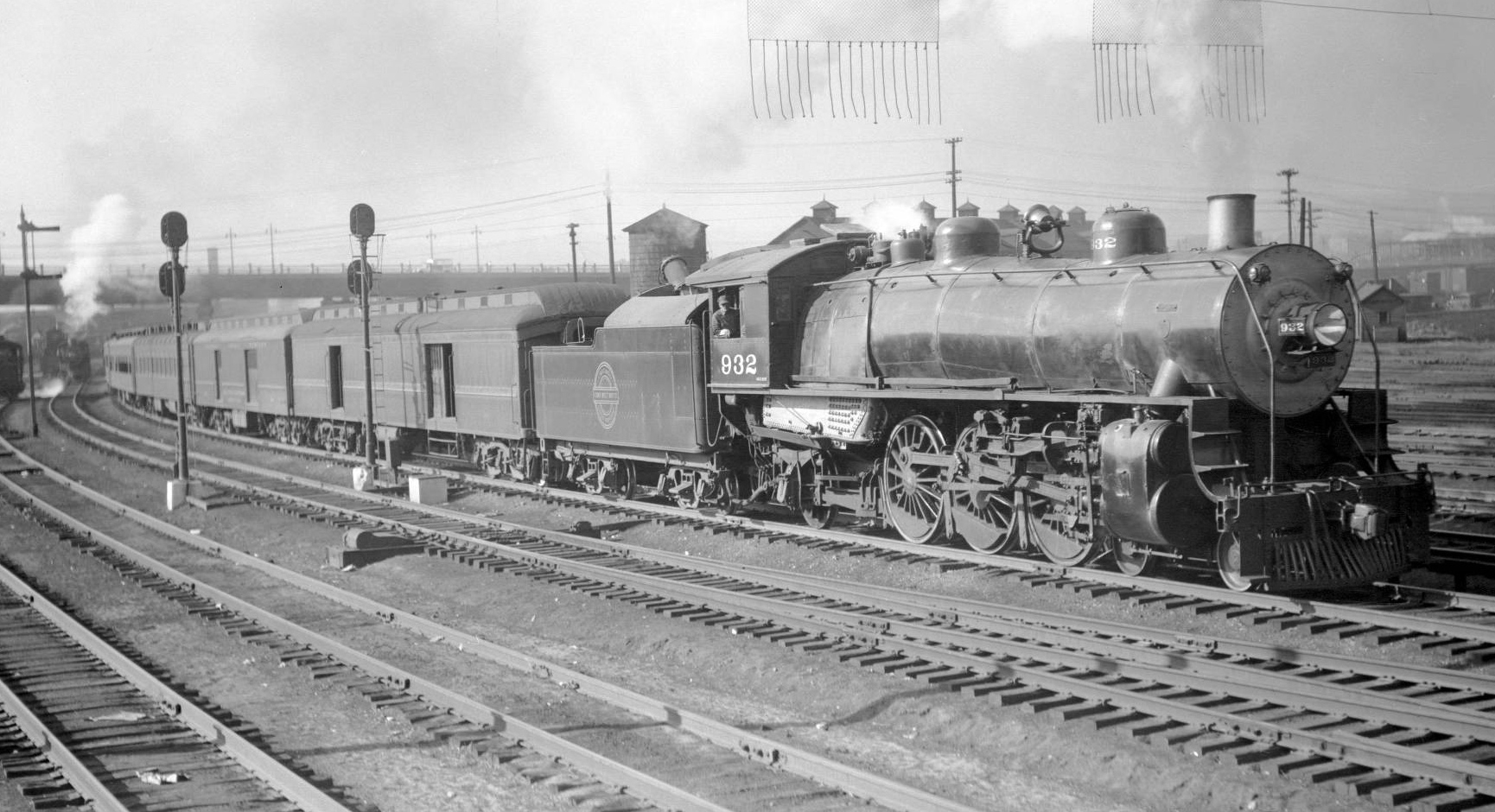 CGW Class E7 4-6-0 #509 speeds out of St. Paul with a passenger train on August 31, 1946.
Steam Locomotive Roster
| Class | Type | Wheel Arrangement |
| --- | --- | --- |
| B-3 Through B-8 | Switcher | 0-6-0 |
| C-8 Through C-14 | American | 4-4-0 |
| D-1 Through D-4 | Mogul | 2-6-0 |
| E-1 Through E-7 | Ten-Wheeler | 4-6-0 |
| F-2 Through F-7b | Prairie | 2-6-2 |
| G-1 Through G-4 | Consolidation | 2-8-0 |
| H-1, J-2 Through J-2s | Switcher | 0-8-0 |
| K-1 Through K-6 | Pacific | 4-6-2 |
| L-1 Through L-3 | Mikado | 2-8-2 |
| M-1 | Santa Fe | 2-10-2 |
| T-1 Through T-3 | Texas | 2-10-4 |
Notable Passenger Trains
Blue Bird: (Twin Cities - Rochester)
Bob-O-Link: (Chicago - Rochester)

Great Western Limited: (Chicago - Twin Cities)
Legionnaire: (Chicago - Twin Cities)
Mills Cities Limited: (Kansas City - Twin Cities)
Minnesotan: (Chicago - Twin Cities)
Nebraska Limited: (Twin Cities - Omaha)
Omaha Express: (Twin Cities - Omaha)
Omaha Limited: (Twin Cities - Omaha)
Rochester Special: (Twin Cities - Rochester)
Red Bird: (Twin Cities - Rochester)
Twin Cities Express: (Twin Cities - Omaha)
Twin Cities Limited: (Omaha - Twin Cities)
---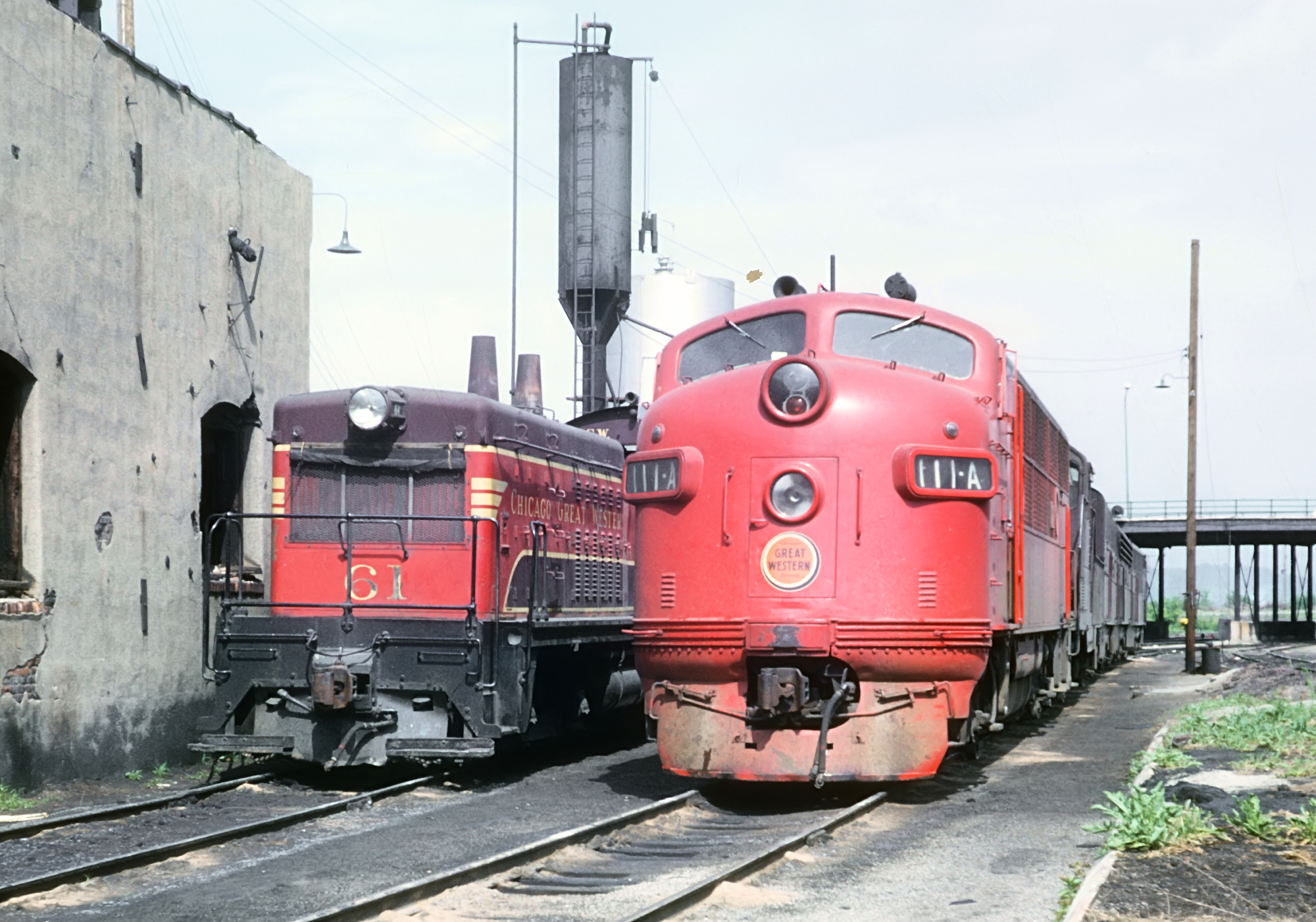 F3A #111-A rests in the yard at St. Paul with TR2A #61 on June 2, 1964.
For more reading and history on the Chicago Great Western Railway you might want to consider The Corn Belt Route: A History of the Chicago Great Western Railroad Company, which gives an excellent and quite detailed history of the railroad covering nearly 250 pages from how the line was created until its purchase by the North Western in the late 1960s. If you are a fan or historian of the CGW, or simply would just like to learn more about it, you will very likely enjoy this book. If you're interested in perhaps purchasing this book please visit the link below which will take you to ordering information through Amazon.com, the trusted online shopping network.