The St. Louis Southwestern Railway is often mentioned in publications or historical texts although it is not always clear what this company was or where it operated. It spent most of the 20th century owned by larger carriers; first by the Gould empire and then under the Rock Island.  Things remained this way until Southern Pacific gained control during the depression.  In 1947 the Cotton Belt released a compact but comprehensive booklet detailing its corporate heritage.  Entitled, "A Shorty History Of The St. Louis Southwestern Railway Lines," the piece was written by Jacob E. Anderson and at the time was readily available through the railroad's public relations department.  It is less than thirty pages in length but articulately describes how its modern network was pieced together.  What was transformed into a successful 1,554-mile Class I ("In Its Race With The Mop's Red Balls, Cotton Belt Goes Like A Blue Streak," by Steve Patterson, from the November, 1962 issue of Trains Magazine) was not envisioned as such.  It began like most others in those days, as a local operation to link a particular community.  After the citizens of Tyler, Texas realized the International Railroad would not be reaching their town they took it upon themselves to build their own.
The Tyler Tap Railroad was granted incorporation by the state legislature on December 1, 1871 for the "right to locate, construct, own, operate, and maintain a railroad, with a single or double track, from Tyler to such a point, not exceeding forty miles from the above town on either the Southern Pacific, Houston and Great Northern or the International Railroad, as may be selected by the directors."  It was led by the town's mayor, Major James P. Douglas, and originally capitalized at $1 million.  Less than two years later, on May 7, 1873, the act was amended to increase capitalization to $3 million and the route was changed to, "...run north from Tyler by way of Gilmer, Pittsburg, Mt. Pleasant, and Clarksville to some on the Red River."  The state further aided the project by providing a 200 foot right-of-way and a swath of five miles from this point for the purpose of utilizing lumber, dirt, gravel, and any other natural resource needed for construction.  The first twenty miles was to be finished by May of 1875 at which time the railroad would be offered additional aid in the form of land grants totaling 640 acres for every mile completed.  Unfortunately, delays were immediate as the needed financing never materialized.  Due to cost, promoters also abandoned the standard-gauge plan.  Instead, the Tyler Tap would be constructed to with a three-foot, narrow-gauge right-of-way.

Actual construction did not begin until the summer of 1875 with the first 11.1 miles opened northeast of Tyler by October 3, 1877.  It was soon extended to Ferguson, which boasted the system to a total of 21.5 miles.  The little pike only operated for two years before it was clear that the 190,720 acres in land grants provided, along with efforts to procure local subscription, would not be enough to get the railroad to the Red River.  So Douglas and his associates headed for St. Louis in the hopes of securing greater financing.  There, they met Colonel James W. Paramore who owned a successful business, the St. Louis Cotton Compress Company.  In the Tyler Tap Railroad, the colonel saw great potential in its ability to handle large volumes of cotton between Texas and St. Louis for his establishment.  This gave rise to its nickname, the "Cotton Belt Route," which preserved throughout the modern era.  The Tyler Tap was subsequently reincorporated as the Texas & St. Louis Railway (T&StL) on May 14, 1879 and Paramore was successful in securing financing from New York investment bankers Kuhn, Loeb & Company.  He became a central figure in the railroad's growth after this point ascending to the presidency in May of 1880.  Douglas eventually left the company for other industrial pursuits and went on to build the Kansas & Gulf Short Line (which, ironically, also became part of the modern Cotton Belt).
Paramore became an able and ardent railroader who was even successful in going up against the powerful Jay Gould.  At first, he sought to build the T&StL from Texarkana to Waco and would utilize St. Louis, Iron Mountain & Southern (StLIM&S) for the purpose of moving cotton into St. Louis.  Construction commenced quickly and by July 5, 1880 was opened to Texarkana.  Later that year in December rails were pushed as far west as Trinity with the expectation of completing the corridor by sometime in 1881.  While this was under way, Gould gained control of the StLIM&S and immediately ended the through traffic agreement.  Typical of the tycoon's scheme he attempted to choke off the T&StL's traffic and force Paramore to either sell out or capitulate in sending traffic into St. Louis.  This tactic usually worked but not this time.  The colonel countered by announcing an extension not only towards St. Louis but also to the Mexican border at either Laredo or Eagle Pass.  There, it would interchange with the William Palmer's and James Sullivan's syndicate (Mexican National Railway and Texas-Mexican Railway) which were working on a route into Mexico City.  Paramore's line towards St. Louis would terminate at Bird's Point, Missouri, located just south of and directly across the Mississippi River from Cairo, Illinois.  Here, an interchange would be established with the Cairo & St. Louis (this road eventually wound up in the Gulf, Mobile & Ohio's network), another three-footer, for through service into St. Louis.
With $4 million in bonds available, Paramore wasted no time extending his railroad in both directions, most of which was via new construction except for the May, 1881 acquisition of the small 27-mile Little River & Arkansas Valley Railroad between New Madrid and Malden, Missouri.  During a grand ceremony held on August 12, 1883 Colonel Paramore drove a silver spike on the new bridge spanning the Arkansas River at tiny Rob Roy, Arkansas signaling completion of the railroad between Gatesville Texas and Bird's Point, Missouri via Waco, Texarkana, Pine Bluff, and Malden.  In a strange turn of events, the Cairo & St. Louis showed no interest in working with the T&StL at Cairo.  As a result, Paramore worked out an agreement with the standard-gauge Cairo Short Line Railroad, an Illinois Central subsidiary, for through service into St. Louis.  The two worked around the gauge difference by laying third-rail within the car ferries as well as at IC's terminal trackage in Cairo.  Following its opening the T&StL immediately ran into trouble as lack of adequate equipment caused traffic delays.  This was further expounded by heavy rains that fall.  Unable to pay employees train crews went out on strike during November of 1883 and the T&StL entered receivership on January 23, 1884.
On April 1, 1885 Samuel Fordyce took over for W.R. Woodard as receiver.  He was immediately effective at improving the general well-being of the company raising revenues, earning the respect of his employees, and making sure his workforce was paid on time.  These efforts helped the railroad escape reoganization relatively quickly and it became the St. Louis, Arkansas & Texas Railroad (StLA&T) on May 1, 1886.  Fordyce subsequently became president and Paramore's involvement ended.  During his time the colonel was never able to complete the Lardeo extension but had established a true competitor against Gould's railroads which dominated the entire region at that time.  One of Fordyce's first tasks was to standard-gauge the property to establish a more efficient means of interchange and open additional feeder branches. The first section, from Bird's Point to Texarkana, a record 419 miles, was completed in a single day on October 18, 1886.  The remaining Texas trackage was finished by January 12, 1887.  The rest of the 19th century involved expanding the railroad's presence throughout the Southwest.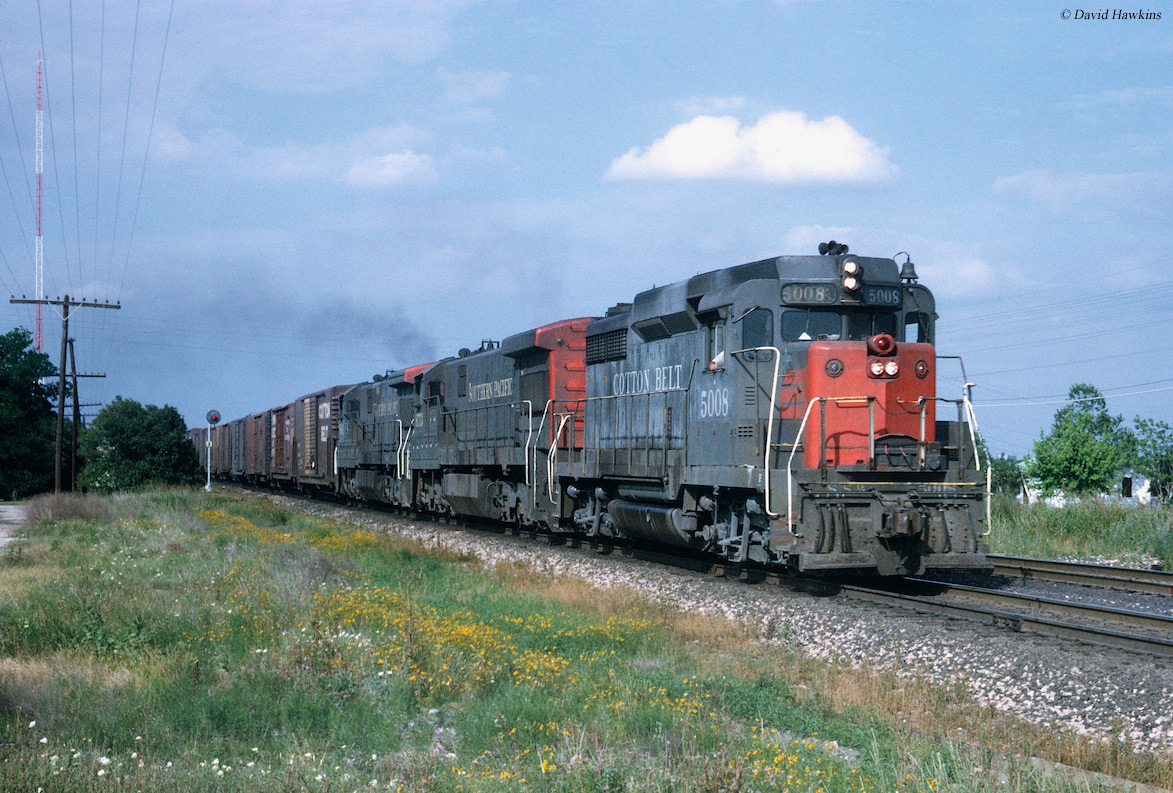 While it never operated a substantial branch line network the Cotton Belt did reach the following points: by acquiring the three-foot Kansas & Gulf Short Line in 1887 service was extended from Tyler to Lufkin (As previously mentioned, Major James Douglas, helped construct this system, which was intended to reach the Gulf of Mexico at Sabine Pass, Texas.  However, it was never extended beyond Lufkin.); and later that same year, during July, the StLA&T had completed an important addition from Mount Pleasant to Fort Worth with an additional branch from this line opened between Commerce and Sherman (Dallas was reached directly in May of 1903 via a short spur from Addison).  In 1888 there were three notable extensions when service opened from Altheimer, Arkansas to Argenta, establishing a link into Little Rock; an extension from Corsicana to Hillsboro (February); and finally service into Shreveport, Louisiana via Lewisville, Arkansas.  As Fordyce attempted to upgrade the road's infrastructure through the utilization of heavier rail he realized the company could not afford to do so.  As an emergency measure to cover these deficits owed Andrew Carnegie (from whom the new steel rails were purchased) he handed over the StLA&T to Jay Gould.  Unfortunately, even the powerful tycoon could not prevent receivership which occurred May 13, 1889.
It exited reorganization on June 1, 1891 as the St. Louis Southern Railway with Forydce remaining as president.  This event was short-lived as Jay's entire empire passed into the hands of his eldest son, George.  Following considerable operational differences between the two, Forydce left the company on October 31, 1898 when he was replaced by Edwin Gould, another of Jay's sons.  Unlike his father, who was hated throughout much of the railroad industry for his shady and manipulative business practices, Edwin did well at the helm.  The same year he took over, the Cotton Belt improve its access into St. Louis by opening an extension from Malden to Grays Point (Illmo), Missouri along the Mississippi River.  From here, car ferry service, again with the Illinois Central, was established from across the river at Thebes.  Two years later, on October 15, 1900 it entered into an agreement with the St. Louis, Iron Mountain & Southern (Missouri Pacific) to gain trackage rights from Thebes directly into St. Louis Union Station, providing the railroad its first physical connection with the Gateway City.  The connection here was considerably improved when the Thebes Bridge opened in 1905, a joint project of the St. Louis Southwestern, Missouri Pacific, Chicago & Eastern Illinois, and St. Louis-San Francisco (Frisco).
Into the early 20th century the Cotton Belt continued to grow, again via a series of branches: it picked up the bankrupt Stuttgart & Arkansas River Railroad on January 3, 1901 which ran from a connection along the main line at Stuttgart, Arkansas to nearby Gillett; for a time, its western terminus was extended beyond Gatesville to Hamilton by leasing the Stephenville, North & South Texas Railroad as of July 1, 1913.  It originally ran from a connection with the Cotton Belt at Gatesville to Hamilton with spurs reaching Stephenville and Camanche.  Never particularly successful, much of the road beyond Hamliton was abandoned in October of 1934.  Even the Gatesville - Hamilton section carried a short life and was removed during January of 1941 (this segment was further pulled back to Lime City in 1972).  The St. Louis Southwestern Railway was a respectable carrier at this time, as it continued to play an important role handling both freight and passengers between Texas points and the Midwest.  It came under the United States Railroad Administration's control made effective at noon on December 28, 1917 with the onset of World War I.

Diesel Locomotive Roster
The American Locomotive Company

| Model Type | Road Number | Date Built | Quantity |
| --- | --- | --- | --- |
| RS3 | 2800-2816 | 1951-1952 | 17 |
| RSD5 | 2888-2890 | 1953 | 3 |
| RSD15 | 5150-5159 | 1960 | 10 |
| PA-1 | 6067-6068 | 1949 | 2 |
The Baldwin Locomotive Works
| Model Type | Road Number | Date Built | Quantity |
| --- | --- | --- | --- |
| DT-6-6-2000 | 260 | 1949 | 1 |
| VO-1000 | 1000-1022 | 1942-1945 | 23 |
| DS-4-4-1000 | 1023-1027 | 1947 | 5 |
Electro-Motive Division
| Model Type | Road Number | Date Built | Quantity |
| --- | --- | --- | --- |
| GP7 | 304 | 1950 | 1 |
| FTA | 900A, 905A, 910A, 915A, 920A, 900D, 905D, 910D, 915D, 920D | 1944-1945 | 10 |
| FTB | 900B, 905B, 910B, 915B, 920B, 900C, 905C, 910C, 915C, 920C | 1944-1945 | 10 |
| F7A | 925-975 (Odds) | 1950-1952 | 26 |
| F7B | 926-958 (Evens) | 1950-1952 | 16 |
| NW2 | 1900-1903 | 1949 | 4 |
| SW7 | 2200-2203 | 1950 | 4 |
| SW9 | 2204-2207 | 1951-1952 | 4 |
| SW1200 | 2250-2293 | 1964-1966 | 44 |
| SW1500 | 2481-2492, 2511-2522, 2579-2582, 2583-2590 | 1968-1971 | 36 |
| GP9 | 3641-3652 | 1957-1959 | 12 |
| GP20E | 4130-4149 | 1960-1962 | 20 |
| GP30 | 5000-5009 | 1963 | 10 |
| FP7 | 6462 | 1950 | 1 |
| GP35 | 6500-6519, 6680-6681 | 1964-1965 | 22 |
| GP40 | 7600-7607 | 1966 | 8 |
| SD45 | 8964-8981, 9052-9068, 9152-9156 | 1968-1971 | 40 |
| SD45T-2 | 9157-9165, 9261-9301, 9371-9404 | 1972-1975 | 84 |
| GP60 | 9620-9714 | 1988-1990 | 95 |
Like most of the industry, the Cotton Belt suffered immensely through deferred maintenance and poor management at this time.  Through the Transportation Act of 1920 it was finally returned to private ownership (February 28th) but then spent the rest of the decade trying to recover from this debacle.  It lost its independence on March 11, 1925 when the Chicago, Rock Island & Pacific (Rock Island) gained control of the property.  This ownership lasted only briefly as later that year Kansas City Southern picked up Rock Island's interest.  In 1926 the Missouri-Kansas-Texas Railroad (the "Katy") attempted to acquire both the KCS and Cotton Belt, which would have formed a respectable Midwestern network.  The Interstate Commerce Commission (ICC) ultimately denied this merger in 1927.  Since 1919 Southern Pacific had held stock in the Cotton Belt and it had long been an important connection for the gargantuan western carrier into St. Louis.  It filed an application with the ICC in July of 1930 to acquire control of the carrier, granted two years later, and on April 19, 1932 it formally took over the property.  While the St. Louis Southwestern survived as a corporate entity for another sixty years it essentially operated as an arm of SP's network after the acquisition, moving every type of freight imaginable as well as passenger services.  It grew considerably during its last decade as a corporate entity when Southern Pacific assigned it Rock Island's "Golden State Route," purchased in 1981.

Books Featured In This Article
---
Home

›

Fallen Flags

› Cotton Belt